Back to selection
Private Discussions and Public Support: The 18th Maryland Film Festival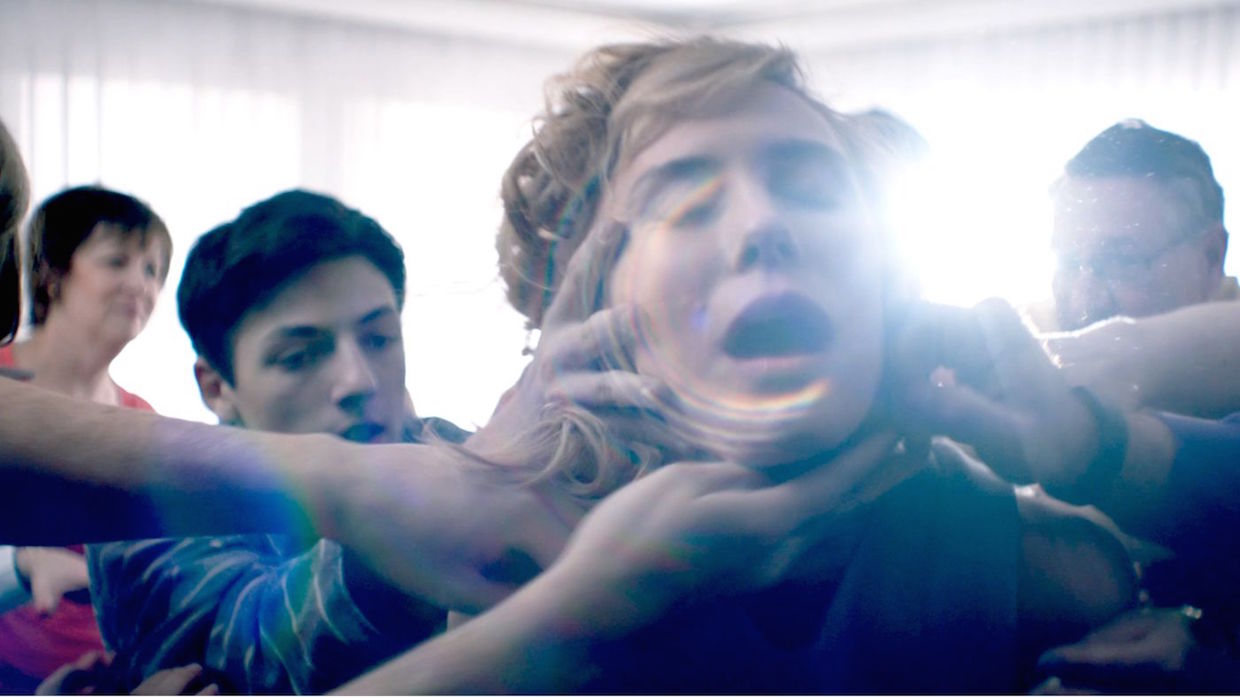 collective: unconscious
Although this may not sound as remarkable as it is, the Maryland Film Festival (MFF) thrives on being filmmaker-friendly. Encouraging attending filmmakers to participate in a closed-door, multi-hour group conference designed to serve as a safe space to voice their career concerns and hosting a rocking evening of karaoke performed on a stage at The Windup Space (which uncannily resembles the Black Lodge from Twin Peaks), MFF works hard to keep participating artists in dialogue with one another. In screening spaces as the Maryland Institute College of Art (MICA), the Walters Art Museum, and the intimate black-box Single Carrot Theater, it's not uncommon to find audiences of cinema-hungry filmmakers supporting each other's work. Under the leadership of Festival Director Jed Dietz and Director of Programming Eric Allen Hatch, for at least five days each May a centralized film hub is created in which the artists and audiences meet and inspire one another.
The aforementioned invite-only conference on the second day of the festival's 18th edition appeared to put visiting filmmakers at ease while preparing them for the journey up ahead. "It's rare to have the opportunity to share such candid experiences on filmmaking with your peers," noted Andrew Houchens, a producer on Lily Baldwin's Swallowed, a short featured in the omnibus collective: unconscious, "especially around numbers and budgets. The ability to learn from each other and share what has worked [for you] — and what hasn't — is really valuable. It's especially important to hear perspectives on issues that I haven't dealt with yet, such as working with sales agents. Participating in the conference was not only informative, but cathartic, and it was a relief to know there are so many fellow comrades in the trenches."
Katrina Taylor, the producer and editor of Christopher LaMarca's Boone — which beautifully observes life on a goat farm in Jacksonville, Oregon — had similar praise for the conference. "With the difficulties that exist in distribution and funding, it's imperative that we come together and learn from each other," Taylor said. "MFF has established a conference that does just that. Well-timed (as it's placed at the start of the festival), filmmakers are able to to go off the record and share frustrations, budgets, mistakes, and feedback on each of our individual journeys in making these films. It was a unique opportunity to be, in the best sense of the word, vulnerable, and I was really impressed by the honesty and openness in which everyone let their guard down in what can often be a competitive environment."
Many filmmakers were on-hand for public Q&As; perhaps the most necessary post-screening discussion followed Fraud, Dean Fleischer-Camp's gloriously head-scratching found-footage artifact, which had its world premiere at HotDocs earlier in the week. Neither a documentary nor a staged piece of stylized fiction, Fraud consists of cheapie home movie footage of a middle American nuclear family living a wholesome life, beginning innocently enough with intended visual monotony. The family partakes in a lot of shopping: they go to the Apple Store and Toys "R" Us, and all seems to be going well. However, the family soon falls on financial hardship and mom and dad attempt to find a way out of their newfound economic struggles. One sound idea hits them: what if they were to burn their house down for the home insurance payout? As one bad decision leads to another, the family becomes public enemy number one, partaking in a cross-country chase with law enforcement hot on their trail, their now infamous crime being broadcast on news stations across the globe.
While the footage in Fraud is real (some of it was digitally altered, but sparingly so), the context most certainly isn't. There was no crime committed by these people, but there was, and still is, a family of four. Collecting 100 hours of footage off the internet — much of it from one man's YouTube account consisting of family home and vacation footage taken over several years — Fleischer-Camp was interested in telling a manipulative, incriminating story by means of suggestive editing. While Fraud isn't played for laughs, it strokes a "magic trick element" that lures curious, skeptical audiences. Hearing Fleishcer-Camp discuss how he pulled off this cinematic illusion was almost as rewarding as watching the film itself.
Two poignant comedies about social outcast title characters — Chad Hartigan's Morris from America and Kris Avedisian's Donald Cried — were also audience crowdpleasers. Typically described as a sentimental "feel good" narrative, Hartigan's film, about a displaced African-American teenager (Markees Christmas) relocated to a small town in Germany on account of his father's (Craig Robinson) new soccer job, has beautifully realized shot compositions and chromatic contrasts. As we view Morris attending a class at the local youth center, engulfed in a shiny sea of white faces, Hartigan places the actor in the top right hand corner of the frame, removed from the other students; we perceive our protagonist as his new peers do, as a visual afterthought. Hartigan flirts with bright colors throughout as an enticing, tempestuous coming-out party; vis-a-vis his house — a bland concoction dressed down by his father — Morris's exterior surroundings mirror his new brightly lit, neon enclave: electronic dance music, graffiti, hip clothing, and the blonde hair of a female classmate captured perfectly by Hartigan's adoration for golden hues. Incorporating an iris shot for moments of peak sexual discovery (the finding of a pornographic magazine, the scent of a crush's clothing), Hartigan's camera compliments and becomes Morris's POV.
While the Rhode Island-set buddy comedy Donald Cried features the POV of a character whose gaze may be difficult to share, director Kris Avedisian (doubling as Donald in his debut feature), proves himself capable of mining the humor apparent in his cast's facial expressions. Shot-reverse shot dialogue exchanges between Donald and staight man Peter (Jesse Wakeman) prove that, for as a verbal a film as Avedisian's is, there's nothing more hysterical than the quiet reactions of his co-star Bluetooth-ed and scarved to the chin. A lumberjack without the girth, Donald is the kind of guy who gets uncomfortably close in face-to-face conversations and holds hugs about a second too long. Without a score and with a love for anachronistic settings (Donald's isolated world is made up of '70s movie poster one-sheets, '80s wrestling toys, and early '00s flip-phones), the film is a compassionate tale of two polar opposites who ultimately share a palpable respect for one another. Picked up for distribution by The Orchard, the film will be released in theaters in early 2017.
In collective: unconscious, five filmmakers were tasked with visually interpreting a fellow director's actual dream (assigned by executive producer/project originator Dan Schoenbrun) in twenty minutes or less. The filmmakers' dream descriptions were distributed in less characters than that of a Tweet, Schoenbrun revealed at the film's post-screening Q&A. Daniel Patrick Carbone, Josephine Decker, Lauren Wolkstein, Frances Bodomo, and Lily Baldwin make up the five filmmakers assembled for this trippy anthology film, and at the risk of singling out just one offering of note, Bodomo's contribution is particularly striking in its relentlessly bleak overtones  and socially-driven humor. Everybody Dies! — a VHS-recorded, one set children's television program beamed in from a decade long past — has Bodomo infusing bargain-basement mise-en-scene with a sardonic call-for-attention to the increasing police brutality experienced by African-American youth. Featuring a remarkable, half-winking, half-indicting performance by Tony-winning actress Tonya Pinkins as Ripa the Reaper ("Department of Black Death"), Everybody Dies! (its theme song performed to the tune of "The ABC Song") is a one-woman, all-access cable series originating from purgatorial depths right above hell. Bodomo's deployment of humor only makes this social issue all the more disturbing.
The festival featuring a number of short film sidebars, I was surprised to find that the appropriately titled WTF Shorts was not merely a bombastic selection of sophomoric, gross-out midnight fare. Zia Anger's My Last Film, which debuted at last year's New York Film Festival, is a highly stimulating tale of two coasts with seemingly no connective tissue. In one, two ladies (Lola Kirke and Kelly Rohrbach) stroll through Brooklyn ends in a hilariously disturbing Final Destination-like massacre; in the other, LA-based Rosanna Arquette delivers a eulogy for film that ends in her filmed suicide (to be uploaded, of course to Withoutabox and labeled "Online Screener"). Anger's direction has a go-for-broke, provocative stye that favors abrupt tonal shifts and confrontational imagery, and My Last Film is gleeful in its tantalizing postmodern denouement.
Located on the opposite end of the WTF section was Jason Giampietro's Dear Cindy, an almost unbelievably sincere VLog shot many years ago by the filmmaker's friend Freddy. Without a proper understanding of film grammar, Freddy borrowed Giampietro's camera to document and narrate his mundane life for Cindy, an off-screen woman we never learn much more about other than that she lives in Boise, Idaho. Using the camera as a form of self-identification (and, given the unremarkable intrigue of the lo-fi footage, self-justification), Freddy's incredibly personal footage may strike some as a gateway to something darker (there must be a tragic, horrifying conclusion to this material, no?), but the film concludes on a warm note just as optimistic as its concept. Of the genre shorts offerings, Chris Osborn's Sisters, a familial sci-fi drama that surrounds its gruesome finale with moments of carefully constructed empathy, is a study in abstract horror and potential mental illness. Osborn's use of parallel editing, particularly in a sequence that alternates between a downstairs kitchen and an upstairs bathroom, earns its high-strung pathos.
A festival with expansive programming, MFF is itself set to expand next year. The Stavros Niarchos Foundation Parkway Film Center, a joint venture with the Maryland Institute College of Art and Johns Hopkins University, is on track to open in the spring of 2017 as a venue for year-round programming of both films and live performanceS. In keeping with the festival's desire to honor its local roots, the new Film Center is taking shape at the site of the old Parkway Theatre, a classic movie house that closed in 1978, twenty years before the first edition of MFF. It will be interesting to see what the new space allows the festival's programmers to highlight, but its inclusion in Baltimore will deepen the city's status as a premier destination for daring voices and artistic expression.