Back to selection
How The Northwest Film Forum is Re-Defining the Role of the Regional Film Center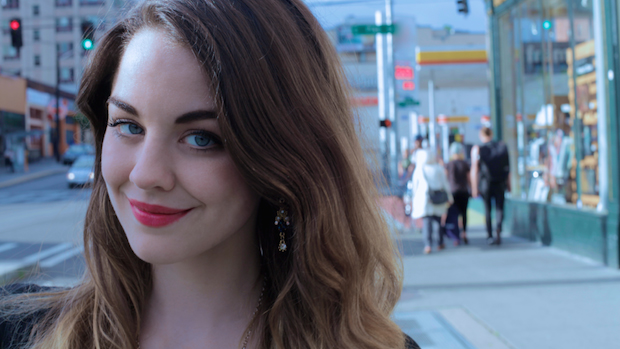 Courtney Sheehan, photo credit: Julio Ramírez
At a time when both traditional theatrical film exhibition and nonprofit operations are confronting new obstacles, Seattle's Northwest Film Forum is re-defining the role of the regional independent film center.
The recent promotion of 27-year-old Courtney Sheehan, from Artistic Director to Executive Director marks a new direction for the 20-year-old film center.
Since Sheehan joined the organization as program director in 2013, The Northwest Film Forum has increased box office and ramped up audience engagement, donated hundreds of hours of venue rental space and staff time to community groups, and created new partnerships. Recent program partnerships include KEXP, Civilization, Fandor, Brick Lane Records, the University of Washington, the Seattle Documentary Association, and the Social Justice Fund, among many others.
This summer, guest programmer Gina Basso (San Francisco Museum of Modern Art) is programming a summer slate of new and archival films, and choreographer Paige Barnes will present the world premiere of PALMS in July.
Filmmaker recently reached out to Sheehan to discuss her thoughts on the new gig, the role of regional film centers, and her plans for expanding the scope of The Northwest Film Forum.
What are the main challenges facing the Northwest Film Forum at this time?
We face the same challenge for where we are (Seattle) and what we do (show and support independent film): how to adapt in rapidly changing spaces. As an art house, we've made great strides in the past couple years in pivoting our programming model to be more inclusive, responsive, and variegated. We remain the leading independent art house in a densely saturated exhibition market, programming films like Cemetery of Splendour, Losing Ground,  16mm avant-garde work from 1960s Yugoslavia, and hosting filmmakers like Kidlat Tahimik, Ben Russell, Tom Sachs, and Nazli Dincel. We've also found that our audiences crave opportunities to come together around our screen and talk about what's going on in their lives and in the city around them. The Film Forum's most popular recurring event is The Seattle Process, a political comedy talk show like The Daily Show, hosted by a local comedian.
So the challenge is to strike the balance between conventional film exhibition and programming that pushes more boundaries — and can frequently perform better at the box office — while also bringing international filmmakers and supporting local filmmakers with a variety of education programs and production services.
Of course there's been a ton of commentary of late about the challenges facing art house theaters, film criticism, and filmmakers. Something gets left out when you only focus on reading trends in traditional box office admissions and speculate about whether younger generations will migrate to the theater later in life to watch movies the same way we watch movies now. We can think more creatively about the function of the movie theater, considering how screens are so woven into the fabric of our daily lives. We have the chance to re-codify the movie theater screen, to integrate it more seamlessly with how people interact with art and each other. I'm not just showing movies, I'm endeavoring to build bridges between on and offline experiences by facilitating face to face interactions.
We've done this by exhibiting video art, partnering with companies like Fandor, exploring interactive web docs on the big screen. Predictions that are based on generalizations about the future of the cinema leave out the nuances and idiosyncrasies of particular markets and theaters. Live scores do really well for me in Seattle because of the vibrant music scene. So do public conversations about topical issues. Our audience trusts our sensibility for provocative, experimental work and we take interesting artistic risks accordingly (e.g. multidisciplinary shows that activate the entire venue). We get good turn out for local films because it's in our DNA as an organization — we're an artist support center, not just a movie theater.
What are your goals in this new position?
To come back down to earth, these aspirations tie back to the organizational needs of running a nonprofit today. I read a book recently that suggested nonprofits start calling themselves "social profits" to shift perception and re-define ourselves by what we do — serve the public for social good — rather than what we're not — commercial enterprises.
My goals are to increase both earned and contributed income, to entice more supporters to get involved, to build exciting and generative partnerships, and to forge a sustainable business model.
Programmatically, right now I'm experimenting with a guest programmer model; contracting a film curator while I continue to focus on partner-based and live events. This summer, Gina Basso from SFMoMA has come on board and put together a terrific lineup that includes the Touki Bouki print struck by the World Cinema Foundation, an AGFA print of Messiah of Evil, and the Seattle premiere of Billy Woodberry's And When I Die, I Won't Stay Dead.
I'm also workshopping an idea with some peers in the U.S. and abroad for a programmer residency for an international curator. The idea would be to bring a curator to the U.S. so they could develop a program and take it to multiple venues around the country. There are residencies for artists and sometimes for curators, but rarely do you see opportunities for film programmers to cultivate their practice. Especially as a young person working in exhibition, I recognize how crucial these opportunities are to get your foot in the door and have a chance at starting a career. We need to think about how to foster the next generation of curatorial voices.
Literally opening the doors to communities and working on racial equity is major priority for us. If we want to remain relevant and meaningful in the future we've got to decentralize whiteness in arthouse theater spaces. This was really underscored for me during the post-screening discussion for Black Panthers: Vanguard of The Revolution last fall. The co-founder of the Seattle chapter of the Black Panther Party, Elmer Dixon, introduced the film. At least two other former Black Panthers were in the audience, along with many young community organizers. Elmer's intro was outstanding, but what was really amazing was the two-hour conversation that followed the film. I watched and listened as two generations spoke and sparred with and learned from each other. As a venue, providing critically needed access to space is not about inviting someone else to join you at your table, it's about transforming the identity of the space by passing the mic.
What role do regional film centers like Northwest Film Forum play in supporting local artists?
Film centers like Northwest Film Forum are vital for discovering and incubating emerging artists and providing space to convene and share new work for filmmakers at all stages of their careers. We're unusual in the comprehensiveness of our areas of work — we teach classes year-round (how to use a green screen, intermediate Premiere, intro to cinematic VR, etc) and then we also provide support services: gear rental, fiscal sponsorship for features, work-in-progress screenings, crowdfunding events, an edit suite.
We strive to foster a culture of feedback by hosting a lot of work-in-progress screenings with facilitated conversations. Sometimes it's as simple as people meeting each other over a beer in our lobby, striking up a conversation and going on to crew each other's films or come up with a new project together. We just awarded an animator a grant to make a short film using music from a new release from a local record label as the score. Project-specific partnerships like this allow us to connect filmmakers with other creative industries in Seattle.
Our biggest annual event for not just local but regional film is Local Sightings, a film festival dedicated to showcasing films from the Pacific Northwest (defined as Washington, Oregon, Idaho, Montana, Alaska, the Yukon and B.C.). The festival has helped discover some of the region's best known filmmakers, including Calvin Lee Reeder, Megan Griffiths, Lynn Shelton, Drew Christie, and Zach Weintraub.