Back to selection
Pressing Pause: Elaine Sheldon and Sarah Ginsburg Take a She Does Podcast Break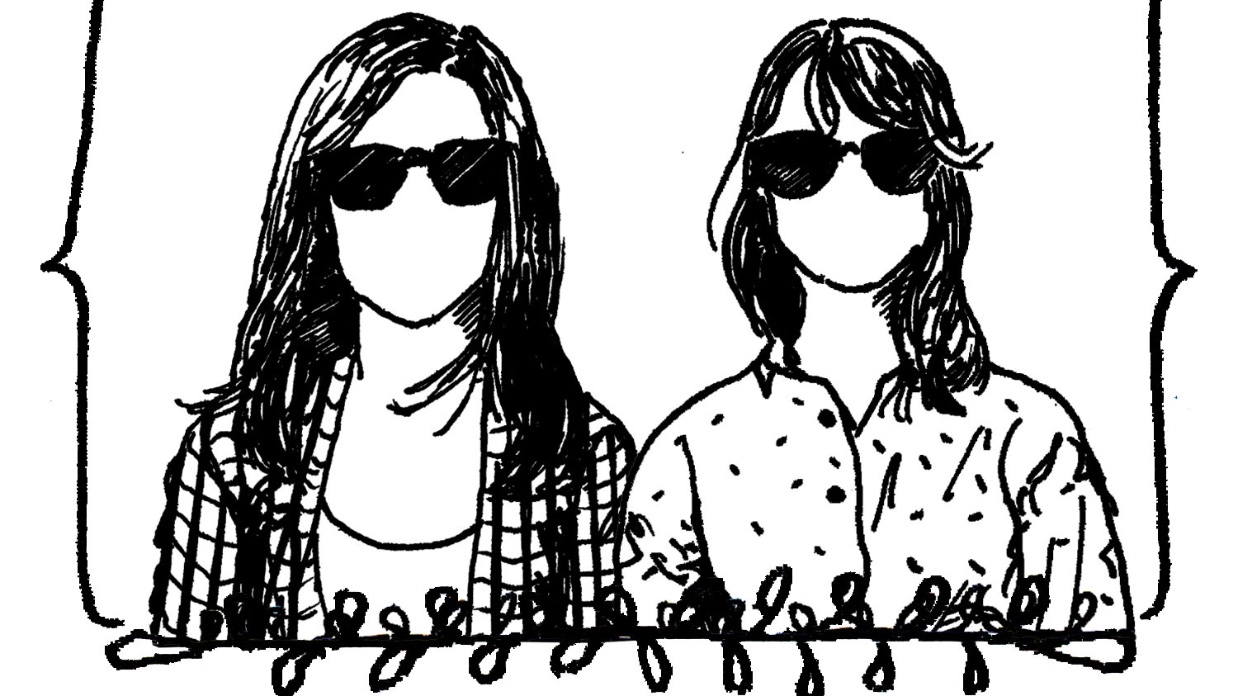 One of the best podcasts to launch last year was She Does, a series of audio portraits of women creators across film, music, new media, journalism and more. It was created by two filmmakers, Elaine McMillion Sheldon and Sarah Ginsburg, who previously collaborated on Sheldon's award-winning interactive documentary Hollow. Using data visualization and web storytelling techniques to examine the economic and social history of one rural West Virginia town, Hollow landed Sheldon on Filmmaker's 25 New Faces list and announced her as a documentarian committed to exploring all the new forms non-fiction storytelling can take in a digital world. Hence, She Does, an intimate, beautifully produced podcast with music, sound effects and crisp editing and narration, stood out immediately for its level of polish and imagination. Guests included High Maintenance's Katja Blichfeld, Seed and Spark's Emily Best, artist and writer Molly Crabapple, just to name a few, and their biographical tales were both informative and inspiring.
She Does launched with Filmmaker as a promotional partner, and midway into the podcast's run it got picked up by Panoply, Slate's recently formed podcast network. But in early April, She Does stopped their weekly production of new episodes and, last week, posted what they called "a bit of a different episode." In "It's Been a Great Year" (embedded below), Sheldon and Ginsburg discuss their great run of episodes and their decision to step back from their weekly release schedule in order to re-concentrate on their own filmmaking practices. In an era in which creators are being encouraged to disperse their practice across multiple fields, this talk is a good reminder of the work that entails, the economies involved and the effect such multi-tasking has on one's work overall.
Filmmaker: Now that you're taking a break from She Does, tell me about the genesis of the podcast and what led up to your decision to slow down the new episodes.
Sheldon: We started planning the podcast in 2014, and we released the first episode in January 2015. Audio felt like the right medium to tell these stories. Video and film are so all consuming, so podcasting was sort of an experiment. [The series] lasted for over a year, and it exceeded our expectations. We put together a really interesting group of women with diverse skills, talents and backgrounds. I'm very happy with the diversity of opinion and thought that we were able to put together. And now we have just put out a goodbye episode. We're not saying goodbye forever, but we're just not going to be doing the podcast on a regular schedule like we've been doing it. We have 10 interviews already in the can that still need to be edited — as you know, the largest part of She Does is post production. Because we're now working on our own films we're taking a break. We left [the Panoply network] and we'll be doing [She Does] for ourselves when we can.
Ginsburg: At the end of the day, filmmaking is our first love, what we want to do for the rest of our lives. And if [the podcast] had been sustainable, that might've made the decision to taper back a little bit harder.
Filmmaker: What were the issues involving its sustainability, and how much work did each episode require?
Ginsburg: Make a rough guess of how much [time] you'd want to spend on an episode and then double or even triple that. It was just a team of the two of us plus Billy Wirasnik, who does sound; Christine Cover, who did illustrations; and Alijah Case, who helped with transcriptions and production. Plus, [Elaine and I] spent so much time doing social media. You can't just ignore that stuff, but we weren't sure if it was actually getting us more listens and subscribers. But because we loved [the show] so much, it was all consuming. I think if I broke it down, the amount of time that I spent on one episode was probably 48 or 50 hours. Elaine, does that sound right?
Sheldon: Let's break it down. The interviews were from one to two hours. And then, add the transcription time — basically double that. The first thing we would then do is edit the script. I'd say we'd spend about four hours on the script. And then, we'd go and make those pulls in Premiere. That would take another two to three hours. And then, after that, we would write the script, which would add another hour, and then we'd record the script, which would take about 45 minutes. We'd have to go through and choose all the best recordings and place those in. And then, we would add music and sound effects. And then, we'd send it to Billy and listen to it. So that's another hour. And then, we had to upload it. It was a ton of work.
Ginsburg: Listening to rough cuts and making notes — that was another 45 minutes each time. And then, listening to tons of tracks, finding the music, writing emails and making sure that we could [get permission to] use [the songs] — those are all things that you have to factor in too.
Sheldon: A lot of podcasters keep their workload down by not doing such a heavy post production. They just do the interview and then post it. We didn't want to do a show like that. We wanted a show that was still a creative output. Interviewing can be creative, but, really, the post production side of it and crafting the story was what we really looked forward to doing. And so, that's why we had to taper back, because unless we wanted to do a traditional interview show, we couldn't just sustain that amount of work. It's kind of crazy, honestly. I don't know how we did it for a year and five months.
Ginsburg: Well, we didn't make much else.
Filmmaker: As you said, you started this as a creative venture, but at some point you must have thought harder about monetizing it. Then you joined the Panoply network. How did Panoply get involved, why did you decide to go with them and what was your experience?
Sheldon: Well, I applied to Panoply — they had this form you could use to submit your show. Over three months we had built up our listener base, just on our own. When Panoply reached out to us and said, "Hey, we want to bring you onto the network," the idea was that they would help us build our audience even bigger. We wanted to get more listeners so that we could sell ads because you really can't start making money in podcasting until you have at least 25,000 downloads. That's sort of the lowest point. And so, we joined Panoply with the hopes of building out the audience, finding new listeners and being part of a network. We thought that being part of a collection [of shows] would legitimize us.
Filmmaker: And how did that go?
Sheldon: It was interesting. They're brand new, and we were brand new. They have a lot of shows that they produce in-house, and we were one of their shows that they had nothing to do with producing. They just helped us distribute it. And so, we were sort of an experiment for them. I think we both decided at the end of it all that we weren't really the best fit for them. But we still learned a lot through the process. We had ads from Squarespace and all the typical folks, but Panoply also got us some really interesting partnerships, like one with the Broadway show Fun Home, where we did three creative little mid-roll advertisements. We had a full episode that was funded by Fun Home, and that was a good amount of money to end on. We were able to pay ourselves back a portion of what we had put into [the show].
Filmmaker: Did you have to change any element of the show because of Panoply?
Sheldon: Early on they told us we needed to get our download numbers up. At that point we were only doing shows twice a month. We'd have a full show with the person we were interviewing and then a five-minute "music maker" profile at the end. When Panoply asked us if we could do something simple and make it weekly to get our download numbers up, we thought, "Oh, we'll take that music maker episode and make it its own thing." And that did work. It did get a lot more downloads because we had more episodes.
Ginsburg: But it also increased the amount of time and work. We were just going to make these easy, five-minute episodes, but we ended up putting a lot of effort into them. So, it turned into an episode a week. It got a little bit stressful.
Filmmaker: Did you get to the point where you were regularly selling ads?
Sheldon: For the last two or three months, we had ads on every week. We had Squarespace. We had a private partnership with Vermont College of Fine Arts.
Ginsburg: It was never consistent, though. [Advertising] was like a nice surprise.
Filmmaker: Were you selling those ads yourself, or were those sold by Panoply?
Ginsburg: Both. We were approached by a few businesses and colleges individually. Panoply helped hook up the Fun Home.
Filmmaker: What kind of advice do you have for other filmmakers who might be thinking about making a podcast?
Sheldon: Podcasting is still really new, and everyone's still figuring it out. I think if you're interested in doing a podcast, you have to be willing to stick it out past five episodes. You can't expect to build your audience overnight unless you are a big face or a big brand. But I don't think that should discourage anybody from getting into podcasting. There are ways to make money, but I want to stress that that wasn't our central goal. If that's your goal, then you can have less production time than we did. Our central goal was to meet these women and to tell their stories. After making Hollow, I was traveling around film festivals for a year, and I just kind of felt a little confused about what my next steps should be. I felt very strongly about film, but I was sort of put in this interactive world. But, you know, I don't love technology to the point where I wanted to stay in an interactive world. It's the same thing with the podcast. Podcasting was just an experiment, the same way that making an interactive documentary like Hollow was an experiment.
Filmmaker: And what kind of impression was left on you after interviewing all these women creators over the course of the year?
Sheldon: These women taught me so much in terms of choosing things to work on that are very personal and meaningful to you and that can only come out of you. The women we chose to be on the show, they all do that really well. What drives them, how they build their audience, how they sustain themselves — all those tips and advice they gave us I'm now taking and putting towards my own career. I'm really grateful to them for their advice, and I think that the shows we made are evergreen. In a year's time you can listen to the Emily Best episode and it will still have the same effect on you.
Ginsburg: People have a hard time with things ending, and I feel quite proud of what we have done. I kind of compare it to what Louis C.K. did with Horace & Pete. It was okay for it to be over. You end on a good note and move on and work on something else. The moment it started to feel like an equation or —
Sheldon: — a template.

Ginsburg: Or formulaic — that's when it kind of dies a little bit, and you don't feel so great about making it. We never got to that point. Every time I would finish an episode, I would feel so energized and motivated and proud. But I think eventually, it would've gotten that way, especially if we were in a rush or something. And another reason that we wanted to explore this medium of podcasting is because of what certain podcasts have done for us. We both kind of geeked out over stuff that we liked, and I still am an avid listener. I know how [a good podcast] makes me feel and what it does for my daily life. And so, to be able to try and see what we could do with our storytelling skills through podcasting, to see how we could reach so many people… And the responses that we've gotten through emails, people reaching out to say something about how a certain episode made them decide to change their life. A girl recently said that she just finished her first marathon because of Kiran Gandhi's episode,
Sheldon: We also had a girl say that she gave her two weeks' notice after listening to Ann Friedman talk about her success with freelancing. People were writing us life-changing emails, and it was often very frustrating because we're like, "Why can't we monetize these? This is having a real impact on people." It's providing real value that is not really measurable, it just made us feel really good about what we were doing. It's always great to know that you're putting something that's of value into a world. And I'm glad that it was of value to the listeners because the show was to me.
Ginsburg: Yeah, and I guess that's why we kept doing it because we never did it for monetary reasons. When we did get those emails and validation and that kind of praise, it felt like we shared it with our guests. We were the ones who built this showcase and edited what we thought was a lovely episode, but it was really their words that were affecting these people. And so, yeah, I feel proud, and I'm looking forward to going back and just listening to them again.