Back to selection
What's the Most Daunting Aspect of Working in Independent Film Today? Sundance NEXT Fest Filmmakers Respond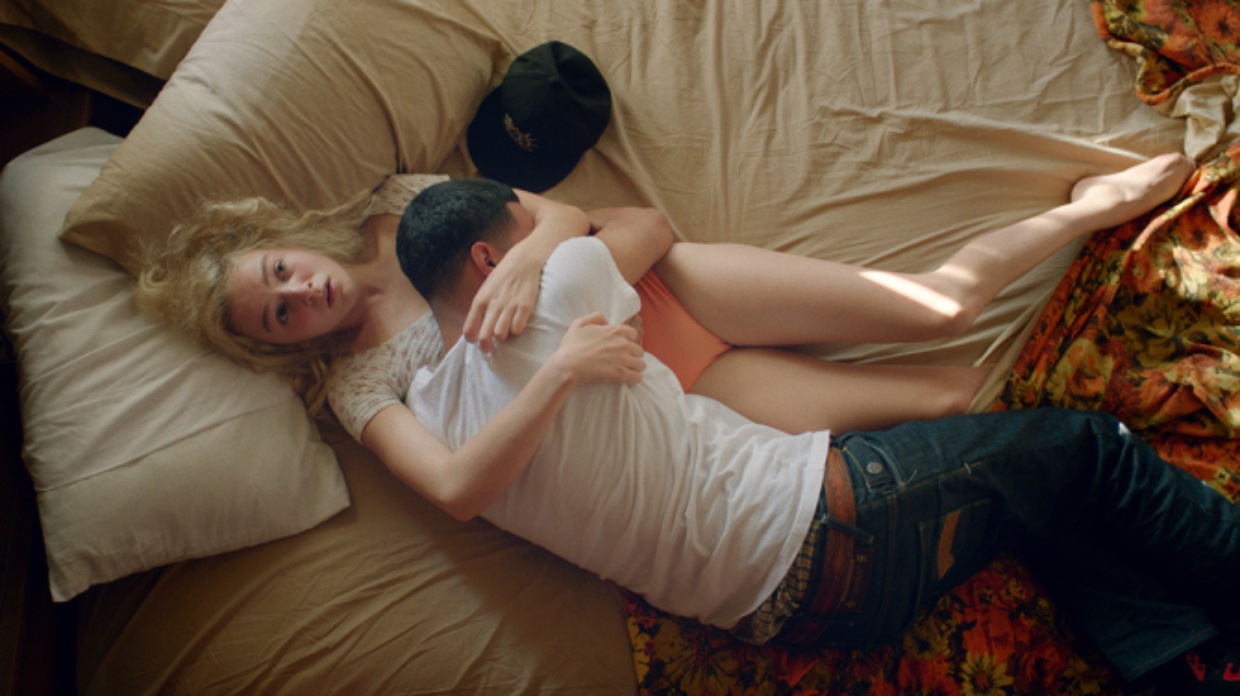 White Girl
Boasting an eclectic program of features, shorts, musical performances, conversations and informational panels, Sundance NEXT Fest 2016 will bring a piece of the Park City action to Downtown Los Angeles from August 12-14 at the Theatre at Ace Hotel.
Six features that had their world premieres back in January at Sundance will screen alongside bonus events ranging from stand-up comedy to Q&As and live acts. The films, all of which have secured theatrical distribution post Sundance, encompass explorations of gender and race from a strong female perspective, a twist on the immigrant story and assimilation, a paranormal Iranian tale set in the '80s, an exposé on hazing in American fraternities, a friendship that marks a woman's life in unexpected ways, and an outrageously humorous look at a peculiar father-son relationship.
But while these films now offer compelling additions to the cinematic conversation, their roads from script to screen weren't always smooth ones. Financing and distribution remained struggles for many of these filmmakers. Indeed, supporting themselves and their families through their creative work seems to be a constant and perpetual hurdle in the life of an independent storyteller.
Here is what the six directors, three of them presenting their debut features, had to say about the most daunting aspects of working in independent cinema today.
In today's industry landscape, and given the themes of the films you are interested in making, what is the most daunting aspect faced by independent filmmakers: financing the film, distribution prospects, or making a living as content creators?
Elizabeth Wood, White Girl. All those three things kind of go hand in hand. I'd say really any artist, not just filmmakers, think, "How do I make art that's outside the norm and still get paid?" I think it's different for everyone, but everything is difficult. Getting funding is hard. Making a living is hard because you need funding to get paid to do your work. Distribution is also hard. You can do all this stuff and still not get distribution and not be able to pay people back, not be able to pay yourself, and not be able to move on. I feel like all of those are difficult things.
Personally, with White Girl [the challenge] was funding. Two times I had an all-in, very traditional model from investors who seemed to be coming behind it. One even went as far as to say, "Okay, the check will be there tomorrow," and then they pulled out last second. Then it happened again with the other one. It seems like they really doubted you, especially when you are a first-time filmmaker. "How do we know this is a good bet?" The production got pushed, and pushed, and pushed. I was ready to push it to the next year, because it really needed to be a summer film, but my producer said, "No, we are going to make it."
We ended up shaving between 20 to 30 pages of the script and close to half a million dollars off the budget to bring it down to a number where we could get the tax incentives, and we made it. It was supposed to be in July or August so everything could be sweaty, but instead it was at the end of October, and the leaves had changed. We went to great lengths to make everything look like summer, but we made the damn film. Now I'm telling friends who are trying to make their first film to cut their budget and make a film that they can make. It's really more important to just make a film than to make a big budget film.
Realistically [the pages we cut] would not have fit in the shoot. We were already pressed on time, and we were trying to make it work. It made me tell a stronger story. People get bored easily, and I hate boring films. I like shorter films, so I make shorter films. I think that every minute is useful in the story and moves it along, so it was actually like a great editing exercise for me. If not I would have pulled all that shit out in the editing room anyway.
So Yong Kim, Lovesong. All those three things are very challenging on an equal level, but it depends on which phase you are in. When we were trying to get the film off the ground it was always daunting to think, "Are we going to get the financing?" I feel like in many ways, and because of episodic storytelling on TV, a lot of independent film financing has decreased somewhat, so it's much more difficult. At the same time there a lot are more outlets, so it balances out. Distribution, of course, is also daunting.
I think the traditional way of distributing in theaters and then going into ancillary markets has changed a lot, but there are new opportunities opening up, like On Demand platforms. I feel like it's always constantly shifting. The biggest challenge at the end of the day, after you make a film, and you find distribution and reach an audience that you are really happy with, is, "How do we make a living?" All those three things are equally daunting at different times of the process.
Chad Hartigan, Morris from America. I would say, at this stage in my life, it's making a living as a content creator that is the hardest. Morris from America was a bit of an anomaly in that it was not that difficult to finance, and it was sold at Sundance, which was our premiere. So that happened very quickly. But trying to figure out how to make Hollywood work for me, and continue to make films that I think are interesting and worthwhile and different, but getting paid too, is a challenge.
No matter what the budget is, it's never enough, and whatever money you have, you spend. [The budget for Morris from America] was definitely great in a lot of ways. It's great what money can buy, like more time and resources; it can make it easier to do what you want to do. I found it very comfortable. Of course, if you interview my producers, they would say it was completely stressful. But having come from the world of hustle and compromise, and having to work with what you have, being able to reach outside of that a little bit was nice.
Andrew Neel, Goat. Every step of the way in filmmaking is equally difficult. Often the most difficult is financing, schedules, and getting the actors signed on and ready to go. Usually the equation that makes it possible to get money to make the movie is so complicated these days in indie filmmaking that that can be the biggest hurdle. Of course, you have to go and make a good movie, which is in a lot of ways the biggest challenge, but practically speaking I think getting the whole package together and getting it finance is often the hardest thing.
When you have a topic that's buzz-worthy, that's in the news, like hazing, that can actually help because it feels like it's a topical subject so people think the audience [will] pay attention to it. Frat culture is not really a niche culture. A lot of people are aware of it. It's been in popular culture a lot, so in some ways it's a known quantity.
As far as getting the film financed, having name actors is probably the most important weapon. Obviously you have to have a good script, but when it comes to acquiring finance these days in independent cinema if you need more money than a few hundred thousand dollars, name actors are probably the most important component.
Babak Anvari, Under the Shadow. To be honest [the most challenging element was] not the distribution, because we were quite lucky to get picked up by Netflix right before Sundance and we are getting a theatrical window in the US, UK, Australia, and New Zealand off the back of that. So that's great. I think the biggest challenge was trying to convince a UK-based film producer to go for such a project that is not in the English-language, that is in Farsi and that is set during the '80s Iran-Iraq War. It was a huge risk. That was quite challenging at first, but luckily Wigwam Films came on board. They were great and were very supportive from day one. This is their third feature film. In terms of making a living, I had a full-time job throughout the process. When I was writing Under the Shadow I had a full-time job at MTV. I had to work on Under the Shadow in my free time, but when finance was secured by the producers I had to quit my MTV job to go and make a film, of which I have no regrets because obviously being a filmmaker has always been my passion and dream.
I was lucky because the discussions were mainly amongst the producers and I, and they were very supportive and their notes were great throughout the process. We always had a conversation rather than them being demanding or forcing their views upon me. They always made suggestions, which a lot of them were very helpful and if I disagreed with one of their points they were very open-minded. It was a great process.
Jim Hosking, The Greasy Strangler. I would say all of it is very challenging. If you're trying to make work that is very individual and distinctive, it's always quite hard to persuade other people that it's a ride that they ought to go on with you. But saying that, I think also it can work in your favor, because if you do find some passionate supporters or some producers that believe in you, they will fight for you harder than if you had a less distinctive vision.
It's definitely hard to make money in filmmaking, and it's hard to secure financing for challenging projects, or projects that are fighting formula, but so far I'm doing okay, I think. The Greasy Strangler has been pretty straightforward, the whole process. So when I'm saying that it's difficult, I've only made one feature film and it hasn't been that difficult. But I've written so many scripts, and I've been heading down the road for a long time, so it's taken me a long time to get here.
But saying that, securing financing for The Greasy Strangler was very straightforward. We had a group of really fantastic producers, who got behind it and were really excited about it, and I just tried to make the film I wanted to make, with the financial or number-of-shoot-day restrictions I had. But no, distribution has all been pretty good, really. Not everybody has responded favorably, but most people have, actually, and I think a lot of people are excited about the film, so that's positive.