#6 "In the Bedroom"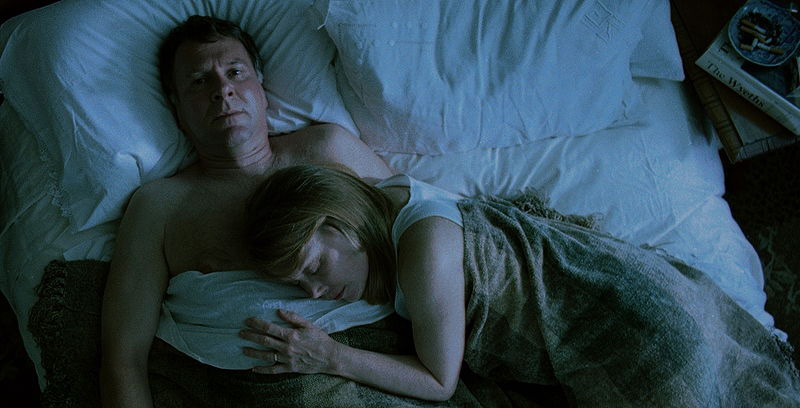 #6"In the Bedroom"
Todd Field's "In the Bedroom" only slowly reveals its real subject in a story that has a shocking reversal at the end of the first act, and then looks more deeply than we could have guessed into the lives of its characters. At first, it seems to be about a summer romance. At the end, it's about revenge–not just to atone for a wound, but to prove a point. The film involves love and violence, and even some thriller elements, but it is not about those things. It is about two people so trapped in opposition that one of them must break.
The story opens in sunshine and romance. Frank Fowler (Nick Stahl) is in love with Natalie Strout (Marisa Tomei). He'll be a new graduate student in the autumn. She is in her 30s, has two children, is estranged from Richard (William Mapother), who is a rich kid and an abusive husband. Frank's parents are worried. "This is not some sweetie from Vassar you can visit on holidays," his mother tells him. "You're not in this alone." "We're not serious, Mom," Frank says. "It's a summer thing." "I see," says his mother. She sees clearly that Frank really does love Natalie–and she also sees that Frank's father may be vicariously enjoying the relationship, proud that his son has conquered an attractive older woman.
Followups
Little Children (2006)
Kids. They can be so darned exasperating. Especially when they're in their 30s or 40s or 80s. Pre-pubescent youngsters cavort and splash through the parks, playgrounds and swimming pools of Todd Field's "Little Children," but they're not the most obnoxious or ill-behaved creatures on the screen. The ostensible grown-ups are much more cruel, stubborn and oblivious to the indiscriminate damage they're doing — to their children, each other, and themselves. Yes, they're old enough to know better, but of course that's the point: They don't even know that much about themselves.

Media
Official Trailer – In The Bedroom
Official Trailer – Little Children
Did You Know
*The amusement park scenes in the movie are scenes of the beachfront amusement park, Palace Playland, at Old Orchard Beach, Maine. The Ferris wheel that was shown lit up was the Sunwheel.
*The cabin where Ruth (Sissy Spacek) and Matt (Tom Wilkinson) visit the Grinnells belongs to director Todd Field.
*A scene cut from the final version shows Ruth (Sissy Spacek) and Matt (Tom Wilkinson) watching the film Barry Lyndon at The Strand Theater in Rockland, Maine on the night of their wedding anniversary. Ruth tells her son Frank (Nick Stahl) "It was the first film your father and I ever saw together." This was intended by director Todd Field as an homage to Stanley Kubrick, whom Field had worked with on Eyes Wide Shut.
*There were 15 takes of Sissy Spacek slapping Marisa Tomei. The final version of the film used the first take.
*Sissy Spacek decorated the house in which her character lives.