Back to selection
The Power of "I Don't Know": Antonio Campos and Rebecca Hall at IFP Film Week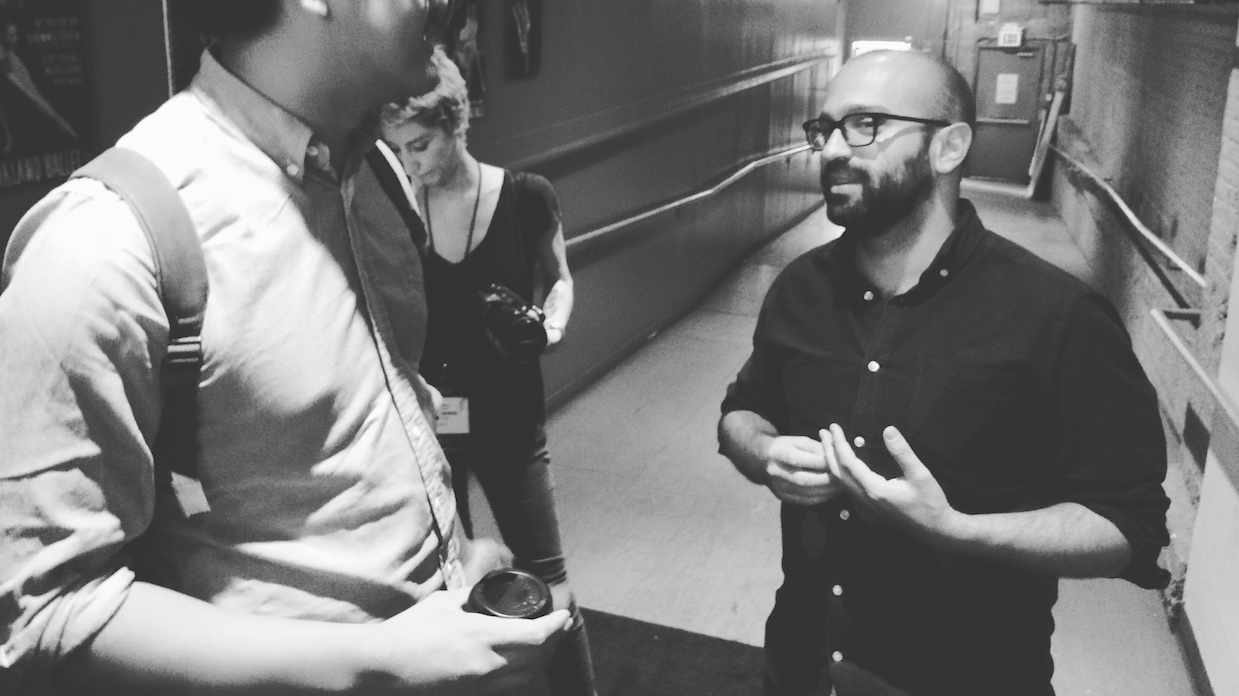 Antonio Campos after his IFP Film Week panel
Before the recently-completed IFP Week fades too far from memory, we'll wrap up our coverage with something new: an IFP Instagram Diary. We've already clocked how many times the words "branded," "followers" and "content" were used at the event, and apparently social media is the future. Who knew? When Refinery29's CCO Amy Emmerich urged during a panel, "Paramount Pictures should not be above Snapchat," well, we figured we should hop on the social media bandwagon too. No, we don't have a Snapchat yet – we will?
The tag line for the conference, "Everybody Gets Creative," acknowledges the way we're all connecting and creating in a world of online media. What we noticed at IFP Film Week was that it's not just the knowledge shared in meetings and on panels that makes it special, but the kinetic, creative energy that passes between all of the artists involved. Watching these Q&As spill into the streets and Christine director Antonio Campos share a hug and a handshake with a young filmmaker was something we didn't want to go un-seen.
On Instagram, we posted photographic trinkets that communicated the vibe of the week, and here, we'll be further elaborating on these specific snapshots. In the spirit of the "The Faces of Comedy" panel last week and Shugs & Fats creator Radhika Vaz's advice, "Be prepared to be surprised," we're putting our social media selves out there. By tossing your voice into the ether, sometimes it's only then that you find your audience. Ours may be geared towards film, but our hope is that the knowledge shared at IFP isn't esoteric, but will be applicable to any maker wanting to make – and better.
Check out the site today and tomorrow for all of these Instagram snaps, and join us over on the photo-sharing site. For a first post, we'll start with Christine director Antonio Camps.
"I appreciate when an actor takes a meeting because that's where you get to know somebody. I approach it as if I'm having a drink or lunch with a friend."
(Antonio Campos outside panel)
IFP Film Week kicked off on Saturday with a number of panels and events. One of the highlights of the day was the panel led by our very own Scott Macaulay with director Antonio Campos and actress Rebecca Hall discussing Christine. The film, which premiered at Sundance this year, centers on 1970s TV reporter Christine Chubbuck in the weeks leading up to her suicide. The film is being released October 14th by The Orchard.
The talk "Creative Tag-Teams" was an appropriate banner for the type of collaborative relationship Campos and Hall have. Campos, whose previous films are Afterschool and Simon Killer, described the process of finding his lead. He said he saw Hall in the Broadway production of Machinal and was able to secure a meeting with her to discuss his project. "I appreciate when an actor takes a meeting because that's where you get to know somebody," he said. "I approach it as if I'm having a drink or lunch with a friend." Campos prefers making the casting process as personable as possible, but he acknowledges the fickle nature of these meetings with actors. You can think it goes well, and you get a pass, he said. Or it goes horribly, and the next day you have their agent calling with that, "They're in."
Hall added to this, saying that what really wins her over in a meeting is a director saying, "I don't know yet." It's refreshing to her to see someone without all the answers – many of which come later in the process anyways. With Campos, Hall was able to leap into that uncharted territory and admitted, "I've never had such a symbiotic relationship with a director." Campos and Hall agreed that after working together for months building the character of Christine, by the time they were shooting, their language was unspoken. Hall said she felt "seen by him as a director in the most brilliant and natural way." Antonio added, "If she was having a hard day, then I could have a sense of what I needed to give." Campos said that he's always been sensitive, as both a director and a person, and that it's a real balance between giving actors too much on set and too little. "In the beginning, you're inclined to talk," he said about starting off in the craft. "Sometimes you don't need to say anything if it's obvious."