Back to selection
The Wonders Director Alice Rohrwacher on Being Lincoln Center's Filmmaker in Residence, Her Next Film and the Unreality of Festivals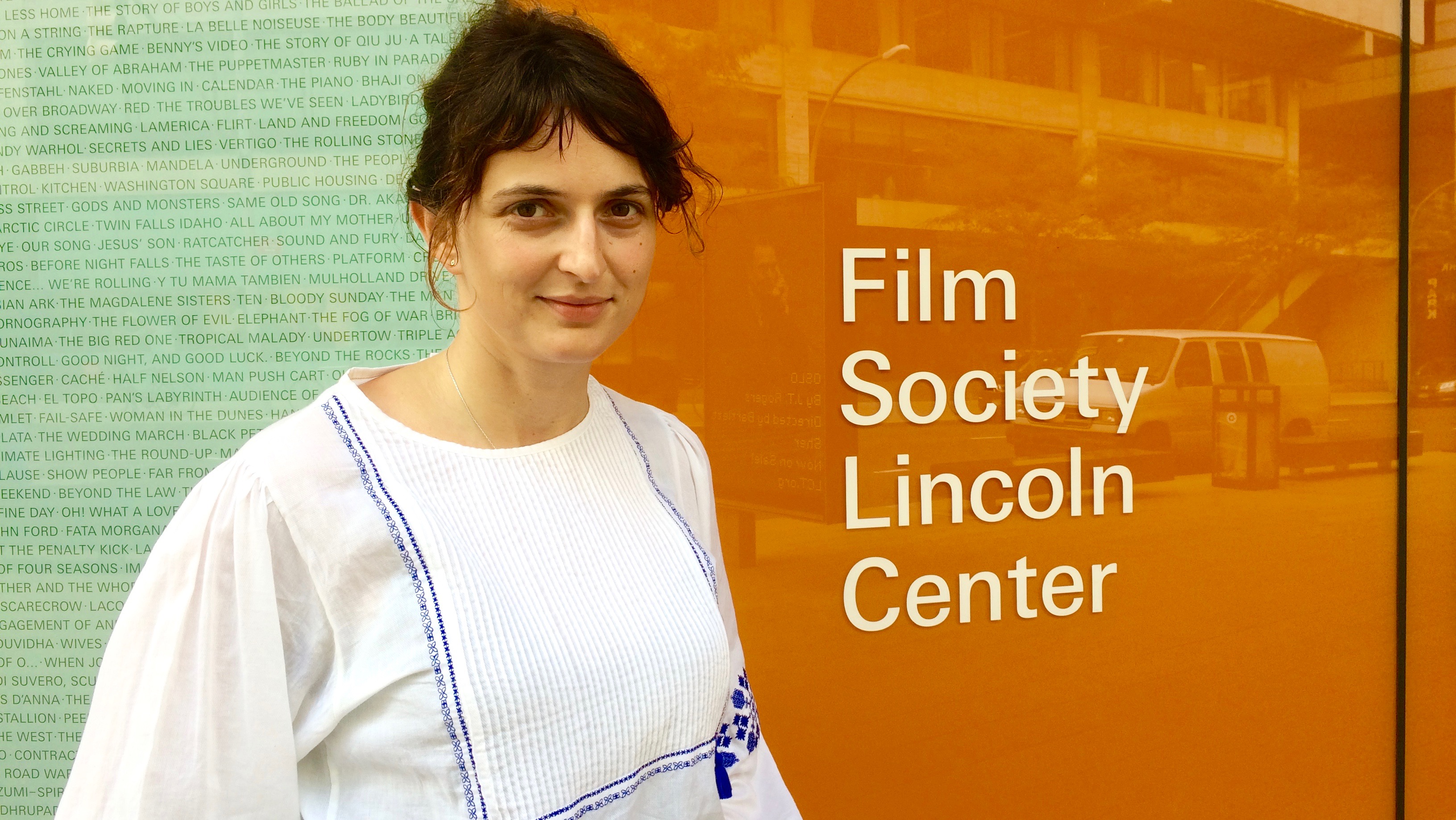 Alice Rohrwacher
"It was important for me to spend time in Coney Island. It's a beautiful place, very Fellini," said Alice Rohrwacher in the Elinor Bunin Munroe Film Center Amphitheater at Lincoln Center.
The Italian filmmaker spent the last month in New York because she was selected as the 2016 Filmmaker in Residence, a program co-founded by Film Society of Lincoln Center and Jaeger-LeCoultre to support filmmakers in early development. Previous filmmakers selected for the program include American Honey's Andrea Arnold and Chevalier's Athina Rachel Tsangari.
Besides participating in a New York Film Festival talk about her career and working on the screenplay for her next feature film in an East Village Airbnb, Rohrwacher prioritized visits to Coney Island during her residency. She liked listening to the screams roaring from the rollercoasters, but never boarded one herself. "Not alone," she said. "I want to die close to friends."
Her creative retreat in New York mostly favored solitude, time away from friends, family, and colleagues. The purpose was to steer her creative focus and shift her perspective, but Rohrwacher shrugged at the mention of a goal. "That's not the best part of the game," she said.
Rochrwacher's previous film, The Wonders, won the Grand Jury Prize at Cannes in 2014, and her first feature, Corpo Celeste, played more than 10 festivals worldwide in 2011. The third feature she's currently writing is called Lazzaro Felice.
Your first two films played in the New York Film Festival. How is it being back as the Film Society Lincoln Center Artist in Residence? It's very special for a film festival to give back freedom to directors. It's very rare. It's a gift, really. They've just given me a space to be in a very inspiring city, they've given me trust and time to spend alone, far away from my world, my work people, family…attending film festivals can take you away from a lot of things, but this experience was the opposite. It helped me to focus on something.
Do you just mean festivals consume a lot of time and energy? Festivals are of course important for many reasons — to see movies from all over the world, to show your work, meet people, and see reactions from different audiences and different cultures. For many of us who aren't doing films that are commercial, festivals give us a space to be. But they are also difficult to attend because they can take a lot of energy. You get to travel to many countries, but you have to remember that the festivals are not reality. They're just a little part of the filmmaker's work.
Do festivals distract you from working on the next project? No, they are also inspiring. It's important to travel with your work, just as it's important to take space to think for other ideas to grow.
Has working in New York provided this space? How has your perspective changed this past month? To be here in New York is to see modernity as something we've already passed through. Having come from such an old country, it's so beautiful for me to see the archeology of the present in New York. It feels kind of like looking at human beings from another time. I'll go back to Italy with this feeling — that modernity is not something coming. It's gone.
Your newest film is about time travel, right? Almost…if I could talk about what I feel, I'd write a book, which is so simple compared to making a movie. When you make a movie, you need many people and so much. You only do it because you don't have any other way to explain yourself. So for me, it's very hard to talk about this next movie. But, it's been beautiful to write and imagine this story from New York.
What inspired the idea or how were you led to writing this script? I think it's about the present from the point of view of someone who travels through time. But it's not science fiction. It's about a man who really travels through time, about 50 years. It's very simple. From the perspective of the consciousness, it's a very sad and pessimistic story, and from the point of view of the heart, it's very happy and optimistic.
Do you envision the actors as you are writing the characters? I see some people or images, but not specific actors. I don't start from actors normally. I'll start from the character and then the character will change a lot based on the person who is cast. I like the possibility of writing something that will change.
Do you work with non-actors differently from how you work with professional actors or how you direct your sister, actress Alba Rohrwacher? There is a difference between all people, so there is no difference between how I work with actors, non-actors, children, or animals. We're all different somehow and we're also all the same. Whoever is involved in a movie is someone who has to trust you a lot. If there isn't trust when you shoot, it's very difficult to work. The first thing to do between a director and an actor is figure out how to trust one another, and then just building that relationship in an honest way.
What does honest authentic filmmaking mean for you? I don't think you can make an authentic movie because you are making something fake somehow. But the beauty in filmmaking, like the beauty of authenticity, is not something you will reach. It's a direction. What is beautiful for me is to go in some direction of beauty, but it's not already there. Because when it's there, it's almost too much and stops being beautiful. Authenticity is a losing battle, but just trying to go in the direction of it is something, no?
What did you discover on your first film that helped prepare you for the second? I think I discovered that this is beautiful work, because it's work that can give work, and that's the best feeling you can have in your life. I discovered this for the first time on the set of Corpo Celeste because until that time I had always been doing my work. But from that moment on, I've wanted to give work. I think this is the best part.
But technically, as a first-time director on your first film set, how did you adjust? What settled for you going into the next movie? I don't know. Maybe I'm just very sure of something that I will never reach. So on one side, I'm sure about what I want, but on the other side, I'm sure that it's a very long way. But I have to try.