Back to selection
Moonlight, O.J.: Made in America, Casey Affleck, Isabelle Huppert Top 26th Annual Gotham Awards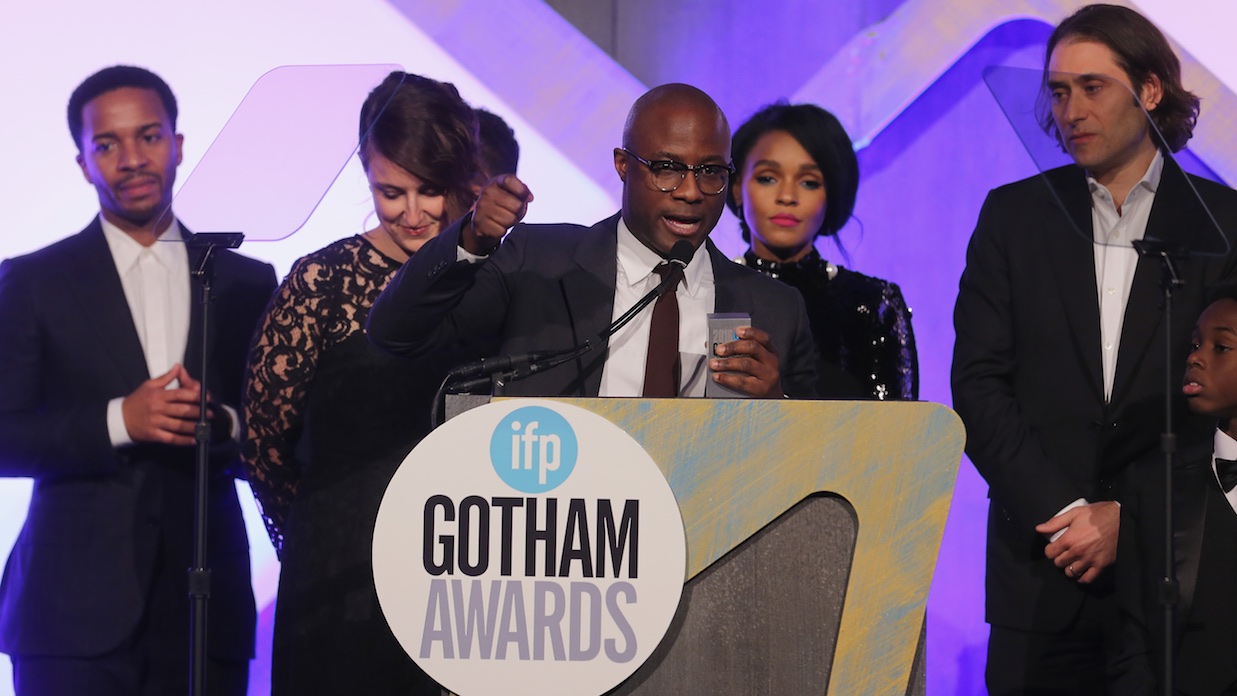 Barry Jenkins and the Moonlight team. (Photo by Jemal Countess/Getty Images for IFP)
TUESDAY AFTERNOON WRITE-THROUGH
In 2008, Barry Jenkins remembered on one of several trips up to the podium tonight at the 26th Annual IFP Gotham Awards, held, as usual, at Cipriani Wall Street, he was in this same room as one of the nominees for Best New Director. He lost that year to Ballast's Lance Hammer, and, as he went on to note, he hasn't made a film in the long eight years following. (Neither has Hammer, actually, although I hear that's changing.) Until Moonlight. His beautiful, amazingly accomplished and much beloved second feature took home four awards tonight, including the Gotham Audience Award, a Special Jury Prize for Ensemble Performance, the Best Screenplay prize and, finally, Best Picture.
A clear favorite, Jenkins's four trips to the podium were all protracted as he was surrounded by crew and well wishers each time. Of the type of personal, deeply humanistic story that Moonlight is, Jenkins said, "Right now, they are more needed in this world than they have ever been." The comment was a graceful reflection on the recent U.S. election, a topic that not-surprisingly ran through the evening in both subtle and not-so-subtle ways. IFP Executive Director Joana Vicente said, ""The films nominated tonight show us so much about our lives and our world" while Keenan-Michael Key opened his monologue by summoning up the surreality of the moment. He said he had been on a desert island for three weeks and didn't know anything that had happened recently, and his jokes consisted him of tearing up his jokes — planned comments on diversity, women breaking the glass ceiling, etc. A woman at my table joked, "Too soon?", and indeed, much of the crowd who mingled both before and after still seemed somewhat shell-shocked by Trump, a disorientation given voice by tribute winners like Oliver Stone, whose unexpectedly gentle, short speech began with the storied director noting his own age (70), saying "I'd like to go on," and telling the younger filmmakers in the audience to, over the course of their own, hopefully, long careers to "to take it easy on yourself… Don't run yourself out." And, he mentioned the subject of his latest film, Edward Snowden, who warned that our massive state surveillance network is available to incoming President Trump. To the filmmakers, he said, "it is possible to be critical of your government," and that "I hope you young people will address it."
More of the speeches, though, could have been delivered any year, even as their calls for inclusiveness, community, diversity and the power of non-mainstream storytelling resonated more deeply this one. Tributee Amy Adams, who just won the National Board of Review Best Actress Award for Arrival, focused her speech on the rewards of Junebug, Phil Morrison's 2005 independent feature, which Adams co-starred in following a slew of television work. "A movie made for under one million has given me the privilege to have this career," she said. "Before Junebug I was having a hard time trying to find my voice. I was trying to fit in, to be normal."
Cate Blanchett, incidentally, intro'd Adams ("her screen presence is entirely unique") with a flowing, mellifluous intro speech that had all the intimacy of a good friend telling you a story at the corner bar. Actors and actresses who cut through the rote stagecraft of events like this always knock the hell out of me.
The wildest and wooliest intro speech of the night was Winona Ryder's who gave a long, impassioned, at times tearful celebration of her friend and colleague, the multi-hyphenate Ethan Hawke. Both called out the earlier portion of their careers, citing their work on Reality Bites (1994), while Ryder said of Hawke that "she's never known anyone who has been interested in so much." And then: "You have the thirst to suck the marrow." You haven't heard that line on an awards show before. For his part, Hawke turned to Ryder and said, "You're a woman who loves the arts. I wouldn't be sitting here if it weren't for you." He then went on to site his early appearance, at age 14, in Joe Dante's Explorers. One critic trashed him and wrote that he'd never be a movie star. So, he said, "the only thing I know for certain I will is be washed up again very soon. And I hope the next time I'm washed up it won't be the last time because there so many people here I'd like to work with. Special welcome to everyone here for the first time."
Moonlight was a clear favorite in a evening that, as always, delivered some surprises, the biggest of which was Isabelle Huppert's win for Best Actress in Paul Verhoeven's Elle. An astonished Huppert said on stage that her distributors told her she didn't stand a chance — "It's a very American award, very New Yorker — you'll never get it!" Saying she had just got off a plane and had been on the Paris stage the night before, the visibly shocked Huppert tried to thank the IFP, but couldn't place it: "Thank you, whoever organized this, whatever it is!" And the Best New Actress went to Anya Taylor-Joy, who delivered her performance in Old English in Robert Egger's 16th-century-set The Witch.
Casey Affleck won Best Actor for Manchester by the Sea, and Ezra Edelman's television miniseries O.J.: Made in America won Best Documentary. And I was particularly happy to see Trey Edward Shults, a 2015 25 New Face, win the Bingham Ray Breakthrough Director Award for his incredible Krisha, which is deserving of more love on the current awards circuit.
With his old school Hollywood mien, mega producer and financier Arnon Milchan, a final tribute winner, seemed to have stepped out of a different show. "I started by collecting paintings, and then sculpture, and then movies," he said.
The two series awards went to Crazy Ex-Girlfriend (Best Long-Form Series, beating out Filmmaker favorite Jessica Jones) and Her Story. The latter filmmakers sent a note to be read as their acceptance speech, writing that, as independent online creators, they are "too poor" to attend.
For the first time, the Gotham Awards contained an awards show within the awards show, which added to the evening's length but also brought some energetic awardees to the mix. Master of None's Aziz Azari spoke of moving to New York, the ease with which you can steal crafty from the sets of Mr. Robot, and his own neighborhood encounters: "Without New York, I would probably be living in South Carolina, there would be no Gotham Awards, no friendship with Nick Kroll, no sightings of Jim Jarmusch in my neighborhood." Other Made in New York awardees were the Mayor's Office of Media and Entertainment (accepted by commissioner Julie Menin and Deputy Mayor Alicia Glen) and Transparent actress Judith Light.
The complete list of winners is below.
The 26th Annual Gotham Award recipients are:

For Best Feature, presented by Natalie Portman

Moonlight
Directed by Barry Jenkins
Produced by Adele Romanski, Dede Gardner, and Jeremy Kleiner
Released by A24

The Best Feature jury included Blythe Danner, Grant Heslov, Oscar Isaac, Doug Liman, and Andrij Parekh.

For Best Documentary, presented by Annette Bening and Greta Gerwig

O.J.: Made in America
Directed by Ezra Edelman
Produced by Caroline Waterlow, Ezra Edelman, Tamara Rosenberg, Nina Krstic, Deirdre Fenton, Libby Geist, Erin Leyden, and Connor Schell
Released by ESPN Films

The Best Documentary jury included Liz Garbus, Joshua Oppenheimer, Yoruba Richen, Bernardo Ruiz, and Tom Yellin.

For the IFP Gotham Audience Award, presented by Damian Lewis

Moonlight
Directed by Barry Jenkins
Produced by Adele Romanski, Dede Gardner, and Jeremy Kleiner
Released by A24

The Audience Award was voted for on-line by IFP members.

For Best Actor, presented by Nick Kroll

Casey Affleck in Manchester by the Sea
Released by Amazon Studios

The Best Actor jury included Neil Burger, Jonah Hill, Benjamin Kasulke, Lisa Kudrow, and Gina Prince-Bythewood.

For Best Actress, presented by Neve Campbell and David Oyelowo
(presenting sponsor deep euphoria Calvin Klein)

Isabelle Huppert in Elle
Released by Sony Pictures Classics

The Best Actress jury included Rene Bastian, Neve Campbell, Katherine Dieckmann, Tim Orr, and Fisher Stevens.

For Best Screenplay, presented by Katie Holmes

Barry Jenkins (Screenplay) and Tarell Alvin McRaney (Story) for Moonlight
Released by A24

The Best Screenplay jury included Chiwetel Ejiofor, Grace Gummer, Daniela Taplin Lundberg, Daniel Minahan, and Jeremy Saulnier.

For Breakthrough Actor, presented by Kate Beckinsale

Anya Taylor-Joy in The Witch
Released by A24

The Breakthrough Actor jury included Eric Bogosian, Ross Katz, Sophia Lin, Gabourey Sidibe, and Dylan Tichenor.

For Bingham Ray Breakthrough Director, presented by Emily Mortimer

Trey Edward Shults for Krisha
Released by A24

The Bingham Ray Breakthrough Director jury included Sean Baker, Emily Mortimer, Rachel Morrison, William Packer, and Alexander Skarsgård.

For Breakthrough Series – Long Form, presented by Lela Loren and Ben McKenzie

Crazy Ex-Girlfriend
Created by Rachel Bloom & Aline Brosh McKenna
Executive Produced by Marc Webb, Rachel Bloom, Aline Brosh McKenna, and Erin Ehrlich
The CW

The Breakthrough Series – Long Form jury included Sam Esmail, Ellen Kuras, Lela Loren, Patton Oswalt, and Dee Rees.

For Breakthrough Series – Short Form, presented by Leslie Mann

Her Story
Created by Jen Richards and Laura Zak
Produced by Kate Fisher; Executive Produced by Eve Ensler

The Breakthrough Series-Short Form jury included Effie Brown, John David Coles, Rob Corddry, Gaby Hoffmann, and Ingrid Jungerman.

Special Jury Award for Ensemble Performance, presented by Gael Garcia Bernal

Moonlight
Mahershala Ali, Naomie Harris, Alex Hibbert, André Holland, Jharrel Jerome, Janelle Monáe, Jaden Piner, Trevante Rhodes, and Ashton Sanders
Released by A24

For the deep euphoria Calvin Klein Spotlight on Women Filmmakers 'Live the Dream' Grant, presented by Margot Robbie

Roxy Toporowych
Julia Blue

The deep euphoria Calvin Klein Spotlight on Women Filmmakers' 'Live the Dream' grant jury included Sarah-Violet Bliss, Carly Hugo, Susan A. Stover, and Noël Wells