Back to selection
Episodic and In Your Ears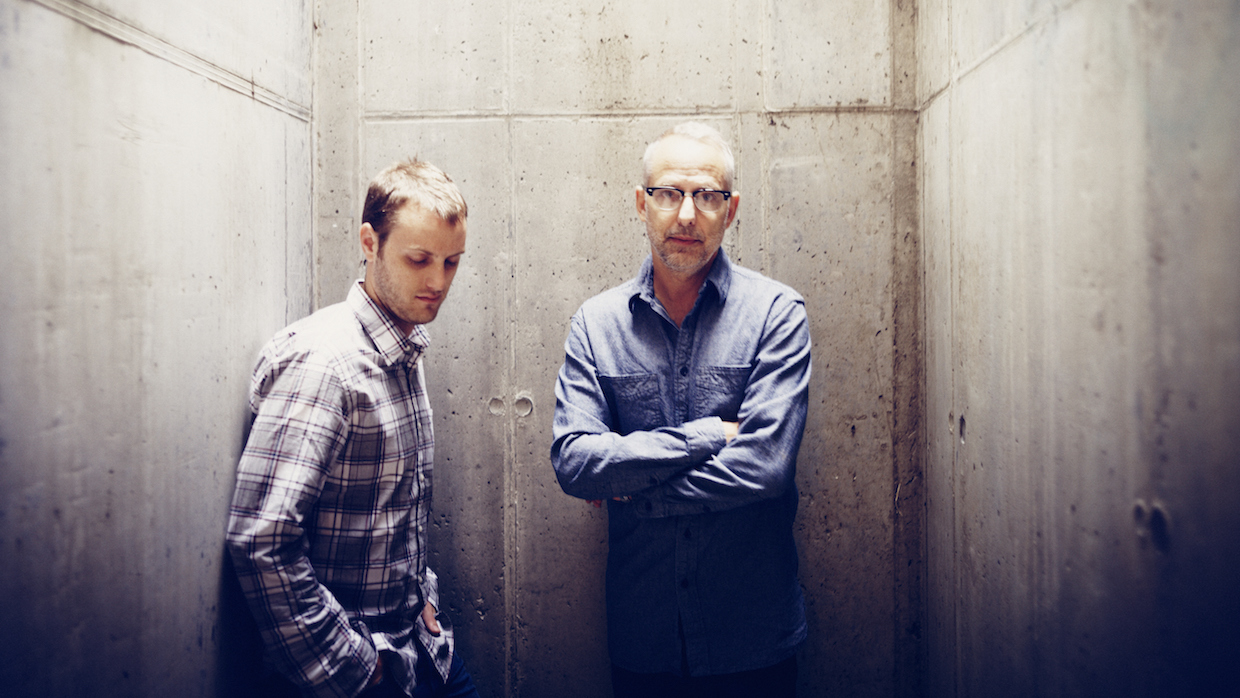 Zac Stuart-Pontier and Marc Smerling, co-creators of Crimetown (Photo courtesy of Gimlet Media)
While the migration of independent filmmakers to the small screen is a much remarked about phenomenon, another entertainment platform, one growing even faster than television, is opening its loving arms to independent directors, screenwriters and producers. Podcasting, for its first decade or so, has consisted primarily of interview shows, like Marc Maron's WTF, and the occasional fresh approach to journalism, like Serial. But now it's moving more and more into the fiction world and creating alluring creative opportunities for independent storytellers.
Founded in 2014, Gimlet Media has been making a name for itself producing shows like StartUp (about starting a business) and Reply All (about the internet). But straight-up fiction content has not been in their wheelhouse. "Fiction is a category that we've been interested in for a long time," Caitlin Kenney, Gimlet's head of of new show development, told me. "We had a lot of fiction authors pitching shows they had already written or started to write, but we felt like if we wanted to try out a new genre, we should really be involved in every part of the process for our first attempt. When we realized internally that we wanted to do fiction, Eli Horowitz was the obvious choice to lead this."
Called an "experimental storyteller" by The New York Times, Horowitz is known for marrying literary fiction with multimedia and innovative design. A former managing editor and then publisher of the literary magazine McSweeney's, Horowitz created the geolocational science-fiction smartphone app, The Secret History. He's also a book editor whose credits include Miranda July's debut novel, The First Bad Man. But he never produced a fiction podcast before. He reached out to Alicia Van Couvering, an independent film producer (and, full disclosure, Filmmaker contributing editor), whose credits include Tiny Furniture and Drinking Buddies, with some questions about finding writers and actors. "I had a blast helping him and thinking it through, connecting him to people," Van Couvering said. One of those people was Micah Bloomberg, the sound mixer turned screenwriter (Creative Control, Stand Clear of the Closing Doors), who ended up co-writing Homecoming, Gimlet Media's first fiction podcast, with Horowitz.
The collaboration produced a great script but also lots of question marks. "The questions mostly revolved around performance," said Van Couvering. "Do we record outside for the outside scenes; if so, where? Do we want to decorate the recording room with props; if so, what props? In this case no one really knew what to expect, since no one involved had ever done a scripted podcast."
An incredible cast (Catherine Keener, Oscar Isaac, David Schwimmer) quickly fell into place, lured by the strength of the script, but Horowitz had never directed actors before. "Leading up to the actual recording, I was like 'Should we find a real director?'" Horowitz told me over the phone from San Francisco. But, explaining and handing over his vision to someone else "felt a bit painful," Horowitz said. "I figured I had to learn eventually. This was the best way."
Horowitz seems to thrive on maximizing limitations, to the point of even self-imposing them on himself. Homecoming, now available everywhere podcasts are found, is presented to the listener without narration or direct exposition of any kind. The story of a woman involved in a mysterious government program helping (or so it seems) soldiers returning home from war is told with audio from intake sessions, phone calls and overheard conversations. "In a way, everything about this script came out of thinking about the specific challenges of audio," Horowitz told me. "That's what led us to this very claustrophobic, small cast of characters, repeated settings; that's the kind of thing that can dodge those problems."
Fiction in podcasts might be new, but audio storytelling in general certainly isn't. There's old-fashioned radio drama — shows like The Shadow and Orson Welles's The Mercury Theatre on the Air — that captivated early- and mid-20th-century audiences. But, says Horowitz, he wasn't interested in hearing how others had tackled audio narrative before. In fact, he made himself oblivious to it as a way to respond to the form rather than the genre. "I didn't have to actively avoid tropes [while making Homecoming] because I was pretending like this was something totally new," he said. "Then it's just natural that I would make up my own tropes. To me it was like — it's episodic and it's in your ears, and just go from there."
The creators of another new Gimlet series — producer Marc Smerling (The Jinx) and producer and editor Zac Stuart-Pontier (The Jinx, Martha Marcy May Marlene, Catfish) — approached the long history of radio drama a bit differently. "The old detective stories — they're terrible," said Smerling, who, when developing the true-crime podcast Crimetown, went back and listened to various old-time radio shows. "I mean, you listen to them now and you have no basis for that kind of storytelling."
Intended as a regular series, Crimetown "investigates the culture of crime in a different American city," beginning, in its debut season, with Providence, Rhode Island, where amid a swirl of organized crime, a young prosecutor, Buddy Cianci, runs for governor. The show, which covers decades, features a huge array of sometimes bizarre characters, narration by the two producers, savvy music cues and startling archival audio clips.
When Smerling and Stuart-Pontier decided to tell Crimetown's story in the form of a podcast, instead of TV miniseries like The Jinx, they were not quite prepared for the problems they'd have to dodge. "When you make documentary films, before you get to visualizing how it's going to be, you're basically creating a radio show of interviews to try to tell the story, which is very much what a podcast is," Smerling told me. But a lot of their usual tricks and storytelling ideas did not translate at all for audiences lacking visual reference points. "In The Jinx, we're jumping through time a lot. You can show an image (or re-show an image) and people are immediately like 'I know where I am.' There's nothing like that in podcasts." Even some editing approaches they used to great effect in their films were discovered to be useless when making a podcast — for instance, the intercutting of two people telling their own versions of the same story. "In audio, you try to intercut two people [but] you can't tell who's talking; you can't keep as many characters in your mind as you can in film," Stuart-Pontier said.
Horowitz had a similar challenge with Homecoming: "One of the things we're still trying to learn is, how distinctive are voices? I feel like I still just don't know. Sometimes we think we figured it out and then someone will be confused by something we hadn't even considered." (Listening to Homecoming, one immediately understands the value of name actors like Catherine Keener, who have such recognizable cadences.) Horowitz quickly discovered you can't have one character just come up to another character and say something (even if it's just a waiter taking an order or a coat check girl) without disorienting a good portion of the listeners.
"All your weapons are useless against the story demon," Smerling lamented. "So you have different weapons."
For the teams behind these two Gimlet shows, different weapons added up to a whole new approach to the grammar of the medium. Horowitz noticed that it was hard for the audience to orient to a new setting through sound design. So he figured out that it was easier for the audience to adjust if the scene started outside of that new place, and then the characters entered in. "And so you're apprehending the location at the same time that the character is," Horowitz explained.
In their filmmaking, Smerling and Stuart-Pontier have regularly used a sense of confusion as a storytelling tool. A cut to a strange image would immediately make the audience lean in with interest. But, "confusion in a podcast doesn't work," said Stuart-Pontier flatly. Accordingly, their first meetings with Gimlet Media co-founder Alex Blumberg were torturous. They'd play him something and Blumberg would say, "Okay, I can tell a lot of work went into this. It doesn't make any sense at all." The two producers gradually learned how to keep audio audiences engaged. "Not that you can't have twists and turns," Stuart-Pontier said, "but the audience has to be clear about where the story is going, and that's a bit of a difference."
Homecoming flirts with uncertainty, but not when it comes to timeframes. "We don't want that ever to be confusing," Horowitz said. During editing he would play episodes for people and ask them, "Do you know when this is taking place?" Said Horowitz, "I feel like [a grammar for podcast storytelling] is something that's going to be figured out just like film figured it out."
But the limitations of the podcast medium also have great advantages for storytellers. "Podcasts are consumed so personally," Van Couvering said. "You listen to them alone. You're in your car, or in your house. Your attention is extremely focused, and it's really, really intimate." As Horowitz points out, there's still something incredibly engrossing about good conversation, which has long been podcast's strength. "I [wanted to] harness the conversational power that works so well in audio and then place it within this story architecture," he explained of his inspiration for Homecoming. "Because all of Homecoming is built around these mundane conversations, the meaning they take on or the juxtaposition of what the listener knows is what gives them their plot value. Audio is particularly good for that."
Walk into the Gimlet Media building in Gowanus, Brooklyn, and you're bound to feel the creative energy flowing through the light-filled open spaces. Indeed, for the Homecoming and Crimetown teams, the 60-person company offered the kind of streamlined development process most film and even TV companies can't match these days. "This is nothing like the movie business or the television business," said Smerling. "You're really in it together. The deals are really clean. It just felt right. We made a deal in like two weeks."
"In my tiny dealing with the [film] world, it has seemed frustrating, and slow and often ridiculous," said Horowitz, who now boasts the Gimlet Media title of executive producer, scripted content. "And so my theory has been that there should be all these people who will jump at [this] because there's no conference calls, no executives, none of that. We're just making things."
According to Kenney, Gimlet's vision for their fiction division is to make the most addictive and compelling audio possible, just like they did on the documentary side of the business. "As Eli grows this division, we expect to see him bring in and help shepherd other great writing talent."
"I'm just waiting for them to find us," said Horowitz. "I'm trying to figure out what kind of people it should come from. Does it come from novelists? Does it come from screenwriters? I don't know. The biggest thing is the eagerness, the desire to experiment. But, yeah, there should be lots of opportunities."