Back to selection
Hits & Misses: The Theatrical Performance of the Sundance Class of '16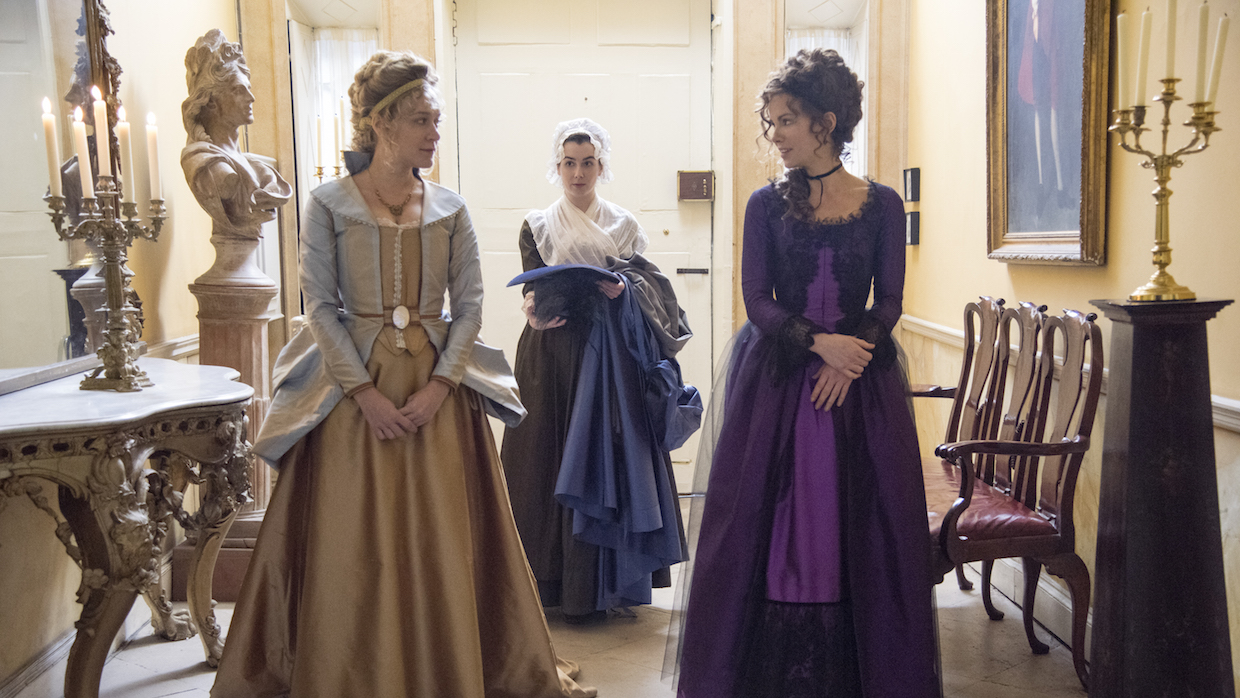 Love & Friendship (Photo by Ross McDonnell/Courtesy of Amazon Studios and Roadside Attractions)
How do you measure success these days?
When more than two million people vote for you over the other guy and you still lose? When you receive no endorsements from a single major newspaper, your party's leadership practically ignores you, and you still win? Or, perhaps, when your heralded Sundance acquisition earns a whopping $15.8 million at the box office, but you spend more than twice that in acquisition fees and prints and advertising costs to release it? (i.e., The Birth of a Nation). How about if your film isn't released in theaters at all, but Netflix paid $5 million dollars to buy it (i.e., Tallulah)?
Simply put, as with contemporary politics, there are no certainties in American independent film these days — except that producers and distributors have to be shrewder, smarter and more strategic than ever before.
With so many release platforms and possibilities, a film's journey after Sundance takes many forking paths. Consider that almost half of the 16 esteemed Sundance Dramatic Competition titles from 2016 became ostensibly home entertainment titles (As You Are, The Free World, Goat, Joshy, The Intervention, Tallulah, White Girl), even if some had limited theatrical runs.
As IFC Films Co-President Lisa Schwarz admits, "What's trickier now is determining where the film will resonate best on cable VOD and internet VOD, [whose windows] move around every year. You have to be very careful about where you place your bets." For instance, IFC's Sundance pick-up with Showtime, Weiner, had six different release windows over a couple of months: theatrical; a special VOD release on all the major cable operators; then cable (Comcast, Verizon) and digital releases (iTunes, Amazon, etc.); followed by a DVD release; and then a home video VOD window.
And despite all the continued talk about VOD, the release of many independent films still starts with the wild unpredictability of the theatrical marketplace, which, according to Amazon's head of marketing and distribution Bob Berney, remains "more important than ever." "Our customers want films that have been discovered in festivals, gotten awards and have played in theaters," he says. "That level of awareness becomes critical when it comes to VOD."
Depending on your perspective, it could seem like indie movie-going is on an upswing. A24 had one its biggest hits ever with the wide release of Robert Eggers's The Witch (grossing over $25 million) nearly a year after it premiered at Sundance 2015. And according to Roadside Attractions Co-President Howard Cohen, the company had its best year ever at the box office, fueled by Park City pick-up Southside With You ($6.3 million), SXSW acquisition Hello, My Name is Doris ($14.7 million) and its two Sundance-launched Amazon partnerships, Love & Friendship ($14 million) and Manchester by the Sea (which opened in November with the fourth highest per-theater-average of the year). For Cohen, the theatrical marketplace can still be exploited by independents — however, he adds, "It's not enough for a movie to just be good; it has to be great." (See Manchester by the Sea's Metacritic score: 96)
Magnolia Pictures's President Eamonn Bowles is more downbeat than Cohen — "It's been a very down year for independent film in general" — and shares his view that merely decent movies don't have a place in the market anymore. "In the past, minor films would do okay, but now you need something substantial," he says. "For anything run-of-the-mill, the bottom has fallen out, both theatrical and on VOD."
Sundance had its own fair share of disappointments. For example, Antonio Campos's highly regarded Christine, which featured one of the year's best performances by Rebecca Hall, stalled out at the box office in the low six figures. But The Orchard's Executive Vice President Paul Davidson says the distributor was "never planning for a huge box office… We were expecting it to represent a calling card for Antonio, Craig [Shilowich, the screenwriter] and Rebecca."
"Modulating expectations" is something you hear a lot. For instance, Oscilloscope Laboratories' President Dan Berger identifies the "new norm" for their company: "It's less about revenue and more about how cost-effective you can be." Indeed, as ever, everyone is trying to find clever ways to market and promote their films without spending too much cash. Distribution executive Jack Foley emphasizes the "tremendous judiciousness" required at his Bleecker Street, which did fairly well in its second year (with Eye in the Sky and Captain Fantastic).
For Foley, indie filmmakers and distributors can take heart in new opportunities and new audiences with a range of tastes. "I think audiences are more open to a diverse menu of subjects," he says. "But you have to have something that they want to see and something that they will like — which isn't necessarily the same thing."
Here is a sampling of films from Sundance 2016 that fulfilled some or part of Foley's mandate. What can they tell us about what's in store for Sundance 2017? It won't be as yuuge as the Amazon-Netflix driven binge of last year, but with independent film — like American politics — you never know, for sure.
Love & Friendship
THE FILM: Indie stalwart Whit Stillman's long-awaited Jane Austen film — and first actual period movie — focuses on the charmingly Machiavellian widow Lady Susan Vernon, who sets out to secure husbands for herself and her daughter. The comedy of manners reunites Stillman with his Last Days of Disco stars Kate Beckinsale and Chloë Sevigny.
FINANCING: Shot in 26 days for a reported $3 million, the film is less an American independent film and more a standard international co-production (in fact, the Sundance catalogue lists it as an Ireland-French-Netherlands coprod). With funding from Arte France, the Netherlands Film Fund, France's SOFICA funds, the Irish Film Board and Protagonist Pictures, which takes international sales, Stillman's latest is poised for global distribution.
DEALS: Prior to Sundance, Amazon Studios buys North American rights based on a promo reel and shares the film with potential theatrical partner Roadside Attractions at the end of December. The two work together, announcing the deal on the eve of the festival. Despite the initial private admiration for the film, it was the reactions at the movie's premiere that confirmed their theatrical release commitment, according to Roadside's Howard Cohen. "It wasn't a given," he says. "But when the movie played really well, it encouraged us to go with a full theatrical window and big marketing push."
DISTRIBUTION: Love & Friendship opens in the U.S. on May 13 on four theaters with a substantial $33,378 per-screen average. Forget the old slow platform release; Roadside ratchets up distribution rapidly: adding 43 screens in week two; an additional 446 in week three; and another 326 by week four — by that point, grosses surpass $7 million off 819 venues. "We spent heavily in the first weeks," says Cohen, noting a seven-figure P&A budget before opening, including costly advertising on both television and online platforms. "But it was really about the longer tail," he adds. "We weren't advertising too much after that."
GROSSES: Word-of-mouth, heavy promotional touring with Kate Beckinsale in several cities and strong reviews — an 87 score on Metacritic — buoy theatrical grosses over $14 million, making it one of the biggest indies of the year. According to Amazon's Berney, it also performs "very well" in its digital release. Foreign sales are strong, too, with seven-figure grosses in the U.K. ($2.3 million), Australia ($1.6 million) and France ($1 million). The film is set up for a healthy ancillary presence.
UPSHOT: Stillman is back and has more work with Amazon lined up — the company commissioned six written episodes of his Paris-based TV series, The Cosmopolitans, which debuted in pilot form on the streaming service in 2014. Feature projects are also in the works.
Swiss Army Man
THE FILM: Stranded on a deserted island, a depressed young man (Paul Dano) befriends a flatulent dead body he calls "Manny" (Daniel Radcliffe) and employs him in various ways to survive. Made by writer-directors Dan Kwan and Daniel Scheinert (aka, The Daniels), the film is widely known as the "farting corpse" movie.
FINANCING: After working on the script for a year, producer Lawrence Inglee finds a partner in Miranda Bailey's Cold Iron Pictures. Once the Daniels's video for "Turn Down for What" goes viral, the producers receive a number of inquiries. Ultimately "looking for freedom," according to Inglee, they go with backing from producer Lauren Mann as well as Gideon Tadmor, a real estate mogul turned producer. Total budget: $3 million. "This is a whole lot of movie for that amount of money," says Inglee. "So this was a good example of how to fund a movie: three equal partners, at a reasonable level."
DEALS: "With a film like this, we were trying to quiet the anticipation, so the film could be experienced without hype," says Inglee of the team's pre-Sundance strategy. "We completely failed." At the film's premiere, seemingly every acquisition executive squeezes into the packed house. The movie starts some 40 minutes late, and then, before it's even over, the dismissive tweets start pouring in. The New York Times' Brooks Barnes offers this social media missive: "Never a good sign when the chairmen of two studios are among the glum walkouts of a supposedly hot film half way thru." But then some good reviews and passionate fans began to counter the negative buzz. Business on the film may have been delayed, but hot-shot distrib A24 eventually steps up and closes a deal for domestic rights over a week later on January 29. In April, the company buys worldwide rights. "We came out great," says Inglee.
DISTRIBUTION: In late June, A24 opens the film in three theaters, generating a mighty $35,151 per-theater average, and then supersizes the release the following weekend, taking it out to 636 theaters. Over the July 4 weekend, the film earns over $1.4 million. "It might have been difficult to get what the movie is about," says Graham Retzik, who is in charge of creative marketing at A24, "but it's surrounded by original and audacious elements that audiences are hungry for, particularly in the spring-summertime frame where there's a glut of unoriginal ideas." According to Retzik, star Daniel Radcliffe did a fair amount of publicity, but what ultimately helped the film stand out were its unfamiliar elements. The company created an innovative website, where viewers could text with and connect with "Manny," and leaned heavily on the film's original music. "When we put the first teaser trailer online," he says, "it became the highest viewed piece of material in the company's history by a very large margin."
GROSSES: After 14 weeks, total theatrical grosses surpass $4.2 million. Overseas, the film performs well, grossing $5.5 million to date, with strong releases in Russia, the U.K. and other European territories. On digital release, the film remains on iTunes' list of top movie downloads for weeks.
UPSHOT: The Daniels establish themselves as innovative auteurs and A24 reaffirms its ability to tackle hard-to-market titles and find a young audience for them in theaters.
Captain Fantastic
THE FILM: The second feature from actor-turned-director Matt Ross (28 Hotel Rooms) stars Viggo Mortensen as an off-the-grid, socialist dad with six brilliant sheltered kids who sets out on an epic road trip to rescue his dead wife's body from her conservative parents.
FINANCING: Producers Lynette Howell Taylor and Jamie Patricof are able to lock down Mortensen for the lead role before financing. With Mortensen in place, William Morris Endeavor Global head Graham Taylor recruits Shivani Rawat's ShivHans Pictures to put up the $8 million gross budget. "The reason why it didn't cost $4 million was because we were shooting with kids, for 40 days and multiple locations," explains Howell Taylor.
DEALS: Because of ShivHans' overall output deal with Bleecker Street, the film is set to be released in the U.S. as part of the specialized distributor's initial slate of titles. Sierra Affinity makes a raft of international deals with companies such as Mars Distribution (France), Shochiku (Japan) and Entertainment One (Canada). Also part of a multipart output deal with Bleecker Street, Universal Pictures Home Entertainment retains all home video and VOD rights.
DISTRIBUTION: After standing ovations at Sundance and a stellar international launch at Cannes (where Ross is awarded a directing prize), the film is primed for a healthy summer release. On July 8, Bleecker Street opens the film on four screens for a reasonably fantastic $23,456 per-venue average. In its fourth week, Bleecker Street gets aggressive, spending carefully on TV ads and expanding to 550 theaters, yielding $2.5 million in grosses. The film hangs around in theaters through most of October, followed immediately by DVD and TVOD releases, and a Netflix SVOD release on November 22. Mortensen and Ross participate in a promotional world tour; subsequently, the film performs particularly well in France, Spain, the Australia and the Netherlands. "Timing is such a huge factor," says Bleecker Street distribution veteran Jack Foley, who attributes the film's successful rollout to the political climate and the rise of Bernie Sanders. According to Foley, Bleecker Street was also bullish on a summer release to capitalize on the film's road-movie plot and outdoor settings. "The summer factor really helped us a lot," he claims.
GROSSES: The U.S. box office tops out at a little over $5.8 million. Global sales are also solid, particularly in France, where the film grosses an exceptional $3.6 million. According to Foley, under $6 million isn't Little Miss Sunshine numbers, by any means, but it should still be called a "breakthrough" in today's marketplace. "We never thought of it like Little Miss Sunshine," says Howell Taylor, "because we were very conscious of the fact that we couldn't sell it as a straight-up comedy. It's a drama."
UPSHOT: According to Howell Taylor, the producers aren't in the black just yet, but they're expecting to eventually become profitable. The better news comes for Ross, whose reputation from actor (Silicon Valley) to internationally renowned filmmaker-to-watch is sealed.
Weiner
THE FILM: Co-directed by Elyse Steinberg and Josh Kriegman, who was New York Democratic Rep. Anthony Weiner's chief of staff before he became a filmmaker, the documentary follows Weiner's failed comeback attempt and New York City mayoral campaign in 2013.
FINANCING: Funded through small equity investments and grants from Catapult, Sundance and the Tribeca Film Institute, the high six-figure budget presents a challenge for the producers. "We finished the film with a big deficit," admits Motto Pictures' Julie Goldman.
DEALS: Sales agent Submarine Entertainment decides to show the film to buyers ahead of the festival. "We wanted to have some security," explains Goldman, "because you just never know with Sundance if your film is going to pop or not." There were a number of offers, but they decided to pact with IFC Films together with Showtime for North American rights. Outside of the U.S., they make direct deals to Madman in Australia and NonStop in Scandinavia. Then Dogwoof takes the remaining international sales and ends up peddling the documentary in every major territory. "From the MGs we've been able to pay our investors back and become whole," says Goldman.
DISTRIBUTION: With Showtime pushing for an October broadcast date, IFC works swiftly to get the film out quickly in the summer. The film opens in five theaters on May 20, earning a solid $16,835 per-screen average. One week later, it becomes available on Cable VOD, but box-office receipts continue to roll in as the film eventually expands to 88 theaters. iTunes and other digital platforms follow, but sales across the board are strong with election-season chatter and continuing personal scandals fueling sales. "Sadly, as [Weiner and wife Huma Abedin's] real life played out with new chapters, it oddly lined up with the film going out to new windows," says IFC President Jonathan Sehring. "We could see the spikes on VOD and iTunes every time something happened. It was great for the performance of the movie, but we were kind of depressed about it." As the election got nearer, along with Showtime's broadcast date on October 22, the cable network gave the film additional marketing support.
GROSSES: After 109 days in theatrical release, the movie earns nearly $1.7 million in box office. According to Sehring, digital revenue is as good as the theatrical numbers. "The movie performed tremendously across all platforms," he says.
UPSHOT: Political docs will never go out of style. The filmmakers enjoy lots of acclaim, and though Motto's Goldman still hasn't received any overage checks, she's hopeful they'll be able to profit from the success of the film.
Little Men
THE FILM: American indie darling Ira Sachs's sixth feature follows the friendship between 13-year-olds Jake (Theo Taplitz) and Tony (Michael Barbieri) as tensions escalate between their parents over a disputed piece of real estate. The third collaboration between Sachs and co-writer Mauricio Zacharias (Love is Strange, Keep the Lights On) the film also stars Greg Kinnear, Jennifer Ehle and Paulina Garcia.
FINANCING: Sachs's previous film, Love is Strange, was a critical hit and his highest career-grosser (nearly $2.3 million in the states in release from Sony Classics). For Little Men, he returns again to the independent arena, cobbling together a budget of less than $2 million from more than a dozen equity investors who participated at varying levels, according to producer Lucas Joaquin, as well as a loan against the New York State's film tax credit. As Sachs told Vulture, "I tend to be financed by a group of people, none of whom have leverage and all of whom have faith." In addition to Parts & Labor's Jay Van Hoy and Lars Knudsen, the film's credits name an additional 11 executive producers, including Buffalo 8 Productions' Matthew Helderman and Luke Dylan Taylor, and Brazilian producers Lourenço Sant'Anna and RT Features' Rodrigo Teixeira, among others.
DEALS: At Sundance, Charlotte Mickie at Mongrel International makes a pact for international sales rights and readies for major territory deals the following month at the Berlinale, long a supporter of Sachs's work. Despite stellar reviews at Sundance, it takes a few weeks after the movie's premiere for Magnolia Pictures to acquire U.S. rights. A Magnolia output deal with Netflix assures the film's placement on the streaming service.
DISTRIBUTION: Magnolia opens the film in New York on Aug. 5 at the Film Society of Lincoln Center uptown and the IFC Center downtown for a combined gross of $30,368. In the weeks ahead, the film incrementally expands to about 60 venues and continues to play theatrically for over 16 weeks. "It really did hang in there," says Magnolia's Bowles, who credits the film's modest run to Sachs's reputation as a filmmaker, good reviews (an 86 on Metacritic) and the film's resonant and even-handed depiction of urban gentrification. Overseas, the film finds audiences in France, the U.K. and even Spain.
GROSSES: Theatrical grosses top out just over $700,000. After decent transactional VOD sales and SVOD deals, the film will be "nicely profitable," says Bowles. Internationally, the film collects over seven figures in sales, with France being a top performer.
UPSHOT: "A lot of people are waking up to the fact that Ira is a major, legitimate director," says Bowles. Indeed, Sachs' next two projects, the most high-profile of his career, include a Montgomery Clift biopic for HBO, and a Paramount-backed miniseries called Christadora, based on Tim Murphy's novel about New York during the AIDS crisis.
The Fits
THE FILM: A coming-of-age portrait about an 11-year-old African-American tomboy, Toni (Royalty Hightower) who joins a tight-knit dance team in Cincinnati's West End. When a mysterious outbreak of seizures plagues the team, Toni's desire for acceptance is challenged.
FINANCING: The film is developed, produced and funded through the Venice Biennale College Cinema program, a microbudget initiative for first- and second-time directors. The fund puts up and caps the film's entire 150,000 Euro budget. To prepare the film beyond festivals for the marketplace, the film receives additional support from the Sundance Institute, participating in its inaugural Editing Intensive program, as well as Cinereach and Rooftop Films.
DEALS: Because the film is entirely grant-funded, the producers don't have financiers who are expecting a return. "We were able to visualize the life of the film without that obligation — and that's present in the way we made the film," says director Anna Rose Holmer. However, the film retains Mongrel International's Charlotte Mickie to shepherd international sales and overall strategy. The film shows in Venice in their Biennale College sidebar before Sundance, so the producers open it up to buyers before Park City. After a screening in New York, the producers decide to make a deal with Oscilloscope Laboratories for U.S. rights. "It wasn't necessarily a business decision," admits Holmer. "It was more about the fact that they wanted to protect the theatrical window and work on it for the long haul." International sales are unusually robust for a microbudget American indie, with theatrical sales across the globe and Sundance Channel in Latin America.
DISTRIBUTION: Oscilloscope builds momentum with lots of festivals post-Sundance and then opens the film in early June on a single screen — Manhattan's new Metrograph — and grosses a respectable $10,602. Oscilloscope took a bit of a gamble in opening the film at the edge-of-Chinatown theater, launched by a team including filmmaker and necktie-designer Alexander Olch, as the theater's launch identity was built around retrospective and calendar titles. The Fits was, in fact, one of the theater's first new-release titles. But, says Oscilloscope's Berger, "Yes, it's definitely tricky to bring a specialized film to a nonestablished theater. The Metrograph shared the same excitement and confidence in the film that we did and though they were a new entity, we had known and trusted the people there for many years prior in their previous roles."
The film expands to four theaters in its second weekend and, by its fourth, tops out at just 20 theaters, with $80,000 in grosses. "It was a pretty limited release that focused on press," says Holmer, "but it was a long-term investment, because it got into the tastemakers' circle." Reviews are very strong, with a 91 score on Metacritic. Though Holmer admits she would have liked to play more cities, there are still bright spots: Even after the film is released on Amazon and Netflix, says Holmer, "we had one of our biggest weekends in Detroit."
GROSSES: Total theatrical sales max out at $166,425. "The box office is modest, but not outside the realm of expectations," says Berger. "We always knew that the film was challenging on a broader level." When the film hit the mainstream market in digital release, regular movie-downloaders didn't respond that well. "You see some surprisingly negative [user] reviews on iTunes," admits Berger, who notes digital all-in gross (SVOD and TVOD) will hit low six figures. "Ultimately, the movie will be successful for us and the filmmakers," he claims, "because we showed a lot of restraint in the spending and it will continue to get discovered and watched."
UPSHOT: "Having The Fits as our calling card is adding momentum," says Holmer, who is already at work writing a new film as part of Sundance's FilmTwo Initiative. She's since signed on with CAA and is pitching other projects, as well. Meanwhile, producer Lisa Kjerulff has a new project as part of Sundance's Catalyst Initiative and received a Piaget Producers nomination from the Spirit Awards. "Given that it's a nontraditional narrative," says Holmer, "it continues to blow me away the response and the size of the audience we reached."