Back to selection
DP Lyle Vincent on Shooting Neo-Noir Thriller Thoroughbred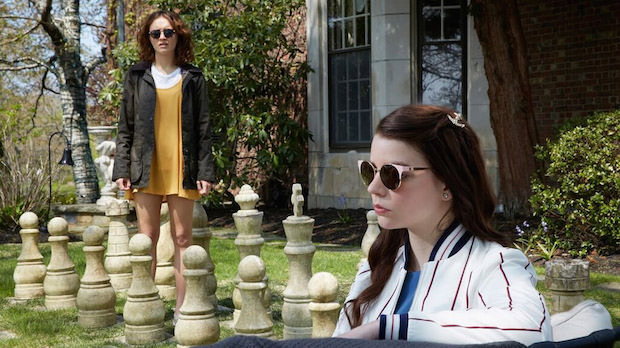 Thoroughbred
Lyle Vincent served as DP on two films at the 2017 Sundance Film Festival: the Midnight selection Bushwick and the NEXT entry Thoroughbred. From first time director Cory Finley, Thoroughbred is a neo-noir character drama that features one of the final performances of the late Anton Yelchin. Vincent discussed his process and approach to cinematography with Filmmaker ahead of the film's world premiere at Sundance.
Filmmaker: How and why did you wind up being the cinematographer of your film? What were the factors and attributes that led to your being hired for this job?
Vincent: The film's writer/director Cory Finley liked my work on the movie A Girl Walks Home Alone at Night, so I took a meeting with him about Thoroughbred and we really hit it off. One thing led to another and I was very fortunate that Cory and the producers asked me to shoot this film. It was an opportunity I of course jumped on, because the script was so good and I really liked the direction Cory wanted to take it.
Filmmaker: What were your artistic goals on this film, and how did you realize them? How did you want your cinematography to enhance the film's storytelling and treatment of its characters?
Vincent: Thoroughbred can be considered a neo-noir thriller so both Cory and I wanted to incorporate traditional noir elements and tropes into the film's look. It was also something that we didn't want to hit the viewer over the head with, but gradually transform into as the audience learns more about the characters. Thus, starting in the second act of the film, the look — specifically the lighting — becomes more dramatic with stronger shadows, silhouettes, chiaroscuro and more expressive colors and camera moves. In the end the film is really a character-driven piece, so while we wanted this strong look for the film we also wanted to balance it in keeping in a natural and motivated realm but still heightened to support the amazing performances of our actors.
Filmmaker: Were there any specific influences on your cinematography, whether they be other films, or visual art, of photography, or something else?
Vincent: I looked at the noir films shot by James Wong Howe as well as Gregg Toland's work in Citizen Kane and others specifically looking at the lighting techniques and the use of light and shadow. Cory and I also used the still photography of Gregory Crewdson as a more modern visual reference specifically in its heightened realism and balance of theatrical and motivated lighting and setting. Also the Coen brothers' work in Blood Simple and No Country for Old Men were influential.
Filmmaker: What were the biggest challenges posed by production to those goals?
Vincent: We shot most of the film in a magnificent Gilded Age mansion which was filled with many fine art pieces and antiques, so we really had to use minimal equipment and lighting instruments. I had to rely on more available light and augmented by smaller LED lights. I also found to achieve the look we wanted I would simply take away more light than add light to create contrast.
Filmmaker: What camera did you shoot on? Why did you choose the camera that you did? What lenses did you use?
Vincent: The film was shot on the Arri Alexa Mini. As stated before we were in an old house with expensive things everywhere, so I wanted a small camera and something that could be moved easily around for our long takes on Seadicam. The Alexa Mini was paired with Panavision G series and primo anamorphic prime lens and the AWZ2 anamorphic zoom, which we used effectively for in camera zoom shots. The director and I felt the anamorphic format would elevate and formalize the look of the film. This helped us with our heightened realism look for the film. I also find that anamorphic can be very intimate for close ups and can draw you into the performance which we of course wanted to highlight for this film.
Filmmaker: Describe your approach to lighting.
Vincent: As discussed above, I did take a minimal approach and looked more to take away light than to add. The ultimate approach was to end up in a noir-inspired look but still be in a motivated natural realm. Also in the second act we really went for more bold colors in use of LED lighting as well as hard lighting that produced sharp shadows.
Filmmaker: What was the most difficult scene to realize and why? And how did you do it?
Vincent: We shot one scene with the two lead actresses in a very small wine cellar and did the whole scene as a long take. There was also quite a lot of dialogue and they were moving in and out of a wine closet to a bar area to then finally ending up with the camera following one of them out and up a hallway then to a staircase to another level and then breaking off and continuing into the darkness of the mansion. We of course had to do that take many times but finally all the elements came together for a perfect take and I think it really works for the scene. (I guess it had to because we shot no back up coverage!) We had to be very creative and build most of the lighting into the set and hide things to make it work so I owe a lot of the shot to my gaffer Joshua Dreyfus and key grip Tim Driscoll…and of course it wouldn't have been possible if not for the amazing Steadicam work of our A cam OP Jonathan Beattie, who somehow fit himself and the Steadicam rig in this wine cellar while following the actress in and out through the tiny door at a swift pace.
Filmmaker: Finally describe the finishing of the film. How much of your look was "baked in" versus realized in the DI?
Vincent: In the testing stage of pre-production I modified to taste a film stock emulation LUT based on the discontinued Fuji Eterna 8553 stock. I love how the colors and skin tones are rendered with this film and thought it was a good fit for Thoroughbred. I created one master LUT for the entire film which we used for viewing on set and was also applied to the dallies. Once I find a good overall LUT I don't like to stray from it or tweak it on set and just treat it as shooting on film. When we went into the color suite at our post house Nice Dissolve we used this LUT as a base to grade everything off of, and of course our colorist Brian Boyd lent an amazing eye and attention to detail to help us hone in the final look of the film.
Camera: Arri Alexa Mini
Lenses: Panavision G series and Primo Anamorphic primes, Panavision Anamorphic AWZ2 zoom
Lighting: LED, minimal HMI, large tungsten units for night work
Processing: Digital
Color Grading: DaVinci Resolve at Nice Dissolve