Back to selection
Five Questions with Crown Heights Director Matt Ruskin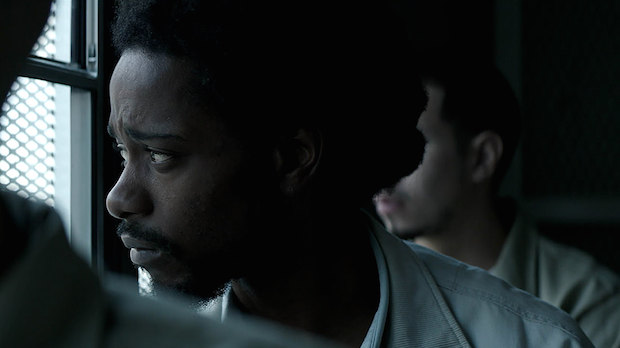 Crown Heights
Colin Warner spent 20 years behind bars for a crime he did not commit. In 1980, police arrested Warner for the killing of a 16-year-old boy in the Brooklyn neighborhood of Crown Heights. His imprisonment, based solely on a mistaken eye witness, robbed him of his freedom from the years of Jimmy Carter all the way to George W. Bush.
Warner's story is the subject of Crown Heights, the second feature film from writer/director Matt Ruskin. The film stars Lakeith Stanfield (Short Term 12) as Warner and Nnamdi Asomugha (Hello, My Name Is Doris) as Carl King, Warner's best friend who devotes years of his life to getting Warner out of prison. Ruskin spoke briefly with Filmmaker prior to the film's world premiere at the Sundance Film Festival to discuss how he gained Warner's trust, key sources of inspiration for the film and why he prefers to work as his own producer.
Filmmaker: Colin Warner's story is a truly remarkable one. How did you go about earning Warner's trust to convince him you were the person to tell his story?
Ruskin: At the end of the day, I just wouldn't go away. A studio had optioned their story and never did anything with it. When I met them they had given another producer a six-month verbal agreement. So, basically they said, "Call us back in six months," which I did. I was persistent, but I also represented the other end of the spectrum from a Hollywood studio. I was just some guy in Brooklyn who was really hungry for the opportunity. I think it was a welcome change for them at that point.
Filmmaker: Can you discuss your relationship to the neighborhood of Crown Heights and Colin's story in particular? What drew you to this material?
Ruskin: It really had nothing to do with the neighborhood for me. After hearing Colin and Carl's piece on This America Life, I was really blown away by them. I couldn't get their voices out of my head. For Colin to emerge from two decades of incarceration with his humanity and his dignity intact, it's extraordinary. And for Carl King to have such a sense of injustice that he would never give up on his friend, even after 20 years, it really stuck with me.
Filmmaker: The story of a wrongfully convicted person behind bars is an all-too common one. What were some other narratives — documentaries, features, TV shows, novels — you looked to for guidance or inspiration to tell this story?
Ruskin: We didn't really reference other wrongful conviction stories. For visual references we looked at Bruce Davidson's book Subway, which is my favorite time capsule of '80s New York. We looked at Jacques Audiard's film A Prophet because I heard they turned a school into a really convincing prison location. And we looked at The Diving Bell and the Butterfly because that film did a masterful job dealing with confinement and weaving together memory and imagination.
Filmmaker: You served as your own producer on Crown Heights. Can you discuss the experience of wearing both a producer and a director hat on an indie feature film?
Ruskin: I actually think it's a huge asset to be responsible in both of those ways. As a kid, if you can prove to your parents that you won't light the house on fire, they might leave you alone for the night. It's kind of the same thing with indie film…if people feel that they can trust you with the big picture, you can actually carve out a little more freedom for yourself as a director.
Filmmaker: Has Warner seen the film yet? How did he react?
Ruskin: Colin hasn't yet, but he'll be at the Sundance premiere next week.