Back to selection
Last Dance Before Trumpism: Eastern Oregon, Park City (Virtual) and Rotterdam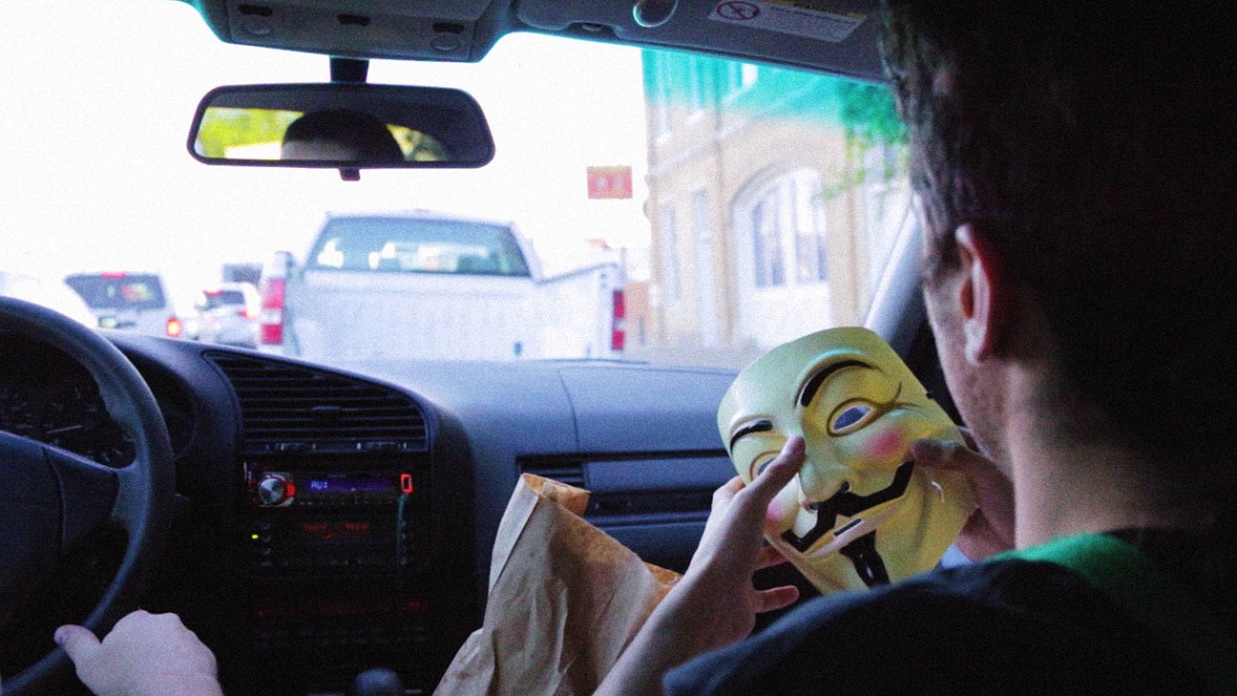 The New Radical
In retrospect, it seems like it was the last glimmer of something. We were all in Eastern Oregon again, the loose circuit of folks who gather annually for the tiny two-and-a-half day, two-venue film festival that takes cinephilia to the reddest corner of a blue state. The election was just a few weeks off. No one seemed particularly bothered about it, seeing as the weekend before all the talk had been about the #BillyBushTapes and how could an admitted sexual assailant become the President anyway, puhleeze?
It wasn't hard to encounter a Trump/Pence sign in La Grande, though. It's a largely white town. People generally identify as Republican there. The hemisphere's largest continental depression, La Grande, is just a three-hour drive from the Malheur refuge, where armed sedition reigned for a month or so last winter, regardless of what the judge had to say when the men responsible were acquitted.
Eastern Oregon Film Festival Director Ian Clark got down to the business of showing movies, ably assisted, one last time, by Ben Morgan, as well as by stalwart group of volunteers, young and old. He puts on this festival, which opened with Celia Rawlson-Hall's majestic MA (a favorite in these pages for those paying attention) for next to nothing, borrowing one screen in the town's only two-screen movie house and converting a theatrical stage into another venue that was, for the screening I attended of Michael Borowiec and Sam Marine's charming conspiracy comedy Man Underground, unbearably freezing. EOFF struggles to get grants to bring wordless dance movies with biblical underpinnings, such as MA, to the eyes of those responsible for voting in fascism.
That's a shame, because, for a half decade now, Eastern Oregon has been one of America's very best tiny film festivals. It remains so. Surely some of you remember, from previous dispatches, the albino bumblebees, the breakfast with the view, the bands, and the truest expression of whatever punk'd-out anti-authoritarian, DIY spirit American indie cinema once had. Things were much the same this year, albeit without some of the Northwestern filmmaking regulars (Zach Weintraub, Nandan Rao), who have been to EOFF what Joe Swanberg or Andrew Bujalski are to SXSW.
Clark's program was lively and varied as always; he had Sophia Takal's Always Shine in the house (if not the director herself), and a world premiere screening of Kat Hunt's delightfully strange, doc/fiction hybrid, What's Revenge, an hour-long plunge into the alluring director/star's psyche. It's the type of movie, made with an economy of means, in which you sense the filmmaker willing to mix wildly discordant aesthetic strategies (long, winding, seemingly improvised scenes blending with remarkably stylish, almost overdesigned passages) to make a work that is personal in the most original of ways. It's no Buffalo '66, but it has a similar renegade spirit formally, and marks Hunt as an interesting cinematic memoirist, or a fraudulent one, which in this context is a compliment.
Fraud is all the rage these days. Who knew facts were a passing fad?
…
While I was pretending to be in Park City for fancy magazines and not-so-fancy magazines, Donald John Trump actually became the President of the United States. I thought about eating some magic mushrooms in the final hours of the Obama administration, to make it feel like it would last another six hours, but I knew the final pain and horror would be that much worse, so I just microdosed, Ayelet Waldman-style. It was helpful. The spectacle went on with only a low-level dread as I thought about what Sundance movies, seen in New York screening rooms and on private links in the weeks before the festival, to discuss for what outlet at what time. There would be a time to #resist and a time to get arrested, but why bother until all the mess started, right? "Give a pussygrabber a chance" was not in my vocabulary; I doubt the country can bear four years of this type of leadership. But each President deserves the chance to fuck up of his own accord, something this President wasted no time in doing.
Amidst the growing beat of authoritarianism, another Sundance passed with the two big digital players on the market (looking at you, Netflix and Amazon) buying up reams of movies at healthy price points and brand new labels like Tom Quinn and Tim League's Neon snagging a number of titles as well. Smaller distributors are feeling squeezed, however, complaining that thick-pocketed streaming services are driving up the price point for the quality indies to an unsustainable level.
Of course, there were over 100 features playing Sundance, most of them world premieres, plenty of them likely to make little more from paying audiences than the $100,000 blanket offer Amazon extended to Dramatic Competition titles. Over at Slamdance, there were another 40 features, some of which ought to be of interest, one would hope, to some paying public somewhere? Is there a model to monetize these movies at the low end? Anthony Kaufman pointed out, in our Winter issue, that "almost half of the 16 esteemed Sundance Dramatic Competition titles from 2016 became ostensibly home entertainment titles (As You Are, The Free World, Goat, Joshy, The Intervention, Tallulah, White Girl), even if some had limited theatrical runs." There are always more movies out there, be they on cable VOD, or internet VOD, or available for transactional download on iTunes or totally free on YouTube. How does a title, even with a Sundance pedigree, cut throw the morass without the credibility a visible theatrical release bestows upon a film, or a built-in niche audience?
And haven't we been asking that question for a while now?
I thought about this as I watched Dim the Fluorescents, a rousing comedic two-hander that won the Slamdance Film Festival Grand Jury Prize last week. It's about Audrey (Claire Armstrong) and Lillian (Naomi Skwarna), a pair of thirty-something white actresses, who get by doing corporate demostration videos. The homespun humor of Dim the Fluorescents grew on me quickly. As the women take their ostensible side gig with ever more passionate seriousness, the unfortunate consequences their characters encounter are staged with comedic chutzpah. The jury, which rightly described the film "empathetic, weird and insanely funny" before praising how "beautifully executed and smart as a whip" it was, doesn't hand out distribution deals though. A survey of previous Slamdance winners reveals movie after movie that failed to capture any attention at the box office. The starless Dim the Fluorescents ought to make potential stars out of Armstrong and Skwarna, but smallish distributors, the same ones who are upset that Sundance premieres titles cost too much, often don't see the value.
Where are the timely movies, the things that jump off the screen because they speak to the malaise and confusion of our age? Obviously, not every film can be HyperNormalisation, but in the weeks leading up to Trump's ascension, as I watched Sundance title after Sundance title I might pretend to be watching in Park City, I was mostly bored, not because the movies weren't good, but because who the fuck cares about your relationship, or your rock band, or your motherfucking celebrity's profile? That's not to say that there aren't plenty of documentaries, made in good liberal faith, about the "world's most pressing issues" that pervade Sundance every year. I caught some of them too. But what of things that speak to the conflict of values our country is undergoing? To the ways technology is upending previous hierarchies, causing both new fault lines on seemingly settled issues to emerge, creating strange bedfellows of people who, five minutes ago, may have thought they were enemies?
One of the movies I pretended to catch at Sundance, while half my friends were stuck in blizzards in Park City and the other half were Marching on Washington as or on behalf of #women, was Adam Bhala Lough's The New Radical. It raises these salient questions in ways that didn't sit well with Park City audiences; in an email, Lough described encountering "the anger of 1,000 liberal elites" directed at him in, as he put it, "three of the most intense Q&A's I've ever been involved in." Lough, a former 25 New Face, has a long history at Sundance. His festival cut of Weapons (2007) is one of the great lost movies of the late aughts (the film was hacked up and given different music by two distributors), while his documentary The Carter (2009) was a legitimate Sundance sensation and disowned by its subject.
His most daring and thought provoking doc yet, The New Radical tells the story the pair of young tech rebels behind the bitcoin app "dark wallet," which allows untraceable online monetary transactions that are often used for weapons purchases. Lough follows both Amir Taaki, a noted British hacker of Persian descent, and Cody Wilson, an American 3D gun printing pioneer and crypto-anarchist who preaches "radical equality." Wilson is currently subject to a legal challenge by the U.S. government for selling "recipes" for plastic, unregistered, semi-automatic handguns that can be printed at home, a challenge that is winding its way to the Supreme Court.
It's no wonder then that Lough described a Sundance in which "the tech crowd and the super-young got behind us, as well as some obvious Green Party/BLM/Bernie liberals." The film engagingly, and problematically, tries to investigate just where extreme left-wing and right-wing sentiments merge and what that might mean for the future of society when positive political change seems so hard to come by (or even define) in an epoch increasing riven by horrific acts of gun violence and political turmoil. The film juxtaposes news coverage of such destabilizing events, with the ongoing legal saga surrounding Wilson and Taaki's collaborative and solo efforts, and it doesn't let its characters off the hook, even if Lough's heart is clearly with Wilson, who he allows to seduce the audience.
Will a plastic gun come in handy one day? You'll never catch me planning to pull a John Malkovich impression from In the Line of Fire, but in this strange new world, having lethal protection just a button push away is both a terrifying and liberating concept, something truly worthy of the word "revolutionary"." Here's hoping liberals will be willing to engage with the ideas they encounter in Lough's film. I'm not holding my breath, though.
…
By the time I got to Rotterdam, it was already clear the Trump presidency would be an unmitigated disaster and it was hardly 100 hours old. Americans at the 46th Rotterdam International Film Festival talked openly of trying to defect. Either you didn't want to go home or you wanted to drop everything and return to fight the power. Liberal third ways had had a way of falling flat on their face since I'd been alive. Half measures seemed to have become luxuries from another era entirely.
Rotterdam continued along as it always does. The slimmed-down competition included some real gems. Although Kostantin Bojanov's Tiger Competition opener The Light Thereafter, a unengaging affair about a teenage painter roadtriping across Europe, left something to be desired, Koganada's hypnotic Columbus, which was the American entry in the Tiger Awards competition, was a welcome surprise. Vadim Rizov has already weighed in on it for these pages from Sundance, but it was greeted with much fanfare in Rotterdam and one can assume it will have a healthy life on the festival circuit before it enters the oblivion of VOD.
At the CineMart, the oldest co-production market in the world, money traveled across the national barriers that America now is busy making more rigid and inflexible. Mike O'Shea, who until very recently was a computer repair man — not the only not-famous American with a movie in Cannes's Official Selection — was hawking his new project with producer/life partner Susan Leber. A New York native, he's trying to gain citizenship in Ireland to more easily gain access to European state subsidies for his work.
The eventual Tiger Award-winner, Sexy Durga, by Sanal Kumar Sasidharan, is a nasty piece of work. A deeply unsettling triumph of sustained tension, the movie, Sasidharan's third, is built from long, impossibly agile takes, most of which take place within or little more than shouting distance from a single, mostly moving, car. It's the type of film previously unimaginable in India, where it will likely never be shown — a work of aesthetically and politically-engaged arthouse genre-y filmmaking we would do well to produce more of in the United States, especially as our country grows more repressive.
Detailing a young couple's terrifying attempt to hitchhike through rural India, the film is bookended by Kiarostami-esque non-fiction interludes. The entire thing hinges on the threat the driver and his friend, a parade of cops, and various other vagabonds pose to the young woman who, with her boyfriend, is trying to get to a train station and ostensibly less dangerous territory. The movie left me feeling not unlike Deliverance did, or The Blair Witch Project, but Sasidharan's accomplishment is somehow bleaker and much less obvious than those films. It also will be accused, should it be seen by more than 15 people on these shores, of being torture porn, of hinging entirely on the perceived threat of sexual violence against a woman. This is true and, in this case, to question what the director's motives are is healthy. It's an evil world; do we need more of it? The remarkable craft on display, and the way in which are hopes for a positive outcome are manipulated, toyed, with, and batted away, with a Haneke-esque gracefulness, can't be denied, though. This guy's got the goods.