Back to selection
True/False: Anna Zamecka on Her Transcendent Documentary Debut, Communion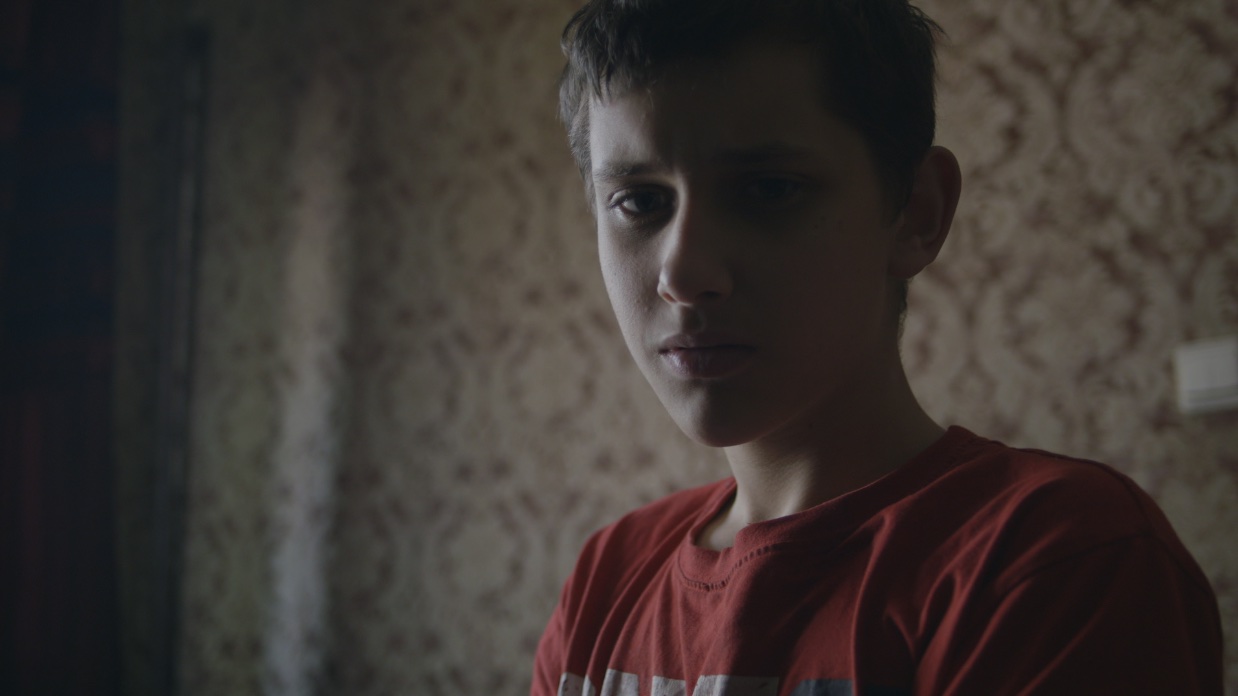 Communion
First-time Polish director Anna Zamecka watched many films in preparation for shooting her début feature, Komunia / Communion. Inspired by many works of both fiction and nonfiction, one in particular had an emotional impact. Nagisa Oshima's Boy (Shonen) from 1969 is based on real events reported in Japanese newspapers at the time about Toshio Omura, a boy forced by a conniving father to participate in dangerous scams in order for him to stay with the family. While Zamecka's young protagonist, Ola — a 12-year-old living with Marek, her alcoholic father, and Nikodem, her autistic brother, in a cramped and crumbling-down apartment in a town an hour's drive from Warsaw — doesn't experience anything quite so severe, she is explicitly tasked with holding her small family and its household together. There is also a wayward mother in the mix. For better or worse, Ola is the head of the household, and while not always graceful under pressure, she delivers an exquisite and highly nuanced performance.
Zamecka had a background in journalism, anthropology, and photography studies before completing the Dok Pro Documentary Programme at the famed Wajda School in Warsaw, where she makes her home. She found her subjects in a serendipitous way as these things go, and continues to have very close ties with the family to this day. She also found that Ola's experience reverberated deeply with her own childhood. The director's unique sensitivities to the situation, powerful performances from her young protagonists, and use of sophisticated and precise cinematic language have made for a transcendent and highly accomplished film – one that was shot in only 35 days over the course of a year, mostly within the confines of a very small apartment.
Communion world premiered at the 69th Locarno Film Festival where it won the Grand Prix of Semaine de la Critique. Since last summer, it's been winning prizes and critical accolades all across Europe. As well, it is nominated for this year's Polish Film Awards (Poland's version of the Oscars), which take place in March in Warsaw. For the first time in its history, a documentary film is nominated in other categories outside of Best Documentary. Editor Agnieszka Glinska and Zamecka have received a nomination for Best Editing, as well as the Revelation of the Year Award for Directing for Anna. She and I spoke via a Warsaw-New York Skype connection in early January. Communion will have its North American premiere at the True/False Film Fest in Columbia, Missouri, March 2 – 5, 2017.
Filmmaker: Were you looking to do a project specifically on something so closely related to your own experience? You've spoken a lot about the cathartic nature — both good and bad — of making something so close to your heart. What was your frame of mind when you realized you were going to make this film?
Anna Zamecka: It's true that this story is inspired by my own experience, by my own childhood. That was the starting point, really. First I met Marek, the father, when I was researching and shooting another project after coming to the Wajda School. I had been thinking about making a short fiction film with a character similar to Nikodem at its center. I also had a younger brother I had to take care of and other family problems. It had to be fiction because I didn't know how to begin to look for real people that had this similar situation.
I was working on a project about the European football championship of 2012; Poland was hosting the games that year. I was shooting at the central train station in Warsaw. There were a lot of foreign tourists coming to the city, and I was filming them attempting to communicate with a ticket cashier who only spoke Polish. She was having a lot of trouble understanding a customer and, as there was a very long line, people were starting to become impatient. This man approached the tourist and started asking him questions in German, then in English, then Spanish, Italian, Serbian, and other languages, wanting to know how he could help him. The guy was French so the two started having a long conversation in French, and Marek eventually helped him to buy his ticket. Unbeknownst to them, I was filming the whole time. I went home and watched the footage and was completely captivated by Marek.
A couple of days later, I was filming in the station again, and I could hear his voice through my headphones. I tracked him down and shyly approached him to introduce myself and confess that I had filmed him the other day. I wanted to know how he knew so many languages. He told me that he was a self-taught linguist. In the '80s, he had been selling money to foreign tourists. In order to cheat them, he taught himself to communicate in as many languages as possible. [laughter]
But then, he started talking to me about his kids, Ola and Nikodem. He spoke about them with such love and admiration, particularly about Ola and how he would never do anything without her, that she was his partner, she was a mother to her younger brother, how extraordinary she was. And all I was hearing was a description of a child with adult responsibilities – just as I had been. She was twelve years old at the time and Nikodem was ten. A month later, I went to go visit them in their house. That first day will always be something I remember because the kids were home alone. Ola was preparing dinner, and she had this hunk of raw meat she was holding up in the air and sawing away at it with a knife. 2012 was the year the world was supposed to end, if you remember. Nikodem was very fascinated by this and was running around screaming about the end of the world. Combined with Ola knifing the raw meat in midair, it was a very apocalyptic scene. [laughter] She told me that the mother didn't live with them but that she was hoping that if Marek renovated the bathroom, she would come back. It was a very naïve, but very touching, dream of having the whole family together. All three had very strong faces, and the flat itself was very special – the wallpaper in the living room, everything about it. [It] was a natural set for a film, right down to this beautiful light that came in and this messed up bathroom that if only renovated would bring the mother back. So all these fantastic elements were there. All I could think about was how to make a film out of all this. But there was no story.
Filmmaker: You ended up shooting during this period of Ola helping Nikodem prepare for his communion, a scenario that extrapolates into so much that is humorous and touching, and that also provides such a strong signifier in Polish culture where the Church is very strong and persuasive. While that provides the framework of the narrative, it's really this intimate portraiture of Ola that carries the entire film. Tell me why this idea of communion was so important for this story?
Zamecka: One day I discovered Nicodemus' religious notebooks, full of amazing entries. Before I started to film anything, I went to one of his religious lessons with him. The teacher wanted the children to write a list of the Ten Commandments, but Nicodem had instead created a notebook of his own, very personal commandments. In the meantime, I learned that when the boy had been eight, the age at which Polish children attend communion, the priest had refused to give him this most important of traditional Catholic sacraments. I sensed that for Marek and Ola, this was a problem, so they asked permission so that Nicodem could try again. As you indicated, in Poland, the first communion sacrament is a very important ceremony, plus, for the family it was the perfect reason for a complete family gathering, integrating everyone. His communion is primarily used as a metaphor for Ola entering adulthood and to talk about her situation.
From the very beginning, the most important thing for me was to make sure that Ola felt safe with me. It was very important that she knew my intentions. Even though I'm from a completely different background in terms of economics and education, she and I have a lot in common. I come from generations of university graduates and so it was a bit of a different environment. In so many ways, her situation is so much tougher than my own childhood was. But the burden, no matter the home situation, is the same. I read a book by psychologist Alice Miller on the adult child. There is this phenomenon of having some adult in that child's life as a role model. That particular person is the one to tell the child that the burdens she or he is handling are too much. Not that it's "unfair," but that it's too much. I realized after some time spent with her that I could be that person and the film itself could be the vehicle that helps her to see and understand this. Normally, these kinds of kids, of which there are millions, are told that they are so brave, so heroic, and so on. But that's not what these kids should hear. The superlatives are not helpful in this instance.
I knew early on that the whole responsibility for the situation during the making of the film should not rest only on Ola and Nikodem. Yes, they gave me permission to make the film. But I am the one that remained, and still remains, completely responsible for this family, from the first moment I decided to film with them. This was a huge emotional burden for me. I have experienced several breakdowns during the last four years. I had profound doubts about even being allowed to make this film. I checked in a lot with Ola about this and also with Nikodem. But with him, it was quite difficult to communicate a lot of these thoughts and issues. I attended some workshops for parents with autistic kids to learn how to speak with him and to learn how not to hurt him. I didn't know, for instance, that if I touched him, he might experience that as something very unpleasant. When you're directing children, you sometimes have to touch them.
Filmmaker: Your sensitivity, I think, was quite unusual since, in the film, we see that outside the home, everyone around Nikodem treats him as a "normal" child — in other words, they don't take into consideration his condition or his particular sensitivities, really. He's treated rather more like a kid that doesn't discipline easily and is a bit weird. Have your feelings of ethical responsibility shifted now that audiences are seeing it and reacting to it in very personal, and very positive, ways? It's garnered, perhaps, a much higher profile than either you, or the family, ever anticipated.
Zamecka: The ethical quandaries still continue and they won't stop. I am in contact with them almost daily. With Ola, especially, I really want her to realize her dreams and goals. She tells me that she is quite happy that this film is out and she has no regrets. She reads all the positive reviews and has experienced audience reactions and she feels this as acceptance and love. Some of the reviews have been very emotional. I think she is responding so positively to this recognition because she really needed it. But there's still always the question in my mind of how she might perceive the film in a couple of years or beyond that, that the film will represent her forever even though her life will change and expand.
Filmmaker: Let's talk about Magda, the mother, the protagonist I found to be, in some ways, the most mysterious presence — and absence — in the film. The only piece of archival film shows Magda when she was Nikodem's age getting ready for her own communion. She has that same balance of fragility and fierceness that we see in Ola. How did you come across it and what does that footage contain for you?
Zamecka: One day I was shooting in the flat with Ola, and an old man showed up. It was Magda's father, Ola's grandfather. He sat in a corner and just watched as we worked. He didn't know anything about the film because he rarely visits them. It was his first visit after a very long time. Finally, after about an hour, he approached me and asked how long we were going to be there that day and I told him probably a couple of hours more. He asked if I would wait until he returned. He returned an hour later with this videotape and gave it to me. He told me it was a gift and that I could do whatever I wanted with it. Written on the tape was the word "Communion". He had no idea that we were filming Nikodem's own communion as part of the story.
I don't have a VHS player anymore, so I took it to the school to watch it. It was an incredibly strong experience for me. There is something very intense in this material. The mystery of her father giving it to me, as well, was almost a signal that I should use it. There is also this moment in the footage that is very important for me. It's very subtle and maybe a lot of people don't notice it but we can see a woman coming into the room where Magda is dressing herself. The little girl is struggling to zip up her dress but the mother doesn't stop to help her – she just comes in and then goes out again. There is this element that emerged in the film about dressing oneself – the first scene with Nikodem and his struggle with his belt, and the scene where Ola herself is having problems zipping up her dress, as she's getting ready for Nikodem's communion.
This little girl on the video is also a representation of the innocence and purity of children, this kind of tabula rasa that exists in all of us when we are small. What communion really represents is the initiation into the Church, the recognition that we are all sinners. Children learn that they are born guilty and evil and the sacrament is there in order for them to confess their sins — even though, really, they are without sin. All of these ideas are there in this small amount of material with Magda. It also has a cinematic quality; it's so nicely shot in this beautiful light.
Filmmaker: There is this moment in the film when we hear Nikodem mumble under his breath, "Reality becomes fiction." I was taken aback at first thinking someone had just told him to say that and he repeated it like a trained monkey. I mean, there is this absolute obsession within a segment of the international documentary filmmaking community regarding fictional confluences with reality and its representation in moving image. The conversation is never ending. And here's this boy in the bathtub saying all this in three words like some savant.
Zamecka: [laughs] Before I started shooting, I sat and wrote one page on each character and how I would want to introduce them in the film. I could already discern that Nikodem had a kind of intense intelligence, an amazing sense of humor, and could say and do very surprising things. I wrote that Nikodem would be kind of the prophet/narrator of the film, someone who knows a little more than the others and comments from the background. I had this in mind as I was collecting recordings of what he said and shooting with him. When he was in a certain mood, I knew we would just have to wait and, more times than not, something interesting would happen. The bathtub was his safe space and he would allow us to film him there, in his own little world.
We hear Marek and Ola having a fight about Magda while he is in the bathtub. But that dialogue was not from that same moment, nor were they even in their flat. That fight was recorded in the grandmother's house, the mother of Marek. But I didn't want to use any other flat or space other than Marek, Ola, and Nikodem's place. It was just before Magda was planning to move in with them, and it was very traumatic for all of them. There were two weeks between the time she said she would move in and the time she did so, and they were very tense. They really didn't want to be filmed during that time. But this fight about the mother was something I really wanted to have in the film so I used that video and audio as we see Nikodem in the bathtub overhearing this argument and saying this sentence.
I just want to also point out that the word "autism" never appears in the film precisely because, as you mentioned, his condition is completely ignored by everyone around him. Really the whole family is invisible to most of society. But especially in Nikodem's case because no one acknowledges his condition. That's because then they don't have to do anything about it or deal with it in any way. So he has always been left to his own devices in terms of the way he copes. You can see this in the scenes from the school and the church. It's really the system and the people around him that are failing him in the way that they never choose to deal with anything out of the ordinary. This is at the heart of never naming the condition — because then he can be treated just like any other kid, a kid who might be a bit strange, but that's it. All the potential he has is then wasted.
Filmmaker: From an inauspicious first-time meeting, you ended up working with Agnieszka Glinska, a prolific master editor, one of the best working today. The cutting has its own distinct and urgent rhythm that acts as almost a top note to the way you decided to present this portrait of a family on the edge. Having shared a delightful dinner with you both in Warsaw, there is no doubt that a deep and abiding friendship was formed during the making of this film. To a very experienced editor working in fiction, what influenced her decision to work on a documentary with a first-time director?
Zamecka: It was a big decision for me, the editor I would end up working with. I didn't know Agnieszka but saw an interview with her and responded immediately to her energy. Knowing that she was extremely busy — and also very expensive — I asked a friend for her phone number anyway. I was pretty sure she was going to say no, but I wanted to speak to her.
So as I thought, she did automatically say no [laughs]. The topic didn't sound very interesting to her. I didn't have any material to show her at the time, so I told tell her it's a coming-of-age story of a girl who takes care of her younger, autistic brother. There's an alcoholic father and a missing mother – thereby presenting completely unsexy elements, not in the least bit interesting. Agnieszka just told me she was sorry but she was too busy. Even after this unsuccessful phone call, I still had an intuition that she and I were going to work together on this film somehow.
Exactly one year later, I had a one-hour rough cut of the film and a friend of mine asked me if I wanted to send it to Agnieszka to get her opinion. I was curious about what she would say, or even if she'd remember that we had spoken about this project. After my friend sent it to her, Agnieszka called to tell me she really loved what she saw and asked if I had an editor because she really wanted to work with me. The editor I had been working with seemed to feel the project was done. For me, it was just the beginning. And so I immediately said yes. Initially, she felt it would take a month to pull it together, but we ended up working on it for six months. Her decision to work on this documentary for very little money for so many months with all the devotion she brought to it, to work with a director who is a nobody in the film business here, shows what kind of character she has. She never made me feel as if she was the expert and I the novice, never. I would make another film just for the opportunity to work with her again.
After six months, Agneiszka had to start another project, so I edited on my own for another four months. It took this long to find the most fluid way of telling the story. But just to be clear, I did shoot with a script so this is not a film constructed in the editing room – but it was still a lot of work to find the rhythm and the way the scenes needed to flow together. This took diving back into every single second of what we had shot to find the perfect cutaways and non-verbal shots. This is how I re-found this shot of Nikodem in his white robe standing in this beautiful light in the flat waiting for Ola to get dressed so they can go to the church.
I think the success of the film, more than anything, especially since I've never made a film before, had to do with all of these relationships that formed during the making of it. Not only my partnership with Agneiszka, which is so special, but finding Marek in the train station and letting myself be pulled towards him. The cinematographer who worked with me had a very key role in how we managed these especially sensitive and difficult shoots inside the family's tiny place. Like Agneiszka, Małgorzata Szyłak works very much from instinct – she can turn her mind off and just deeply feel and sense what's needed while she's working. She was an amazing partner. We decided on fixed lenses, 35mm and 28mm, to help us achieve both a specific approach to the characters and to acquire as much intimacy as possible. Closing the distance was difficult, but very important as it meant overcoming barriers. Honestly, in the beginning of the shooting, both of us felt very ill at ease, that we were intruders. It was difficult on many levels for us, as well as for the family. At times, it was so heavy we really didn't even want to be there at all!
On the one hand, this makes it seem as if the camera is "invisible," but we were the ones evoking these emotions sometimes just by our presence and how close the camera was to them. The emotions we see are sometimes a precise reaction to this, not necessarily to what's going on. So while there is maybe anger at the situation they are finding themselves in, there was also aggression because of the camera's close proximity.
But by insisting on getting as close as possible, what we ended up being able to do was create narrative through intimate portraiture. There is no need for, or reliance on, exposition, verbal cues, or any kind of reverse shot to what or whom Ola is reacting at any given moment. You can see this, for example, in the scene when the social worker comes to visit. The camera rests only on her face. In that face, we know everything. In this, we can see the system failing this family, time and time again. The girl is forced to lie in order to keep them from doing any more damage. At such a tender age, she has learned how to protect herself and her family.