Back to selection
Stitchers, Hooperman and Dennis Hopper's Colors: Jim Hemphill's Home Video Recommendations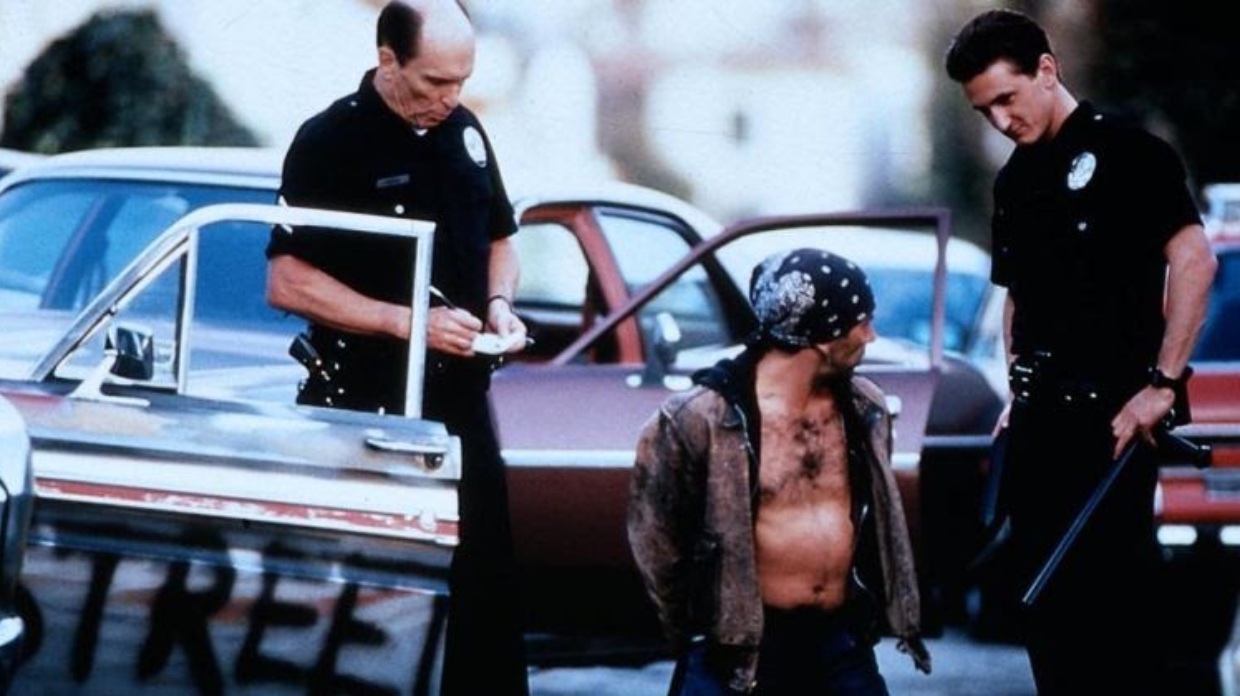 Colors
I'd like to kick this week's column off with a pair of television recommendations: one a smart and stylish contemporary series that's currently streaming, the other a retrospective pick on DVD that deserves to be better known. Stitchers puts an ingenious spin on one of the most shopworn of all television genres, the procedural, breathing new life into the form via an elegant visual style and audacious premise. The show follows Kirsten Clark (Emma Ishta), a Caltech student with a medical condition that wreaks havoc on her sense of time. It also makes her a desirable candidate for a covert government agency that has created a technology called stitching, in which the "stitcher" can tap into the memories of the recently deceased. Kirsten is recruited by the head of the secret program, Maggie Baptiste (Salli Richardson-Whitfield) and teams up with a group of engineers, programmers and investigators (played by Kyle Harris, Ritesh Rajan, Allison Scagliotti and Damon Dayoub) to stitch into different corpses each week and solve their murders. The basic structure of the show is similar to NCIS and Criminal Minds and all their various spinoffs and iterations, in that each episode has a relatively self-contained case that coexists alongside more elaborate season or series-long arcs. (In the case of Stitchers, the primary ongoing mystery has to do with Kirsten's long lost father — an excellent C. Thomas Howell — and his possible connection to Maggie and the agency.) What sets Stitchers apart is the cleverness of the sci-fi milieu, which showrunner Jeffrey Alan Schechter milks for all it's worth (the "stitching" conceit generates stories that manage to be genuinely unpredictable without resorting to cheats or gimmicks), and a Kubrick-inflected visual design that eschews the chaotic handheld, long-lens approach of many current procedurals in favor of symmetrical compositions and a sharp depth of field that allow for layered images and layered relationships. The clarity of both the plotting and the imagery allows Schechter to take the characters and interlocking storylines in ambitious, surprising directions without losing the audience, and the consistently high level of the performances (the ensemble is uniformly lively and engaging) facilitates an emotional intensity in later episodes that one might not expect from what's superficially a teen sci-fi show. But just as Joss Whedon did with Buffy the Vampire Slayer almost 20 years ago, Schechter transcends his genre to create something truly original and compelling. Season three of Stitchers will begin this summer on the Freeform network, but the first two seasons are currently streaming on a variety of platforms and the network's own app, and are well worth seeking out.
Another fine — and all too short-lived — television show finds its way to DVD courtesy of Olive Films' recent release of Steven Bochco and Terry Louise Fisher's 1987-1989 series Hooperman. Bochco and Fisher were coming off of a major hit in the form of L.A. Law when they created Hooperman for star John Ritter, who was then only a few years out from his own TV juggernaut, Three's Company. In the series, Ritter plays the title character, a police detective whose life is complicated by his inheritance of his former landlady's apartment building (and her ornery Jack Russell terrier). Hooperman hires a woman (Debrah Farentino) to manage the property, but instead of simplifying his life she complicates it further when she and Hooperman fall for each other. Over the course of the show's run, Bocho and Fisher follow Hooperman's personal and professional lives with a deft combination of comedy and drama – a combination that was clearly a little ahead of its time in the late 1980s. Audiences didn't quite know how to take a thirty-minute series that wasn't a sitcom and that merged Ritter's flair for comedy with Bochco's sense of authenticity and anthropological study of workplace mores, and the show was canceled after only two seasons. Thankfully, each of those seasons is now available in its entirety on DVD, allowing viewers to rediscover this forgotten treasure – and to see entertaining guest appearances by everyone from Don Cheadle, Mark Hamill and Miguel Ferrer to Shannon Tweed and David Paymer. The season two collection also includes a real oddity as a bonus feature: Poochinski, a 1990 pilot for a series in which — I'm not making this up — Peter Boyle plays a Chicago cop reincarnated as a talking bulldog who solves crimes. While there's no real mystery as to why Poochinski never made it past episode one, it's nevertheless a fascinating time capsule and bizarrely riveting in its own way.
* * * * * *
For a guy who directed a movie — 1968's Easy Rider — as influential as any other since Citizen Kane and in the process transformed the American film industry, Dennis Hopper didn't go on to a particularly distinguished career behind the camera. His second feature, The Last Movie (1971), was such a commercial and critical debacle that he stayed out of the director's chair for nearly ten years, and although his third film (Out of the Blue in 1980) had its admirers, Hopper's personal problems caused his career as both an actor and director to stall in the early 1980s. An iconic performance in David Lynch's Blue Velvet and a seemingly autobiographical turn as a recovering alcoholic in Hoosiers revived Hopper's reputation in 1986, and two years later he made his fourth film as director when he came on board Orion's cops-and-gangs drama Colors. That film, a passion project for star Sean Penn, paired Penn with Robert Duvall in a relatively clichéd young cop/old cop buddy premise; what redeemed it at the time, and makes it worthy of study now, was Hopper's painterly eye for east L.A. locations and architecture and his superb direction of Penn and Duvall. Their performances are knockouts, case studies in coiled intensity that Hopper — no slouch at old-school method acting himself — knows just how to frame and edit to showcase the two stars' charisma and authenticity to maximum effect. Working with the late, great Haskell Wexler as cinematographer, Hopper employs a vivid palette that comes across like the cinematic equivalent of the dynamic graffiti created by the young hoodlums who are at odds with Penn's character; his is a gorgeous movie about ugly behavior and circumstances, and it's nice to see it looking and sounding as vibrant as it does on Shout! Factory's brand new Blu-ray. One would imagine that a film like Colors would have revived Hopper's career behind the camera as Hoosiers and Blue Velvet did for his onscreen work, but unfortunately his output afterward was limited to a decent erotic thriller (The Hot Spot), an amiable but undistinguished comedy (Chasers), and a crime film plagued with production problems that Hopper took his name off of (Catchfire). Nevertheless, Colors is a noteworthy piece of filmmaking, particularly in Shout! Factory's extended cut, which incorporates deleted scenes and material from the film's international release.
Jim Hemphill is the writer and director of the award-winning film The Trouble with the Truth, which is currently available on DVD, iTunes, and Amazon Prime. His website is www.jimhemphillfilms.com.