Back to selection
"The Future of Content"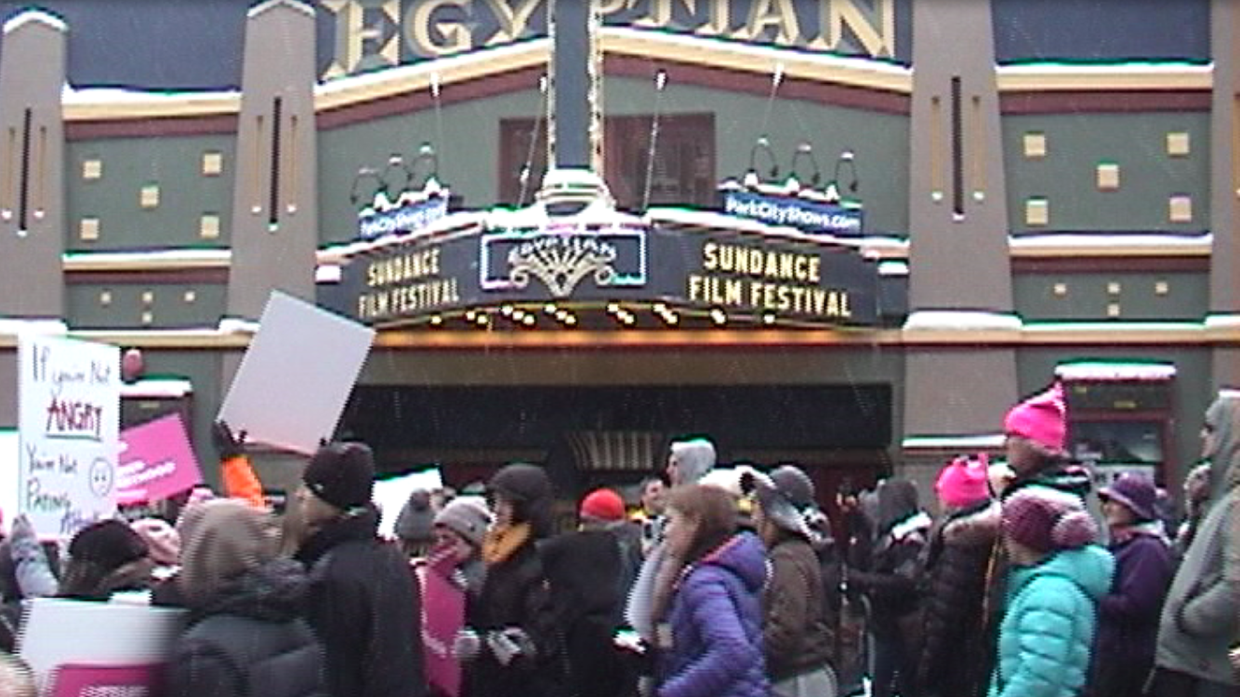 Escape From Park City
[The following guest post is from director John Wilson. Click here to watch his short film Escape from Park City.]
I was recently editing a commercial for a popular footwear company and my client kept referring to "the future of content" to his colleague. I had a hard time telling if this was just another bit of ad jargon or a sinister prophecy about the future of media. When I finally asked him what he thought "the future of content" was, he delivered a flippant "you are!" and asked me to reposition their logo.
The advertiser's role in culture reminds me a lot of this David Foster Wallace quote about tourism: "It is to spoil, by way of sheer ontology, the very unspoiledness you are there to experience, it is to impose yourself on places that in all non-economic ways would be better, realer, without you… you become economically significant but existentially loathsome, an insect on a dead thing."
Advertisements should be stupid. Commercials should tell you how great something smells or how good it tastes, not try to exploit social justice movements or plagiarize art in a desperate attempt to stay relevant. When I listen to the way advertisers speak about their engagement with culture, it's as if they anticipate a point in the near future where "influencers" and brands will achieve some kind of rapturous singularity, obliterating the divide there once was between lifestyle and commerce. They refuse to acknowledge their role as poisoned fruit in the quest for authenticity.
"The future of content" seems to be a white rabbit that advertisers are in constant pursuit of. The definition changes with the appearance of every new platform and they can't imagine a future without their direct involvement. This common condition seems to be an agency-induced psychosis, a disorder where they can't simply appreciate a piece of media for what it is. The pain of observing an unmolested subculture without capitalizing on it is too great for some sponsors.
At Sundance this year, I had lunch with a friend who had a VR piece in the festival. She seemed to be very upset with the way her art was being presented and even more disturbed by the way it was being marketed. A representative of her piece even considered selling the original code she wrote for an upcoming Spider-Man VR promotion without consulting her. Another Sundance project from a few years ago had a wildly popular soundtrack that I've heard ripped off in dozens of commercials to sell everything from computer software to prescription drugs.
It's not always easy to predict what part of your work could be reproduced and resold as kitsch. If agencies can't hire an original artist to make something for them, they will often just emulate their style and replace the central metaphor with a product. I lost count of the number of times that someone told me to use The Tree of Life as a visual reference for a spec ad. Only through working within agencies did I witness this debauched cycle again and again, eventually motivating me to radicalize and develop a style that cannot be reproduced without my direct involvement.
When I upload my films to the internet or screen them at festivals, I usually don't need to worry about releases, music rights, etc. A film can literally be whatever you want it to be, and some companies have a hard time recognizing that their input makes this specific kind of freedom impossible. This is a crucial lynchpin that scares most advertisers away from truly transgressive content. If they can't take on the liability of representing your work, they certainly won't be able to imitate it either.
That isn't to say I don't sell out in other ways. Living in New York is very expensive and one of the only marketable skills I have is as a video editor. I end up cutting a lot of commercials and spend the rest of my time shooting and editing my own films. Maintaining this division was very important to my creative process, and I don't think I could have had one without the other. Only after my films developed a following was I approached to do commissioned work in the style of my "How To" documentaries. What started as a violent response to my career in advertising ironically became a valuable asset to the very same industry.
Agencies always struggle to stay ahead of the curve by rapidly devouring emerging artists, but what they fail to appreciate is the fragile mixture of elements that keeps work like mine on the fringe. They assume that my films only have the undignified status of a free online video because I haven't figured out a way to monetize it. This may be true for a lot of  other "creators" out there, but I think it's very important to recognize the value of uncommercialized art.
We've lost control of the way that most people access media, and I really enjoy working in a style where the effect isn't diminished depending on how you screen it. Film festivals have a certain degree of self-preservation echoed in their programming, and the over-saturation of sponsorship can sometimes dictate the kind of films that they reward. I'm happy to screen a film whenever someone asks, but I'm no longer interested in competing for the opportunity to create barriers to my content. I pirate pretty much everything I watch these days, so the idea of putting an online paywall in front of my films feels unfair. I really care about my work and want to make it as easy to view as possible.
This philosophy doesn't always hold up when a lot of money is involved, but it's a liberating alternative for those who make inexpensive work. I would like to see independent filmmakers become more autonomous as the industry continues to reshape, and for emerging artists to have the freedom to experiment without the approval of tastemakers. We should remain watchful of advertisers and evolve when forgeries appear. The world needs truthful, unfiltered voices now more than ever, even if they end up being incorporated into "the future of content."