Back to selection
Tribeca '17: Five Questions with Water Warriors Director Michael Premo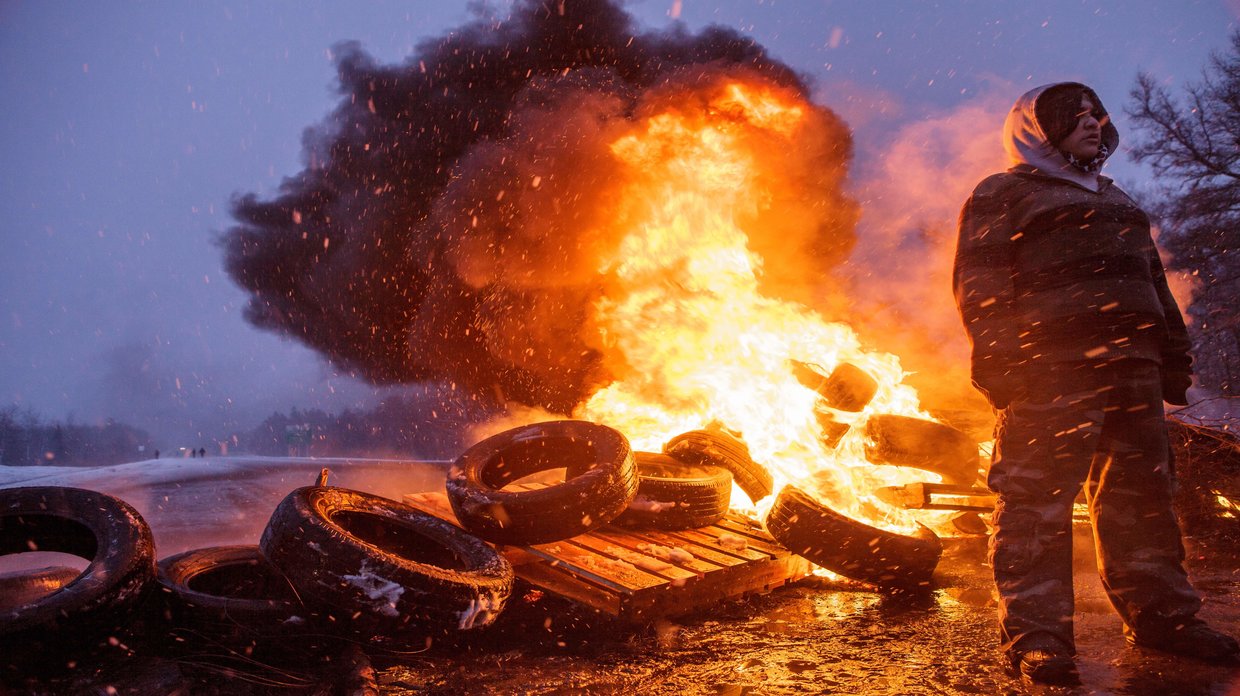 Water Warriors
I saw Water Warriors in February, just a month after Donald Trump's inauguration, during its world premiere at Big Sky Documentary Film Festival in Missoula, Montana. The short film and multimedia photo exhibition provided an element of much-needed hope at a time when the environment is increasingly imperiled by big business interests.
But rather than focusing on dire statistics and predictions about climate change, Water Warriors highlights a rare success story of ordinary citizens — including members of the Mi'kmaq Elsipogtog First Nation, French-speaking Acadians and white, English-speaking families in New Brunswick, Canada — who fight to protect their water from the oil and natural gas industry.
In addition to doing the film festival circuit, Water Warriors is being presented in schools and communities around the country as a model for grassroots organizing and resistance.
In advance of Water Warriors New York premiere at Tribeca Film Festival on April 23, I asked director Michael Premo about his motivation to create the project, the challenges he encountered during production and its significance in the age of Trump.
Filmmaker: As you know, I saw the photo exhibit of Water Warriors at Big Sky and then watched the short film separately. Given that it's a multi-media project, audiences will be experiencing it in a variety of different ways. Did you set out to create a project which has the ability to change depending upon the venue?
Premo: Yeah, absolutely. The short film is 22 minutes, and the exhibit is a scalable installation that, depending on the venue, features large photographs, projections, and soundscape. There is also a compact "pop-up" version of the exhibit, with photos printed in vivid colors on fabric material that can be hung anywhere.
How one hears and understands a story is influenced by the context in which you experience it. What's beautiful about exhibits is they can transform a space into a contemplative community forum, ripe for discussion and debate. The idea was to create a project that could scale to fit a variety of platforms, ranging from watching the short at home, to community screenings, to pop-ups at Pow Wows and outdoor events, to a full gallery-style installation. In each of these venues people will have a different experience of the story.
The thought was that the people formerly known as the audience may have an experience like yours, where you see one piece of Water Warriors in one place, and then you see another one later, somewhere else. Different vantages of the same story are created by these different components and the context of each experience. The invitation in this approach is the potential to deepen engagement in this success story and the debates it engenders.
Filmmaker: Can you talk a little bit about some of the specific production challenges you faced on Water Warriors? How big was your crew and how long did you film?
Premo: We made a few trips to New Brunswick, Canada, for a total of about a month and a half, combined. Our crew ranged from two to three people, and we had a colleague who contributed footage, who was also doing his own reporting.
As with most films, docs especially, our biggest challenge was funding. For the film it was important for us to wait to see how the core demands of the water protectors would impact the political landscape. And that took three years to play out. We used that time to raise support to cover some of our costs. And the opportunity that that challenge offered was we could work with our partner, Working Films, to prototype the exhibit and test ideas.
Filmmaker: In what ways did Sandy Storyline, the participatory documentary about the impact of Hurricane Sandy, inform the design of Water Warriors?
Premo: Sandy Storyline, which I created with Laura Gottesdiener and Rachel Falcone, affirmed assumptions we had about large-scale collaboration. It deepened my commitment to engaging communities directly impacted by a topic in helping inform and actively participate in how the final product is crafted. That process shaped how we engaged communities around the development of Water Warriors, both in New Brunswick, where the film takes place, and in locations representative of where we want to take the project.
Filmmaker: You were a very active participant in Occupy Wall Street and have worked in ensemble theater. How did that very particular background prepare you for your work in multi-platform documentaries such as Water Warriors?
Premo: Occupy Wall Street was informed by old political traditions that aspire for deeper forms of social and economic collaboration. Ensemble theater is governed by old traditions of collaborative creative practice. Movements, like Occupy, and many others before and after, are "multi-platform" in nature as participants command different avenues for the expression of grievances and aspirations. So, too, in ensemble theater there is a history of allowing the story to determine the form, medium and platform for its expression. In both instances, you could say that there is also a collaboration with the constraints of the place or platform where the story is shared. My creative practice is as influenced by folks like The Federal Theater Project, the Living Theater, and The Berliner Ensemble, as much as more recent traditions of film and photojournalism.
Filmmaker: Water Warriors highlights a successful protest action. Did you have any idea when you started filming how the story would end? Deep in the dark days of the Trump presidency, how can a story like this make a difference?
Premo: Well I had hoped it would end up this positively. But, no, I didn't know where it would lead. I had even begun to prepare for a scenario where, after the winter, or the spring, or the summer, etc, that the company would return. I've witnessed and participated in enough social action to know that the variables can lead in very unexpected ways. But the tenacity and resolve of the Water Warriors' multi-cultural coalition lead to an incredible and inspiring result. And what makes it even more relevant now is it was a completely grassroots effort; it was working families who never saw themselves as activists before protecting what mattered most to them.
With the new administration, there is a hunger, and a need, for success stories. Particularly stories of seemingly ordinary people beating the odds to accomplish extraordinary wins.