Back to selection
Tribeca 2017: Five Questions with The Last Animals Director Kate Brooks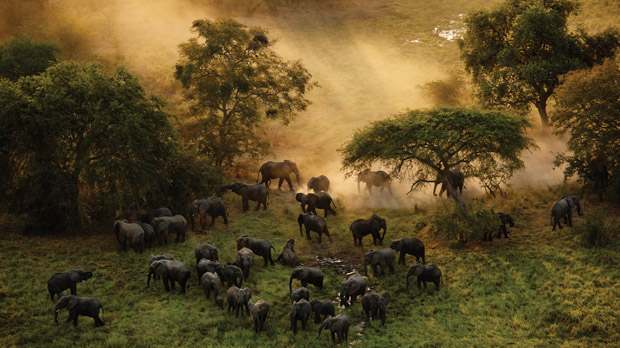 The Tribeca Film Festival has a history of showing tremendous new environmental documentaries, and this year the stand-out film in this area is Kate Brooks' The Last Animals, a gut-wrenching investigation into the illicit ivory and rhino horn trade around the globe. When seen in conjunction with the short virtual reality piece The Protectors, which also features the rangers at Garamba National Park in the Democratic Republic of the Congo, this feature-length doc shines a new light on an issue that is not as far from home as many North American viewers may suspect. At its world premiere screening last week the festival awarded both Brooks and the park rangers a Disruptive Innovation Award for their work in breaking up international wildlife smuggling; the rangers, who constantly place their lives on the line—and who are actually killed by poachers with frightening frequency—had their award accepted by John Calvelli, director of the Wildlife Conservation Society's 96 Elephants program.
The screening was also followed by a vigorous Q&A session in which activists and government officials from the U.S. and abroad weighed in on how to stem the poaching crisis. As Brooks mentions below, there are 44 U.S. states without legislation banning ivory and rhino horn trade, an important step in filling in holes left by Obama-era federal regulations. Connecticut, a historical hub for ivory in the U.S., is considering legislation next, and others may follow if advocacy pushes them to; with the NRA lobbying to protect the ivory trade and many state governments in Republican hands, it was advised to emphasize ivory's connection to terrorist groups like Boko Haram and the Lord's Resistance Army rather than the plight of extinction; it was ultimately this argument that persuaded New Jersey governor Chris Christie to sign anti-ivory legislation in his state. But there is work to be done globally as well: China will be closing its ivory markets in 2017, but Hong Kong won't follow suit until 2021, with other major markets like Vietnam unable or unwilling to crack down on illegal sales.
I spoke with Brooks, a conflict photojournalist by training, about her premiere film and the state of mass extinction in Africa today.
Filmmaker: Can you talk about your personal journey from being a photographer through cinematographer to now a director? How did your previous work prepare you for this project?
Brooks: For many years I worked as a photojournalist, often under difficult and dangerous conditions. I "produced" my own shoots for all of those years and that skill set — attained through years of reporting — easily carried over to filmmaking, but there was a steep learning curve and time investment on the business side. For example, I knew nothing about film financing, and I had to develop a professional network in the industry while making the film.
My visual sensibilities as a photographer undoubtedly informed my directing of the film, but one of the reasons I have moved into motion picture is that I have a lot more to say than can be expressed in a still image.
The transition itself was challenging; there was the process of creative and professional self-realization, which was similar to becoming a photographer 20 years ago. Like becoming a professional photographer who has to publish to be recognized as a professional, in filmmaking you're not recognized as a director until you've directed a movie.
Filmmaker: The topic is incredibly timely but slightly different than your previous work. You address the inclusion of rhinos in your narrative in the film itself, but how did you become interested in wildlife trafficking and specifically ivory smuggling in the first place?
Brooks: Some years ago after embedding with a medevac unit at Kandahar Airfield in Afghanistan, I went to Kenya on a long-planned vacation. It was in the Maasai Mara that I was able to heal from some of the inhumanity I had witnessed: countless troops having their limbs blown off by IEDs and Afghan children being erroneously bombed by coalition forces.
Seeing a herd of elephants cross my eye line for the first time jolted me out of myself and reminded me that in spite of all the human destruction there is still some natural order on the planet, which ultimately lead me to want to help when I realized poaching was happening on an industrial scale.
I applied to the Knight Wallace Fellowship hoping I might be accepted as the Ford Environment, Transportation and Technology Fellow, and I was. A few weeks into the academic year, I was contacted by a department of the University of Michigan who encouraged me to look at the connection between the ivory trade and terrorism. I left the fellowship with seed funding to start the project.
Falling in love with baby rhinos was unexpected and one factor that lead to me wanting to incorporate rhinos and the rhino horn trade into the film. Being in close proximity to the last Northern White rhinos at Ol Pejeta on my first preliminary filming trip to Kenya and seeing the efforts being made to save them was another factor. For a while I felt like I was making two movies at once. Since the film was unscripted I didn't always know what was around the next corner, but I eventually decided to weave the threads together into a single narrative. Garamba National Park is where terrorism and the ivory trade intersect and happens to be the same place the Northern White rhinos went extinct in the wild less than ten years ago.
Filmmaker: What was production like? Were there any unforeseen technical challenges, or did most of the difficulties — and successes — have to do with working with the rangers, activists, and the animals themselves?
Brooks: Due to the fact that we filmed in multiple countries on four continents (while my home was on a fifth) and things were often happening concurrently, production could not have been more logistically challenging. I was constantly on planes and communicating with folks in different time zones, leading to a lot of sleepless nights. Generally, we moved around as a small crew. Over time I had trusted teams and contributors in different places who could rapidly respond. We shot on every kind of camera imaginable, which led us to edit in Premiere, but due to the amount of footage we had we also struggled with software too.
Filmmaker: Many viewers may see elephant poaching as over-reported, with mass extinction becoming so discussed they may grow numb to it, while others may regard it as a distant or trumped-up problem irrelevant to their own lives. What kind of audience were you trying to reach and how did you shape the film, in both production and postproduction, to make this a compelling story?
Brooks: When I started making this film four years ago, the poaching crisis was grossly underreported. There is no question that awareness is growing, and the media is now taking an active interest in these issues, but I have also observed that many articles about poaching and wildlife trafficking are not based on firsthand or in-depth reporting. Many friends and colleagues in the media who have had a chance to see The Last Animals have come to me and said, "I knew but I didn't know until I saw the film."
My objective with the film was to document the full trade line from the point of murder — be it the animals or the people who risk their lives — to trying to protect them, to the market place, as well as to capture the bureaucracy surrounding the trade and attempts to ban ivory, the criminality and corruption that is driving it, while also capturing extinction through the plight of the Northern Whites in a way that connects the viewer to the rhinos as individuals.
The film is in five languages because this is an international issue. My hope is that The Last Animals will have an international appeal on different corners of the globe and help people understand how we all bear some responsibility. I believe that this doc is different from others due to my perspective: I'm not a natural history or wildlife filmmaker. I approached this through the lens of a war photographer and investigative journalist who has a strong visual aesthetic and knows how to distill down complex geopolitical issues.
Filmmaker: On that note, issue-driven documentaries can struggle translating their messages into concrete action on the part of the audience. What do you hope viewers' response to your film will be?
Brooks: From the film it's clear that the illegal wildlife trade is not just an issue plaguing Africa and Asia, it's also a domestic issue in the United States that has far-reaching consequences that are contributing to extinction and fueling conflict in far-away places. I hope that through the story of The Last Animals people will understand that this is a global problem that requires global action. I would like the film to be used to educate people from classrooms to courtrooms in the Americas, Africa, Europe, and Asia.
Legal and unregulated ivory and rhino horn markets need to be closed, and environmental crimes need to be prosecuted with stiff penalties acting as deterrents.
Over the upcoming months we're going to roll out a robust social impact campaign to help people know how to direct their desire to do something effective and meaningful now, before it's too late. So, for example, if you live in one of the 44 states that has not enacted strict legislation on the purchase and sale of ivory and rhino horn, get involved and write to your state representatives. Audiences can follow our campaign at thelastanimals.com.
Filmmaker: Finally, as a bonus sixth question, this isn't directly related to your film, but do you have any thoughts on South Africa's recent legalization of domestic rhino horn trade?
Brooks: I think South Africa's legalization of rhino horn is a travesty. And it undermines the hard work of conservationists who have been trying to reduce consumer demand. South Africans aren't going to be trading horn amongst each other; horn will just go onto the black market and stimulate further demand.