Back to selection
Our Man in Havana, Edge of Eternity and Streets of Fire: Jim Hemphill's Home Video Picks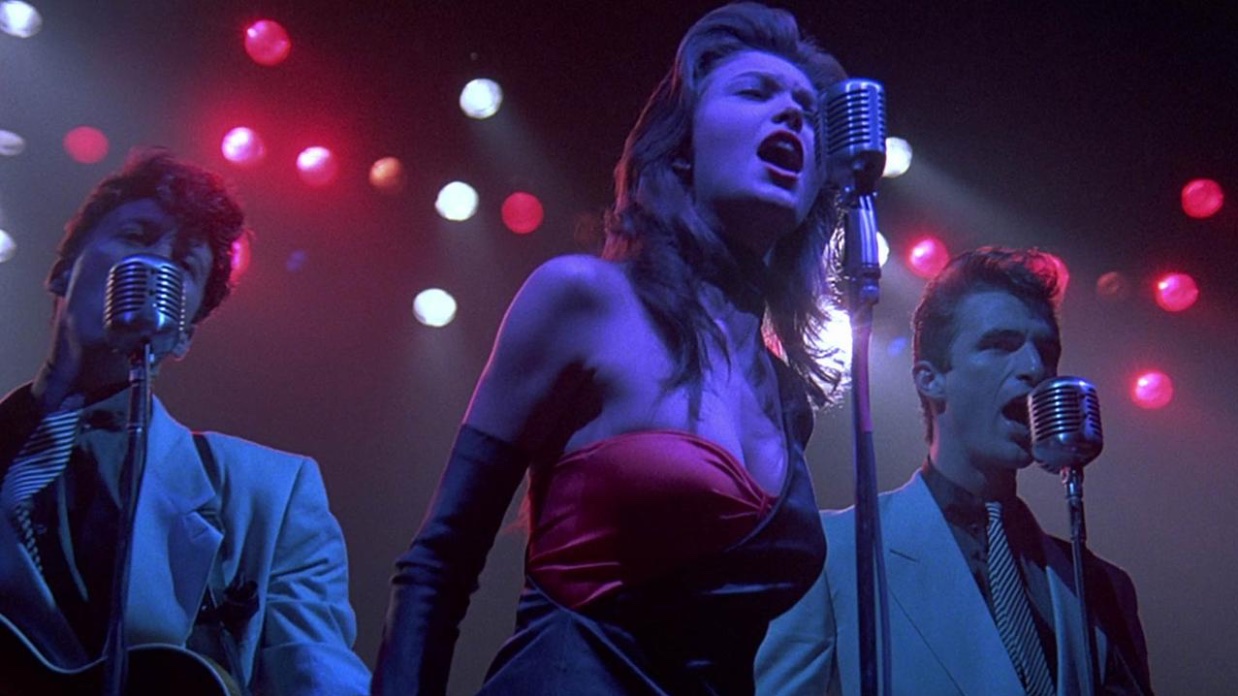 Streets of Fire
Given the (justly) hallowed place that Carol Reed's 1949 thriller The Third Man occupies in the hearts and minds of most cineastes, I've always been a little mystified by the comparative obscurity of his subsequent collaboration with screenwriter Graham Greene, the delightful satire Our Man in Havana (1959). I can only assume that the bleak, wintry setting of postwar Vienna that gives The Third Man its haunting effects also gives it a slight edge in the critical consciousness over Havana's sunny, tropical effervescence. Yet in Reed and Greene's skilled hands, the breezy charm of Havana just before the revolution only serves to amplify the poignancy that ultimately overtakes the film. On the surface, Our Man in Havana plays almost like a straight comedy for most of its running time, following the misadventures of a financially overextended vacuum cleaner salesman (Alec Guinness) who is improbably recruited as a British secret agent in Cuba. When the newly anointed spy realizes that he can increase his usefulness — and his own pocketbook — by fabricating information, the repercussions are initially harmless and hilarious. As is often the case with Greene, however, the human costs of the protagonist's folly eventually become apparent, and though Reed's relaxed, elegant style sustains a lightly comic tone, there are subtle hints throughout of the devastating moralist (Greene, not Reed) who brought us The Fallen Idol and The End of the Affair. Our Man in Havana is an endearingly odd and sumptuous film that milks the black-and-white Cinemascope frame for all its worth — it's a master class in ensemble blocking for the camera, a quality that's completely lost in any presentation that doesn't preserve the original aspect ratio. Thankfully, specialty label Twilight Time's new limited edition Blu-ray presents the film in all its widescreen glory, with an isolated music track and indispensable liner notes by the label's house historian, Julie Kirgo.
Twilight Time has also recently liberated Edge of Eternity, a 1959 gem by the great Don Siegel (Invasion of the Body Snatchers, Riot in Cell Block 11, the original The Beguiled), from the Columbia vaults. Although Siegel doesn't seem to have thought much of the film, it's a terrific action flick from the director's mid-period, when he was a modestly successful Hollywood craftsman but not yet the full-fledged auteur of Madigan, Dirty Harry, and Charley Varrick. Set against the backdrop of the Grand Canyon — showcased in glorious Cinemascope by legendary cinematographer Burnett Guffey (In a Lonely Place, Bonnie and Clyde) — Edge of Eternity tells the simple tale of a Denver cop (Cornel Wilde) who relocates to a struggling Arizona mining town after a bungled case and the death of his wife. Life is pleasantly uneventful until he stumbles onto a murder that exposes a conspiracy involving local gold deposits; Wilde's character doggedly runs the case down until it leads him to a spectacular climax in a suspended bucket dangling above the canyon. That climax is one of many superbly staged and cut (Siegel began as an editor) set pieces in the film; a riveting opening murder sequence is another. In between Siegel shows his gift for using the textures of his locations to flesh out themes and characters; his gorgeously detailed evocation of setting here looks forward to similar triumphs in the series of classics he made with Clint Eastwood (not only the aforementioned Dirty Harry and The Beguiled, but also Coogan's Bluff, Two Mules for Sister Sara, and Escape From Alcatraz). In his autobiography, Siegel dismisses Edge of Eternity, expressing his displeasure with the Cinemascope aspect ratio: "I don't like the proportions at all," he writes. It's one of the weirdest ironies in the history of cinema, given that with his later films Siegel would prove himself to be one of the masters of the format; hell, he's already a master of it here, in the first film where he ever used it.
One of Siegel's most gifted disciples, Walter Hill, has been enjoying a bit of a resurgence lately thanks to the tsunami of interviews and retrospectives timed to the release of The Assignment. Conversations like the one between Hill and Bret Easton Ellis on that author's podcast have had me salivating to revisit Streets of Fire, which thankfully has now been released on Blu-ray in a package that contains over three hours of terrific interviews and vintage behind-the-scenes material. Released in 1984, Streets of Fire was Hill's "carte blanche" film after the well deserved critical and commercial success of 48HRS; operating with more money and freedom than he had previously enjoyed, the director created one of his most audacious and pleasurable films, a rock-and-roll musical propelled by violent action, giddy comedy, and a gloriously operatic love story. The story, of an Army veteran (Michael Pare) returning home and taking a job rescuing his ex-girlfriend (Diane Lane) — now a famous singer — from a sleazy kidnapper (Willem Dafoe), has a stripped down purity reminiscent of Siegel and the Westerns of Budd Boetticher, but Hill and co-screenwriter Larry Gross aren't out for minimalism here. They pile one rich colorful detail and character on top of another, fleshing the framework out with a phantasmagoria of images and iconography taken equally from Westerns, 1950s doo-wop, and 1980s MTV. At the time of its release — when it failed commercially, largely thanks to being dumped by Universal during an executive regime change — Streets of Fire was criticized in some circles for being an extended music video. Now it looks like something far more ambitious and revolutionary: one of the only films to truly find expressive possibilities in the visual grammar of MTV, and a forerunner to the genre mash-ups of Tarantino, Edgar Wright and their peers. It's a glorious hymn to youthful exuberance and one of the most beautiful films of its era (courtesy of one eye-popping image after another by cinematographer Andrew Laszlo), and the new 2K scan from Shout Factory marks a considerable improvement over previous no-frills home video incarnations.
Jim Hemphill is the writer and director of the award-winning film The Trouble with the Truth, which is currently available on DVD, iTunes, and Amazon Prime. His website is www.jimhemphillfilms.com.