Back to selection
So You Can't Afford a Wardrobe Designer: Costume Design for Independent Film on a $500 Budget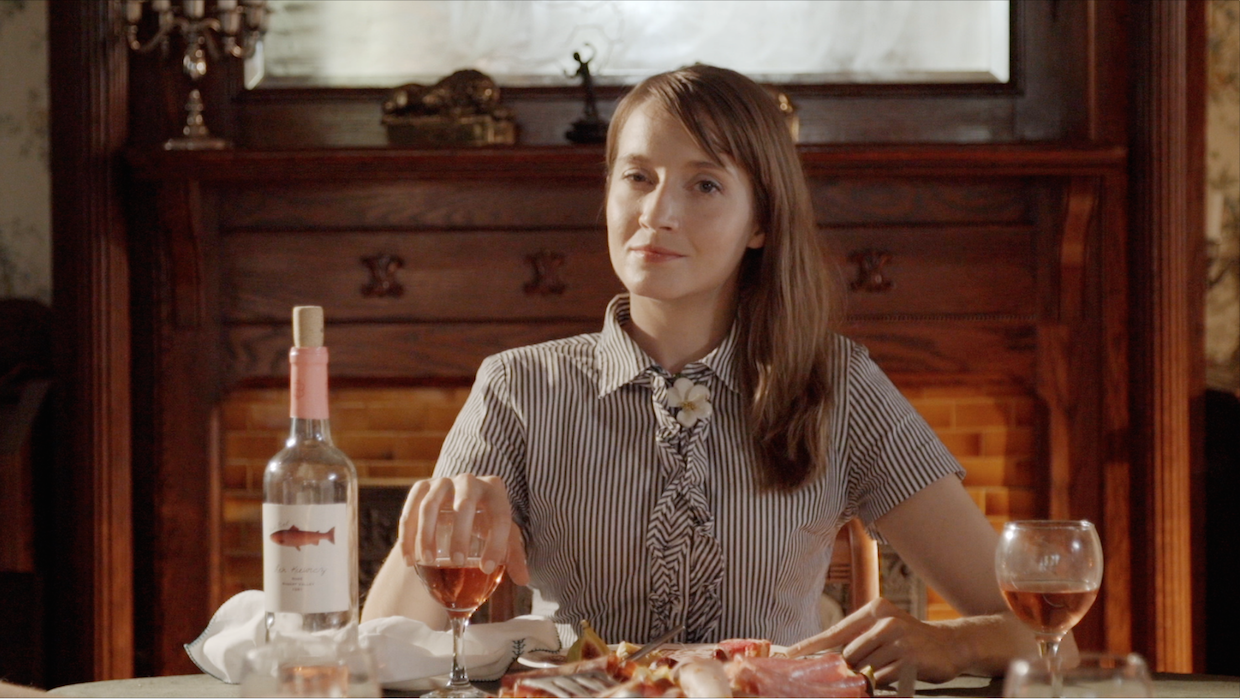 Katey Parker in A Feast of Man
"Microbudget filmmaking" is a bit of a misnomer considering the broad spectrum "microbudget" entails — one producer's $5,000 line item is another's entire operating budget. In a perfect world, we'd all have sufficient funds to hire the best and brightest among us and no project would be too scrappy. Unfortunately, when it comes to independent productions, sometimes that old chestnut still applies: if you want something done, you have to do it yourself.

I learned this lesson the (somewhat hard) way when I directed my first feature, A Feast of Man. With an operating budget of $15,000 – a combination of bank loans and credit cards – we had to be very particular about where we spent our dough. Naturally, hiring a full-time wardrobe supervisor or costume designer was out of the question. But cutting corners here and there didn't mean I had to skimp on my vision!
Bougie on a Budget
A Feast of Man is about a wealthy playboy (read: expensive wardrobe) who dies suddenly and mysteriously. His five closest friends, all equally well-off, convene at his country house for a viewing of his goofy video will. In the will he stipulates that, in order to inherit his fortune, his friends must unanimously agree to eat his dead body. If you couldn't tell, it's a very stylized film: we needed wardrobe for five principals, a handful of supporting roles and the playboy in question. Oh, and did I mention the flashbacks?
Actress Katey Parker looks like a million bucks in a dress that cost $10 at Goodwill. The brooch belongs to yours truly, and adds a nice touch to her preppy ensemble.  
With a lot of hard work, and a little elbow grease, I managed to dress all of our actors for about $500. Results may vary, of course, but with proper planning and common sense your film wardrobe will shine out for a song.
Breakdown: Who, What, Wear
This first one is a bit of a no-brainer, but it bears repeating: before you even so much as look at an article of clothing, go through your script and determine who is wearing what, when and where. Work with your AD to identify different days, times of day and whether or not your characters will require a wardrobe change. Our film features multiple dinners, "mornings after" and some outdoor scenes, with each occasion requiring a different ensemble (remember, these people are rich). If your film is set over the course of 24 hours, you have some wiggle room here. But if you're working across multiple days, you'll need multiple looks.  
Chris Shields wears silk pajamas from a local wholesale store, and Frank Mosley's own shirt was perfect for this scene.
Get Those Measurements!
Knowing your actors' measurements up front will save you time later when you're shopping or making alterations. Most actors know their measurements offhand from previous shoots that had a real wardrobe department. But if you're working with non-actors or total newbies, they – and you – might need a crash course.
Don't underestimate the power of the right necktie. Here, Laurence Bond and Chris Shields wear their own suits with nice neckwear, courtesy of Goodwill.
If you don't have much in the way of time, go for the three key parts: bust/chest, waist, and hips. Pick up a cheap measuring tape – the sewing kind, not the construction kind – and dispense with any modesty or shyness.

When you're measuring a man's chest, start at the shoulder blades and bring the "start" of your tape around to the front, ending at the sternum. Grab the other side, and bring it around to the same spot. Wherever the "start" of your tape lands, usually in the 30-40 inch range, is the chest measurement. Women, obviously, have a little more topography on the front, but the gesture is the same. For maximum comfort and the best possible fit, make sure your tape clears the general nipple area.
Repeat the above steps when measuring your actors' waists, lining your tape up just below the ribcage and above the navel. Take your hip measurements the same as you would for the chest/bust and waist, but this time make sure the tape sits at the top of your actors' hip bones.
If your wardrobe requires mens' dress shirts, take a neck measurement as well. Hold the "start" of your tape at your actors' Adam's apple, and wrap the tape around his neck until it reaches your starting point. Don't pull too tight, but keep the tape taut: you're looking for measurements somewhere in the ballpark of 13-20 inches.
Of course, if all else fails, ask your friend (the Internet). The geniuses at Wikihow, for instance, have a really handy quick-study guide on how-to. Grab that tape measure, head on down to your actor's place of residence, and make it a party. Everyone feels like a star when someone else is measuring their inseam.
Can You Dig It?
To dress your characters, you have to think like your characters: where do they hang out? What do they do when they're not on screen? How do they express themselves with their clothing?
In Feast, we were working with a pretty tony bunch: the principal actors had to look like they wouldn't be out of place at an exclusive country club or soirée. Like the Florentine Commedia dell'arte, each of our characters embodied a different, obnoxious archetype: the carefree playboy, the preppy sports-loving "bro," the uptight Connecticut debutante, the cartoonishly sexy French vixen, the smarmy shyster lawyer, and the simpering "nice guy" academic. Although they are painted, here, with a rather broad brush, we knew they had to look the part in order to be convincing.
So when it came time to shop, I grabbed a buddy – in this case, Laurence Bond, who plays the aforementioned playboy – and headed to the fancy part of town. Our film is set in upstate New York, but as a Brooklyn resident I had an ace in the hole: the Upper East Side of Manhattan is one of New York City's richest neighborhoods, and happens to be a thrift store goldmine.
We identified three spots: a Goodwill, a Salvation Army, and a Housing Works, then spent a few hours at each location. Here's where having another set of hands comes in, uh, handy: with two people, you can cover twice as much space in half the time.
Katey's outfit is based around this scarf, which belonged to my grandmother. I found a dress that matched at Salvation Army, and borrowed a belt from actress Marleigh Dunlap.
Using our breakdown (see Step 1), we calculated the number of different outfits each character needed. We then took that information and broke it down further: how many pairs of pants, how many dresses, skirts, tops, etc. Armed with this knowledge, and our actors' measurements (Step 2), we created an itemized shopping list for each character. Then we rolled up our sleeves and started digging.
Dressing smarmy lawyer "Wolf" (played by Chris Shields) was especially challenging: we needed a wardrobe that illustrated his insecurities as a "member of the Tribe" who moves among a WASP-y milieu. The slightest hint at tacky, nouveau riche taste would undo his entire persona. And, being a rich prick, Wolf is clearly a clotheshorse, with a sporty tie or silk lounging ensemble for any occasion.
When we shopped for Wolf's wardrobe, we doubled down on the old school conservatism, drawing inspiration from books like "Take Ivy", and this classic William F. Buckley, Jr. interview. Knowing that the film took place over three days, and included breakfast, luncheon, and dinner scenes, we procured six separate ensembles for just this one character! Of screen, Chris Shields is rather laid-back and casual, so when we needed wardrobe for an outdoor scene we asked him to bring something careworn and comfy. The rest – suit jackets, Liberty print ties, pleated khakis – were secured at second-hand shops, and no single item we purchased cost more than $20. More often than not, we'd find shirts for $5-8, or pants for $10, and half of them still had tags on them!  
They say patience is a virtue, and nowhere is this more apparent than when you're thrifting. Be prepared to sort through racks upon racks of average duds before you find the right thing. If you come up short, find out when the store gets a new batch of second-hand goods and come back again and again until you have what you need.
Identify Your Must-Haves
For most of our scenes, we were content to clothe our actors in day-to-day rich man's garb. Thrifting uptown yielded some excellent results: Brooks Brothers jackets, Ralph Lauren shirts, Calvin Klein dresses, all in near-perfect condition. Fortunately for us, rich people get tired of their clothes pretty quick.
But when we did our breakdown, there were a handful of specialty items that had to be just right. I'm sure we could have sourced a vintage silk kimono or butler's apron if we looked hard enough, but time was of the essence. I took another close read of the script then I scoured eBay, Etsy, and a few online shops. Most online auction sites let you create "alerts" for these items, so I set up alerts for the stranger parts of our wardrobe and started browsing new results as soon as they came in.

"Arletty," the Continental French courtesan, makes her first appearance on screen at the top of a staircase, backlit by fading sunlight and shower steam. In order to make a dreamy, lustful first impression, she needed something skimpy, tasteful, and a little "exotic." An everyday teddy or babydoll nightie simply wouldn't do – it's just not her style!
Like many wealthy Westerners, Arletty has a deep fascination with Eastern religions (or their watered-down equivalents). A traditional kimono was out of the question, obviously, because this kooky broad wouldn't know the first thing about putting it on! But as a woman of leisure, a kimono-style robe seemed right. Not surprisingly, garments inspired by the "Orient" are plentiful, and we secured a black chiffon robe, with a Japanese floral pattern, for around $30 on eBay.  Although cheaper iterations were plentiful at our local thrift stores, splurging for real silk gave her movements just the right amount of swish.
Beg, Borrow, but Don't Steal!
Got a stylish friend with a seemingly endless supply of fun duds? If you're polite, and swear up and down to take care of anything you borrow, you can get a few great pieces on loan. For little things that aren't contingent on size and shape, like hats, jewelry, handbags, and other accessories, borrowing is a great way to keep costs down. And poll your actors, because who knows what kind of random stuff they have tucked away! Maybe they have leftover wardrobe from a recent performance, or something nice they trot out for weddings and bar mitzvahs. Jesse Rudoy, who plays preppy jock "Dickie," had more than a few items that fit the bill, including a white knit sweater (perfect for draping over the shoulders) and boat shoes. Pair these iconic garments with an everyday polo shirt and you've got a look that just screams "Restricted Community."
Don't forget to shop your own closet, too. After all, that ancient ugly sweater you got four Christmases ago might be just the thing you need for a scene.
Jesse Rudoy and Laurence Bond share a tender moment in a toga party flashback. We bought a few yards of cheap fabric and "borrowed" some branches from a nearby tree for their laurels.
In addition to thrifting and borrowing, local vendors are an excellent resource. This is especially true if you're in need of something specific. One of our scenes in "Feast" required black-tie attire and, unfortunately, none of our actors owned their own tuxedos. With a little research our producer, John Yost, found a tuxedo rental shop near our shooting location. After explaining our financial situation to them, and offering a thank-you credit in the film, we were able to get a discount on our order! This isn't a guarantee, but it's definitely worth a shot. Most folks want to help you out, and more than a few will likely get a kick out of being part of your movie!
A Stitch in Time Saves Nine
Let's say you found the perfect pair of white linen trousers, but they're a little long around the ankles. Don't laugh – this happened to us! Spending on alterations should be a last resort, but you shouldn't neglect the importance of fit: a tailored garment is more flattering, and instills confidence in the wearer.
Actress Marleigh Dunlap plays Arletty, a French vixen. Her mourning costume looks especially theatrical with this $3 yard of black lace.
This being New York, I happened to have a buddy who has her own fashion line and makes her own samples. When I enlisted Alex Konen to help with some minor alterations, she politely accepted in exchange for a small fee and a wardrobe credit.
Now, I understand this is a special circumstance, but no matter where you're located you're sure to find handy folks. Most dry cleaners can accommodate simple alterations, but if you need something more involved you may want to consider posting on Craigslist or a local job board. Or, if you have an art school in your vicinity with a fashion program, inquire with the department and hire a go-getting student. Again, for a small fee and credit, you can enlist a trained pro to help where it's most needed.
"A Feast of Man" is Coming Soon from Caroline Golum on Vimeo.
Caroline Golum is a writer and filmmaker living in Brooklyn, New York. Her first feature, A Feast of Man, will have its world premiere at the Sidewalk Film Festival in August. You can follow her on Twitter at @carolineavenue.