Back to selection
"I Think There's a Parallel Between Gender Politics and Politics of the Land": Clio Barnard on Her TIFF Premiere, Dark River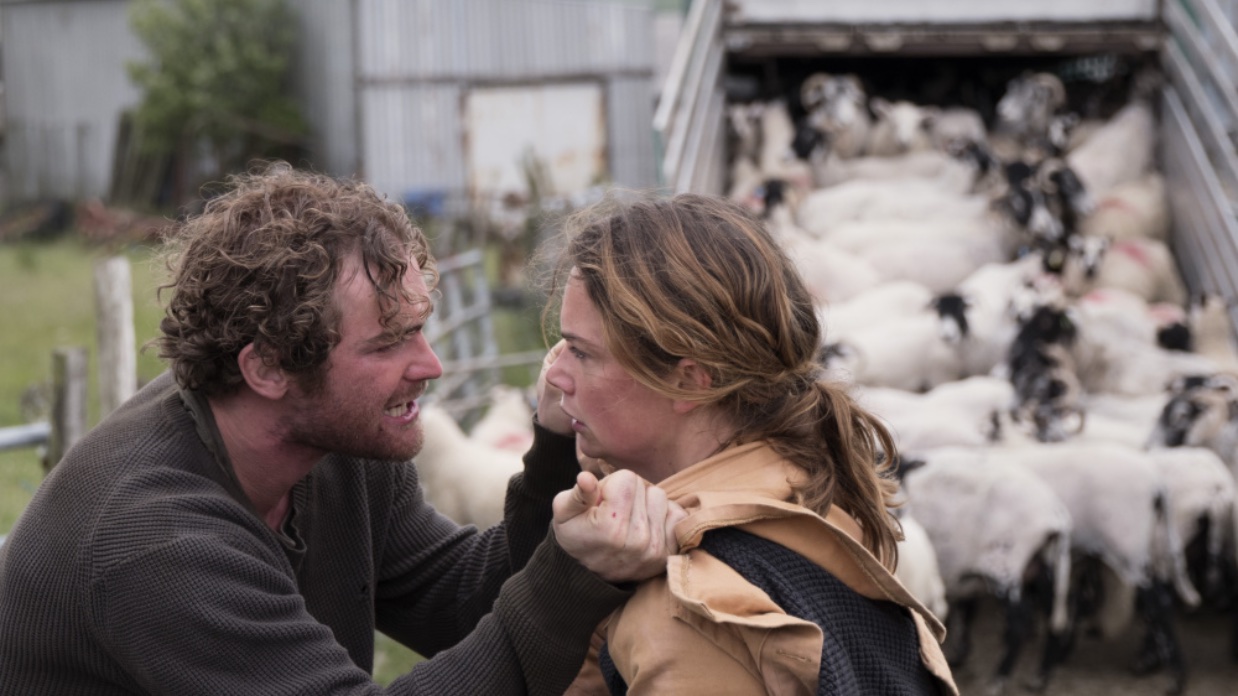 Dark River
UK-based Clio Barnard has impressively transitioned from video artist to acclaimed feature filmmaker in the span of just seven years. After making several short films, her feature debut The Arbor, a hybrid documentary about the late playwright Andrea Dunbar, went on to win a bevy of awards, including London Film Festival's Best British Newcomer award, Tribeca Film Festival's Jury Award, British Independent Film Awards' Douglas Hickox Award, and subsequently a BAFTA nomination for Outstanding Debut by a British Writer, Director, or Producer.
Her second feature The Selfish Giant, loosely based on Oscar Wilde's children's story of the same name, also was received with great praise, receiving a stroke of nominations again from British Independent Film Awards and a BAFTA nomination for Best British Film.
Barnard's third film Dark River premiered this week within the Platform section, TIFF's curated showcase that last year screened Moonlight. The farm-set feature contains a haunting soundtrack from PJ Harvey, arresting images by The Crown DP Adriano Goldman, and solid performances from leads Ruth Wilson and Mark Stanley (with Sean Bean in a supporting role).
Filmmaker: I understand you were sent the novel Trespass from producer Suzanne Mackie (UK-based Left Bank Pictures). How did the script and subsequently the film for Dark River evolve from the book?
Barnard: I'm not the kind of filmmaker people ask to adapt a novel. But when she [Mackie] sent me the novel [Trespass], I was intrigued. Initially I wrote a faithful adaptation, and then a note came back from the financiers saying, "Make it yours." In some ways it was fantastic because they were saying, "We want your voice." But it was a difficult process, like [fitting] a square peg in a round hole. With The Selfish Giant, there was a deliberate contrast between Oscar Wilde's Victorian fairytale story and the contemporary lives of these children I had met when making The Arbor. This film was a different process.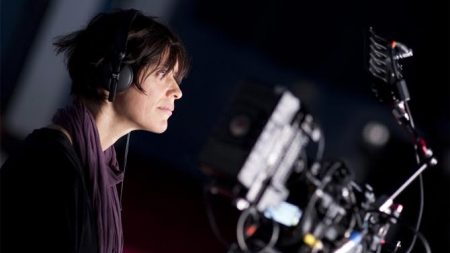 Filmmaker: What were the biggest challenges in making this film?
Barnard: I think what fascinated me was that the brother and sister characters both had the same difficult history. They are both victims of sexual abuse, but they both learned to handle it in different ways. They are desperate to connect with each other, but unable to because communication is broken down; it's this thing neither of them have ever spoken about. So that became the focus, but the book has more plot, and it's more of a thriller. And part of the risk is if you condense that amount of story into a feature film it becomes melodramatic. Given the subject matter, that is to be avoided. So it was about trying to hone it down.
Filmmaker: Both you, and the actors Ruth Wilson and Mark Stanley had to learn how to live and work on a farm. Can you talk about that experience?
Barnard: Ruth and Mark worked together independent of me, and then we come together to shape and shift it. Ruth had to learn the accent, and she had to learn how to shear sheep. She began in April, and we shot in June. The same tenant farmers I did script research with, she was embedded with them right alongside to learn about skills and the life. The farm where we shot was as you see it, run down and neglected. That was a great help in terms of Mark understanding what life is like there.
Filmmaker: Some people are comparing this to the recent acclaimed British farm-set dramas The Leveling and God's Own Country that came out this year. Have you seen these films?
Barnard: I haven't seen either of them yet. I thought I shouldn't see them while I was making this. But it's good these are out — there's something about the land and the environment that we need to turn our attention to. For this film, I didn't want to romanticize the landscape, I wanted to show that there's beauty in sex, birth and death, but if you put them at a distance and admire them, it's kind of like you don't see them anymore. You are objectifying them and not understanding them. I think there's a parallel between those two things, with gender politics and the politics of land.
Filmmaker: Your background stems from video-based experimental work. How has that influenced your style as a feature filmmaker?
Barnard: I don't see myself as a video artist. I see myself as a filmmaker. I used to make more experimental films and some gallery installations, but I suppose I don't see it in terms of being that different. I have an impulse and I follow it. With The Selfish Giant, there was a clear link in that I made an installation about road racing, and then there was road racing stuff within the film. And [in 2016] I made a 12-minute video piece that was called Dark Glass, and it does have a relationship with my background. I suppose if there is something that links them, there is relationship between the real and the imagined and how one impacts on the other. I think that is there in Dark River as it is in the other work.
Filmmaker: Speaking of your other work, you have worked with sound designer Tim Barker for many years. Can you talk about that relationship?
Barnard: I have recorded with Tim Barker, who is a recordist and designer, for years and years. He is kind of an ego-less genius in that he doesn't want you to notice the sound, but it is so nuanced and subtle and beautifully designed. There are little bits of sound he brings in from earlier projects, like there's always this particular bird call. There is a lot we can do together without having to over-explain. We have a shorthand. With this film, we made some subtle but important changes right through to the end.
Filmmaker: You worked with Brazilian cinematographer Adriano Goldman, who has recently shot the Netflix series The Crown. How did the two of you come together on this film?
Barnard: Initially I wanted Mike Eley, who worked with me on The Selfish Giant, but he wasn't available. With Adriano, part of the reason I wanted to work with him was because he wasn't from Yorkshire, and I knew he would bring an outsider's eye to this. I also loved how he filmed Yorkshire in Jane Eyre — that felt like the Yorkshire I know, not the romanticized version that you often see.
One of the things I also loved was how he tried to find one shot for a scene. For instance there is this scene we see Joe standing in the doorway with an out-of-focus background and we just stayed on Joe smoking his cigarette. He was also very particular on where he placed the camera. Often things were backlit, and that shot would potentially be used to cover that whole scene as well. In terms of camera, we used the ARRI Alexa.
Filmmaker: You worked with PJ Harvey as well. What was that process like?
Barnard: I've loved her music for a long time. I love White Chalk [the singer's seventh studio album that includes a song with the same name]. There's something about land, earth, and England. It's brilliant.
After she saw The Selfish Giant, she sent me a letter, and we decided we wanted to do something one day. When this came up, I sent her the script, as she grew up on sheep farm and has been writing poems about sheep. We also both read a lot of Ted Hughes poems: he was farming for a while, and he wrote poems about farming and sheep (one of his poems is called Dark River). So we were reading the same stuff. We got together with Harry [Escott, the composer] and coincidentally, all of us had ideas around children's rhymes and folk songs. We didn't decide on the song "An Acre of Land" until right at the end. I think it sets something up narratively — the tone for the history of the land, and earth and England.
Filmmaker: What are you working on next?
Barnard: I have a couple of new ideas. One thing I am beginning to do is work with writers. I am enjoying that as a new collaboration. They are all UK-based. Right now, I am particularly enjoying working on something with playwright Lucy Kirkwood.