Back to selection
"How Are You Going to Make a Video that's 9,000 Pixels Long?": The Mixed Media Art of Anne Spalter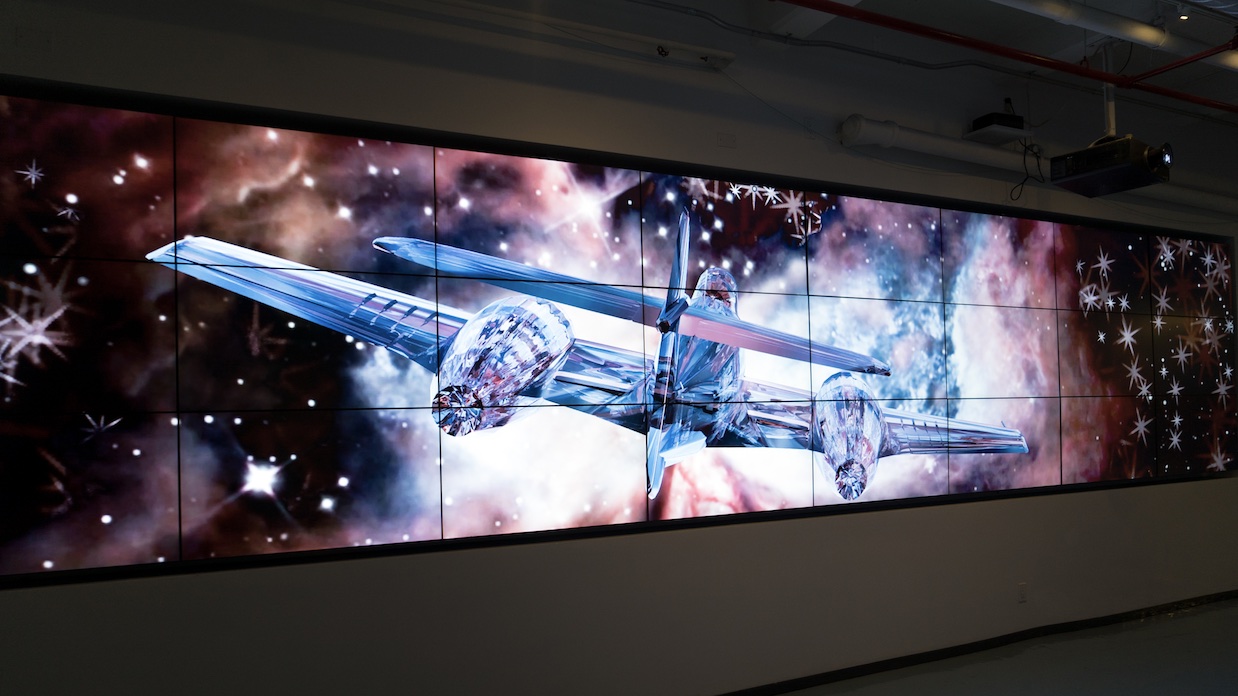 Wonder Why
Anne Spalter's work not only reflects the world around her but also the world of the future she hopes to see.
Wonder Why — the digital mixed media project currently taking over the Made in NY Media Center by IFP in Brooklyn, NY — is her most narrative work to date, mashing up everything from Wonder Woman's Invisible Plane and Google Earth to campy star graphics and well-lit tunnels that she equates with hope.
The result of putting these kaleidoscopic and powerful images into her unique visual blender creates an effect for the viewer akin to finding hidden letters of the alphabet in your soup. The more you watch and explore, the more that themes of freedom, escape and female empowerment begin to magically pop up and move through your consciousness. Image upon image roll, turn within themselves, and emerge anew. It's quite the colorful mix, one that leaves the viewer inspired and hungry to know more about the woman behind the images.
Filmmaker: How did you get your start?
Spalter: I was trained traditionally and studied painting; I loved it. Painting, charcoal… but I also was interested in mathematics. I actually transferred schools (RISD to Brown) so I could go take more math classes. I also took more computer things, but I was really torn. I first thought I'd never make art with a computer, that it was a horrible idea. That it had to be made by hand. I was super against it. I ended up settling on a triple major: math, visual art, and an independent concentration that entailed my writing a journal from the perspective of a fictional member of the Lewis and Clark expedition.
But then, I graduated and had to get a job. People kept telling me I should be an actuary — that's when you figure out when people are going to die for insurance companies. I knew I didn't want to do that! But it was the 1980s so I went into banking, because, well, math. But I'd end up sitting at my desk and using art software and then when my boss would come by I'd click to Excel.
So, it was soon pretty clear to me that I was an artist. I ended up going back to grad school, then teaching the first computer fine art courses at Brown and RISD. I wrote a textbook on computers and art (The Computer in the Visual Arts). After that, I got in deep.
Filmmaker: Can you talk more about Wonder Why and your inspiration to create it at this moment in time?
Spalter: It started as a piece for a show at the Elizabeth Houston Gallery, "Super Star," and it was a reaction to too much Donald Trump in the newsfeed. So, it is political, but it's also about finding the other side of the news cycle, that there are superheroes — and hope — to be found if you look for them.
For the IFP Week show, it started out with the work that's on the huge, 27-screen monitor first. It is inspired by Wonder Woman and airplanes, both themes I've worked with a long time. I'm interested in ideas around freedom, escape, female empowerment. It's been so great to have a space to react to — in the studio, you're making something on a screen, or a wall, and it's very different than being in a space that's particular. Like, asking yourself, how are you going to make a video that's over 9,000 pixels long?
This work integrates original footage with the 3-D ray-traced plane that flies through it, and it's the most narrative piece I've ever done. It's all held together as an abstract travelogue, with images from Google Earth. I describe it as a freeform, flying adventure with kaleidoscopic features.
Filmmaker: How do you describe yourself and your work?
Spalter: It's very hard. I call myself a digital mixed media artist. If I say I'm a video artist, people think of a very specific thing which I'm not. If I say digital artist, people think of programming and a very abstract kind of work, whereas I work representationally. I shoot all my own video and work with it digitally with my own custom software. It all manifests itself in different ways—sometimes as straight video, sometimes incorporating physical structures.
Filmmaker: Mixed media — that sounds similar to a phrase bandied about by filmmakers and creatives — "platform agnostic." What does that mean to you?
Spalter: Mixed media for me means integrating the digital with the traditional to try and get the best of both worlds. I constantly go back and forth. I just did a charcoal drawing series for Spring/Break alongside my digital work. It's all about different media that you can explore. It's about the art, but the computer can also let you do amazing things.
Filmmaker: What advice to you give to those working cross-platform and perhaps, experimenting in the margins of storytelling?
Spalter: If you make the work and it just stays in your apartment, you won't go anywhere.
And if you do get it out there, sometimes you feel like no one is out there seeing the work, getting it. Maybe your mother is the only one.
My most important connections are often random — I just had a 52-channel exhibit at the Fulton Center that I did for MTA Arts. Which was a huge thing and it came as an email I almost deleted because the subject line was "Great Opportunity for YOU!" which I thought was total spam. Like one of those spam emails from Nigeria. I literally had my finger on the nuke button and asked myself, can this be real? It was — I came to find out, she had seen my work at a Spring/Break show a year before.
Keep making the work.
Get it out there.
You just don't know who is going to see it and change everything.
Wonder Why will be featured at the Made in NY Media Center by IFP September 17-22, 2017 at 30 John Street, Brooklyn in partnership with Spring/Break.
For more on Anne Spalter and her work, annespalter.com