Back to selection
Strangers On This Road We Are On: Mia Lidofsky On Her Facebook Watch Series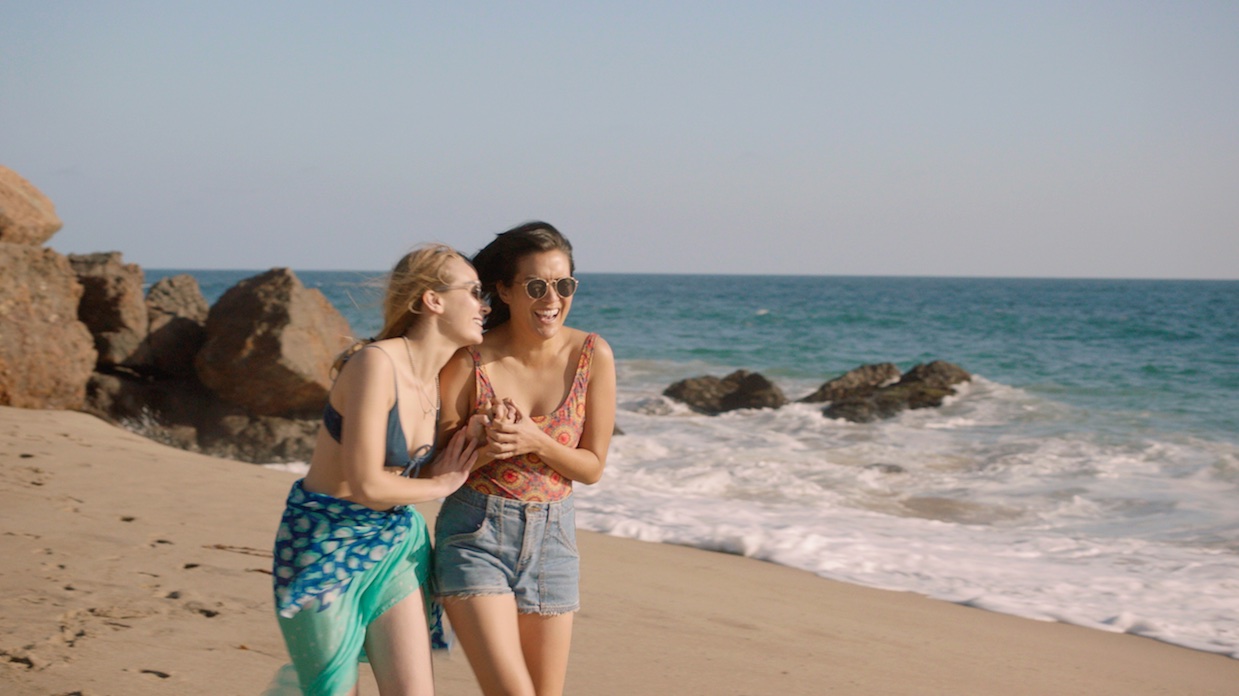 Strangers
Mia Lidofsky is the creator and executive producer of Strangers, a strikingly profound seven-episode series now in its first season on an intriguing new platform, Facebook Watch. Lidofsky is a former assistant to her series executive producer Jesse Peretz (director of The Chateau and My Idiot Brother and a producer on Girls), and an associate producer of People Places Things and Tig. In 2015, Lidofsky was selected for the AFI Conservatory Directing Workshop for Women, where she created the series pilot. The director and co-director of several episodes of the first season (along with partner/filmmaker Celia Rowlson-Hall, a 25 New Face of 2015), she's also the co-writer of every episode alongside collaborators like Chad Hartigan (Morris From America), Zoe Chao (Where'd You Go, Bernadette?) and Jim Strouse (The Incredible Jessica James).
Strangers stars Chao in a career-making performance as Isobel, the beleaguered host of an Airbnb-style Los Angeles vacation rental whose burgeoning relationship with Hailey (Isabelle McNally) opens Isobel up to new emotional realms. Meredith Hagner (Ingrid Goes West) co-stars as Isobel's indispensable friend and supportive compatriot, Cam, while various tenants are portrayed by the esteemed likes of Jemaine Clement, Jemima Kirke and Shiri Appleby.
Shifting between hilarious, sensual, contemplative and tragic modalities, the series both invites and collapses comparisons to antecedents like Girls, High Maintenance and The L Word while carving out its own truly unpredictable path through the lives of two wise – and wise-cracking – women. It is, undeniably, a thematically and aesthetically daring entrée into original series programming for the new platform, and for Lidofsky, it is the announcement of explosive natural talent and creative vision.
Refinery29 presents Strangers, a Beachside production, every Monday until the Season 1 finale on October 9th. You can catch up with Strangers on Facebook Watch.
Filmmaker: Strangers is your first show as a creator. What sort of life material are you drawing from in it?
Mia Lidofsky: So much of it is personal. One episode [where Isobel showers with her partner], the good parts were influenced by Celia and I falling in love and a trip we took to Big Sur. To me, that episode is really about Isobel confronting her own inner homophobia, fears and worries about what this all means and how the world is perceiving her in this new identity and with this new partner. So much of that is really personal, whether it is my own story or stories through friends. It's a well-lived show, I'd say.
Filmmaker: You get that sense, you know. You can also see that there was a little bit of a tension between things that might just be funny, or jokes, and things that would strike closer to home. It is a happy tension because you are fighting to maintain that line between a dramatic show that works at the level of intimacy, and things that are just pure comedy, and you succeed. Could you discuss striking that balance — jokes versus drama?
Lidofsky: I like to stay as grounded as possible. I find that a lot of humor comes from the realness of a moment, especially partnering with Jim Strouse and the extraordinary actors that we had on set, like Jemaine [Clement] in that first episode. I knew that I had wanted him to play that role from the get-go, so I had the basis of what his character was. But that was a particularly fun one because I really enjoy improv on set once we've gotten the scene. If you hire talented people, let them infuse themselves into the work. That let the pilot be more raw and original, because Jemaine was on fire all over the place.
Filmmaker: You don't see something like Strangers on the web, a fully-blown digital series walking that unclassifiable line between dramatic-comedic narratives, other than High Maintenance. Even when researching my column on webseries, that was the only digital-first show that I have seen that straddles it successfully.
Lidofsky: In approaching this, I wasn't trying to fit it within any specific kind of digital space. I always wanted episodes to be at the 15-plus minute mark. I wanted to make a TV show, but it was a way of proving myself and feeling out the world of the show. Doing it at high stakes, but [gestures with her hand] lowered — more reasonable stakes. I approached Strangers by just making the show I wanted to make, and it didn't matter what, in my mind, was totally succeeding on the web. One of the beauties of partnering with Refinery29 was that they really saw what I had done in the pilot, and were excited to let the episodes tell the stories that they needed to. [The episodes] didn't need to fit the parameters of the seven-to-eight-minute mark. They could be what they were. I had the freedom of letting the stories dictate time.
I also really wanted to be constantly playing with the drama and the comedy about what a woman's life is like in her late 20s, when it's falling apart but she's kind of building it up again by doing so much self-exploration. I wanted it to be surprising, and fun, and playful and challenging. And I think that Isobel being open to these kinds of scenarios lent itself to a lot of humor. Then again, she's going through something pretty complicated within herself. With all the new people coming in and out of her life, it was so important to me to be real because — and I don't know if you know this — Zoe Chao has been my best friend since the first day of nursery school.
Filmmaker: I didn't know that, but I was going to ask you how you found her. There is a radiant quality to her.
Lidofsky: Thank you, and I agree. She's always been a shining light in my life. I think she is such an extraordinary actress and human, and has been really one of my closest friends since I was three. She hadn't gotten her break yet, and I really wanted us to kind of get our breaks together. I was hoping this would be a vehicle to allow that — that it would also allow us to explore and experiment together as artists and friends.
Filmmaker: How much of how you work with the actors — Zoe, Meredith, Isabelle McNally — comes from what you learned shadowing directors like Jesse Peretz, Jim Strouse, Michael B. Clark and Alex Turtletaub?
Lidofsky: In terms of working with actors, I haven't had much deliberate training. I didn't go to film school. I went to Bates College in Maine, and they didn't have a film department. I was a theater major, but I had to create my own film major within the department. There were a few really wonderful teachers, but a lot of it was just self-exploration and learning through trial-and-error. My film school was truly working for Jesse for two years. Jesse is one of my closest friends: he's the executive producer of this show, and I'm his son's godmother. He is a magical human and a really special director who I think has a beautiful language with actors. He genuinely wants to connect to the material and to the people he's working with, and he pours love into the people around him.
Over the two years that I was with him — that was during seasons two and three of Girls, and he was also on the sets of Nurse Jackie and New Girl — I traveled a lot with him and put in a lot of hours. He always made sure that there was a chair at the table for me, which is something I feel lucky about. He treated me with the utmost respect and believed in me, and I think because of the way he treated me, other people — like the bigger actors, producers, and writers — made sure to pull that same chair out for me.
Back in the day, I [also] worked with Will Graham, who is now the showrunner of Mozart in the Jungle, and with my other boss, Julie Smith, on two shows for The Onion which were running on TV simultaneously: Onion SportsDome and The Onion News Network. It was an insane scenario where they both got greenlit at the same time and they were stacked by four weeks. Will and Julie had taken on so much responsibility and creativity that they, too, created a seat at the table for me and gave me a lot of responsibility. I learned from doing and from asking a lot of questions, always listening and always watching them.
Filmmaker: As a first-time episodic director, did you struggle at all in terms of trying to achieve what you had in your mind visually, using the correct language to communicate that to your cinematographer and production designers and others?
Lidofsky: I did have a little bit of training in terms of directing, actually. I made the pilot through AFI's directing workshop for women. At the time, I was producing with Beachside, and I had directed a few music videos. I really wanted to put myself into more of a director's role, so I applied [to AFI] with Strangers, and they accepted it as one of the first episodic pieces ever. I think it was the first year they had opened up the program to episodic work. I directed the pilot there; had a three-week boot-camp with directors like Angela Robinson, Jill Soloway, and Jamie Babbit; and got to talk and learn and explore and play.
It's really about knowing what your limitations are within any industry. I'm not good at drawing, but I can articulate emotion, so I was really lucky to work with two wonderful cinematographers. One was Hillary Spera on the pilot, who was wildly talented but couldn't come back for the rest of the season because we picked shooting back up a year later. But then I met this really wonderful cinematographer, Anne Etheridge. Part of working with her was admitting to myself the newness of this language, and talking about how we wanted to capture emotions and feelings. Just because I didn't necessarily think visually ahead of time doesn't mean I don't know what I want in the moment – I do. I know what I like instinctually as a director, and I'm drawn to specific imagery.
In terms of the visuals, I've always been really drawn to the indie film world and the cinematic language of it. I tried to infuse as much of that into this project as possible, and my visual language improved as I progressed. Sometimes Celia would help me with my visual language, sometimes we'd shot-list. I like to walk through a space and take photos of how I want to frame it because I don't always know how to describe it until I've actually done it. A lot of it really is doing the legwork beforehand, before anyone else gets involved.
We shot the pilot over the course of four days. Then we shot the following six episodes over the course of 16 days. It was pretty extraordinary, the pace that we had to move at. The dream scenario is that you have a little bit more time to rehearse with the actors, or to give them that extra take that they might want, or occasionally you might want, to explore a scene. Within the limitations we had, however, I wouldn't change much in season one. I would like to keep pushing boundaries and limitations in season two. I'd like to keep exploring sexuality. Part of what I wanted to do in this series is to create positive images of queer lives, as well as really positive imagery of female friendships. I want to keep exploring wonderful women on screen in all the complexity and nuance of our lives together.
Filmmaker: Strangers very much positions itself as a queer work. How deliberate was that positioning for you? I just want to confirm that on the record before film history and criticism completely narrativizes you without your input!
Lidofsky: I can't wait! I am a loud, proud gay woman. I've been out for about a decade. And it's been a process of self-love, you know? Especially through the partnership I have right now, especially in the Trump era, I love being a lesbian. Part of what excites me about being a creator is that I hope to change the narrative of "normal." I didn't want to make a gay series that was like, "I'm gay for gay people!" I wanted to make stories about thoughtful, curious women who are queer, and one who's bisexual. I think that's a space that hasn't been explored in a thoughtful, real manner. Mind you, it'll open up in bigger ways in season two. I would love to always be called a female filmmaker. I am very comfortable being called a gay filmmaker, too. But I hope the work transcends the gay community, and also that it's a show for all people to open up their understanding about what it's like to be gay, bi, and on the spectrum of sexuality in a more fluid or specific space, like The L Word. The L Word changed my life. I watched the first episode of The L Word a week after I came out as bi to my best friend from childhood and my mom. I was in college, I was 20, and they brought me to a Sunday night screening of The L Word on our campus. It totally revolutionized my understanding of how gay women can be in the world, and what they can look like. Their hopes, dreams, fears — it opened up my understanding of it all. I hope that, in small and large ways, Strangers is able to do that for our generation of gay people, and those younger and older. I think it is good for us to win sometimes onscreen.