Back to selection
"A Straight Shot into the Vein": Pitching Documentaries at Points North Pitch at the Camden International Film Festival 2017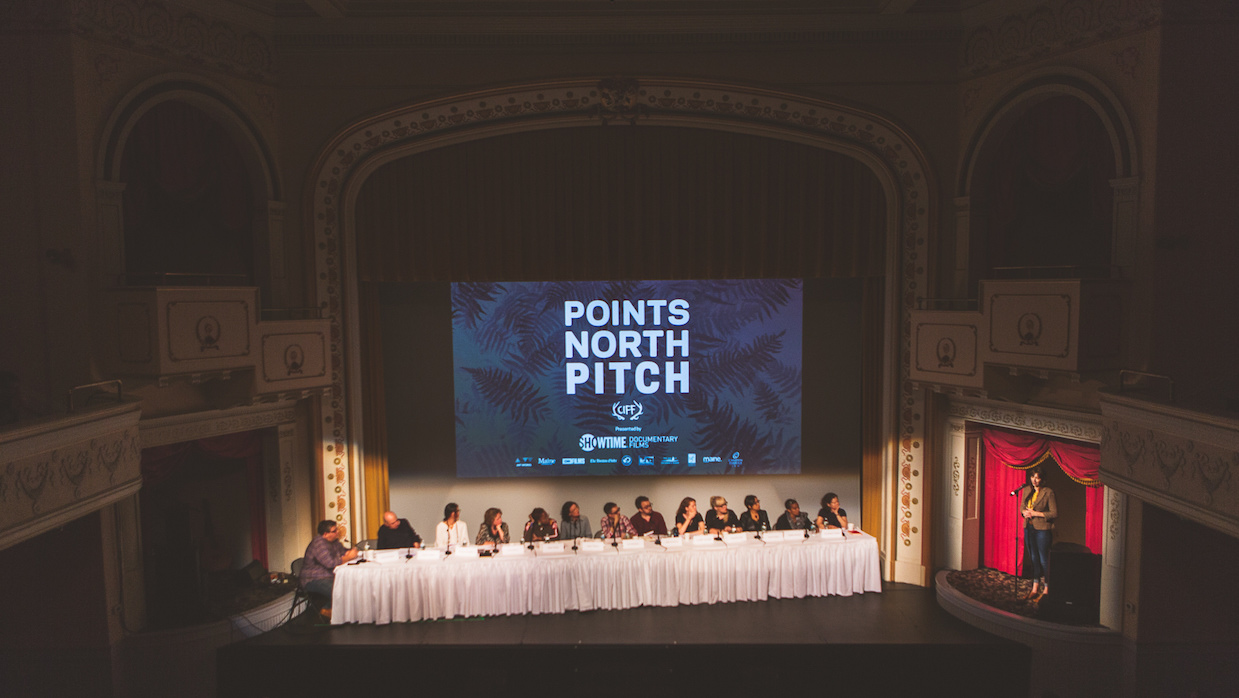 Emelie Mahdavian pitching Midnight Traveler at Points North Pitch
Each year, the Points North Institute magnetizes the fog-kissed landscape of coastal Maine to lure the best and brightest of the non-fiction universe to the towns of Camden, Rockport and Rockland. The Camden International Film Festival offers an immersive overlay of screenings, panels, workshops, virtual reality installations, parties and intensive personal encounters that elevate the proceedings far above the standard festival formula of films and frolic.
Exhibit A: What other festival turns a pitch session into a kind of centerpiece presentation? Staged under the banner of the Points North Institute, the festival's umbrella organization, the program invites a group of fellows to Camden for the week, where they hone pitches, trained by coaches that include Ryan Harrington (Discovery Channel) and Kristin Feely (Sundance Film Festival). Then, before an SRO audience of 450 and a murderer's row of 12 panelists from such funding entities as SFFILM, Catapult Film Fund and PBS, the filmmakers take to the stage of the Camden Opera House and make their cases.
In previous editions I've witnessed, it was easy to spot an early favorite or two, a project that combined a killer tease clip with a confident presentation and a compelling concept. Not so this time. Pitch after pitch, reel after reel, the proposals were remarkably strong and varied. Several of the films were so sensitive in terms of subjects and story that attendees were asked to keep mum about the finer points revealed. Safe enough to say that projects like Area 2, a deep dive into a tragic episode of Chicago police corruption, and Untitled Safer School Project, which explores the security-industrial complex that has evolved in an era of school shootings, promise to come at visceral social issues with a reportorial urgency and, in the latter case, an ambitious visual sensibility. Eva Weber's Ghost Wives, one of two projects set in China, matched image-making flair with dramatic construction, fashioning a kind of non-fiction noir about a serial killer, a missing wife and the twisted legacy of a seemingly harmless Chinese village tradition. The storytelling was so crafty, it was easy to forget it was a documentary with a topic that might easily have been treated in a drier, on-the-nose manner.
"They all found the ideal way to articulate their stories and speak directly to the audience in the room," said Sean Flynn, program director of the Points North Institute, who credited both the maturing nature of the pitch session – now in its eighth year – and the guidance of the coaches. "A lot of the magic happens behind closed doors."
So far, so good.
Then Emelie Mahdavian took her spot stage left. With scarce elaboration she called for the clip of Midnight Traveler to roll. A moment later, Afghan filmmaker Hassan Fazili was onscreen, recounting the turbulent story of how he and and his family fled into exile when the Taliban threatened to kill him over the exhibition of a previous film. In the past two years, Fazili, his wife and two daughters have moved from Afghanistan through Tajikistan, Iran, Turkey, Bulgaria and, lastly, a refugee camp in Serbia.
They documented their lives on cell-phone cameras. Mahdavian edited the footage, a world away in California, where she teaches at the University of California-Davis. The story alone was riveting: a high-risk flight that put the filmmaker and his family in threatening situations. Yet, the often dazzling, diaristic images gain force, both from their vernacular format and bravura editing. The audience was visibly wowed, but the drama had only begun. Everyone learned that Mahdavian had only mustered a budget of $3,500, including the $1,000 cash grant from the fellowship, when panelist Daniel Chalfen (Naked Edge Films) expressed dismay over the fact, stressing the situation as a humanitarian case involving a fellow filmmaker.
Then Cara Mertes of the Ford Foundation took a leap, and offered, on the spot, $10,000 in support from her organization's JustFilms.
"I was already walking off the stage with an awkward wave goodbye and they called me back," said Mahdavian, who was later awarded the prize for the top pitch: an in-kind package of post-production services at Boston's Modulus Studios.
"It felt like a straight shot into the vein," said panelist John Van Wyck (Cinereach), who alluded to elements of "pure cinema" in the piece. "We all just caught our breath afterward."
Mahdavian speaks several languages, and made her first film about a group of dancers dealing with post-Soviet cultural tensions in Tajikistan. She found a kindred spirit in Fazili, whose work thrives on the fringes between fiction, non-fiction and experimental narrative. She mentions a silent short called Mr. Fazili's Wife, which imagines the life of the filmmaker's family after his death. The brief taste of the ongoing project captures the at once surreal and mundane polarities of refugee life.
"There's this weird boredom that becomes very anxious," she said. "You're waiting and you don't know what's going to happen to you, punctuated by these moments of extreme experience."
Themes of displacement and labor were a prevalent thread in the 2017 lineup, which introduced new programming team member Samara Grace Chadwick, late of the Montreal International Documentary Festival.  In Taste of Cement, Syrian filmmaker Ziad Kalthoum details the isolation and melancholy of Syrian workers in Beirut, confined to their skyscraper construction site as they monitor tragic news from home. All That Passes by Through a Window Which Doesn't Open — produced, directed and gorgeously lensed by Martin DiCicci over a span of six years — listens in on the thoughts of men laying down tracks for a new rail line between Azerbaijan and Armenia, tracking a vast, empty landscape where the poetic entwines with the political. The films each took top jury prizes.
Anyone who might argue that the documentary form is inherently a downer, a discussion that arose as I grabbed a between-screening pint and a lobster roll at an unexpectedly cinephilic Rockland pub, needed only to walk into the town's opulent Strand Theatre and register the roaring laughter provoked by Lots of Kids, A Monkey and a Castle. A family portrait made by Spanish actor Gustavo Salmerón captures with affection and vibrancy the eccentricities and obsessions of the director's mother. Julita, the 70-something star of the film, has everything listed in its title, which refer her three wishes as a young bride. Time has done nothing to diminish Julita's ardor or wishfulness. A central dramatic line in the story concerns the quest for a parcel mislaid in the matriarch's pack-rat citadel: two of her grandmother's vertabrae.
Those discoveries were bolstered in the lineup by a rafter of festival favorites, including work by several pitch session alumni, including Jeff Unay (The Cage Fighter), Sierra Pettengill and Pacho Velez (The Reagan Show), Sabaah Folayan (Whose Streets?, co-directed with Damon Davis) and Drew Xanthopolous (The Sensitives).
"There's a need for these types of places where filmmakers, industry and audiences can really come together and put the tags of who you are or what you do aside," said Ben Fowlie, festival founder and director of the Points North Institute, "and just focus on why we all love what we do and what our involvement is in this crazy world of making documentary films."