Back to selection
"I Wanted to Bring Them into a Confession Booth": DPs Avner Shahaf and Alex Margineau on The Oslo Diaries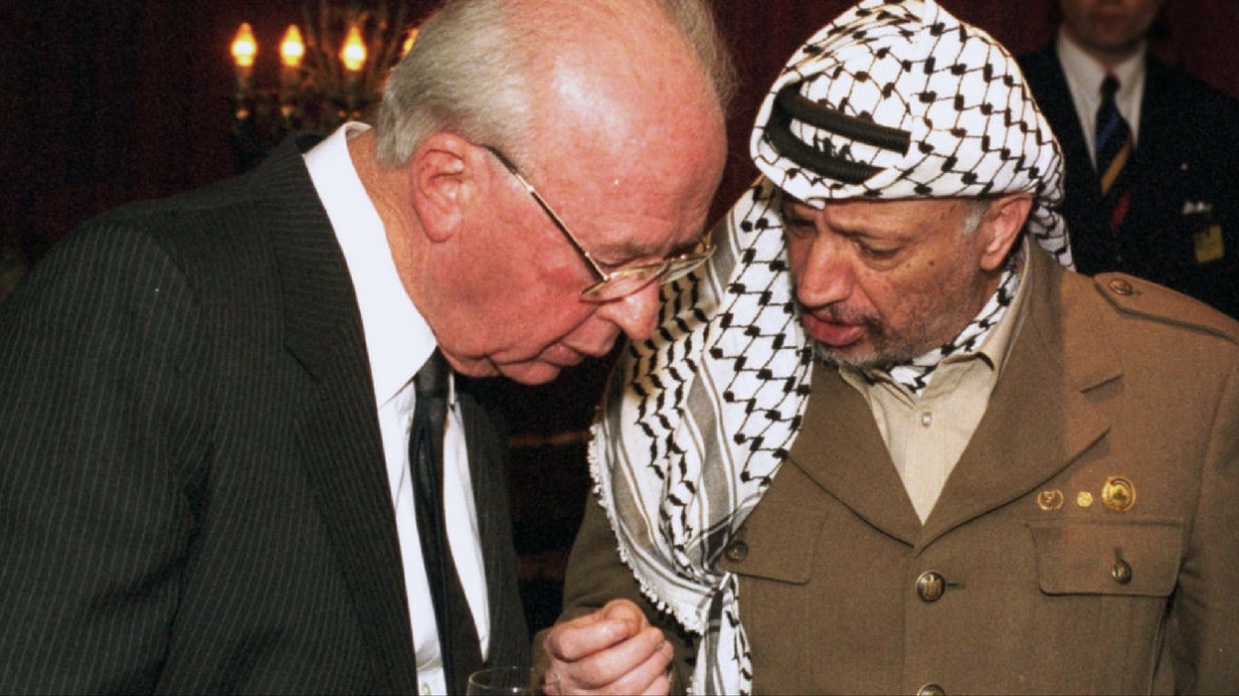 The Oslo Diaries
Directors Mor Loushy and Daniel Sivan hired two cinematographers to film The Oslo Diaries, their documentary on Israeli-Palestinian relations in the early 1990s. They did so for a specific reason: One cameraman (Avner Shahaf) would serve as lead DP on interviews, while the other (Alex Margineau) would shoot the film's reenactments. The latter footage – shot in the vein of such films as No and Stories We Tell – was shot to blend seamlessly with actual archival footage from the era. Below, both cinematographers discuss their experiences on the project, which screens in competition at the Sundance Film Festival.
Filmmaker: How and why did you wind up being the cinematographer of your film? What were the factors and attributes that led to your being hired for this job?
Shahaf: I have worked with directors Mor Loushy and Daniel Sivan on their previous film Censored Voices, and together we developed a visual language that gives a cinematic value to the interviews but keeps to their authentic feeling without being too glossy.
Margineau: The film being a Canadian co-production, I got to meet with Daniel Sivan and shot interviews in Washington, D.C. I greatly admired the work he did with his co-director Mor Loushy on their previous film Censored Voices. I did my very best to shoot the interviews in an elegant and efficient manner. We got along very well and Daniel later invited me to shoot the "reconstituted archives" in Israel and Ukraine.
Filmmaker: What were your artistic goals on this film, and how did you realize them? How did you want your cinematography to enhance the film's storytelling and treatment of its characters?
Shahaf: I was searching for intimacy with the characters and looking to create a sense of a dark confession. After watching hundreds of hours of interviews with politicians, I realized they are always in their safe zone. Lighten up softly behind a heavy desk, I wanted to bring them into a confession booth feeling, with harsh lights exposing their wrinkles and a dark feeling of intimacy in their home.
Margineau: I thought that our process of shooting in an "archival" manner was very interesting and much more original than classic dramatic reconstitution. I was hoping to achieve a true invisible blend with real archives, in terms of texture but especially in terms of shooting style. We tried to shoot as "badly" and functionally as a news crew and during production we made sure that we never strayed from that style.
Filmmaker: Were there any specific influences on your cinematography, whether they be other films, or visual art, of photography, or something else?
Shahaf: I feel inspired by so many things around me – learning from sights and images from every film I watch. When I started working on the film I referred back to press footage from the signing ceremony in Washington. The White House lawn, the famous handshake between Rabin and Arafat and Clinton looking at them with a smile on his face on a sunny, hope-filled day in September 1993. I was a soldier in the Israeli army at that time, just about to finish my service. As an Israeli I saw that event as a sign of hope for a shared life and the prosperity of the area. However, the sun and smiles quickly turned into the heinous murder of the Prime Minister, a government that had no intention of implementing the agreement, terrorism in the streets and a military operation that marked the end of the agreement. In the film I wanted to express the contrast between that sunny, hope-filled day at the White House lawn and the dark times that came after it. That is why I chose to film with the kind of darkness which characterized the period before the failure of the agreement.
Margineau: We aimed to emulate the camerawork of news crews from the early '90s, both Israeli and Palestinian (they were different). Daniel did extensive research on the topic, we both looked carefully at specific archives and we went about emulating that precise style. It was like "unlearning" to make interesting and/or aesthetic frames. We were also greatly inspired by similar visual strategies in films such as No and Stories We Tell.
Filmmaker: What were the biggest challenges posed by production to those goals?
Shahaf: We filmed in the real houses of the characters, and I love that as it brings authenticity to the screen like no set or green-screen is able to do. Yet, these on-location shoots do pose a challenge at times as some houses are less cinematic than others and some are very hard to light to achieve our vision. However, I must admit that these on-location shoots bring something that is irreplaceable.
Margineau: Getting a working-condition, reliable period camera was not so easy. We had to change our first camera because it was an almost 30-year-old workhorse that hadn't shot for about 10 years. I believe the camera we ended up using actually belonged to a prop house. We had a documentary film budget and we worked with existing sets, as well as a mix of professional and non-professional actors. However, we were extremely well-served by the carefully chosen locations, especially the fantastic villa that we obtained access to in the Ukraine.
Filmmaker: What camera did you shoot on? Why did you choose the camera that you did? What lenses did you use?
Shahaf: I used an Arri Amira and an Arri Alura 30-80mm lenses. I like the look that is created by combining the Amira with the Alura lense. The Amira is very cinematic in all its parameters. Its high latitude was a significant variant while working on this film as due to the interviewees' busy schedules, the time for setup and lighting was very limited.
Margineau: The archival reconstructions were all shot on a period Sony BetaCam SP BVW-D600P, in 4:3 frame format, recorded onto a Pix 240 digital recorder straight into ProRes. The lens was a classic 7,6-135mm (18x) Fujinon broadcast zoom. We also used a Sony 8mm Handycam for an even rougher pixellized look. The interviews were filmed with an ARRI Amira and a Zeiss zoom lens.
Filmmaker: Describe your approach to lighting
Shahaf: I wanted to create a combination of a classic interview atmosphere and a feeling of the intimacy of listening to a secret and a private experience shared for the first time. In order to achieve this feeling I combined a high contrast environment in the background of the the interviewee with a single, large and soft light source on the subject.
Margineau: Natural lighting for all the archive reconstructions; we occasionally flagged or moved an existing practical light.
Filmmaker: What was the most difficult scene to realize and why? And how did you do it?
Shahaf: The challenge lays in decisions that need to be taken in face of reality, in the field. The locations were many and diverse, yet it was very important for the directors and I to keep the same look and feel throughout. On one of the shoots for example, we arrived at a location in Tel Aviv on a very sunny day to find out the room had glass walls. Darkening the room was very challenging and time consuming, and we have very limited time for prep and interview. We had to be very creative in how we do it so we achieve what we wanted.
Margineau: Outdoor winter shooting in Ukraine was predictably freezing everyone involved (who were dressed in light period suits). Controlling the location for a "period" look was quite difficult given our limited means but it miraculously worked.
Filmmaker: Finally, describe the finishing of the film. How much of your look was "baked in" versus realized in the DI?
Shahaf: I'm happy to say that that the result, the film cinematography, reflects what we planned in the pre-production process and I am looking forward to sharing the results with the audience and see their reaction.
Margineau: The period Betacam SP was more or less "baked in." Some of it was purposely degraded in post through further analog re-recording. The interviews were shot in Log C and graded in post.
TECH BOX (Avner Shahaf):
Camera: Arri Amira
Lenses: Arri Alura
Processing: Digital
TECH BOX (Margineau):
Camera: ARRI Amira, Sony BWV D600P, 8mm Handycam
Lenses: Zeiss CZ2 28-80mm f2.9 zoom, Fujinon 18×7.6 broadcast zoom
Lighting: Available Light
Color Grading: PostModerne Montreal, DaVinci Resolve