Back to selection
"A Film about the Trials and Tribulations of Artists": Editor Sabine Krayenbühl on The Price of Everything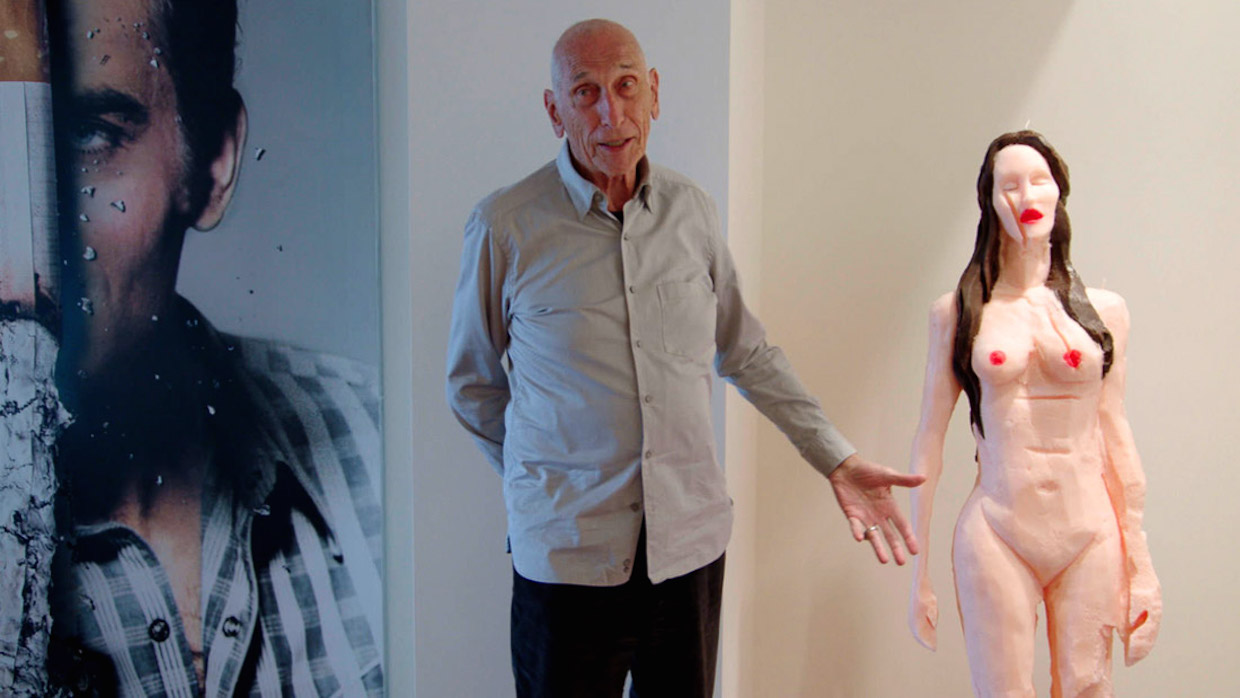 The Price of Everything
Sabine Krayenbühl began her career as an editor in 1994 with a number of small shorts and features. Her breakthrough came in 2003 with My Architect, a documentary on architect Louis Kahn directed by his song Nathaniel. She has since edited more than 10 feature-length docs, including the 2016 film Letters from Baghdad, which she directed. She reunites with Nathaniel Kahn for The Price of Everything, a documentary look at the contemporary art world, which, as she says below, "values money above everything." Krayenbühl spoke with Filmmaker ahead of the film's five screenings at Sundance about her editing process.
Filmmaker: How and why did you wind up being the editor of your film? What were the factors and attributes that led to your being hired for this job?
Krayenbühl: Nathaniel Kahn and I worked in 2003 on My Architect, had a wonderful collaboration and have wanted to work again together ever since. When the producers of The Price Of Everything, some of whom I knew, were looking for a director, I recommended Nathaniel because I knew that he would be perfect for this project. He had expressed his desire to me over the years to make a film about the trials and tribulations of artists who are trying to navigate in a world that values money above everything. How does this affect them creatively and personally? He also was adamant that we do it together, and so I signed on the project.
Filmmaker: In terms of advancing your film from its earliest assembly to your final cut, what were goals as an editor? What elements of the film did you want to enhance, or preserve, or tease out or totally reshape?
Krayenbühl: When I first saw the dailies, I was very taken with the characters of the film, and it was clear that the story had to be told through them. Initially, the film was more content-driven. Once I joined the project, we started to shift away from the history and mechanics of the art world and focused on the characters in structuring the film and creating each character's arc. There was great contrast among the artists and their experience, and this was going to create a wonderful internal dialogue.
Filmmaker: How did you achieve these goals? What types of editing techniques, or processes, or feedback screenings allowed this work to occur?
Krayenbühl: At the early stage of structuring a film, I am working with cards. I assign every character a color and start mapping out the structure on a board. It becomes very clear, where the holes are, where a character loses strength and how to flesh out individual stories and the dramaturgy. Once we had a cut that we were confident with, we started having feedback screenings to see how people would react to each character and to see if they could follow our story.
Filmmaker: As an editor, how did you come up in the business, and what influences have affected your work?
Krayenbühl: I started working as an assistant at the Maysles brothers. My first work as an editor was cutting experimental films and a few fiction projects. Working on My Architect really sealed my career editing documentaries. I loved being involved creatively and intimately in the storytelling aspect of making a film, the structuring of the narrative and shaping the dramaturgy of the unwritten material. One of my mentors has been Thelma Schoonmaker whose work on many fantastic films has influenced me in a number of ways.
Filmmaker: What editing system did you use, and why?
Krayenbühl: I used Avid on this film for no particular reason other than I wanted to edit on Avid again. All my last projects were done on Final Cut 7. I am not really stuck on a particular system. Anyone can learn a software.
Filmmaker: What was the most difficult scene to cut and why? And how did you do it?
Krayenbühl: I would say the most challenging aspect in shaping the film was making the scene at Sotheby's with Amy Capellazzo putting together the catalogue for the upcoming auction a running thread with a dramatic build to the final day of the auction. It is a recurring and simple theme, which would help the audience navigate the storyline. We singled out the artist whose work was going to be sold at the auction and tried to connect these scenes to the stories and arcs of our characters. There were many options but like in a puzzle there was only one way to make it fit perfectly.
Filmmaker: Finally, now that the process is over, what new meanings has the film taken on for you? What did you discover in the footage that you might not have seen initially, and how does your final understanding of the film differ from the understanding that you began with?
Krayenbühl: Although the film is connected to the present and feels more relevant than ever, it is really a timeless story, which is for me the most beautiful aspect of any story.