Back to selection
"Everything Was Challenging Where Money Was Involved": DP Roberto Schaefer on What They Had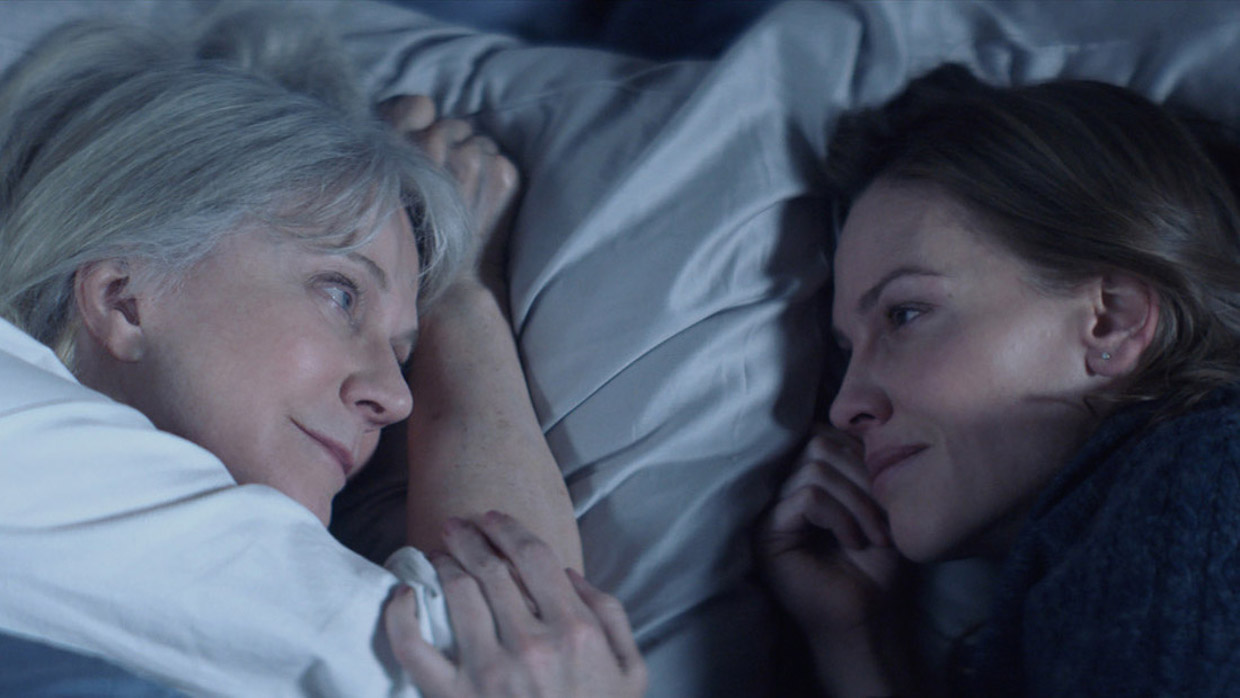 What They Had
Versatile cinematographer Roberto Schaefer has worked on films of all sizes: from Quantum of Solace to The Paperboy, Geostorm to Waiting for Guffman. His newest project is a low-budget indie from first-time writer/director Elizabeth Chomko. The film assembles a formidable cast – Hilary Swank, Michael Shannon, Blythe Danner and Robert Forster – to tell a family drama set in the Chicago suburbs. The film premieres with five screenings at the 2018 Sundance Film Festival. Schaefer speaks below about the time and money crunch inherent in making a small, character-driven drama today.
Filmmaker: How and why did you wind up being the cinematographer of your film? What were the factors and attributes that led to your being hired for this job?
Schaefer: I was sent the script from WME. I read it and immediately liked it and wanted to meet the writer/director. It was a very moving and emotional story with a real personal touch in the writing. I was told that I would meet with Hilary Swank who was going to star in it, which was unusual from my experience. At the meeting was Elizabeth Chomko, writer/director, and Hilary. We hit it off, I liked them both and the angle that Elizabeth had on how to achieve the movie that she wanted. From that meeting I guess that they both liked me and what little I had to say, and I was hired very soon after.
Filmmaker: What were your artistic goals on this film, and how did you realize them? How did you want your cinematography to enhance the film's storytelling and treatment of its characters?
Schaefer: I was following Elizabeth's lead in the way to approach the look and feel of the movie. From the first meeting she said that it was to feel like a memory, somewhat soft and timeless. Even though the real story took place in a specific time the only thing that she wanted to keep was the place, the nice Chicago suburb where her grandparents lived. We had an extremely limited budget so many things were challenging in respect to achieving the artistic goals. A lot of my job was to interpret Elizabeth's ideas and put them into a practically doable method. I was hoping to be able to let the camera and lighting enhance and guide the viewer into a place of familiarity and empathy for the various players.
Filmmaker: Were there any specific influences on your cinematography, whether they be other films, or visual art, of photography, or something else?
Schaefer: I know that Elizabeth had put together a collection of images that she responded to for the looks of the movie. I can't recall any of the specific references though as in most movies we tend to reference paintings, photographs and other movies and music to give a guide to the overall feel. While it is a common procedure to go through many references before a movie we don't always consider what is really achievable considering monetary and time limitations.
Filmmaker: What were the biggest challenges posed by production to those goals?
Schaefer: It began as an IATSE Tier 0 production. Right away that was challenging for crew hire because Chicago was crawling with production in TV and movies. It also made locations extremely difficult to find and secure. Everything was challenging where money was involved, which means that everything was challenging! I think the only thing that I felt comfortable about was getting the camera package that we needed due to my contacts in the industry who were extremely generous and supportive. Getting the rest of our needs was not as easy.
Filmmaker: What camera did you shoot on? Why did you choose the camera that you did? What lenses did you use?
Schaefer: The movie was shot with the Arri Alexa Plus in Prores XQ 4444. I knew that the images from that camera would be fine for our desired look and that we didn't need to shoot raw, which would have been more expensive all the way through post. By using regular Alexas instead of Minis we could save some money because everyone wants Minis now, whether or not it is really necessary. So most rental houses have full size Alexas sitting unused on their shelves. We weren't shooting in many tight spaces, and there was no need for the Mini. From the beginning Elizabeth wanted to shoot anamorphic for the wide screen look and framing. We discussed the differences between shooting spherical for 2.40 or with anamorphic glass. When I showed her both looks we felt the anamorphic glass gave what we wanted. So we chose to go with the Hawk C series, which are the first ones that Vantage produced more than 20 years ago. They are basically Lomo glass and have a lot of quirky characteristics which lent to the memory look that Elizabeth wanted. Vantage were more than generous in shipping two sets to us from Germany.
Filmmaker: Describe your approach to lighting.
Schaefer: I tried to be as naturalistic as I could be under the limiting circumstances – budget, time and crew. I used a lot of practicals, HMI and tungsten, LED and Kino-Flo key and fill.
There was a lot more controlled soft light than hard sources in most situations. The spaces were not enormous and we needed to move fast and change directions often, so I was having to keep all of that in mind when deciding on the way to light the various interiors which were almost 100 percent practical locations.
Filmmaker: What was the most difficult scene to realize and why? And how did you do it?
Schaefer: None of them were particularly easy, but not overly difficult (for me) either.  Anything that had to do with exteriors were challenging due to the fact that most of the story was supposed to take place in a wintery Chicago during and after a snowstorm. There was no snow at all when we shot, even some rain, and not terribly cold either. The trees and bushes were beginning to bud towards the middle of the shoot and there was no way to schedule it in any way to avoid that due to actor schedules. We used some practical snow effects where we could, framed out highly offending nature and eventually relied on some VFX and DI clean up to reduce or eliminate spring from the final cut.
Filmmaker: Finally, describe the finishing of the film. How much of your look was "baked in" versus realized in the DI?
Schaefer: Another limitation of the low budget was the time allotted for the DI. Even though production went from Tier 0 to Tier 1 a few days before principal photography, we were always extremely challenged. Usually I have a say in where we do the DI but not this time, so I rolled with it and had a good experience in the end, even though we only had five days to complete it.  A big obstacle was that the VFX work came in very late and uneven, so it wasn't really until the eleventh hour that we were able to finalize an acceptable finish. In fact the final touches were applied after I was gone for the holidays, so I haven't seen the entire final product. Elizabeth has and she seems satisfied with it so my fingers are crossed.
TECH BOX:
Camera: Arri Alexa Plus 4:3, prores XQ 4444
Lenses: Vantage Hawk C series anamorphics
Lighting: A mixture of tungsten fresnel, HMI fresnel and PAR, LED panels and Lite Gear strips and mats, Kino-Flo fixtures and tungsten practicals
Processing: Prores XQ 4444 finished at Light Iron, Hollywood
Color Grading: In 2K at Light Iron, Hollywood