Back to selection
"I Try to Achieve an 'Augmented Reality' in My Lighting": DP Anton Floquet on Imagine Dragons Doc Believer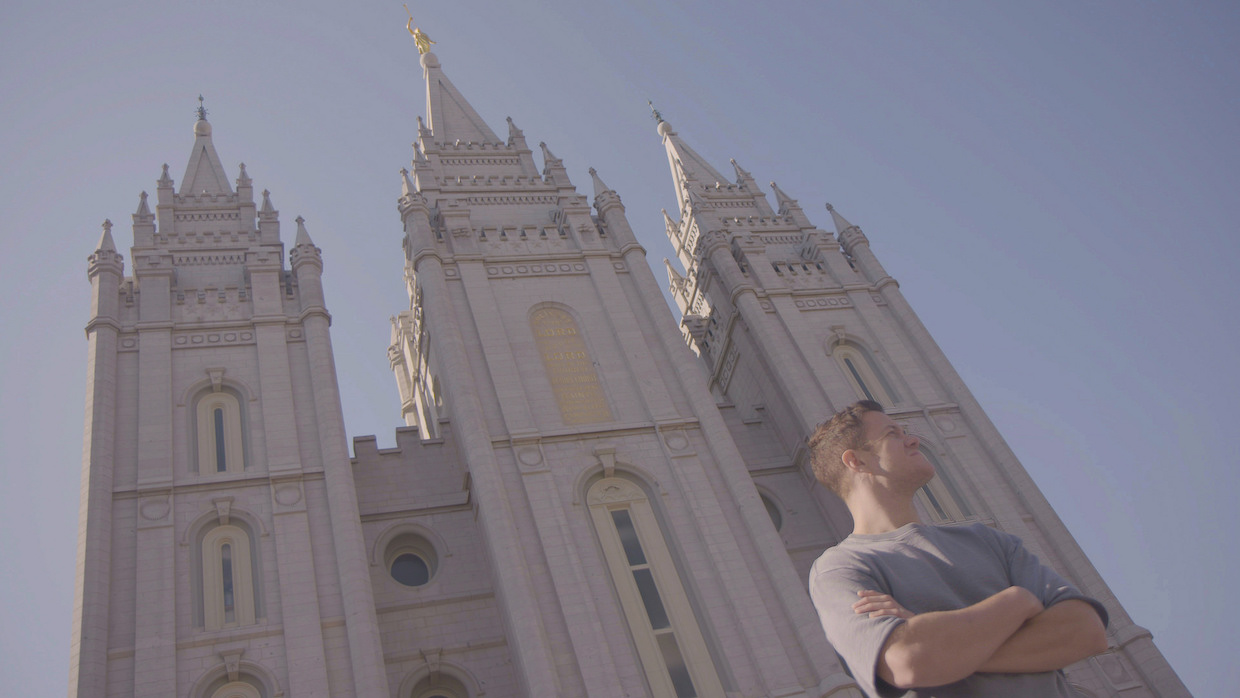 Believer
Director and DP Don Argott is one of three co-founders of 9.14 Pictures, the production company behind such recent documentaries as Rock School, The Art of the Steal and Last Days Here. Their latest film, Believer, is a profile of Imagine Dragons' vocalist Dan Reynolds. The film concerns Reynolds' faith as he wrestles with homophobia within the Mormon church. Argott hired DP Anton Floquet to shoot the film, which covers a tumultuous year in Reynolds' life. Floquet spoke with Filmmaker ahead of the film's premiere at Sundance about how he got the job, the importance of a small field crew and the film's "grand, almost epic moments."
Filmmaker: How and why did you wind up being the cinematographer of your film? What were the factors and attributes that led to your being hired for this job?
Floquet: Believer had to leap into production very soon after its inception, due to looming Imagine Dragons tour dates. Once the director, Don Argott, was handed the reigns to the project he had about five days to crew up before commencing the shoot. Since Don is east coast-based, he reached out to a mutual friend for suggestions on a west coast DP who could leap directly onto the project. Fortunately I was available and able to be in Las Vegas within days of our first phone call. My ability to travel with a van complete with our lighting, grip and audio needs as well as the requisite camera package probably helped me land the job. I'd like to think that my ability to work briskly and amiably with little or no crew, whilst capitalizing on available light situations, also played into my being hired.
Filmmaker: What were your artistic goals on this film, and how did you realize them? How did you want your cinematography to enhance the film's storytelling and treatment of its characters?
Floquet: The underlying story at the heart of Believer was to undergo some changes as the production evolved, but we always knew that the subject matter was going to be emotional and intimate. With that in mind, I wanted to capture the story as intimately as possible. To achieve this I felt I had to work as fluidly as possible, having the camera float very close to our subjects, preferably capitalizing on shallow focus prime lenses to pull the characters out of their backgrounds. I've always felt that audiences can feel the difference between a subject shot from a distance on a long lens as opposed to a wider lens working up close. I think that the latter achieves a sense that the audience is welcomed "in close" to experience the emotions while a long-lens capture feels more voyeuristic. Outside of the formal interviews, most of the production relied on a handheld visual approach which afforded the traditional perks of vérité shooting: immediacy of the moment and flexibility of coverage. I opted to utilize an EZ-Rig for these settings which allowed for prolonged, comfortable shooting of sequences.
For most of the project we worked with a field crew of just four people: director, cinematographer, field producer and audio technician. In retrospect this was our greatest asset, since our small footprint minimized our impact on the lives of the characters. The direct result of this was a much greater comfort on the part of the subject than if we were a dozen people entering their lives. The intimacy that this allowed is one of the great strengths of the film. Across the spectrum of the film I feel that we were able to capture some beautiful, nuanced moments that couldn't have been realized in a room crowded with crew members. The film also features some grand, almost epic moments as we covered the creation and performance of a large music festival. For this event we expanded to multiple camera crews and a drone to capture not only the grandeur of a rock festival but also the emotional impact it had on the performers and audience. These teams acquitted themselves very well in this regard and contributed to a searing conclusion to the film. I'm thrilled that we were able to deliver a relevant social issue documentary on a grand stage.
Filmmaker: Were there any specific influences on your cinematography, whether they be other films, or visual art, of photography, or something else?
Floquet: Having worked, primarily, in vérité style documentaries and television series, I do like to capture events as observationally as possible with an eye to finding cinematic compositions wherever possible. This usually drives me to seek out a portrait feel in singles and close-ups, utilizing soft-focus foreground element wherever possible. I feel like we always wanted this to feel like a movie wherever we could achieve that goal.
Filmmaker: What were the biggest challenges posed by production to those goals?
Floquet: Since we were a very contained crew, moving as briskly as possible, there were occasions where the practicality of shooting scenes on prime lenses couldn't truly be achieved without interrupting the flow, if a setting required changing between lenses. Utilizing a zoom lens in these sequences helped us remain fluid in our capture, allowing us to establish the geography of a scene as well as leaping in to cover close-ups as needed. I believe we managed to pull off a seamless blend here where it may in fact feel like multiple camera coverage.
Filmmaker: What camera did you shoot on? Why did you choose the camera that you did? What lenses did you use?
Floquet: We shot on the Sony PMW-F5 Cinealta 4K with a Sony PXW-FS7 XDCAM 4K serving as a B camera for certain cross-covered interview situations. We were committed to a 4K capture right away as a means to secure a very high resolution base to the project. This would serve us well for theatrical exhibition and also to help with some inevitable image stabilization in post, since much of film is handheld. Lenses: Fujinon Cabrio 19-90mm, Sony PL Prime Lens 35mm, 50mm and 85mm for all principal photography. For the concert footage I switched to the Fujinon 17-120mm lens for increased flexibility.
Filmmaker: Describe your approach to lighting.
Floquet: Wherever possible I try to achieve an "augmented reality" in my lighting which typically boils down to working with the natural light, but with a couple of lighting units to give the natural key-light a little extra punch. I prefer just a little more "teeth" in the lighting, particularly when providing a half-light on characters' faces. Our time-constraints usually disciplined me into using just one or two lighting units in a scene.
Filmmaker: What was the most difficult scene to realize and why? And how did you do it?
Floquet: In one particular scene, Dan Reynolds sits in on a group session with about a dozen LGBTQ youth and their therapy team. This took place in a pretty tight space with the group all gathered around a table, and the room had overhead fluorescent lighting and a couple of windows. With the session starting in a matter of minutes, there was certainly no opportunity to bring in any of our lighting or to gel the windows. With this in mind I knew the camera had to bear witness to both the stories and the reactions, particularly Dan's. It was a challenging scene but a good example of prioritizing the narrative over the aesthetic and having faith in the editorial team.
Filmmaker: Finally, describe the finishing of the film. How much of your look was "baked in" versus realized in the DI?
Floquet: We shot the film in Sony S-log with a "baked-in" LUT. In the finishing process we maintained that look for the most part, but also gave some scenes a more specific visual look.
TECH BOX
Camera: Sony PMW-F5 Cinealta 4K
Lenses: Fujinon Cabrio 19-90mm, Sony PL Prime Lens 35mm, 50mm and 85mm. Fujinon 17-120mm
Lighting: Available Light. Augmented Lighting, particularly with Kinofo Diva 400s and 200s.
Processing: Digital