Back to selection
"The Big Cameras Get Stopped in Security": Alexandria Bombach on Shooting and Directing On Her Shoulders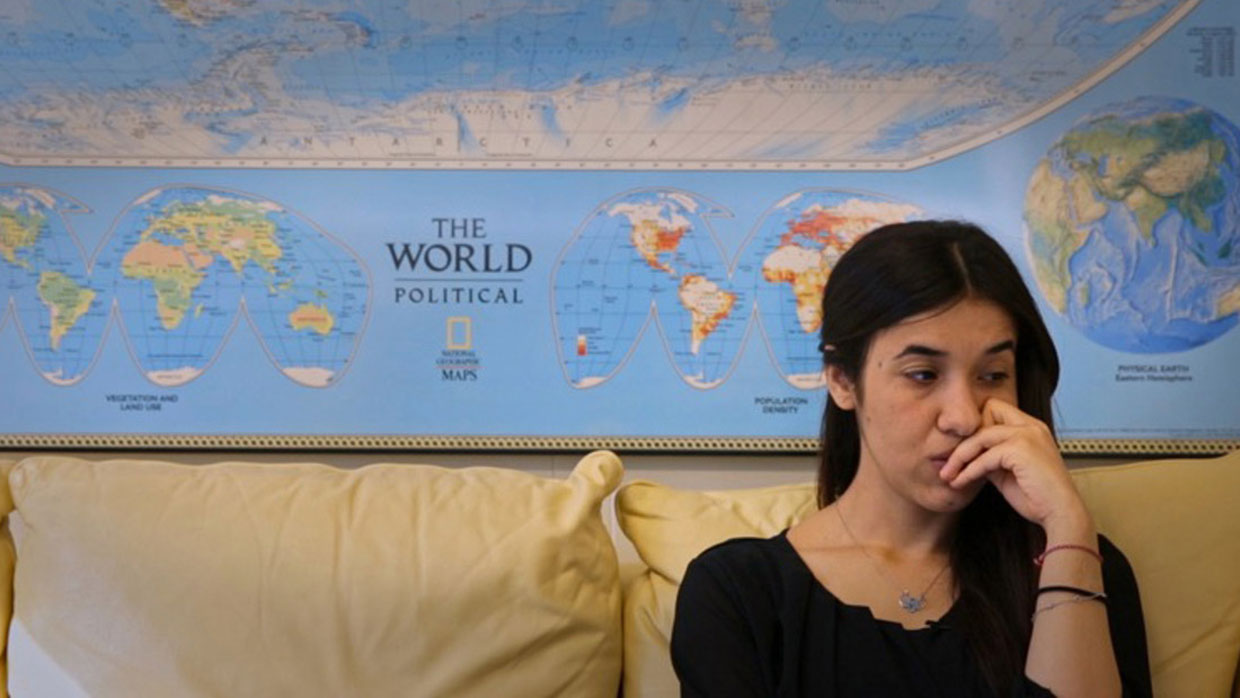 On Her Shoulders
Documentary filmmaker Alexandria Bombach released her debut feature, Frame by Frame, in 2015 to major acclaim on the festival circuit. The film screened at more than 30 festivals, including SWSX, Hot Docs, AFI Docs and the Camden International Film Festival, where it won the award for Best Documentary Feature. Bombach debuts her second feature, On Her Shoulders, in the U.S. Documentary Competition lineup at Sundance 2018. Below she discusses acting as her own cinematographer, the influence of Errol Morris' Interrotron and filming in the "impossible heat" of a refugee camp in Athens.
Filmmaker: How and why did you wind up being the cinematographer of your film? What were the factors and attributes that led to your being hired for this job?
Bombach: I started out as both the director and cinematographer for the film. I shot my last feature, Frame by Frame, as well with my co-director, Mo Scarpelli. As with that film, we needed to have a small crew, both for logistical reasons and to tell a more intimate story. RYOT had seen my previous work as a director/cinematographer/editor on my films in Afghanistan, and they thought I would be a good fit for this story. The nature of Nadia's work is incredibly hectic and of course highly sensitive, so that level of one-on-one with her was vital. At first, it was just me filming for budget reasons, but thankfully we also had Karee Maxson as a shooter for the second-half of production, as well as a few other camera operators during big events and during the interview.
Filmmaker: What were your artistic goals on this film, and how did you realize them? How did you want your cinematography to enhance the film's storytelling and treatment of its characters?
Bombach: By the time I met her, Nadia had been covered extensively by major news outlets, and there were endless amounts of videos of her giving speeches, testimonies and interviews. After meeting Nadia and seeing how difficult her work was and the toll it took on her, I wanted to try to capture something different from what people had already seen of her. Much of what made it into the film were tight shots. I wanted people to come closer to understanding her experience of doing this work by feeling physically close to her on the screen. I also focused on moments when she was preparing to speak, or her reactions after speeches, away from the podiums and mics, to capture what this work is like for her. Nadia had already been interviewed so many times looking slightly off screen, so I chose to use Errol Morris' Interrotron method where she would be looking directly at the audience for a more intimate, conversation-like interview.
Filmmaker: Were there any specific influences on your cinematography, whether they be other films, or visual art, of photography, or something else?
Bombach: Other films are a constant form of inspiration for me. Fire At Sea is a recent film that I've watched over and over. I think I'm also very influenced by the people I follow in my films. Their stories, personalities and moods shape how I film. Because the people I follow are usually in very hectic situations and you have to think very quickly, I like to study narrative film cinematography when it is very purposefully aiding the story. I think memorizing films and cinematography that I like almost makes me instinctively run to get certain shots, and gives me something to aim for in my mind amidst the chaos.
Filmmaker: What were the biggest challenges posed by production to those goals?
Bombach: Following Nadia was very hectic – U.N. events, refugee camps, rallies on the streets of Berlin. I spent most days just trying to keep up with her and her team. Beyond just making sure we were fast enough to capture these moments, my goal was to try and be as stable as possible, so it felt like we were always sitting or standing next to her, seeing this world from her perspective.
Filmmaker: What camera did you shoot on? Why did you choose the camera that you did? What lenses did you use?
Bombach: For the run-and-gun filming, I used a Canon 5D Mark III. It was the best workhorse for the job. I knew after making my last film that the big cameras get stopped in security in all types of government and U.N. buildings, but a 5D can get through faster. It can also fit into tight spaces with me and be light and fast. My primary lenses were the Canon 70-200mm f/2.8L and the Canon EF 24-70mm f/2.8L II. For the sit-down interview with Nadia, we filmed on an Alexa Mini, in 4K. That gave me the ability to push in or reframe shots in post, and at times even add a subtle zoom or camera movement in post.
Filmmaker: Describe your approach to lighting.
Bombach: What approach? Ha! I wrestle it, romance it, and search for it – and when it graces me with something beautiful, I'm endlessly grateful for the serendipity of it all. That random dumb luck is my favorite part of being a documentary cinematographer.
Filmmaker: What was the most difficult scene to realize and why? And how did you do it?
Bombach: Filming at a refugee camp in Athens in the impossible heat on black pavement kept shutting down our cameras. The Yazidi refugees were handing us oranges and juice boxes, and we were invited to duck into air-conditioned caravans to cool the cameras before stepping back out into the oppressive heat. Much of this film happened because of the gracious and endless hospitality of the Yazidi people.
Filmmaker: Finally, describe the finishing of the film. How much of your look was "baked in" versus realized in the DI?
Bombach: Much of the look and feel of the film was crafted in post. People have commented that the film feels very polished and consistent and deliberate, but the filming was so rushed and unpredictable that there wasn't much time to decide on a particular look during production. We were filming in some of the worst light in the world — the U.N.! So I am very thankful to our talented colorist, Luke Cahill, who was instrumental in getting the film to look as beautiful as it does, despite many lighting issues and having filmed on multiple formats.
TECH BOX
Camera: Canon 5D Mark III, Alexa Mini
Lenses: Canon 70-200mm f/2.8L and the Canon EF 24-70mm f/2.8L II
Lighting: Available Light
Processing: Digital
Color Grading: DaVinci Resolve
Colorist: Luke Cahill / Different By Design