Back to selection
DP Noah Greenberg on Chloë Sevigny and Kristen Stewart-Starring Lizzie Borden Drama Lizzie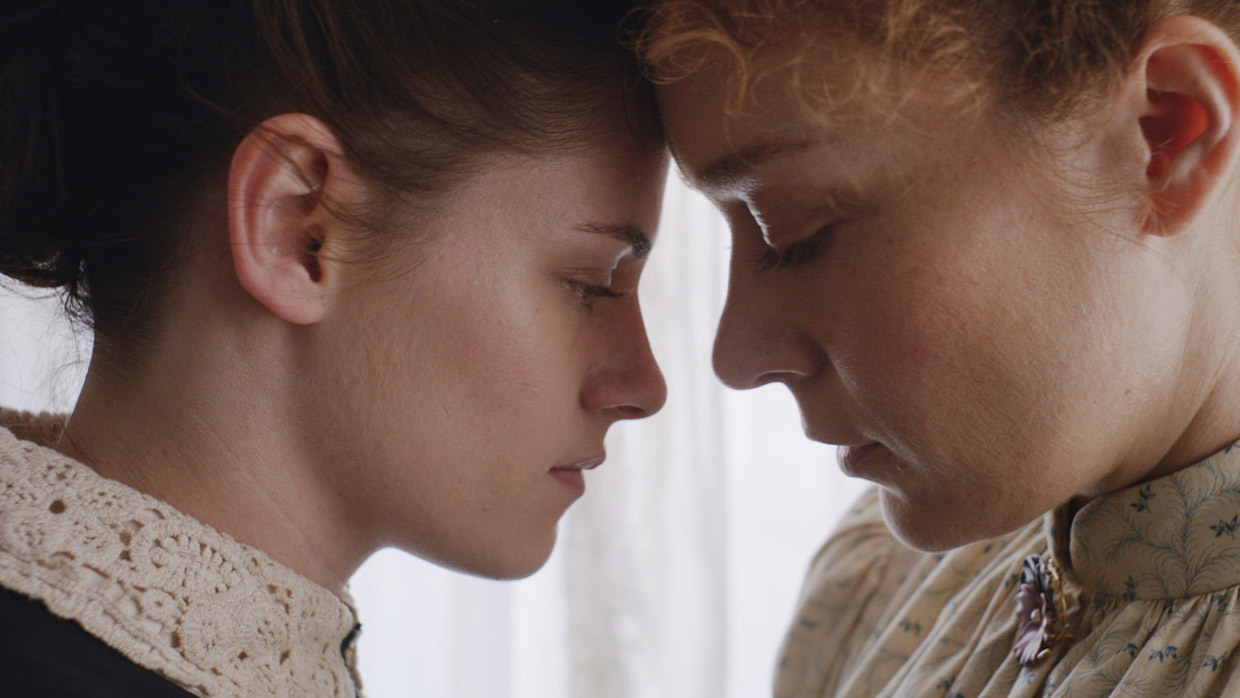 Lizzie
The 1892 murder of Lizzie Borden's father and stepmother has inspired numerous books, TV movies and even stage musicals but few feature films. That changes with the arrival of Lizzie from director Craig William Macneill. His film pairs two of the leading actresses of American independent cinema: Chloë Sevigny as Borden and Kristen Stewart as Bridget, her live-in maid and kindred spirit. Lizzie debuts in competition at the 2018 Sundance Film Festival. Prior to its premiere, Filmmaker spoke with cinematographer Noah Greenberg (Most Beautiful Island) about the film's naturalistic (and claustrophobic) visual palette.
Filmmaker: How and why did you wind up being the cinematographer of your film? What were the factors and attributes that led to your being hired for this job?
Greenberg: The director Craig William Macneill and I have been collaborating for many years now and are good friends with an easy rapport that translates to a very efficient shorthand on set.
Filmmaker: What were your artistic goals on this film, and how did you realize them? How did you want your cinematography to enhance the film's storytelling and treatment of its characters?
Greenberg: We wanted the film to be visually elegant and ominous, with strong formal compositions, contrasted at times by intimate handheld work and natural lighting that relied heavily on practical sources. Characters are rarely at the center of the frame but rather pushed to the edges allowing the environment to dominate. We also made extensive use of reflections and foreground obstructions, layering the space and weaving the characters into their surroundings. These choices collectively reinforce the escalating tension and isolation of the protagonists that underpin the narrative of the film.
Filmmaker: What were the biggest challenges posed by production to those goals?
Greenberg: As is generally the case, the biggest constraint was time. We had 23 days to shoot 231 scenes — most of which take place in a home that is illuminated, in theory, exclusively by daylight and flame sources. This was especially difficult when trying to cheat night-for-day or day-for-night — which our schedule necessitated on occasion despite the best efforts of our great 1st AD, Yann Sobezynski.
Filmmaker: Were there any specific influences on your cinematography, whether they be other films, or visual art, of photography, or something else?
Greenberg: There were a number of random influences in terms of palette, tone, lighting, and camera movement, but three films that were consistently a part of the conversation were Ain't Them Bodies Saints, Wuthering Heights and The Assassination of Jesse James by the Coward Robert Ford.
Filmmaker: What camera did you shoot on? Why did you choose the camera that you did? What lenses did you use?
Greenberg: We shot on an ARRI Alexa SXT with a mix of Cooke Speed Panchro and S4i prime lenses, and ARRI/Fujinon Alura Studio zoom lenses. I have used the ARRI Alexa for most of my projects and love the color rendition and structure of the image it produces – particularly how naturally it rolls off in the areas of tonal transition. We had initially considered shooting on anamorphic lenses, as I had anticipated being constrained to small rooms in the house necessitating wider focal lengths, and knew that the shallower depth of field of the anamorphic lenses would allow more separation from the background in such tight quarters. However, once we locked the location for the Borden house, my approach changed. The house has many interconnected rooms throughout, and afforded us the opportunity, in many cases, to back up and shoot from one room into the next, allowing us to use longer focal lengths, compress the space, and take advantage of layering the depth with soft foreground obstructions. Given these parameters, spherical lenses seemed the best fit. Additionally, we worked with our production designer, Elizabeth "E.J." Jones, to make all the wall coverings and paint colors a bit cool to give better separation to the skin tones illuminated under these warm, flame sources.
Filmmaker: Describe your approach to lighting.
Greenberg: I favor naturalism in lighting and am a stickler about motivated sources. I always want the light to be elegant, but never to question it. To the extent possible, I try to light the space rather than the talent, and to do so from outside, or with practical interior sources, to keep the space clear for improvisation and to maintain unobstructed eye lines for the actors.
Filmmaker: What was the most difficult scene to realize and why? And how did you do it?
Greenberg: There were many scenes in Lizzie where we would move through, or see into, several interconnected rooms following a character. With a small lighting package and team and very limited time between setups it was challenge to balance/motivate the light consistently (at a useable stop) across these rooms while keying off practical sources such as a double wick candle held by an actor or an oil lamp on a side table. This was made especially difficult because while tracking we would see nearly everywhere one would hope to hide a light or modifier. We used as many practical sources as possible, and then our gaffer, Peter Walts, and key grip, David Spencer, hid LED ribbons and small tungsten/HMIskips to reinforce those practical sources. We also shot wide open for much of the film, a situation our First AC, Richard J. Lacy handled with aplomb.
Filmmaker: Finally, describe the finishing of the film. How much of your look was "baked in" versus realized in the DI?
Greenberg: I am careful about setting exposure and color in camera for every shot, utilizing a waveform and vectorscope alongside my reference monitor, toggling between the LOG and LUT/linear signals to make those decisions. This is less about baking in a look and more about preserving detail and getting as close to neutral as possible in camera so that I have more latitude in the DI. This was especially critical on Lizzie as we had to shoot ProRes for production reasons, which meant that we would have much less latitude in post (compared with a RAW file). Editorial took our onset LUT so that they would have an accurate preview while cutting, and we also used the same LUT as a launching point in the DI. Craig and I have been very lucky to consistently work with the same colorist, Jason Crump at Metropolis Post in New York, for all but one of our projects; this tight collaboration has allowed us to develop a very precise and nuanced common language around color that is both very efficient and a huge comfort in the grade.
TECH BOX
Camera: ARRI Alexa SXT
Lenses: Cooke Speed Panchros, Cooke S4i, Fujinon Alura Zooms
Lighting: Practical sources (double wick candles, oil lamps) as well as a mix of: daylight,
HMI, tungsten and LED
Processing: N/A
Color Grading: Resolve Studio 14