Back to selection
"I Am Not There to Call Attention to My Lighting:" DP Tom Hurwitz on Shooting Studio 54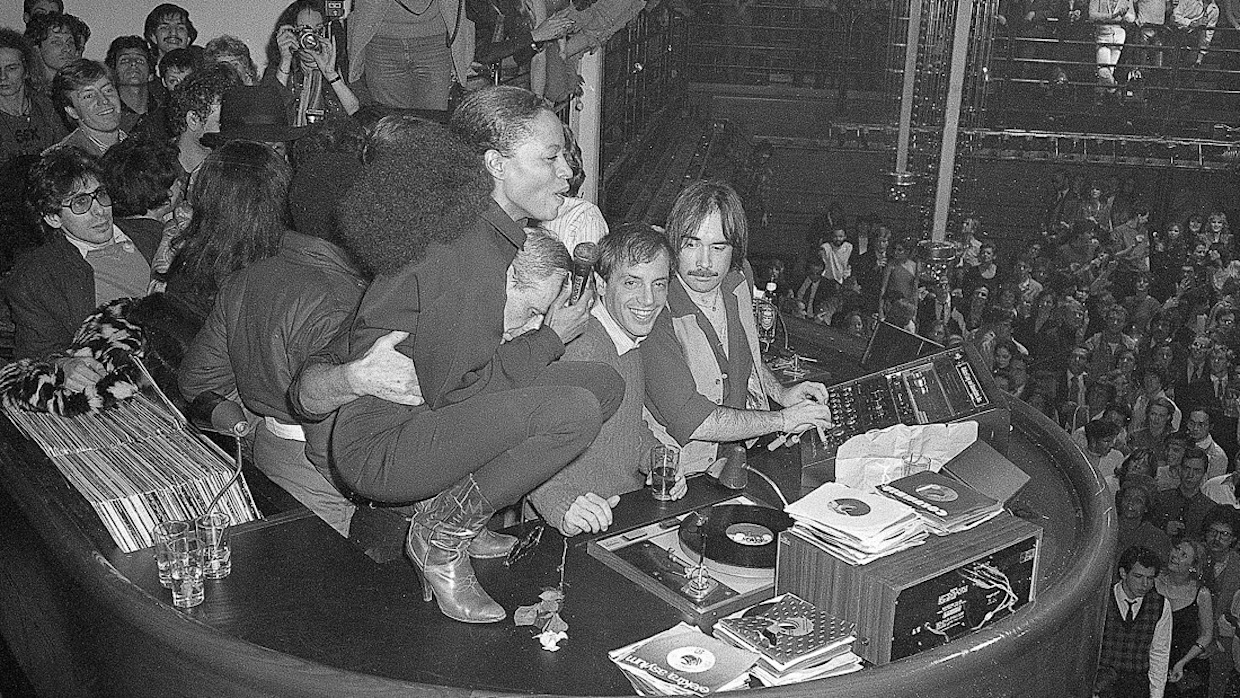 Studio 54
Veteran cinematographer Tom Hurwitz has shot more than 100 documentary features and TV series since 1974, when he helped shoot The Grateful Dead, a concert film of the eponymous band live in San Francisco. Hurwitz has worked on such seminal series as Nova, Frontline and American Masters, while his feature doc work includes Wild Man Blues, The Queen of Versailles and last year's Joan Didion: The Center Will Not Hold. Having worked on Valentino: The Last Emperor in 2008, Hurwitz again teams up with director Matt Tyrnauer for Studio 54, a doc on the legendary New York nightclub. Studio 54 makes its debut at the 2018 Sundance Film Festival.
Filmmaker: How and why did you wind up being the cinematographer of your film? What were the factors and attributes that led to your being hired for this job?
Hurwitz: I was lucky enough to be the DP on Matt's Valentino: The Last Emperor, his wonderful film about the designer, Valentino, his lifelong partnership and the end of the real haute couture. So, we knew each other and I knew something of how he thinks, always a help to the working relationship with a director. I guess it also helped that I was local to the story.
Filmmaker: What were your artistic goals on this film, and how did you realize them? How did you want your cinematography to enhance the film's storytelling and treatment of its characters?
Hurwitz: The film exists in memory, first in Ian Schrager's memory, but also in the memories of everyone else who was involved in this watershed moment and place in our culture. The idea was to film them so that they could live in both times. We didn't want to pretend that they hadn't aged. We wanted to see the character in their faces but we wanted their youthful selves to be present as well. We also didn't want their interview environments to tie them to one time or the other. There was also a cinema vérité component that we wanted to completely live in the present.
Filmmaker: Were there any specific influences on your cinematography, whether they be other films, or visual art, of photography, or something else?
Hurwitz: My work on this film was overwhelmingly portraiture, interviews. Lighting and composing an interview well is always a challenge, more of a challenge than one might think. When I do interviews, I'm lucky to be able to call on my background in art history, photography and work in fiction films. It is all really helpful.
Filmmaker: What were the biggest challenges posed by production to those goals?
Hurwitz: Overcoming the challenges was made easier by a wonderful crew, most of whom I have worked with for decades. My gaffer, Ned Halleck, always seems like he has a direct link to my brain. He is a real collaborator and an artist in his own right
Filmmaker: What camera did you shoot on? Why did you choose the camera that you did? What lenses did you use?
Hurwitz: I have been a partisan of the Canon C-300 since its introduction. The team that built the camera listened very careful to the people who have to work with it. This film was shot on the C-300 Mark 2. The 12-bit color science of the camera is wonderful, I love the palette that it makes available. Also, the ergonomic design is excellent for me. I never rig it out. Canon has been grinding lenses for as long as anyone. And I like the way their lenses work with the camera. The one feature that is extraordinarily helpful in shooting interviews, and we shot many for this film, is their auto-focus with face detection. We work at quite a low f-stop, with a very small depth of field. The camera and lenses track an active interview subject virtually faultlessly, with a much faster reaction time than a human focus puller.
Filmmaker: Describe your approach to lighting.
Hurwitz: My first bias is to put style at the service of content. If the story of the film calls artifice, so be it. Otherwise I am not there to call attention to my lighting. My goal is to reveal the subject in the way that the film's story demands. I call that making an "articulate" image. In order to do that, I have to carefully control the lighting, even if I am using natural light (say for the background). I work with the contrast and direction of light on the planes of the face, and also the contrast relation of foreground to background. Here, we were never harsh, but we were not lighting film stars either.
Filmmaker: What were the most difficult scenes to realize? And how did you do it?
Hurwitz: One scene that was a total bear was shooting cinema vérité in the present Studio 54 theater with Ian, and with almost no light and very little time. The Canon 24mm T1.2 lens helped. Also, I remember quite a challenge trying to avoid seeing my lights in the huge convex sunglasses that one of our subjects insisted on wearing. We solved it with light placement, but with difficulty
Filmmaker: Finally, describe the finishing of the film. How much of your look was "baked in" versus realized in the DI?
Hurwitz: For this film, since so much of it was shot in controlled lighting situations, we decided to bake in the entire look of the film with the color and contrast settings that I had evolved while using the camera. I would rather give the editor a real image to work with, if that is reasonable, rather than a fairly random LUT.
TECH BOX:
Camera:  Canon C-300 Mk 2
Lenses: Canon – 24mm, 16-35mm, 17-55mm, 18-80mm, 24-70mm, 70-200mm
Lighting: Cinema vérité scenes shot with available light. Interviews shot with Arri Sky Panel, Light Mats, Astra LED panels, Source 4 lecos, Chimera light boxes, Rosco gels, a fair amount of grip gear.