Back to selection
Zoë White on Filming Christina Choe's Feature Debut NANCY Starring Andrea Riseborough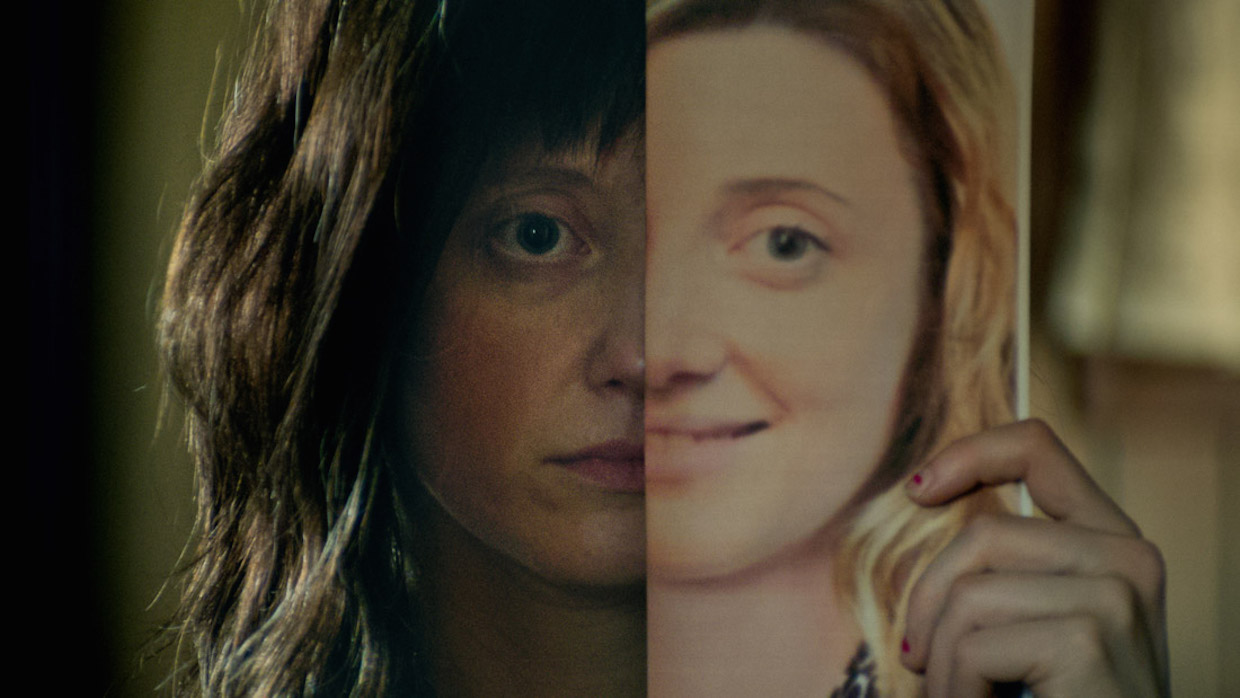 NANCY
Zoë White has DP'd more than 30 features and shorts since 2004, including Stephen Cone's Princess Cyd and Onur Tukel's Catfight. Her latest work, NANCY, marks the feature debut of Christina Choe, a writer/director whose shorts have screened at Telluride and SXSW. NANCY tells the story of a struggling writer (Andrea Riseborough) who tells elaborate lies on the Internet to compensate for her creative failures. The film co-stars Steve Buscemi, Ann Dowd and John Leguizamo. Below, White discusses how she and Choe arrived at the film's visual design. NANCY screens in competition at the 2018 Sundance Film Festival.
Filmmaker: How and why did you wind up being the cinematographer of your film? What were the factors and attributes that led to your being hired for this job?
White: I'd worked with one of the producers on a few music videos, so she recommended me to our director Christina Choe. I really responded to the character of Nancy and the offbeat tone of the script – it's a story that provokes the kinds of questions that interest me. Christina and I met a few times and found a lot of common ground with our tastes and ideas. I liked how curious Christina was about visual possibilities and it was just fun talking about Nancy's world.
Filmmaker: What were your artistic goals on this film, and how did you realize them? How did you want your cinematography to enhance the film's storytelling and treatment of its characters?
White: Most of all we wanted to feel we're experiencing Nancy's perspective. There's so much ambiguity surrounding her, but we wanted to express her reality – her truth. I wanted to find ways to break away from conventional shooting, without distracting from the flow of the story. Techniques like using framing/composition to obscure or diminish Nancy at times, empower her at others, zooms to enhance the mood of a moment, handheld to bring a sense of instability, shooting through or with reflections, color palette and textures to set a tone within a hostile winter landscape.
Filmmaker: Were there any specific influences on your cinematography, whether they be other films, or visual art, of photography, or something else?
White: Christina and I looked at a lot of films to explore character, mood and visual style. We were inspired by films that followed a singular, outsider character and looked at how camera was used to alienate them, and then also to liberate them. Taxi Driver, Wanda, Safe and Mulholland Drive to name a few.
Filmmaker: What were the biggest challenges posed by production to those goals?
White: It was a tough shoot. The winter was brutal over our shooting weeks – just getting to shoot locations over ice covered roads was treacherous. The cold always slows things down, on a human level as well as technical. However, we were lucky with the timing of snowfall, and were able to capture some beautiful weather. Generally it's difficult to avoid compromise when faced with the realities on set – there's never enough time, and resources are limited. So the constant challenge is to get to the heart of the scene and to stay focused on what we're capturing, despite practical and logistical setbacks.
Filmmaker: What camera did you shoot on? Why did you choose the camera that you did? What lenses did you use?
White: We shot Alexa and used a set of Kowa sphericals with the addition of a few Flare Primes, packaged up from Panavision. The Kowas are lovely older lenses, with lower contrast and warm flare. The Flare Primes complemented the set but they also have a milky haze when shooting toward the light – we utilized this for a few particular moments to give the sense that Nancy's reality was literally hazy.
Filmmaker: Describe your approach to lighting.
White: With a tight schedule, it was essential to use as much existing natural light and fixtures as we could. So the approach was mostly about controlling the environment – NDing windows, lamp placement, window treatments, etc. For Nancy's home at the beginning of the film, we wanted it to feel closed in, like she lived in a cave. It was a matter of shutting light out rather than letting it in, with unfriendly sources like the TV and fluorescents. We allowed for more natural light when there was hope, or a pathway ahead for her. For the house she visits we wanted a more comfortable feeling. More sunshine, and warm practicals at night. It was intuitive, with the mood of each scene guiding us. We had a package of HMIs, LED and tungsten lights, which we used when natural light and practicals weren't enough on their own.
Filmmaker: What was the most difficult scene to realize and why? And how did you do it?
White: There's a scene where Nancy goes for a walk with Ellen by a lake, and they have an emotional conversation. The day we shot it there was heavy, relentless snowfall and it was bitterly cold. There wasn't any flexibility with our schedule to shift our timing, so we just went for it. Devon Catucci operated some lovely Steadicam despite trudging in knee-deep snow. We kept asking ourselves how feasible it was for our characters to be going out for a walk in such brutal weather – it seemed hard to buy. Now cut into the film I find it dramatic and pretty! It's amazing realizing what can work on film with great performances to sell it. I'm constantly surprised by that.
Filmmaker: Finally, describe the finishing of the film. How much of your look was "baked in" versus realized in the DI?
White: We shot with a general low contrast LUT to get into the ballpark of how I wanted to image to look and feel, and it gave us the base to take it further in the color grade. I've worked with our colorist Nat Jencks a few times over the years, he's wonderful. We tweaked a Fuji emulation grade he had for our base, which brought contrast and blacks into a deeper zone and gave a certain contour and richness of color we liked.
TECH BOX
Camera: Alexa Classic
Lenses: Kowa spherical & PV Flare Prime
Lighting: Small HMI/LED/Tungsten package supporting mostly natural/available light approach
Processing: Digital
Color Grading: Davinci Resolve