Back to selection
"I Never Saw a Shot on Anything Bigger Than a 5″ Monitor": DP Michael McDonough on Leave No Trace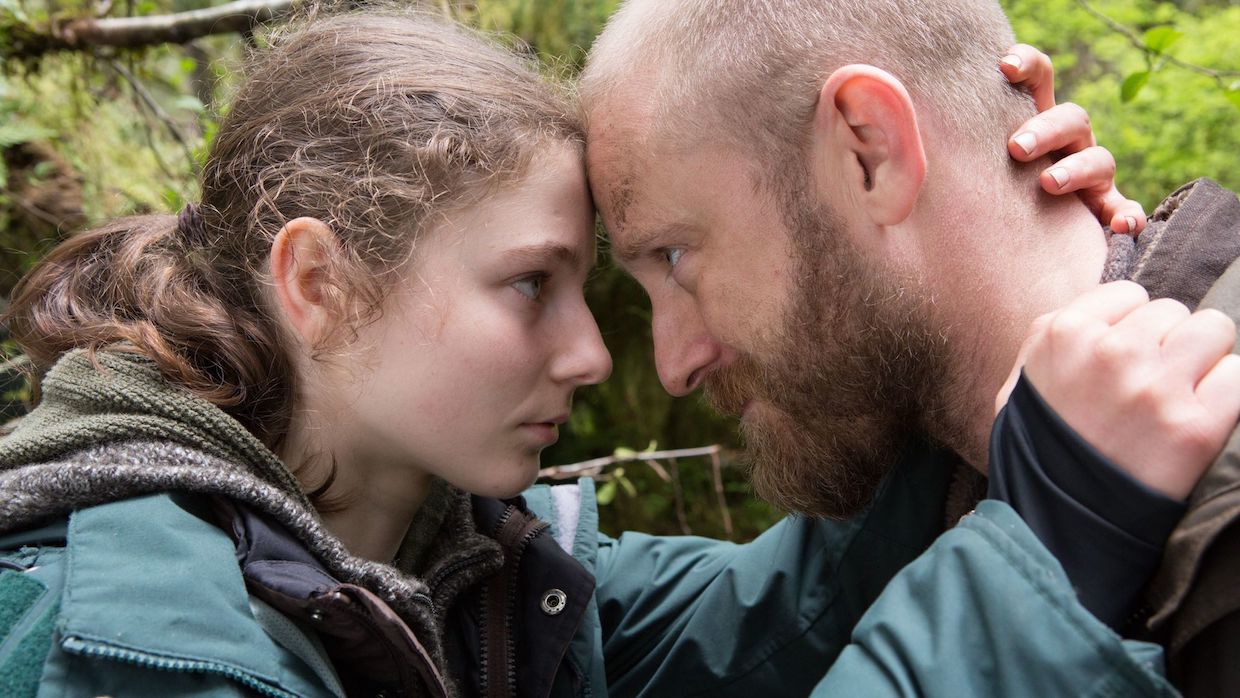 Thomasin Harcourt McKenzie and Ben Foster in Leave No Trace
Cinematographer Michael McDonough met director Debra Granik in 1994, when they were both enrolled at the same NYU film studies class. Leave No Trace is their third collaboration, following Down to the Bone and Winter's Bone, and also marks Granik's first narrative feature in the eight years following the latter. Leave No Trace follows father Will (Ben Foster) and 12-year-old daughter Tom (Thomasin Harcourt McKenzie), squatters secretly living in a forest in almost total isolation. When they're spotted by a hiker, social workers get involved and Tom is torn from the woods, entering the social world and potential friendships for the first time. Prior to the film's premiere, McDonough told Filmmaker about shooting day for night and the LUTs that steered him through production.
Filmmaker: How and why did you wind up being the cinematographer of your film? What were the factors and attributes that led to your being hired for this job?
McDonough: Debra and I have worked together since film school. This is our third feature collaboration as a team, after Down to the Bone and Winter's Bone. We shared a very important mentor, Boris Frumin, and a lot of what excites us as filmmakers can be traced back to those teachings.
Filmmaker: What were your artistic goals on this film, and how did you realize them? How did you want your cinematography to enhance the film's storytelling and treatment of its characters?
McDonough: The main goal I went in with was doing justice to the characters' feelings for their environment. They had a love of these woods that gave them all they could need. I aimed to express that warmth and love through a warm and harmonious feeling in the look of the woods. The city, which was forced onto them, was a much colder and harsher place in their eyes; again, the cinematography aimed to express that feeling.
Filmmaker: Were there any specific influences on your cinematography, whether they be other films, or visual art, of photography, or something else?
McDonough: There's always a starting point. For this film Debra was thinking of Mouchette (Bresson), and also several documentaries about Vets living off the grid. As ever, there was a multitude of location photographs and some video to consider. The aim of the camera was to be quiet and mostly still and to observe.
Filmmaker: What were the biggest challenges posed by production to those goals?
McDonough: Shooting at night in the woods is always a challenge on a limited budget. Like on Winter's Bone, we also employed a lot of day for night to achieve this. I was inspired by the DFN in Pan's Labyrinth (sequences in the woods).
Filmmaker: What camera did you shoot on? Why did you choose the camera that you did? What lenses did you use?
McDonough: We shot with an Alexa Mini (two cameras for portions of the filming). It's lightweight and can be made extremely compact for the large amount of handheld we do; it also has a beautifully cinematic look. We used Leica Summilux lenses for the woods sequences and Vantage T1s for the city (and to get us out of a bind in very low light). Also a special mention to my camera assistants, Jerry Turner and Patrick LaValley, who have perfected working in the challenging conditions of the pacific northwest, and always with a smile! And my gaffer, Mike Vukas and key grip, Bruce Lawson (and all the Lawsons in fact).
Filmmaker: Describe your approach to lighting.
McDonough: Naturalistic. I believe natural light (and man-made light) can give us all the drama we need. I look at the light around me in detail and figure out how to create that if it's not available in the moment, or how to shape it when it is. I try to use as few units as possible and keep things clean and simple. It was easy in this case as we were miles from anywhere and had only small portable generators. The majority of LNT was available light: bounced, cut, diffused etc.
Filmmaker: What was the most difficult scene to realize and why? And how did you do it?
McDonough: The hardest task was making the woods (after they leave town on the bus) feel dangerous and life-threatening. We used smoke, FX snow and frost, and thankfully had some wind and rain to get us some of the way. And the skill of Tim Stipan, our colorist, did the rest.
Filmmaker: Finally, describe the finishing of the film. How much of your look was "baked in" versus realized in the DI?
McDonough: I had asked Tim to create me 2 or 3 LUTs in pre-production to use for the different moods. I simply said to him, think of Fuji Vivid (for the woods) and a desaturated version for the unhappiness of the City. I also wanted a variation of the Vivid LUT which was a little less saturated. And lastly I asked for a DFN LUT.
Tim created those from some test footage – shot in the rental house and on location in the Portland Woods – and sent them on to me the weekend before we started shooting. They worked beautifully. Needed not a single tweak or adjustment and I treated them like film stock for the rest of the shoot.
So the look was created to a large degree at the outset, and then it was Tim's skills that ironed out any exposure or color variations that would have crept in from a hectic-paced shoot where I was also the A-cam operator and relying a lot on my on-board false color monitor to keep us within an acceptable exposure range as we worked through the days. I never saw a shot on anything bigger than a 5" monitor the whole shoot.
That also speaks to the trust in the two camera operators and the days they were working alongside me, especially Kenny Brown and Tim Spencer.