Back to selection
"Getting Five Different Looks From One Room": DP Yamit Shimonovitz on Half the Picture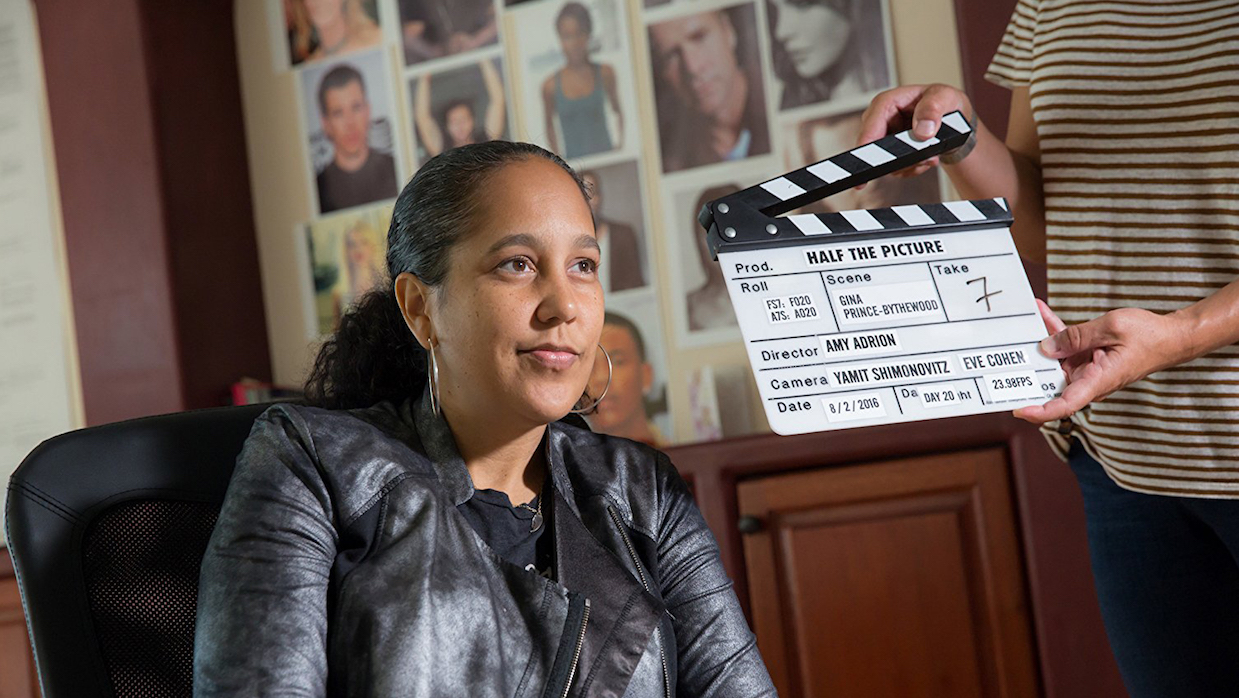 Half the Picture
Amy Adion's documentary debut is on a topical subject: what's to account for the grossly small percentage of female film directors? DP Yamit Shimonovitz was one of two DPs working to capture insights from figures including Penelope Spheeris, Brave co-director Brenda Chapman, Gina Prince-Blythewood and many others. Below, she discusses the challenges of balancing intimacy when entering subjects' spaces with practical lighting considerations.
Filmmaker: How and why did you wind up being the cinematographer of your film? What were the factors and attributes that led to your being hired for this job?
Shiminovitz: I was introduced to Amy Adrion through a mutual friend. As a cinematographer in the industry I have faced gender discrimination, so I was happy to be part of a documentary that tackled the issue. After we shot our first interview I realized how great this film was going to be; just listening to esteemed directors was like sitting in a master class.
I co-shot Half The Picture with Soraya Sélène and it was a pleasure shooting with her, I love the way she frames.
Filmmaker: What were your artistic goals on this film, and how did you realize them? How did you want your cinematography to enhance the film s storytelling and treatment of its characters?
Shiminovitz: It was very important for me to create intimacy and openness in our interviews. We had an all-female camera department that collaborated very well and supported each other, which created a sense of intimacy on- and offscreen.
A lot of the choices that I make are a result of trying to highlight visually the themes of the film. I tried to separate our subjects from the background in order to keep the focus on them. I wanted to show our subjects in a positive light. One of the things that was important for our director, Amy Adrion, was to have colorful happy frames to juxtapose many of the stories that had sad notes in them.
Filmmaker: Were there any specific influences on your cinematography, whether they be other films, or visual art, of photography, or something else?
Shiminovitz: Since I was young I was struck by the work of Claude Monet, I love his color palette and composition. My first medium was painting and now as I create moving images, some of my strongest influences remain the French Impressionists.
Filmmaker: What were the biggest challenges posed by production to those goals?
Shiminovitz: We got to shoot at many of the houses and offices of the filmmakers, which was great. Our environment dictated the frame. We came into locations for the first time and had to set up interviews within an hour.  It was challenging to maintain consistent lighting, often times during sunsets while having a small footprint, but the subject's personal environment gave us so much visually.
Filmmaker: What camera did you shoot on? Why did you choose the camera that you did? What lenses did you use?
Shiminovitz: We shot on the Sony FS7 and Sony A7S connected to Odyssey recorders. We needed a 4k camera with good color space and the Sony FS7 is great for that. As for lenses, A camera used a set of primes Rokinon, 85mm or 50mm depending on the room. The Canon 70-200mm f2.8 was our B camera lens. It gave us medium shots as well as close-ups.
Filmmaker: Describe your approach to lighting.
Shiminovitz: We had a small lighting package since we were entering our subjects' personal spaces. I work with available light and enhance it. I knew the limits of what could be done with our lights, so choosing the correct direction to shoot towards was key.
Filmmaker: What was the most difficult scene to realize and why? And how did you do it?
Shiminovitz: Getting five different looks from one room. When we shot in NY, we had a medium-size living room where we had to shoot five different interviews. Luckily Amy, Soraya and I had a day to prep in the location and figure out all the possible angles. I'm very happy with the way they came out. I don't think it's possible to tell that all the interviews were shot in the same space and they all look great.
Filmmaker: Finally, describe the finishing of the film. How much of your look was baked in versus realized in the DI?
Shiminovitz: We shot Log but used a LUT to look at while setting up shots. In color timing we started with the same LUT that enabled us to get the image we envisioned while filming. We did our color timing at Different by Design, Luke Cahill was our colorist, he did beautiful work.
TECH BOX
Camera: Sony FS7, Sony A7S
Lenses: Canon 70-200mm Rokinon primes
Lighting: Zylight LED fresnels and available lighting