Back to selection
San Francisco International Film Festival Announces its 2018 Golden Gate Award Feature Competitions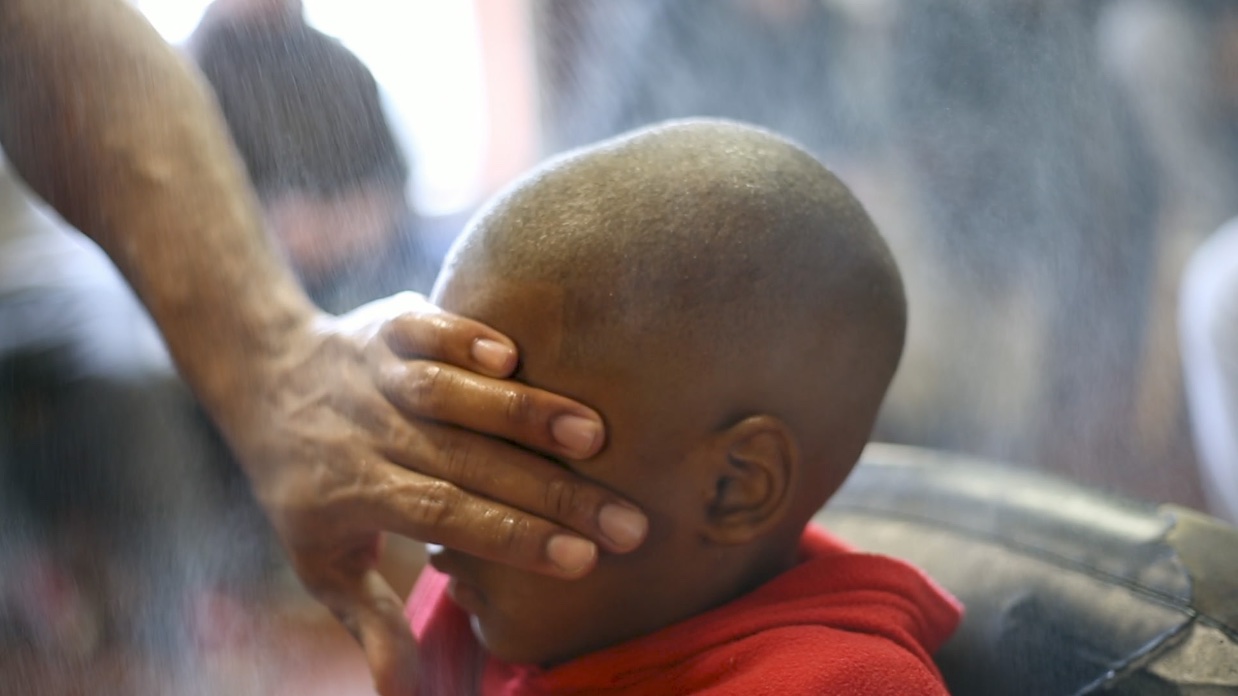 Hale County This Morning, This Evening
The San Francisco International Film Festival's Golden Gate Awards Feature Competitions were announced today, and the 20 films span many well-received pictures we've had our eye on here at Filmmaker over the last year. These include 25 New Face RaMell Ross's Hale County, This Morning, This Evening, Mila Turajlić's The Other Side of Everything, Jordana Spiro's Night Comes On, and Sandi Tan's Shirkers. There are two world premieres: a US/Ghana production by Bay Area directors Zachary Fink and Alyssa Fedele, The Rescue List, about a safe house for kids escaping the country's child labor system; and Tre Maison Dasan, US director Denali Tiller's doc about children whose parents are incarcerated. The films screen April 4 – 17, and a total of $40,000 will be dispersed in prize money. The complete list of films is below.
2018 GGA NEW DIRECTORS (NARRATIVE FEATURE) COMPETITION

Djon África, João Miller Guerra and Felipa Reis, Portugal/Brazil/Cape Verde
At loose ends in Lisbon, Miguel (Miguel Moreira) is prompted by a chance encounter to search for the father he has never known in Cape Verde, where he encounters a diverse mélange of residents. From cheeky bus riders to a ribald farmwoman who serves as a kind of cultural griot, Guerra and Reis's winning and funny debut uses the road movie format as its jumping-off point for a culturally rich portrait of the verdant and beautiful landscapes of Cape Verde.

I Am Not a Witch, Rungano Nyoni, UK/France
"The child is a witch," exclaim the villagers in the opening of this strikingly beautiful first feature by Rungano Nyoni. When young Shula is accused of witchcraft in her village, she is exiled, her movements constrained, and she is expected to perform miracles; however, she is not prepared to live this way forever. Employing breathtaking composition, Nyoni layers magical realism, satire, and social critique to blur reality with the surreal in this original and unforgettable story. 

Night Comes On, Jordana Spiro, USA
Jordana Spiro's heartfelt and nuanced debut feature concerns Angel, just out of juvenile detention, and her sister, currently in a foster home. Angel is determined to confront her father about their past, while her sibling needs her to stay out of trouble so they can build on their bond. Newcomers Dominique Fishback (The Deuce) and Tatum Marilyn Hall give authentic and grounded performances, intimately capturing the close bond of sisterhood as they desperately try to remain a family against their complex circumstances.

Ravens, Jens Assur, Sweden
A young boy, whose aspirations lie away from the family farm, tries to take a stand against his father, a stubborn and taciturn man who extols the virtues of toil and sacrifice. As their conflict butts up against challenging economic and emotional realities, the lives of all family members, including the boy's dissatisfied mother, are profoundly altered. With a stark visual sensibility and powerful performances, Assur's debut feature beautifully renders the story of a life that seems to offer little way out.

Scary Mother, Ana Urushadze, Georgia/Estonia
Manana, a wild-haired 50-something mother of three, has just written a book. The problem is that the novel is clearly autobiographical and leaves no family member unscathed. As the ramifications of her artistic endeavor unravel in compellingly bizarre fashion, Manana's single-minded pursuit of her new calling leads the film into brave and uncharted territory.

The Sower, Marine Francen, France
In a rural mountain village in 1851, it is up to the women to bring in the grain harvest after all their men have been arrested for sedition. Under these challenging circumstances, their livelihoods as well as their desire for children become an obsession and when a mysterious man appears, these concerns play out in continually surprising and erotic fashion in this frank, feverish, and ravishingly beautiful film..

Suleiman Mountain, Elizaveta Stishova, Kyrgyzstan/Russia
Without preamble, a young Kyrgyz boy is taken out an orphanage and into the lives of his supposed parents who make ends meet by running various cons on unsuspecting villagers. Director Stishova weaves mythological and even comedic elements into a beautifully filmed tale that centers around the titular mountain, a mysterious and holy place where the prophet Solomon is said to be buried and where the film's characters aim to find their destinies.

Those Who Are Fine, Cyril Schäublin, Switzerland
Through striking framing, intense angles, fragmented scenes, and amusing conversations that at first seem to be unrelated, Those Who Are Fine weaves together stories of a young woman at a telemarketing company who takes advantage of the elderly by convincing them to give her large sums of cash. Director Cyril Schäublin's bold and precisely assembled debut astutely captures a world where every character is either on or using a device and surveillance is everywhere but fails to protect.

Tigre, Ulises Porra Guardiola and Silvina Schnicer, Argentina
In a boarded-up family estate situated in Argentina's mysterious and ancient Tigre delta, three generations gather to decide whether to sell their property to developers. As the family navigates their relationship to their home, their interpersonal conflicts lead to them to a unique and beautiful farewell.

Winter Brothers, Hlynur Pálmason, Denmark/Iceland
A powerful batch of moonshine made in the barracks of an industrial compound causes problems for Emil after his coworkers become ill. Already an outcast, resentment grows as he blunders everything that he tries to pursue – including the only woman in town. Set in an ashen-grey wilderness, where everything is covered in a clay-like dust, director Hlynur Pálmason's drama distinctly captures each character's bumbling rage with sly humor in this debut feature film.

2018 GOLDEN GATE AWARDS MCBAINE DOCUMENTARY FEATURE COMPETITION

City of the Sun, Rati Oneli, Georgia/USA/Qatar/Netherlands
The lives, dreams, and desires of three stalwart denizens of a desolate Georgian mining town provide the framework for this observational and gorgeously rendered film. With precise attention to landscape and architecture, director Rati O'Neli focuses on Archil, a miner with an operatic flair for theater, the workouts of twin sprinters, and Zurab, an impassioned man working to keep Georgian music and culture alive.

The Distant Barking of Dogs, Simon Lereng Wilmont, Denmark/Sweden/Finland – NORTH AMERICAN PREMIERE
In the midst of the Russian-Ukrainian conflict, a loving, wise, and defiant grandmother raises her two young grandsons. Living under the omnipresent threat of war, the spirited boys, Oleg and Yarik, learn to adapt to their precarious situation and playfully wander through their neighborhood oblivious to the dangers around them. With a warm gaze toward his beguiling protagonists, director Simon Lereng Wilmot lends sensitivity and entrancing visuals – intimately framed close-ups and vibrant rural landscapes – to deliver a nuanced portrait of war and its corrosive effect.

Hale County This Morning, This Evening, RaMell Ross, USA
"I already had my troubles for today, so I can't worry about tomorrow," states Daniel, one of the protagonists in award-winning photographer RaMell Ross's inspired and intimate portrait of a place and its people. Set in an African-American community in rural Alabama where the director moves to coach basketball in 2009, the film captures small, but nevertheless precious, moments in Black lives – church services, a toddler running circles, an eclipse – with rapturous attention.

The Judge, Erika Cohn, USA/Palestine
Judge Kholoud Al-Faqih became the first female appointed to any of the Middle East's Shari'a courts in 2009, challenging longstanding traditions and customs of women's roles in society. Constantly battling controversy over her position, Al-Faqih offers guidance, mentorship, and support both in and outside the courts. In this intimate portrait, director Erika Cohn captures the determined and compassionate judge as she strives to achieve justice in a system that so often does not favor women.

Minding the Gap, Bing Liu, USA
In Rockford, Illinois, Bing Liu has been filming his friends Zack and Kiere on and off their skateboards for ten years. Weaving archival footage, interviews, and incredible skate videos, Liu chronicles in simple and poetic fashion the lives of his inner circle of friends and family, revealing the damaging circumstances in which they all
grew up. Less a film about skate culture and more an unusual and powerful coming-of-age story, Liu's feature documentary is fresh and powerful.

The Next Guardian, Arun Bhattarai and Dorottya Zurbó, Hungary/Netherlands
In the Buddhist kingdom of Bhutan, teenage siblings, Gyembo and Tashi share a passion for soccer, Facebook, and girls. Gyembo enjoys reading classmates Facebook posts while Tashi turns heads with her confident, boyish demeanor. As technology and social media become more accessible, these youthful amusements collide with the father's desire for Gyembo to inherit the family monastery. Co-directors Arun Bhattarai and Dorottyya Zurbó present a penetrating and compassionate portrait of globalization and fundamental change in a country immersed in tradition and culture.

The Other Side of Everything, Mila Turajlić, Serbia/France/Qatar
In 1945, filmmaker Mila Turajlić's (Cinema Komunisto, Festival 2011) family apartment was divided and redistributed by the state government. Her mother's political activism meant that they were spied on from the very rooms they used to own. Now her fascinating mother, Srbijanka, can talk about that "other side." A staunch public advocate and voice of resistance against Slobodan Milosevic for years, she discusses with her daughter their complicated personal and political histories, while reflecting on the divided past they share.

The Rescue List, Alyssa Fedele and Zachary Fink, USA/Ghana – WORLD PREMIERE
Lake Volta in Ghana is the largest man-made lake in the world; it is also notorious as a locale for forced child labor. Bay Area filmmakers Zachary Fink and Alyssa Fedele's beautifully shot documentary charts the courageous efforts of a local safe house to rescue the kids, give them schooling and therapy, and prepare them for reintegration into their families. Though it contains many intimate and moving moments with the children, the star of the film is real life hero Kwame, who initiates several dramatic rescues and is a former child slave himself.

Shirkers, Sandi Tan, USA
"When I was 18, I had so many ideas," reflects Sandi Tan in this buoyant personal documentary. 25 years ago, Tan and two cinephile friends made a film in Singapore, but the reels disappeared, along with a mysterious man named Georges Cardona who had been acting as the project's mentor. Recently, the footage was found, which prompts this constantly surprising and reflective film about movie love, female friendship, and the urge for creative expression.

Tre Maison Dasan, Denali Tiller, USA – WORLD PREMIERE
Tre, Maison, and Dasan are three boys who all share something in common – one of their parents is in jail. Following their separate lives through boyhood and weaving their stories together, first-time documentary filmmaker Denali Tiller tenderly observes each youngster's life, as the kids come to understand more about the world around them. Capturing loving, frustrating, and heart wrenching moments between parent and child, Tre Maison Dasan approaches the issue of mass-incarceration by exposing the effects of the criminal justice system on young men.