Back to selection
Hot Docs 2018: The Silver Anniversary Edition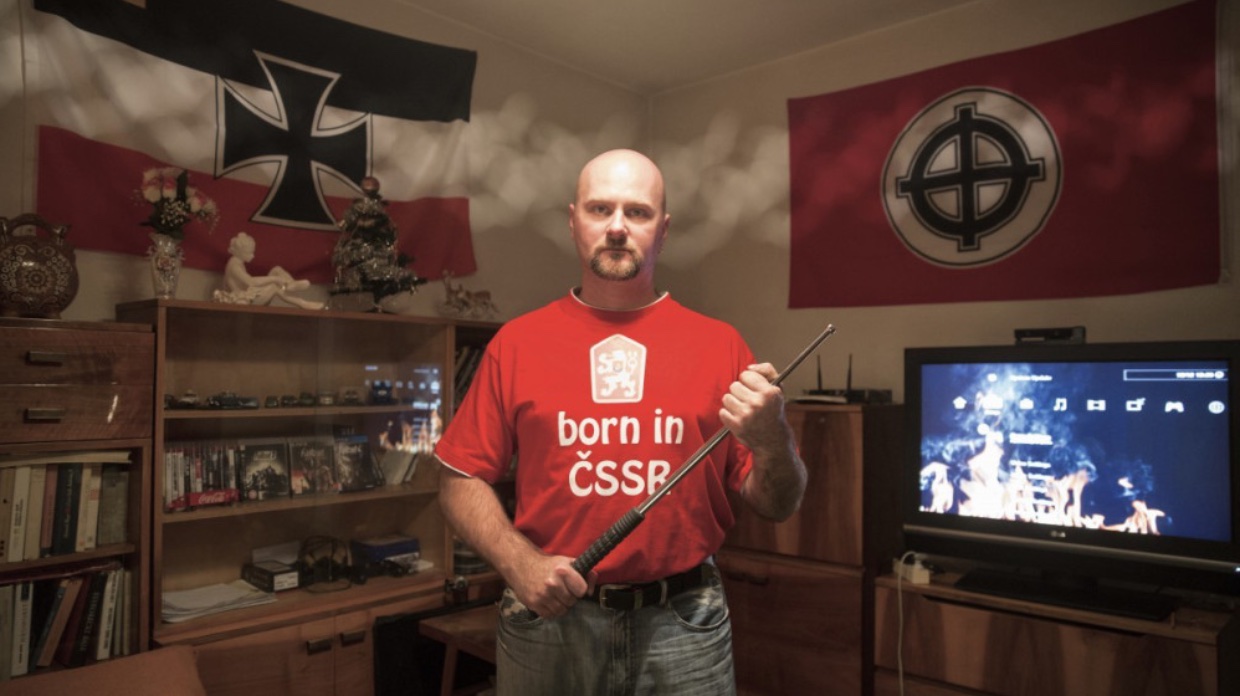 The White World According to Dailborek
The 25th anniversary edition of the Hot Docs Canadian International Documentary Festival (April 26-May 6) marked my very first visit to North America's largest nonfiction fest (and also to its host city of Toronto, for that matter). Since I've covered IDFA, the world's largest doc fest, numerous times, I just assumed Hot Docs would be similar in setup and vibe. On the contrary, I was pleasantly surprised to find there are several key elements that make this Toronto mainstay its own exciting, one-of-a-kind event.
First off, there are the unique venues. Hot Docs is the only festival I've ever been to, fiction or nonfiction, with its own fest-branded theaters. Amongst the dozen-plus cinemas and media spaces utilized there's the Hot Docs Ted Rogers Cinema, a lovely, former repertory art-house in The Annex district — and the first theater (and one of only three in the world) dedicated to exclusively showing docs year-round. And then there's Hot Docs' main screening location in the Entertainment District, the incomparable TIFF Bell Lightbox, which also is the site of Toronto International Film Festival screenings.
Fortunately, my trip to this silver anniversary edition came courtesy of Tourism Toronto, which also provided a culturally jam-packed "Hollywood of the North" junket for visiting press that included a docent-led tour of the Lightbox. Occupying five floors and an entire city block(!), the gorgeous, glass-and-steel complex contains five theaters, two restaurants, a rooftop terrace, gallery and exhibition spaces, a gift shop, and a reference library. Which made me think that the closest comparison we have in NYC is not to FSLC but to MoMA. Connected to the Lightbox is the Festival Tower, which houses condos that come not only with a private screening room but also all-around access to the Lightbox below. (Disappointingly, the tour did not include knocking on any wealthy cinephiles' doors.) Our passionate and thorough guide gave us the lowdown on everything from the environmentally friendly structure (which, like all of Toronto's skyscrapers, has frosted windowpanes to prevent birds from crashing), to the Lightbox's theater seats (designed by the same firm as the ones at Cannes). And the fact that the driving force behind both the theater and the transformation (gentrification?) of its surrounding neighborhood was proud Torontonians, the Reitman family. (Director Ivan also owns the local restaurant Montecito.)
But long before a Czech Jewish immigrant family made it big in (North) America there were the First Nations, the indigenous people's acknowledgment before every screening also marking a first for me. Indeed, every onstage presenter thanked the specific tribes for the use of their land before any corporation or government body was given a hat-tip. When I asked a Toronto producer I met at the Forum (North America's premiere pitching event for nonfiction filmmakers seeking international co-financing) whether this was genuine atonement or some sort of politically correct lip service he assured me it was the former, comparing Canada's current indigenous rights awakening to Black Lives Matter in scope.
It struck me that this tied into another aspect that sets Hot Docs apart — its emphasis on public outreach. Indeed, the folks behind the scenes seem every bit as focused on making the festival broadly accessible to everyone from students to the disabled as they are on tending to the thriving industry market. And this ease of accessibility extended to the navigation of the event itself, with most venues located within walking distance of one another. Add to that a carefully curated program, divided into 15 well-thought-out sections that prevented an attendee from feeling overwhelmed, while leaving just enough room for accidental discovery. There were the special presentations (food was a big theme this year, with Canadian director Maya Gallus's female chef-focused The Heat: A Kitchen (R)evolution opening the fest) and special events, many of them free. One especially inventive selection was the world premiere of The Trolley, from another Canadian director, Stephen Low, which follows the history of public transit's electric car — in IMAX. In addition, since Barbara Kopple was this year's recipient of the Outstanding Achievement Award, a retrospective of a half dozen of that master filmmaker's most beloved works were shown. (Canadian director John Walker also received a retrospective with Focus on John Walker, which presented five of his films going all the way back to '89. And for those who still couldn't get enough retro there was always the Redux program.)
And balancing out the self-explanatory sections — International Spectrum, Canadian Spectrum, World Showcase, Made in Mexico — were some unconventional programs, such as the artist-as-subject films collected under the umbrella of Artscapes, and the "future cult classics" of Nightscapes. Then there was DocX, which, in addition to presenting VR, included other new media in the form of live performance and video installation. Even more ambiguous were sections titled The Changing Face of Europe (a partnership with European Film Promotion, which boasted a wide range of co-productions highlighting stories from the Balkans to the Baltic), Silence Breakers (a MeToo-spirited series of docs co-presented with Oxfam Canada), and The Good Fight (flicks about battles from the global to the personal, sometimes both).
That last program happened to feature several riveting, but yet to be buzzed about, Spotlight on Documentaries at IFP Week alums. There was The Silence of Others, from the team of Almudena Carracedo and Robert Bahar (with the Almodóvars EP'ing), a striking look at the "Argentine Lawsuit," in which those tortured under Spain's dictatorship took their claims for justice to Buenos Aires because Spanish law prevents the prosecution of any Franco-era crime. And also the international premiere of Elaine McMillion Sheldon's Netflix doc Recovery Boys, which returns the native West Virginian to her home state to follow four opioid-addicted men over a roller-coaster-riding year and a half as they valiantly struggle to stay clean at a rural rehab center.
And while there were a slew of high-quality docs addressing social justice and hot topic issues, there were also nearly 250 films to choose from during a mere 11 days. Which is another way of saying that, as a docuphile, I generally sidestep seeing "important" subjects and current events depicted onscreen in favor of discovering new cinematic visions. Fortunately, Hot Docs provided a wealth to choose from in that regard as well.
While not exactly a new discovery, Sergei Loznitsa (probably still best known for 2014's stunning Maidan) nevertheless is fast becoming one of my favorite nonfiction auteurs. Much like with Austerlitz, his magnificent 2016 study of the Nazi concentration camp as modern-day tourist attraction, the Ukrainian director brings his eye for exquisite, nearly painterly composition, and his ear for surreal disconnect (especially in our smartphone addicted society) to the subject of one of Germany's stranger traditions in Victory Day. For the past 72 years Berlin has hosted an annual commemoration of the USSR's triumph over Nazism, an event that brings together everyone from nostalgic communists to members of the notorious Night Wolves biker gang for a day of dancing and drinking, flag waving and speechifying. And because Loznitsa is a master of observation he's able to distill this freewheeling circus into a caged zoo exhibit, capturing momentous history as kitsch. Celebratory revelers, bodies moving in Brueghel-like detail, are shone in stark contrast to the still stone tableaus he cuts to throughout — monuments to a war of anguish, brutality, suffering and sacrifice. A pyrrhic victory, indeed.
Berlinale Talent Katja Fedulova is also solidly on my filmmaker-to-watch list. With Faith Hope Love the Russian expat, who resides in Germany, returns home after many years to find out what exactly it means to be a feminist in Putin's Russia. Fedulova has — to steal a term coined by Deidre Haj to describe Jehane Noujaim at a panel I caught at April's Full Frame fest — "soft eyes" (like athlete's have "soft hands"). It's the ability to predict which characters are going to be worth following long before anything gets interesting — a talent Fedulova possesses in spades. Faith Hope Love is an eye-opening portrait of the complicated, unendingly contradictory lives of three young "heroines" making waves in Russia today — a country in which nothing is black or white, or even what it seems. It's a nation in which beauty queens go to war, "feminists" are religious and pro-life, and anti-corruption politicians may have to make unseemly compromises. Which, in a place where state-approved news is the basis for reality, may not be all that surprising after all.
Then there's what will surely go down as one of my favorite docs of 2018 (that is, once some intrepid US distributor takes a chance on these shores). I've been following longtime provocateur Vít Klusák's — one of the directors behind the fake supermarket hoax that was 2004's Czech Dream — The White World According to Dailborek since CPH:DOX. (And on through the Docudays UA fest in Kiev, where, if there was a prize for most hated film of that festival, this would have been it.) Hot Docs allowed me to re-watch and sing the praises of this thrillingly insane film yet again.
From the very beginning we're told White World is a "documentary play," which should give you some indication as to how this portrait of a Nazi-loving, internet-addicted, grown man who still lives with his mother will probably unfold. The 36-year-old Dali is nothing if not theatrical, enlisting both long-suffering mom and her new boyfriend in his numerous YouTube videos (in which he acts out horror film-style murders of blacks and immigrants). He also writes inventive songs, one about a hermaphrodite that has so much "cheek" that he "fucks himself like a geek." Yet when a friend tells Dali that he gets that he's into "all that Nazism…That's nice," as if it's just a harmless hobby, one has to stop and wonder if, well, maybe it is.
For what makes the film so hilarious is the fact that these characters are both so powerless and so full of shit. (If Dali were Richard Spencer this film would not work.) Even while the mother's boyfriend brags about beating up gypsies, one look at him and you know it's all lying braggadocio. Indeed, we almost feel sorry for the family, especially Dali and his stalled existence. (It's sympathy not for the devil, but for the devil poseurs.) Besides, this contrast between the ridiculous and Klusák's formally composed images, elegant camerawork, and dark melancholy score is closer to the warped, heavily stylized vibe of Nicolas Winding Refn than it is to any semblance of real life. Ultimately, The White World According to Dailborek is a gorgeous, bright and kitsch-filled confection with black humor at its core — a way to make highly visible the true absurdity of hate.