Back to selection
Mulholland Drive Magician Richard Green on Catherine Coulson, The Log Lady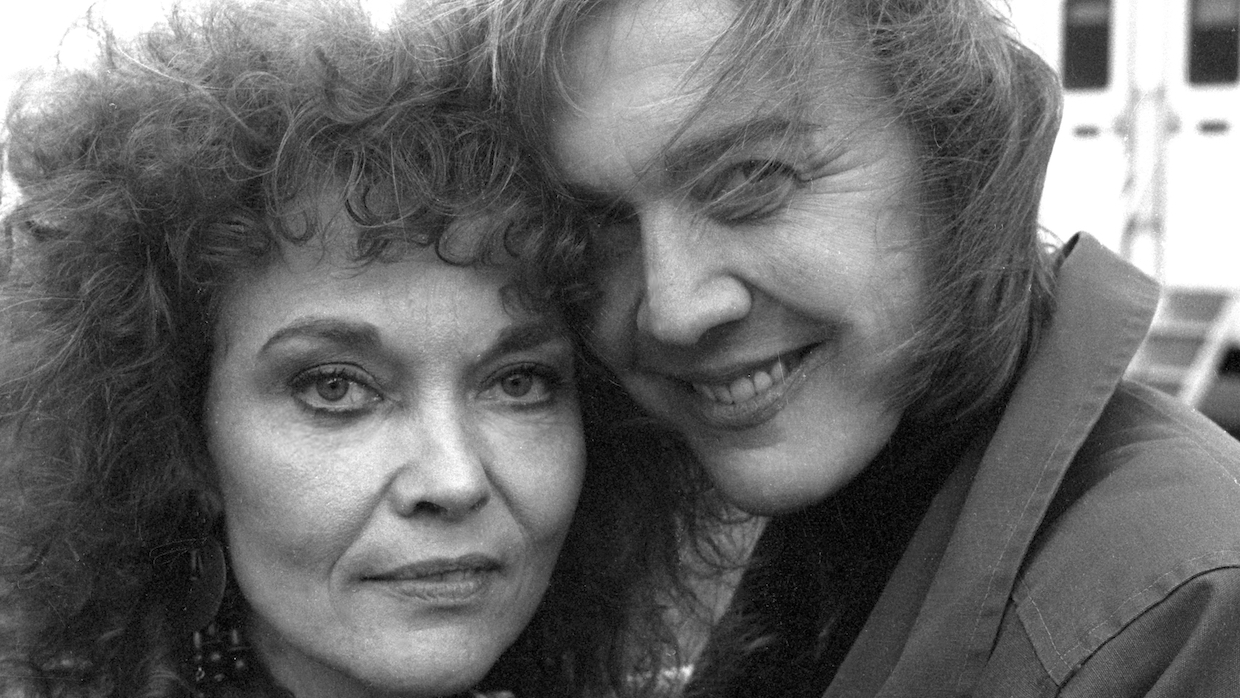 Grace Zabriskie and Catherine Coulson (photo by Richard Beymer)
Catherine Coulson gathered her closest family and friends to help her survive her terminal illness just long enough to play the Log Lady on Twin Peaks: The Return, a character she had created decades ago with her lifelong friend, David Lynch. Why? Why must the show go on? What drives us as artists to overcome the obstacles, both real and within our heads, to finish the work? Lynch did seven years of newspaper routes delivering the Wall Street Journal till dawn to buy film to shoot Eraserhead, while Catherine took waitress jobs to feed him and everyone else on the crew. Why?
I am well into a Kickstarter to raise the finishing funds for I Know Catherine, The Log Lady. The project began in September of 2015 , when I heard Catherine died four days after filming her final performance as the Log Lady, her character who was also dying. I was intrigued when I was told in secret (everyone there signed a non-disclosure agreement with huge penalties) how Catherine was too sick to get to Washington to film. David couldn't leave the set long enough to travel to Ashland, Oregon, and Catherine was running out of time.
In our Kickstarter campaign video, there is a shot of David's face on a laptop. That was how he directed her—via Skype. That was how they got to say goodbye: in front of a top-notch crew assembled in Catherine's living room, with a script David had written for her as the character they created over 45 years ago, on the set of Eraserhead.
Two years later, on the anniversary of that night, we reassembled that same film crew. With David's blessing, they each told me all about it on camera: "It was a powerful night." For me, "the show must go on" is the central theme of this film. Catherine Coulson personified everything most actors dream of: a lifetime of great roles on world-class stages and screens; great actors, directors and crews to work with; an audience that loved her, her work, and the access and interaction she gave them. What was it about her as both a performer and a woman that moved people so deeply?
As I began to develop an approach to Catherine's story I started to realize how little I know about so much of her life, and it wasn't just me. From growing up at Disneyland playing characters in the Main Street parade (her father was head of PR for the building of the park) to forging her own path behind the camera as one of the first women in the Cinematographers Guild, to creating a myriad of characters at the nation's greatest repertory theaters, to becoming a community leader and mother in a small town in Oregon, to traveling the globe to meet her fans as an international television icon—Catherine kept her worlds pretty separated, yet almost everyone who speaks of her feels she was like their best friend. Why?
I know Catherine from the Eraserhead days. I was 20; she was married to Jack Nance, the star of the film, and introduced me to David Lynch. We were like cousins in a big theater family that started in San Francisco in the late '60s and thrives to this day, though more as family than theater. Catherine was instrumental in getting our film I Don't Know Jack made, and in helping David find me again years later for Mulholland Drive.
Not being really close to Catherine has perhaps allowed me to see her in a larger context than those closer or more familiar with her work and daily life. She was a towering force that connected to people on a very personal level. She was present, prepared, proactive and professional. It seems she had very definite ideas of what it meant to work with others and what her responsibility was to herself, her family and friends and her fans, who are still growing in number because of Twin Peaks.
So here I am: hooked on producing another feature, funded so far out of my own shallow pocket, running a Kickstarter campaign that is going great in the press, amongst the fans, in terms of money and with the people I most respect and yet—we are not there yet! It is terrifying to think we might get really close to reaching our funding goal and then not get anything! Such is Kickstarter. Such is creating anything new, I suppose, no matter how well funded or well conceived. If "the proof of the pudding is in the eating," there can be no guarantees that what we make, no matter how hard or long we toil, will even work to satisfy its audience. Presuming it can find its audience. So why do we do it? I don't know why.
Perhaps because the show must go on.
The I Know Catherine, The Log Lady Kickstarter campaign (with a video that features David Lynch) is currently live.