Back to selection
An Evolution in Shorts: Jamie Stuart on Five Films Leading Up to A Motion Selfie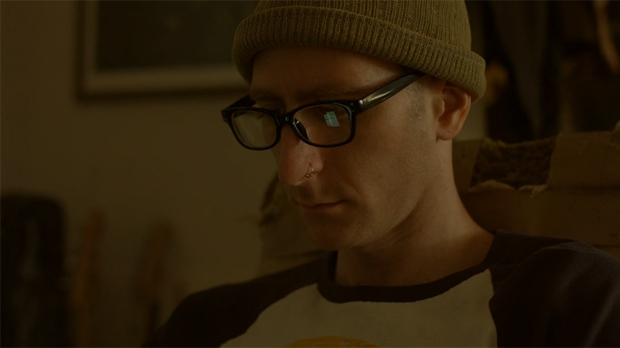 Learning to Like It
Longtime Filmmaker contributor Jamie Stuart premieres his debut feature film, A Motion Selfie, direct to Vimeo tomorrow. To mark the occasion, he's written this guest blog post about five of the short films he made for us over the years, using them to trace his progression as a filmmaker.
1) White Plastic Flower (2007)
This short was really significant for me developmentally. Web video was still a relative novelty (YouTube had launched only a year before), so prior to this, most of my work maintained an offbeat comical vibe. For whatever reason, I went into this one without caring what anybody thought, and the result was much closer to who I was and how I thought about film form. It got a lot of online press — it was written about by Ann Hornaday in The Washington Post, and people even compared it to Eisenstein and Kubrick and Lester. There were a bunch of filmmakers who started out shooting Mini-DV with the Panasonic HVX100. That camera was a classic.
2) 12.5 Seconds Later (2007)
Apple sent me their latest version of Final Cut to review — and they also included a top of the line PowerMac G5 with twin monitors. So I figured, I might as well push the technology as far as it could go. I rented a Panasonic HVX200, to shoot 720p, which was the consumer standard at that moment (I subsequently bought one a few months later), and even though I had no experience with VFX, I tried my best. The entire short was filmed in a single day as a crew of one. The script was quickly slapped together, and the early section was storyboarded — but everything outside was figured out shot-by-shot as we did it.
3) NYFF 48 (2010)
I made this with my 7D right when DSLR filmmaking was exploding. That switch happened overnight — one moment, everybody was shooting with the HVX200, and suddenly, if you didn't have 35mm DoF, your stuff looked amateurish. I spent 2010 building up my package of lenses and gear (and shooting tons of tests), and it all came together here. Similar to White Plastic Flower, this was another important step forward for me. When Roger Ebert posted my short Idiot with a Tripod and sent it viral two months later, he also included this short as an example of my work.
4) NYFF51 (2013)
For a number of years, I often starred in my own shorts. I moved away from that after 2008, because I preferred staying behind the camera. Also, I didn't have an external monitor like the flip-out found on the 3CCD cameras. Then, in early 2013, I was at a crossroads, trying to figure out where to go with my work. And I settled on the idea of exclusively shooting myself. It was something I was really good at, and I thought it'd be a novelty to develop that style. This was the first official work I did in preparation for my first feature. Blackmagic Design sent me their original 2.5K Cinema Camera to review, and I worked entirely without an external monitor — I'd approximate the framing and focus, do a take, play it back, make adjustments, then keep doing it until I got it right.
5) Learning to Like It (2014)
This one was made as a review of Blackmagic's 4K Production Camera, however, a good chunk of it was shot with my Pocket Camera. Just like NYFF51, I didn't have a monitor. This was not only the final practice run before starting my first feature, but it was also, after 28 individual shorts, my final film for Filmmaker. The funny thing about Learning to Like It, for me, is that I really thought it was super slick at the time. However, rewatching it recently, I was struck by how far behind it was compared to the movie I ultimately made. And, in retrospect, that's kind of how it is with all of these shorts — when I made them, they were all at the height of DIY technology and filmmaking, but there's no question in my mind that the more I did, the better I got….
Check out the trailer for A Motion Selfie below.
A Motion Selfie from The Mutiny Company on Vimeo.