Back to selection
"We Can Never Forget that We're in the Apocalypse": Reed Morano on I Think We're Alone Now and Her Post-Emmy Career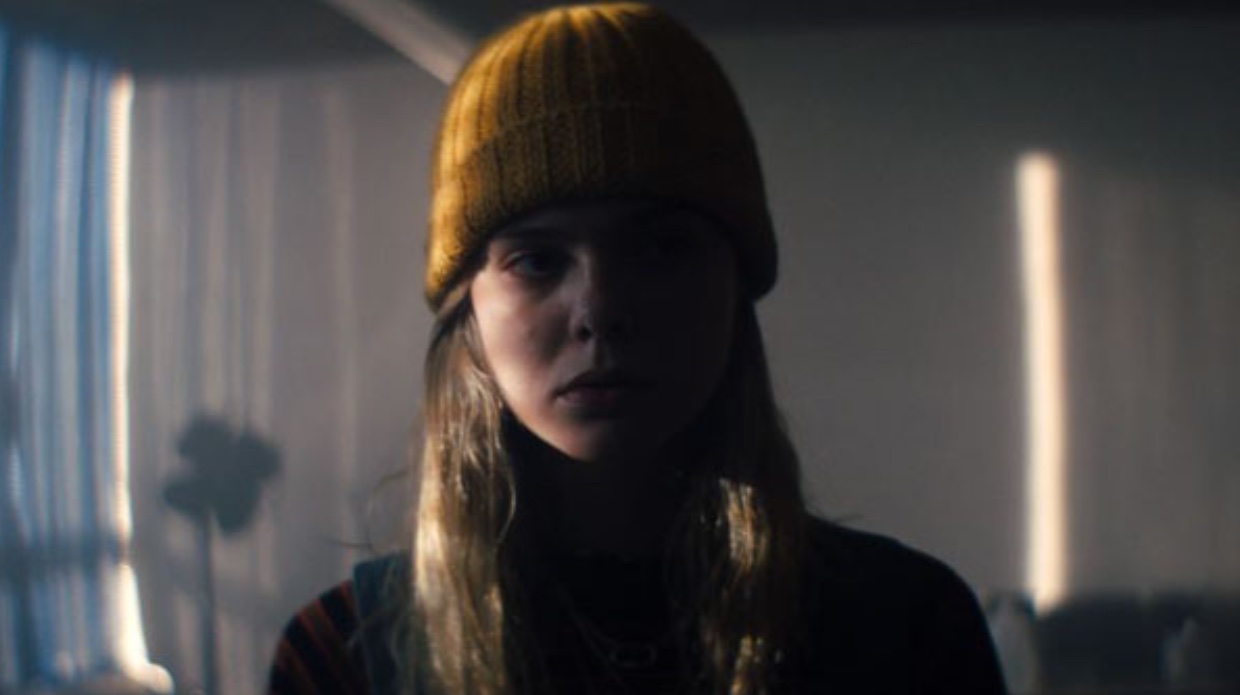 I Think We're Alone Now (Photo: Momentum Pictures)
Reed Morano has had quite the year. She took home an Emmy this time last year for Outstanding Directing for a Drama Series for The Handmaid's Tale. She started working alongside Blake Lively and Paramount Pictures on The Rhythm Section and her second directorial feature, I Think We're Alone Now, premiered at Sundance, and then in theaters this month. And then a few days after we interviewed her, it was announced that she inked an overall deal with Amazon Studios. Morano's work, from her start as a DP to her rise as a director, maintains a visual excellency and attention to the details of the cinematic medium — it's what made her work in TV so impressive. For anyone who's watched The Handmaid's Tale, it's clear the aesthetic and storytelling bar was set that much higher for the small screen.
In I Think We're Alone Now, Morano directs a script from writer Mike Makowsky, an offbeat, apocalyptic story of companionship, solitude and the grey, complicated areas in between. Peter Dinklage, who also executive -roduced the film, stars as Del, a man who has somehow survived a recent apocalypse. But it's fine by him as he keeps a pleasant, if however sad, existence cleaning up the dead bodies in his small upstate New York town and managing the library. There's no one to read the books, but again, fine by him. When a young woman named Grace (Elle Fanning) comes along, she disrupts the waters and Del's finely constructed silence. They're an odd couple. Grace is just annoying enough to ignite a few arguments with her new friend Del, but sincere enough for him to keep her around. As the two form a friendship, and at times a dependency, Grace's true background comes into the picture, shining a new light on their surroundings and the state of humanity.
Filmmaker had a chance to sit down with Morano in New York to unpack both shooting and directing the film, and how she brought her signature vision to the project. Last year, we broke down how she approaches certain scenes, so this time we wanted to focus on how she communicates that vision throughout all departments. Morano has an eye for taking risks and shaking up the status quo, even with her casting choices. "I'm not interested in the usual suspects," she tells us, "because then also the audience gets something new."
Filmmaker: You've had such a fantastic year. You won an Emmy and went to the Met Ball! I also am curious, because I read an interview with Sam Taylor-Johnson recently that shocked me. She was saying that after she made Fifty Shades of Grey, she was offered nothing, no other jobs even though it was successful box-office wise. So I wonder — you've won an Emmy, and I imagine that that was a game changer, but was that the case?
Morano: It's hard to tell what's coming in because I know my agents are filtering, because right now I'm totally busy. I guess it did work out because when I won the Emmy, I went straight into shooting The Rhythm Section. That was in the fall, then we shot until Christmas, and then we went on a hiatus because Blake [Lively] hurt her hand. While we were on the hiatus, I thought, well I don't have enough time to take another job, but I could still start prepping future projects. So I went out and did some meetings, but I did get some offers. Another TV series came my way that I started, but I actually got in at the ground up before it was sold. And I have some other things brewing. But yeah, I think I attached to like seven projects while the hiatus happened. Which is great, I mean I can't do them all, but I hope I can do them all. We'll see what happens!
Filmmaker: That's so wonderful to hear. I think when I read that interview with Taylor-Johnson, it was just another reinforcement that we're still at a point where women are continually having to make their own opportunities.
Morano: There's no reason Sam Taylor-Johnson shouldn't be getting tons of offers because she's amazing. I think sometimes it's the team that you have. I know my people are hustling for me 24/7, and maybe they do have to hustle for me to get stuff, but I hustle too. I see an opportunity and I'm like, I want that.
Filmmaker: Why did you decide not to come back and do another season of The Handmaid's Tale?
Morano: I didn't really decide, it was just a decision that scheduling made for me. Which was that I decided to take the feature, The Rhythm Section, which I thought was a great opportunity, and I'm glad I did it because I got to work on a major action movie and make it my own and work with Blake, Jude Law, Sterling K. Brown, Barbara Broccoli and Michael Wilson.
Filmmaker: I didn't know Sterling K. Brown was in it. He's my new favorite person.
Morano: He's amazing, so great. It's a great cast. I thought, it's a no-brainer, I have to do that movie. But also, there were many reasons I had to do the movie. I had read that script before The Handmaid's Tale came into my life. So I had been obsessed with it for a long time, so when it came back, I was like, this is destiny, I must do this movie.
Filmmaker: What made you obsessed with it?
Morano: The writer Mark Burnell wrote the script that I read originally and he just laid the groundwork for what I could tell could be a very interesting psychological point of view movie about a woman. And he did a really amazing job and what he had already written made my imagination go wild. It wasn't like it was all right there on the page, but the visual I got from his writing, and the potential of what it could be was very clear, so it was very exciting for me. It gave me the same feeling that I had when I first read the pilot for The Handmaid's Tale where I thought, I know exactly how to do this.
Filmmaker: I just watched I Think We're Alone Now. I loved it — it's apocalyptic, but funny, and maybe just because I'm a theater nerd, but I'm always intrigued by the conflict that can come from just two people. It also feels very much your vision. What I'd love to do is go through is the process of making this film and how you work with different departments. So the script was written by Mike Makowsky. Was this something you were hired on to?
Morano: They — meaning Mike, Fred Berger, who is the other producer, and Peter Dinklage — sent it to my agents. I was one of the people they were considering to direct and were interested in. I read it and immediately thought, this is so weird I need to do it. Some of my favorite movies are weird movies that tonally you don't know where they fall.
Filmmaker: Like what films?
Morano: Movies like Adaptation, or Being John Malkovich, Eternal Sunshine, just movies that are a little bit off, but in a great way. They're simultaneously really grounded and then totally heightened and you're a little bit in a weird world. I love all those movies, and I love those filmmakers. Charlie Kaufman, Spike Jonze, all those people, they do it so well. I just wanted the opportunity to tell a story in a world that's not totally serious, but also could be real.
Filmmaker: When you came on board the project, was it like, here's the script, it's yours, do with it as you want?
Morano: The first step was I had to meet with [Mike] and the other producers and say what my take on it was. If they agree with my take on it, some sort of creative thing that makes them understand my vision, then it's like okay, we went on a date and now we wanna go steady, we're gonna make this movie.
Filmmaker: What was your take on it? Because you had a huge pitch deck, like 72 pages, for The Handmaid's Tale.
Morano: They had seen Meadowland and they had drunk the Meadowland Kool-Aid. Which is weird, because my script had a lot more dialogue originally and was much more straightforward. So they must have seen something in Meadowland that would make them think I was the right person for this movie, a profound study of people coexisting under duress. Mike Makowsky was a huge fan of Meadowland, but yet he wrote this comedy, so [he knew that I could] totally see through the comedy and see he had really dark messages in there. He and I talked about that, and I think he was interested to see what that combination would yield. The one thing I had to remind myself, and this is something that my editor, Madeleine [Gavin] and I talked about a lot: we can never let ourselves forget we're in the apocalypse. Never let the audience forget that yes, while this is a funny interaction, we're still in a fucking apocalypse.
Oh, and I did make a lookbook for this! I do it sometimes as an exercise for myself, and I did send it to them, but I think it was after I came on to the project. But it is nice to do that, because you're going to approach actors or other department heads, and as a director you want to be able to convey to them what this movie feels like, sounds like, might look like. It wasn't as extensive as The Handmaid's Tale, like not a lot of writing, more of a visual one, because I didn't really have to explain to anyone what I was doing. And a lot of stills and photographs from things that felt like a right visual reference. And I did make a playlist.
Filmmaker: Do you also do something like that on a bigger film like The Rhythm Section?
Morano: I definitely did it because you have a much bigger crew. You have 400 people as opposed to 50. When I was trying to get The Rhythm Section, it wasn't like they were handing me that job the first time around. So I had made a 140 page lookbook. In The Rhythm Section it's an international movie so it goes through a lot of different countries, so a lot of these pages were research on countries, the settings, the locations. At first, it can be a tool to get the job, or it can just be a tool to create clarity amongst your collaborators, and then it becomes a tool to tell your crew, "This is the path we're taking and this is the style," without totally micromanaging them. You're pushing them, leading them in a direction.
Filmmaker: The casting in this was spot on. Peter was a producer early on, but what was your process finding Elle? Was she someone you had in mind?
Morano: Oh, yeah. She was probably the first name out of both of our mouths: we gotta get Elle. So we went right for it, everyone agreed, it was a universal decision. Grace is a tricky role, you need a person who can at once be pushy but also you don't want them to go away, and that's Elle. A lot of who Grace was is who Elle really is. She's almost like a puppy dog in her earnestness. But she's not. She's also super smart and she's just one of those people who is a positive person. She puts off a great energy all the time. I don't even know if she means to, and I mean it as a compliment of the highest order. I don't know anyone else like her. She is a legitimately magical person. In order for us to believe that Del would fall in love with her, or whatever you want to call it, the audience has to as well.
Filmmaker: You've worked with some incredible female actresses that you're also now friends with as well. Do you see an actress and it's love at first sight, cast her. Is it instant? It's a romantic story you hear a lot in casting stories. And then, are you also looking for someone where you're going, okay, are they going to be cool to work with?
Morano: I would say, in the two of my most successful relationships, for example, Elle was first choice. The Rhythm Section, Blake was my first choice, and Meadowland, Olivia [Wilde] was really my first choice. The thing that Olivia and Blake both have in common is that they came to me — [they were] after the role.
Filmmaker: Oh, interesting.
Morano: Blake didn't come after the role specifically, but she came to me to direct her in something. She found out I wanted to do [The Rhythm Section], and then planted that seed: maybe we do it together? And I thought, that's a good idea. You just get a feeling. I had a feeling about Olivia, like look, she's never done a project like this before, and even at the time I cast Olivia she was not a mother yet, so I was really hesitant particularly for [Meadowland]. But I just got a gut feeling — she wants this so bad, I don't know what's going to happen, but I feel like we can make this work. And of course I did do an audition, she was like, "Come to my apartment, and you know, if you don't like it, then you tell me to fuck off." And it was the same thing with Blake. Blake said, "Let's do it, and I'm a big girl, if you don't want to do it with me, then I'll go away." But there's something about the actresses out there that know what they want. Those are hungry actresses, those are hungry actors, that means they'll do whatever it takes to deliver something.
Filmmaker: You've had that fortunate experience to work with people that really want to show up and be there.
Morano: Rather than go to someone who's so amazing and huge and be begging them to give me the time of day, why not give somebody who hasn't had that opportunity yet, the opportunity? Because then also the audience gets something new. I'm not interested in the usual suspects, seeing them over and over and over again. You want to give someone an opportunity who hasn't had the opportunity to do that particular thing yet.
Filmmaker: Who do you think is out there who's like that?
Morano: Well, put it this way. If things go according to plan, I'm doing this movie with Jeff Bridges and Diane Lane. I think that Diane Lane is one of the most brilliant actresses of our time, and she's underutilized right now. Everybody knows and agrees universally that she's a super talent. And people have so much respect, but I just want to do something really crazy with her.
Filmmaker: Working on projects, I always tend to go with the person that seems really enthusiastic and give them a shot, and sometimes it works out and sometimes it doesn't. Does that also apply to your crew and the team that you've cultivated over the years?
Morano: Yeah. I mean, you're kind of giving everyone a shot. People were giving me a shot too. I've stuck with that same group anyway. Mirren [Gordon-Crozier], who does my costumes, Madeleine, my editor, Kelly McGehee my production designer. I wasn't giving them their shot per se at first, but they were probably auditioning me as much as I was auditioning them. We were all in an equal playing field, and now you just want to stick with those people.
Filmmaker: I want to talk about some of the specifics about the film, because I could see the very distinct decisions that you made with production design and costume that are feeding into that overall vision. Working with Kelly as your production designer, tell me about the language of this world and what that shorthand looks like.
Morano: One of the things that we did on Meadowland that I also did on this movie, I put together a color palette that was for Mirren and for Kelly and their departments. It also came out of film not being utilized anymore.
Filmmaker: Did you shoot this on film?
Morano: No. It's digital, and I learned as a cinematographer, you can effect a more filmic look by exercising color control. If I'm shooting a scene, I only put select colors in the scene. The film spectrum of colors is more limited than the digital. The digital is huge. What I would do is give [departments] stills from other movies: use these color palettes. And I did it on Meadowland and it worked really well. If you were to go back and look at Meadowland, it probably would look like there's a lot of things that are repeated color. There's a very distinct color palette. It's partially color correction in the DI, but the base of it comes from what's put in the frame.
Filmmaker: There's now a program that can do that, I actually used this on my last film. You can input any photo, and it will pull the colors out. It's Adobe's Color wheel.
Morano: That's so cool. Those department heads love the challenge of having a color palette. And I did it also on The Rhythm Section.
Filmmaker: I'm very curious about the process of shooting your own film. You don't have a DP to shot list with, so is there anyone else on your team that's involved in that as a sounding board?
Morano: Typically my assistant and my AD. And also, I don't shot list everything if I'm shooting it. I had to shot list and storyboard the scene where the traffic jam is in [the film], because that was going to involve visual effects and also involved a ton of work from the art department, so they needed to know the scope of the shot. We mostly didn't shot list on The Rhythm Section, [DP] Sean Bobbitt and I. We have a big car chase sequence, so we had to shot list and storyboard, but other things are fluid. But with me, I'll tell my AD what I'm planning to do, because he's really the person who needs to know. Oh, and I'll let my gaffer and my key grip know.
Filmmaker: What did you shoot this on, an ALEXA?
Morano: ALEXA Mini and anamorphic lenses.
Filmmaker: What is it like communicating with the cast and crew when you're behind the camera and also having an easy rig and equipment?
Morano:I don't use the easy rigs, I just carry it on my shoulder. I've never used an easy rig except for one time where my steadicam operator hurt himself, and I was DPing [The Inevitable Defeat of] Mister & Pete, and I had to do shot running up the stairs following a character that would have been a steadicam shot, and I used the easy rig and held the camera like a football under my arm. So with the camera, it's just easy because I'm standing right next to [the actors]. What I'll usually do, I'll go through the scene with them first without the camera, and say, you know, "So you guys are here, or you're at the table, this is where you guys meet up." And we usually do blocking without the camera. And then I just pick up the camera and start shooting it. It's very fluid, because I don't have to sit there and explain with anyone, I just do it. And I was lighting everything in [I Think We're Alone Now], so the lights were mostly outside the room so that the actors could just move freely within the space. I'd go wherever I wanted or wherever they wanted. I like shooting like that anyway. I don't like being restricted. Although I do use a lot of grip equipment. But I always put it somewhere where I know I'm not going to go.
Filmmaker: Why don't you think more people shoot their own films? Do you think feel like it's something that more people should do? And if you do want to do that, not a lot of programs offer that.
Morano: They don't encourage it. I actually think that people have to get to it another way. I think it would be very hard to train someone to do both simultaneously. If somebody was interested in doing that, and they had the desire to, the only advice I could give, is what worked best for me, which was you learn one job really well first. I didn't try to pretend like I could be both, ever, until after I felt so comfortable DPing that I felt I could ignore it. It's not like I got to the point where I was like, this amazing, excellent DP. I think I only got to be a decent DP by the time I started directing, but I knew enough. I knew enough to be like, I can prep all this DP stuff ahead of time, and that way when I'm on set I'm totally present as a director. I don't think you can do it until you can execute cinematography and make it look like it's not even happening. So it does not take your focus away from the story or the characters. If you can do that, then, and I think that's what Steven Soderbergh does, it works for him, then you can be a good director who also shoots.