Back to selection
Sundance Announces 2018 Art of Nonfiction Fellows and Grantees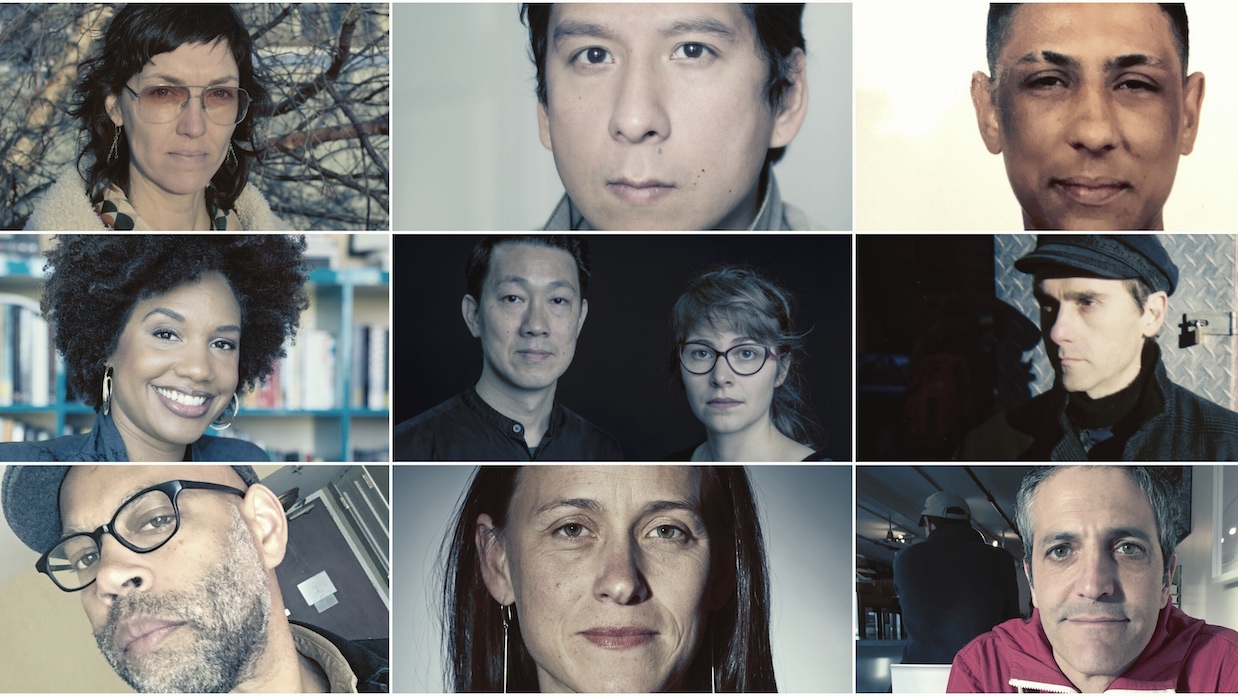 The Sundance Institute today announced the four filmmakers and six grantees who comprise the 2018 Art of Nonfiction program. Launched in 2018, Art of Nonfiction is the Institutes's program "working at the vanguard of inventive artistic practice in story, craft and form." This year's Art of Nonfiction Fellows are Deborah Stratman, Natalia Almada, Sam Green and Sky Hopinka. Grantees are Jem Cohen, Kevin Jerome Everson, Kevin B. Lee and ​Chloé Galibert-Laîné, LaToya Ruby Frazier and Leilah Weinraub.
"This year's cohort reflects our continuing desire to explore the space in between," said ​Tabitha Jackson​​, Director of the Documentary Film Program, in a press release. "The space between art and film, between photography and moving image, between poetry and social justice, between artist and audience. And who better to lead us into this space of imaginative possibility, and beyond, than this particular group of creative adventurers."
"Our intention with this program is to provide artist-based support to nonfiction filmmakers operating outside of formal convention,​ those ​​contributing unique texture to the ​documentary landscape,​"​ said ​John Cardellino​​, Producer of Art of Nonfiction​. "​As funders, we are thrilled to be in dialogue with these artists, to bring them into dialogue with each other, and ​​to continue building a program rooted in the encouragement of uncompromisingly exploring one's artistic ​​ambitions​."
From Sundance, here are the Sundance Art of Nonfiction Fellows and Grantees, and their bios:
Deborah Stratman. Artist and filmmaker ​Deborah Stratman​​ makes work that investigates power, control and belief, exploring how places, ideas, and society are intertwined. Her themes range widely, as do the mediums she uses to question them. Recent projects have addressed freedom expansionism, surveillance, sonic warfare, public speech, ghosts, sinkholes, levitation, propagation, orthoptera, raptors, comets, exodus and faith. She has exhibited internationally at venues including the MoMA (NY), Centre Pompidou (Paris), Hammer Museum (LA), Mercer Union (Toronto), Witte de With (Rotterdam), Tabakalera (San Sebastian), Film Museum (Vienna), Whitney Biennial (NY) and festivals including Sundance, Viennale, Berlinale, CPH/DOX, Toronto, Oberhausen, True/False, and Rotterdam. Stratman is the recipient of Fulbright, Guggenheim and USA Collins Fellowships, an Alpert Award, and grants from Creative Capital, Graham Foundation, and Wexner Center for the Arts. She lives in Chicago where she teaches at the University of Illinois / UIC.
Natalia Almada. Recipient of the 2012 MacArthur "Genius" Award, ​Natalia Almada​​ combines artistic expression with social inquiry to make films that are both personal reflections and critical social commentaries. Her work straddles the boundaries of documentary, fiction, and experimental film. Her most recent film ​Todo lo demás (Everything Else)​ is a narrative feature starring Academy Award-nominated Adriana Barraza; it premiered at the New York Film Festival and was nominated for a Mexican Academy Award. ​El Velador ​(The Night Watchman) premiered at the 2011 Cannes Directors' Fortnight and broadcast on the award-winning PBS program POV, along with her other two feature documentaries​ Alotrolado (To The Other Side)​ and El General (The General)​. Almada was the recipient of the 2009 Best Documentary Director Award at the Sundance Film Festival and has received fellowships from the Guggenheim Foundation, USA Artists, The Herb Alpert Foundation, and MacDowell Colony. Almada currently lives between Mexico City and San Francisco.
Sam Green. Sam Green​​ is an Academy Award-nominated documentary filmmaker based in New York. Green's recent film ​A Thousand Thoughts​ premiered at the 2018 Sundance Film Festival and is a live cinema collaboration with the legendary classical ensemble the Kronos Quartet. His previous film ​The Love Song of R. Buckminster Fuller​ features a live score by the indie band Yo La Tengo. An earlier documentary ​The Weather Underground​ was nominated for an Oscar, broadcast on PBS, and included in the Whitney Biennial. Green is also a prolific maker of short documentaries, including: ​The Rainbow Man/John 3:16,​ ​lot 63, grave c​, ​Pie Fight '69 ​(directed with Christian Bruno), ​N-Judah 5:30,​ and ​The Fabulous Stains: Behind the Movie​ (directed with Sarah Jacobson). He has received grants from the Creative Capital, Rockefeller and Guggenheim Foundations, as well as the National Endowment for the Arts.​
Sky Hopinka. Sky Hopinka​​ (Ho-Chunk/Pechanga) was born and raised in Ferndale, Washington and spent a number of years in Palm Springs and Riverside, California, Portland, Oregon, Milwaukee, WI, and is currently based out of Cambridge, Massachusetts. In Portland he studied and taught chinuk wawa, a language indigenous to the Lower Columbia River Basin. His video work centers around personal positions of Indigenous homeland and landscape, designs of language as containers of culture, and the play between the known and the unknowable. His work has played at various festivals including ImagineNATIVE Media + Arts Festival, Images, Wavelengths, Ann Arbor Film Festival, Sundance, Antimatter, Chicago Underground Film Festival, FLEXfest, and Projections. His work was a part of the 2016 Wisconsin Triennial and the 2017 Whitney Biennial. He is currently a fellow at the Radcliffe Institute for Advanced Study at Harvard University. ​
The 2018 Art of Nonfiction Grantees are:
Jem Cohen. Filmmaker/photographer/multi-media artist ​Jem Cohen​​'s feature-length films include ​Museum Hours, Counting, Chain, Benjamin Smoke, Instrument,​ and ​World Without End (No Reported Incidents).​ Shorts include ​Lost Book Found, Little Flags, and Anne Truitt – Working​. His films are often documentary/fiction hybrids – navigating between city symphony, diary film, and essay, they pull things seen on the periphery into the center. Cohen's work is in the collections of MoMA, the Whitney Museum, Jewish Museum, and D.C.'s Natl Gallery of Art, and has been broadcast by PBS, Arte, and the Sundance Channel. Retrospectives include Harvard Film Archive and London's Whitechapel Gallery. Grants/Fellowships include Guggenheim, Alpert, Creative Capital, and awards include the Independent Spirit Award (IFP) and Persistence of Vision Award (SFFS). ​He teaches at The New School and ICP. ​
Kevin Jerome Everson. Artist/Filmmaker ​Kevin Jerome Everson ​​was born and raised in Mansfield Ohio. He has made nine feature length films and over 130 short films including ​Tonsler Park (2017), ​Ears, Nose and Throat (​ 2016), ​Park Lanes​ (2015), and ​Quality Control ​(2011). Everson's films and artwork have been widely shown at venues including Sundance Film Festival, Berlin Film Festival, International Film Festival Rotterdam, Venice International Film Festival, Toronto International Film Festival, New York Film Festival, The Museum of Modern Art in New York, the Whitney Museum of American Art in New York, and the Tate Modern in London. The work has also been recognized through awards and fellowships such as Guggenheim Fellowship, an Alpert Award, a Creative Capital Fellowship and an NEA Fellowship. Everson is currently a Professor of Art at the University of Virginia, and represented by Picture Palace Pictures and Andrew Kreps Gallery.
Kevin B. Lee and ​Chloé Galibert-Laîné. Kevin B. Lee ​​and C​hloé Galibert-Laîné ​​are a team of videographic essayists developing a collaborative practice that combines filmmaking and media research. Their work explores contemporary audiovisual media through online, amateur and found footage contexts in relation to the politics of authority, self- expression, and the histories and theories of cinema. They have presented their works at the Austrian Film Museum, London Essay Film Festival, the Rotterdam International Film Festival, the Ars Electronica Festival and the Impakt Festival. In 2018 they were Artists in Residence at m-cult in Helsinki through the European Media Art Platform (EMAP). Lee, a US-born filmmaker and critic, was the first-ever Artist in Residence of the Harun Farocki Institut in Berlin. He is now Professor of Crossmedia Publishing at the Merz Akademie, Stuttgart. Galibert-Laîné, a French filmmaker and researcher, teaches at Université Paris 8 and is currently writing a PhD at the art-research doctoral program SACRe (École normale supérieure de Paris).
LaToya Ruby Frazier. LaToya Ruby Frazier ​​works in photography and video to build visual archives that address industrialism, rustbelt revitalization, environmental justice, health care inequity, family and communal history. Her most recent use of imagery and storytelling that visually represent and advocate justice on behalf of working-class families have appeared in The New Yorker feature-story "Georgia's Separate And Unequal Special-Education System, The New York Times cover story, Why America's Black Mothers and Babies Are in a Life-or-Death Crisis," and ELLE Magazine special-commission story, ​"Flint Is Family​." Frazier is the recipient of many honors and awards including an Honorary Doctorate of Fine Arts from Pratt Institute (2017); the Gordon Parks' Foundation Award for Photography (2016), fellowships from the John D. and Catherine T. MacArthur Foundation's MacArthur Fellows Program (2015), TED Fellows (2015), and the John Simon Guggenheim Memorial Foundation (2014). Frazier's work is represented by Gavin Brown's enterprise in New York City and Rome.
Leilah Weinraub​.​ Leilah Weinraub​​ is an artist and director living in New York. A short version of her film Shakedown was recently included in the 2017 Whitney Biennial. She is the CEO and co-founder of Hood By Air, the New York-based fashion collective known for luxury ready-to-wear. Weinraub helped to radicalize fashion by championing what she calls "modern people": the rising class of consumers who subvert traditional markers of race, class, and gender and revel in freedom, lawlessness, and spectacle. As a filmmaker, Weinraub has helped document such unacknowledged tastemakers, particularly those belonging to queer, autonomous communities of color whose creative output is often plundered by mass culture but whose stories are rarely told on their own terms.
Top: Deborah Stratman, Sky Hopinka, Leilah Weinraub
Middle: LaToya Ruby Frazier, Kevin B. Lee, Chloé Galibert-Laîné, Jem Cohen
Bottom: Kevin Jerome Everson, Natalia Almada, Sam Green