Back to selection
"There Are Unlikely Protagonists Everywhere": The 5th Docs To Watch Roundtable at the 21st SCAD Savannah Film Festival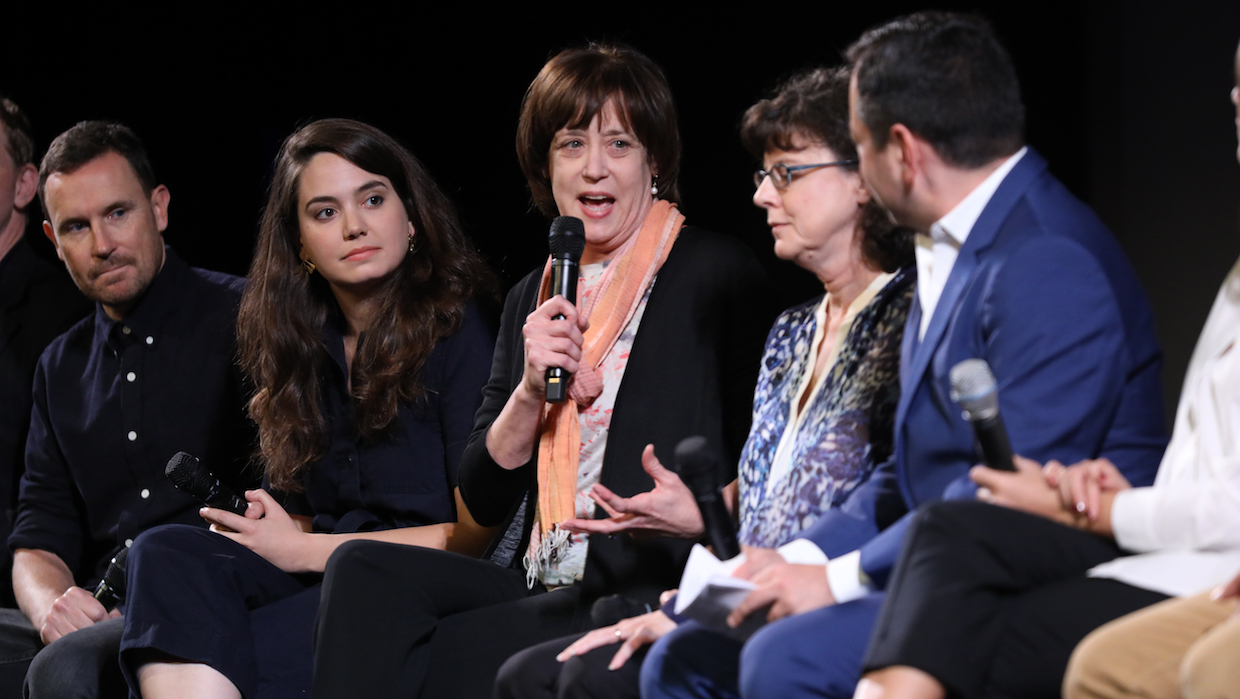 Docs to Watch Roundtable
Celebrating its fifth edition, the SCAD Savannah Film Festival's Docs to Watch Roundtable is the number one reason I've been making the late October pilgrimage to Georgia's charming city of (Spanish moss-draped) squares for the past few years. (That and the festival's abundance of southern hospitality, of course. In addition to being the only fest I've ever been to that provides buffet-style breakfasts, lunches and dinners, guests are treated to some truly top-notch lodging. In my case, it was the lovely, Savannah River-adjacent Kimpton Brice Hotel, a mere five-minute walk from the fest's Marshall House headquarters and the majority of the screening venues.)
Moderated by The Hollywood Reporter's extremely deft and knowledgeable columnist Scott Feinberg, Docs to Watch is, as Feinberg put it in his intro this year, a chance to hear from the documentary equivalent of his fantasy football team. This time around the lineup included a whopping 14 filmmakers hoping to score Oscar glory: Morgan Neville (Won't You Be My Neighbor?), Tim Wardle (Three Identical Strangers), Matt Tyrnauer (Studio 54), Cristina Costantini and Darren Foster (Science Fair), Julie Cohen and Betsy West (RBG), Alan Hicks and Rashida Jones (Quincy), Nathaniel Kahn (The Price of Everything), Gabe Polsky (In Search of Greatness), Elizabeth Chai Vasarhelyi and Jimmy Chin (Free Solo) and Stephen Maing (Crime + Punishment).
Before I go any further, now's a good time to mention what struck me most about this year's panel (besides the fact that of the docs represented that I've seen — all but three — each represents strong filmmaking). That would be seven white guys, five women (two female co-directors and three partnered with a male filmmaker) and four people of color. And, unless this white genderqueer chick's gaydar is off — which I truly hope it is — there's one LGBTQ-identified filmmaker. (As a point of comparison, check out this year's list of IDA nominees for Best Feature: Kimberly Reed's Dark Money, RaMell Ross' Hale County This Morning, This Evening, Bing Liu's Minding the Gap, Talal Derki's Of Fathers and Sons, Talya Tibbon and Joshua Bennett's Sky and Ground, Almudena Carracedo and Robert Bahar's The Silence of Others, Dyana Winkler and Tina Brown's United Skates, as well as the aforementioned Crime + Punishment, Free Solo and Won't You Be My Neighbor? Of this list of hyper-talented documentarians — with not exactly under the radar films — why were only Neville, Maing and the Free Solo team available for Docs to Watch?)
So with that rant off my chest, I now can start raving about what ended up being one highly engaging, two-hour discussion to a packed, mostly college-aged house. Indeed, the line outside to get in to the Lucas Theatre for the Arts was so long, I'd initially mistaken it for a star-studded event. (That's another thing the fest is known for. Alas, I somehow missed seeing all of this year's serious indie cred, honoree recipients, which included Maggie Gyllenhaal, Armie Hammer and Hugh Jackman.) Then again, as SCAD president and founder Paula Wallace had earlier noted as to why Docs to Watch had become such a popular part of the fest, "Documentary is the fastest-growing genre in the film industry … Three documentary films screening at this year's festival — Won't You Be My Neighbor?, RBG and Three Identical Strangers — have already exceeded $50 million at the box office [total]. That's serious business." True enough. And if celebrative portraits of Fred Rogers and Ruth Bader Ginsburg are what it takes to expose youth to a genre that also includes the "golden age of documentary" (as Feinberg called our present non-fiction time) gems from Laura Ricciardi and Moira Demos's Emmy Award winning series Making a Murderer to Ava DuVernay's Academy Award nominated 13th, is that such a bad thing?
A good thing to learn was that Free Solo co-director Chin is a climber himself. Feinberg began the discussion by asking participants how they'd gotten access to their subjects in the first place. Chin disclosed that he knew Alex Honnold long before he and his filmmaking partner/wife Vasarhelyi decided to follow the rock climber on his nail-biting attempt to free solo climb El Capitan. Kahn weighed in that his producers were instrumental in introducing him to the big art world players. He then added that it's "the last unregulated market we have," before emphasizing that "price and value are not the same."
The subject of Quincy, of course, is also the father of the film's co-director, Jones. However, Jones claimed that the fact that her dad is so well documented actually made things more difficult. There was simply too much material to work with. They decided to zone in on the iconic record producer as a human being, which also happened to get to the heart of why he's been so successful throughout his career. Aussie co-director Hicks added that it took them a full year to go through thousands of hours of archival footage. And that's when Quincy told them about "the vault."
The Science Fair team noted that they have a history of doing films on heavy subjects, like fentanyl and cartels. Following students competing at The International Science and Engineering Fair allowed for a much-needed emotional break. Three Identical Strangers' Wardle explained that he had been working for the company that produced The Imposter when the strange saga about identical triplets separated at birth arrived. He added that there had been prior attempts to tell the nefarious tale at big production companies, and that all had gotten shut down by the higher-ups.
The Free Solo doc-makers then chimed in with their own experience with dangerous material. As Feinberg noted, to "knock a pebble or sneeze" as they were filming could have sent their subject tumbling to his death. To avoid this fate, Chin and Vasarhelyi spent an entire year fine-tuning their filmmaking while Honnold refined his climbing in preparation for tackling the granite monolith. Chin emphasized that the film's needs could never trump — before correcting that to "never overtake," to laughs — the subject's needs.
Soon Feinberg smoothly segued to the subject of convincing subjects to open up. Team RBG stressed that for them having a strategy was crucial. Each filmmaker had interviewed Ginsburg separately in the past, long before their project was in the works. Wardle simply said, "be honest," and that people appreciate honesty above all else. He added that it had taken him four full years to get the Three Identical Strangers brothers to go on camera. Tyrnauer lightheartedly explained his process as sharing the final cut with the subject, followed by getting a threatening letter, followed by frosty relations, followed by experiencing acclaim at film festivals — followed by the subject being thrilled with the final film.
Just when I was wondering when Maing — a quiet and thoughtful presence who I'm putting my Oscar money on for his stunning dive into the world of the whistleblowing cops of color known as the NYPD 12 — would finally speak up, Feinberg coaxed him into the conversation. "There are unlikely protagonists everywhere," he theorized. The topic of how you woo the legendary ones to sit down for interviews was then addressed by In Search of Greatness maker Polsky, who spent a year attempting to get sports greats Jerry Rice, Wayne Gretzky and Pelé in front of his lens to philosophize about how creativity plays a part in excellence. When he finally succeeded in landing those interviews, he said, "None of the guys knew why I was there." After the laughter had died down he added that, "These guys weren't my friends — and I don't want to be their friend either." His refreshing honesty provoked even more chuckles. Feinberg quickly followed up by wondering what would have happened had the interviews not aligned with his hypothesis. To which the earnest Polsky responded, "I have no idea."
That happens to also sum up an essential part of the filmmaking process: the leap of faith. Kahn put it even better when he likened certain moments of shooting to jazz, when the director is simply waiting for the unexpected to happen. Maing then added that it was crucial to "take cues from our subjects" — especially, in his case, when it came to "safety and risk" — and noted that it's important to "break rules and push boundaries."
That led Feinberg to ask Neville about "setting the record straight" when it came to his subject Fred Rogers. The Academy Award-winning director responded by citing Roger Ebert's term for films as "empathy machines," then launched into a discussion of recent events: the pipe bombs sent to politicians and the news media, and the Pittsburgh synagogue shooting that had happened in Mr. Rogers's neighborhood, mere blocks away from his subject's home. However, his heartfelt speech (which was met with applause) only served to remind me of where we were. The Georgia of Y'allywood had been replaced this year by a Georgia in which the upcoming governor's race pitted a black female politician against the white man responsible for some of the worst voter suppression tactics in the nation.
Feinberg then put the question "How do you know when to stop filming?" to the panel. Wardle handily answered, "When the money runs out." He also mentioned that after his film was released, a woman who'd seen it contacted him to say she had also been placed for adoption by the same unethical agency as the triplets. He ultimately ended up filming her reunification with her twin sister. In other words, the "legacy" of Wardle's doc continues to this day. Tyrnauer noted that he'd saved all the questions about Studio 54 co-founder Ian Schrager's dad — reportedly a renowned Jewish mobster — questions for the last day of filming, just in case it caused Schrager to stop cooperating. Kahn said he'd edited throughout production, which allowed him to see that his film "needed a soul," prompting him to continue shooting until he got just that.
Feinberg then addressed the inevitable subject of getting one's film out to the larger world. Two of the films represented on the panel — Free Solo and Science Fair — were fortunate enough to have National Geographic on-board. In the case of the former, the company was willing to both finance and keep the project a secret for three whole years. Vasarhelyi pointed out that National Geographic had a history of supporting solid work, including Jane and Restrepo. As for Science Fair, the company's involvement was strictly post completion, only acquiring the doc after the buzz of Sundance and SXSW.
In contrast, Polsky was taking the MoviePass route. Quincy, of course, is with Netflix, while Hulu is streaming Crime + Punishment. Jones noted that Netflix was the right fit for their doc since her father is such an international figure and the company has a worldwide reach. As for Maing's film, he only signed on with Hulu six months after Sundance – where the company's team had first wooed him. Their unabashed love for the film was the selling point. (He also gave a shout to another critically acclaimed Hulu acquisition: Bing Liu's Minding the Gap.)
This prompted Feinberg to bring up the real sales: $22 million in the case of Neville's film, which is now the top grossing documentary of all time — though RBG, he reminded everyone, is also high up on the monetary ladder. That film's team theorized that the shared experience the theater space allows for is something people hunger for nowadays. They noted, with slight awe, that little kids were even showing up to their screenings dressed as RBG. Moreover, people are hungry not just for empathy, but for the MeToo bonding that their doc provides.
Wardle, on the other hand, admitted he had no idea why his film was hitting a chord, and added that there are a lot of amazing directors and films that were not being represented on today's panel. (Amen to that.) Tyrnauer discussed the subject of ingrained groupthink at too many companies, specifically the idea that "no one will go see a doc," which is then reflected in a lack of marketing resources. He then lamented, to a round of applause, that, "Hollywood is not making movies about anything anymore," and that it's "their own damn fault."
As for a documentary's impact, Maing mentioned that right after Sundance the NYPD commissioner sent out an internal memo reminding all its officers of the "mandatory no quota training." That made the filmmaker realize that the NYPD was actually paying attention — which further galvanized the whistleblowers. Soon charges against them were quietly being dismissed. Kahn discussed the different audience reactions he was getting to his film. In San Francisco, "it's a film about late stage capitalism," while in Greece "it's a protest film." That his doc was making folks think delighted him to no end.
After Quincy Jones — whose daughter called him the "living history of black America" — saw the film that bears his name he stated, "I wish I could live forever." Hicks added that making a film is like earning a college degree, in that it takes four or five years of hard work. Tyrnauer referred to his film as a "disco noir" — a film inherently about the AIDS crisis, but also one in which disco becomes an object of demagoguery. Sadly, Studio 54 was not just a symbol of decadence, but a right-wing cudgel for the culture wars as well.
Wardle happily noted that his film has brought the remaining brothers together — and that he's keeping busy still trying to identify more twins. He also noted that a fiction film based on the doc is in development. (There's also a biopic about Ruth Bader Ginsburg, On the Basis of Sex, starring Felicity Jones, out this winter.) As Feinberg wound things down, he offered that he's seen "hardened, dark people" moved to tears by Neville's film. The director himself responded that people have done sermons based on his film, and that Senator Lisa Murkowski of Alaska had even watched the doc the night of the Kavanaugh vote. If the outsized box office success of this Fred Rogers doc is any indication, perhaps bipartisanship could one day become the new tribalism.