Back to selection
Digital Haves and Have-Nots: Disappearing SVOD Deals and Independent Film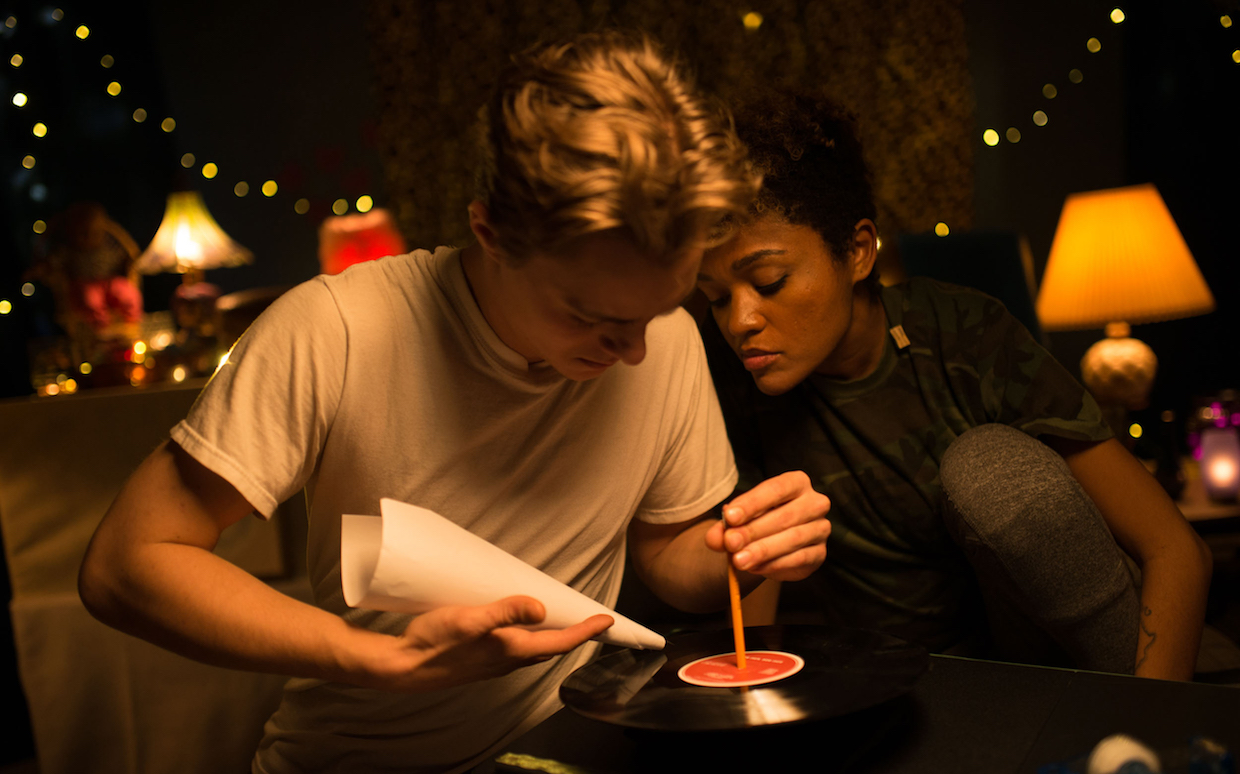 Chris Galust and Lauren "Lolo" Spencer in Give Me Liberty, courtesy of Sundance Institute
Subscription streaming services are dominating the independent film marketplace—in more ways than you think. 
Yes, Amazon dropped nearly $50 million at Sundance to buy several movies, and Netflix spent another $25 million in the days and weeks that followed. Beyond inflating acquisition costs over industry norms, the outsized influence of the over-the-top new media giants are affecting all sectors of the distribution business.
Some industry veterans suggest this isn't so different from previous bullish markets when well-heeled specialty divisions like the Weinstein Company or Fox Searchlight drove up prices. "Sundance has been competitive for years, so I'm not sure it's more challenging," says Andy Bohn, co-managing director of Greenwich Entertainment, whose Free Solo is in theaters now. Bohn and other executives are positioning themselves as alternatives to the SVOD (subscription video-on-demand) behemoths. "Being able to offer a high-quality theatrical release probably allows Greenwich to better compete against deep-pocketed companies that don't prioritize theatrical," he says.
While a theatrical release remains a key driver for awareness and word-of-mouth, it's not the holy grail for revenue that SVOD has become—particularly because transactional VOD (TVOD) and DVD sales, by all accounts, are either stagnating or on the decline. Because of their newfound primacy, SVOD companies are swaying the acquisitions market by influencing what films are bought by the theatrical distributors with which they have output deals.
"When we are selling a film to a theatrical distributor," explains Endeavor Content senior associate Kevin Iwashina, "we will simultaneously approach their 'pay one' partner to gauge their interest as well. The pay cable or SVOD output partner may end up driving an acquisition if they like a particular film, and they will have a preference as to which of their theatrical distribution partners will release the title. Different distributors may generate a range of value for any particular title, so pay one output partners can have meaningful influence over an acquisition."
While midlevel distribution companies such as Neon, Magnolia, IFC Films and Bleecker Street have output deals with SVOD platforms like Hulu and Amazon Prime, many smaller distribution companies increasingly do not. For those smaller outfits, it's also a "trickier situation now," acknowledges veteran distributor executive Nancy Gerstman of Zeitgeist Films, which, like its sister company, Kino Lorber Films, once had an output deal with Netflix. 
"It's definitely given a lot of people pause," explains Zeitgeist Films co-president and co-founder Emily Russo, "and [made them consider] what it takes to acquire a film without that output deal. Sometimes you can gauge interest from an SVOD company on a one-off basis, but if you don't have that, you have to navigate the deal more cautiously with your potential downside—or upside, if the case may be."
With Amazon and Netflix retreating from those one-off licensing SVOD deals, Chris Horton, director of the Sundance Institute Creative Distribution Initiative, says the "insurance revenue for some of these distributors is now gone, which is putting increased pressure and uncertainty on where the monetization can happen." 
Icarus Films president Jonathan Miller puts it in more dire terms. "What's happening in the SVOD space is analogous to the overall economy in the United States," he says. "The upper-level people are doing well, but most people are doing worse. If you talk to any of the smaller distributors, they're fucked because they can't sell films for any money to anybody." Miller says he used to be able to license films to Netflix, but not anymore.
Every week, there are also dozens of films whose Netflix licensing deals are expiring. (Media outlets publish monthly columns, like The Hollywood Reporter's "Movies Leaving Netflix.") Some films may land at other established platforms, but others may vanish from the SVOD landscape altogether.
For all of these reasons, several companies are forging ahead with their own SVOD channels. At the same time that studios such as Disney, AT&T/Warner Media and Apple are launching their own platforms, several smaller players are also staking out streaming terrain. This March, Icarus's Miller will be launching OVID.TV in partnership with several other micro-distributors, while Music Box Films will launch Music Box Direct. Lisa Holmes, Music Box's director of home entertainment sales, explains, "It is as much an opportunity as it is born out of the necessity of not being able to rely on revenue from partners such as Netflix and Amazon, which are focused on proprietary content and volume rather than curation." 
Kartemquin Films, the popular documentary producer of Hoop Dreams, also recently launched a channel on VHX containing its back catalogue of more than 50 documentaries for a $4.99 per month subscription fee. "It's not meant to compete with other services," says Kartemquin's director of communications and distribution, Tim Horsburgh, "but to be a bonus for our most loyal fans. And once new films become old, and it's not viable or possible for us to get them on exclusive deals with other platforms, then our library there is going to keep growing." The logic is simple. As Horsburgh admits, "What's to stop you if you hold those rights or have the ability to reclaim them?"
Still, there's some doubt whether all these new channels will be viable. Icarus's Miller remains skeptical of his counterparts. He doesn't believe the bigger players will be open to niche content, nor does he have the confidence that smaller platforms, such as MUBI, Kanopy or the new Criterion Channel, can significantly impact distributors' bottom line. "Nobody in my business is sustained by them," he says.
Others see hope in the diversity of new options, whether it's a potential rise in direct-to-consumer sales or an overabundance of new platforms. Paul Davidson, head of the company formerly known as The Orchard (now owned by 1091 Media), believes all these new SVOD services will eventually need more content. "So there exists an opportunity for the indie sector," he says. "While the smaller titles may not get there, the ancillary world is providing new avenues for monetization like AVOD (ad-supported video on demand])."
For companies that don't have output deals with streaming partners, says Endeavor Content partner Liesl Copland, "You can piece deals and partnerships together where they may not have existed before. We're regularly architecting these types of partnerships with theatrical labels, pay networks and all platforms." Copland also notes that plenty of deals take weeks or months to close now, particularly with all the new players, platforms and partnerships involved. 
As of mid-February, for example, Kirill Mikhanovsky's well-reviewed Sundance film Give Me Liberty was among the many films still looking for distribution partners. And while Wild Bunch was moving forward on several international sales, according to writer–producer Alice Austen, CAA's brokering of a North America deal was moving slowly. "But I didn't anticipate our film to be picked up by a Netflix or Amazon right away," says Austen. "It's an experience that is most gratifying when experienced in a room full of people. Great and beautiful things," she adds, "have to be fought for and take a little more time, and everyone on the team understands that."