Back to selection
Outta Respect: Remembering the Goodfellas Diner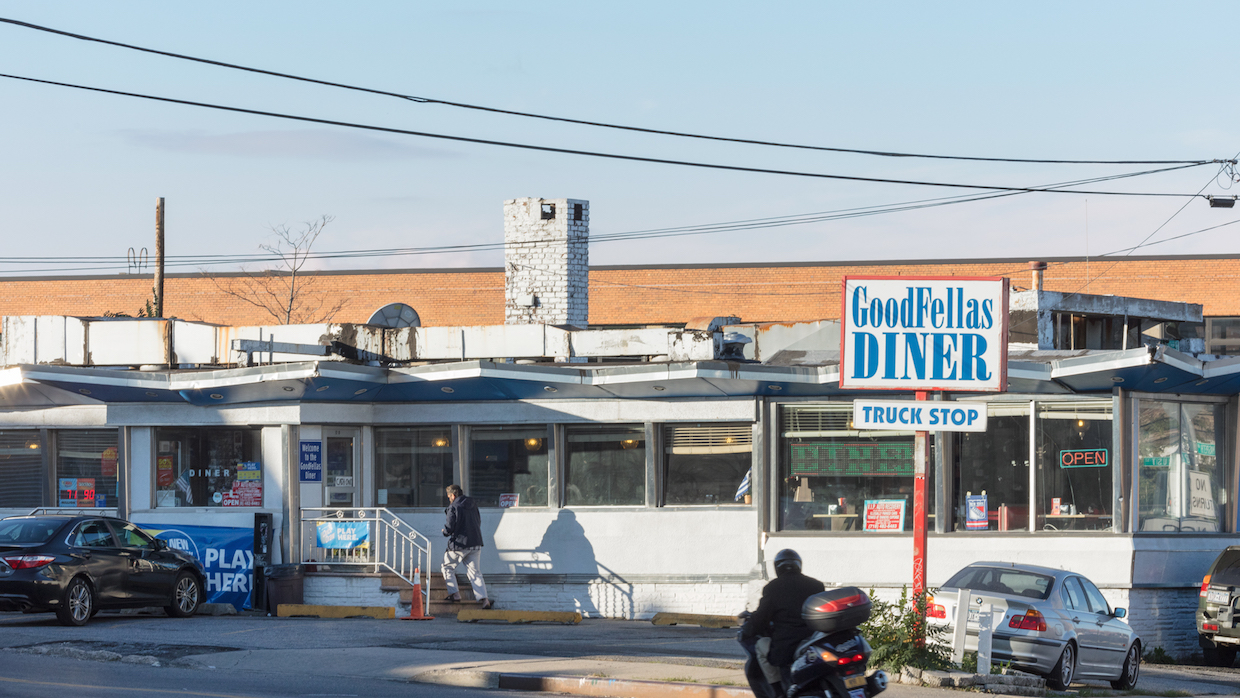 "We tried to do everything we could."
"What do you mean?"
"You know what I mean. He's gone. And we couldn't do nothing about it."
So kicks off an iconic sequence in Martin Scorsese's Goodfellas, the emotional summit of a movie that's basically one iconic sequence after another: the moment on the pay- phone when Jimmy "The Gent" Conway (Robert De Niro) hears his old friend Tommy DeVito (Joe Pesci) has just been whacked. Jimmy doesn't just hang up — he bashes the phone into the receiver, finally stomping the booth into the ground between muffled sobs while the film's narrator, his literal partner in crime Henry Hill (Ray Liotta), gawks in dismay. Nobody can believe it.
With Scorsese shooting De Niro, Pesci and Al Pacino in The Irishman up the street in Ridgewood, Queens, I took it upon myself to revisit the scene: the Goodfellas Diner (formerly the Clinton Diner), in Maspeth. (Scorsese recently had lunch with his daughters at Goodfellas Diner. Local rumor abounds: Will there be a cameo in The Irishman? What would it mean for him to quote his own towering masterpiece over a quarter-century later? Would they sit in the same booth? Would De Niro demolish another payphone?)
The Diner was converted from a historic truck stop, accessible by bus but nowhere near a subway or LIRR stop. It forms the outward corner of a traffic island where Rust Street and Maurice Avenue converge. These are major supply and manufacturing routes; ahead of the entrance, the noise of screeching, rickety 12- and 16-wheelers harkens back to Saul and Elaine Bass's opening credits sequence. The foyer has several meticulously handmade photo collages, delineating scenes of Liotta and DeNiro in the booth at Goodfellas, as well as other productions since. (Maybe the highest-profile immediate followup was Adam Bernstein's insanely terrible Six Ways to Sunday, starring Norman Reedus, Debbie Harry, Isaac Hayes and a very young Adrien Brody, during his street-tough phase.) Inside, the TV was playing Goodfellas on loop — a Sunday ritual imposed by owner Michael Diamantis, who bought the restaurant with his wife Dimitra in the mid 80s.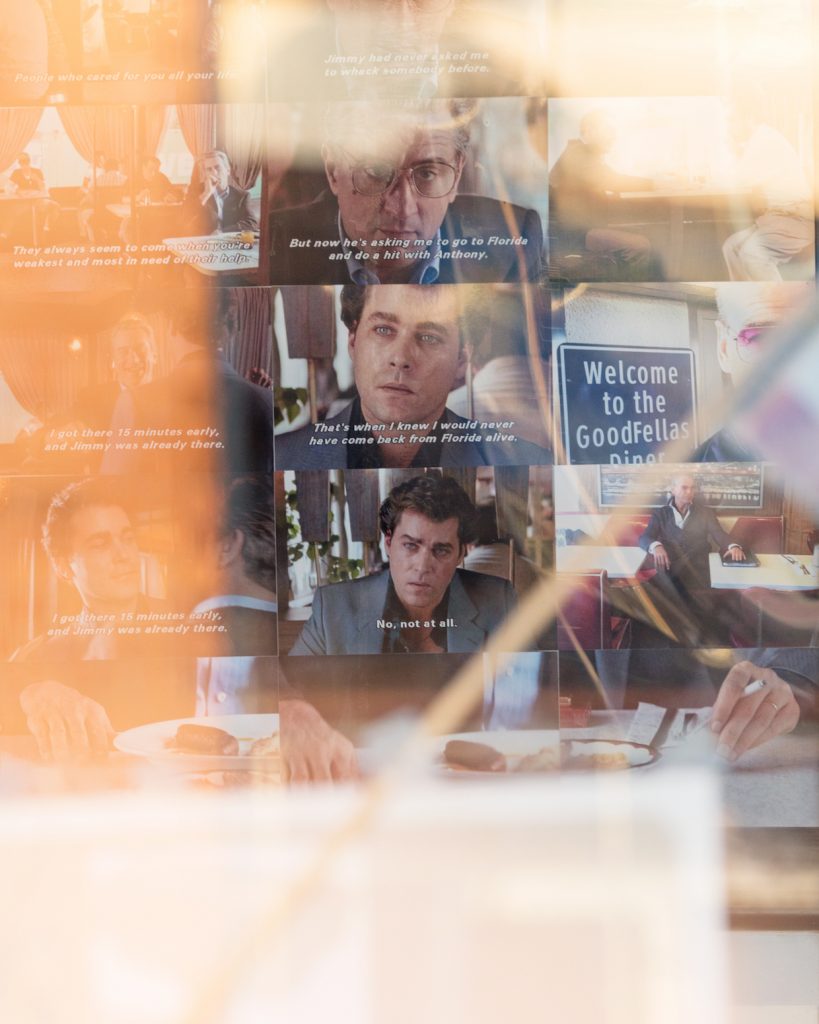 The Diamantises were on site in 1989 when Scorsese shot a couple days at the Clinton Diner. In fact, when Jimmy makes the call, a sticker is visible on the glass commemorating the 20th anni- versary of a restaurant called The Traveler's Den — Michael and Dimitra's now-closed first diner, on 69th Street and 2nd Avenue. Goodfellas' manager today is their son Nick, who was 15 at the time of Scorsese's legendary shoot; it was incumbent on him to clean up the plasticine fake snow littered in the diner parking lot for weeks afterwards.
Scorsesiana refracts back onto New York every day. The diner has received some refurbishment over the years, but its design, like the anonymous warehouses and body shops nearby, remains almost exactly the same. The family's decision to rebrand as "Goodfellas Diner" came relatively recently. There are myriad other "Goodfellas Pizza"-type places in the City, and Nick has never worried about the Warner Bros. legal department. Besides, Scorsese's patronage seems an implicit blessing.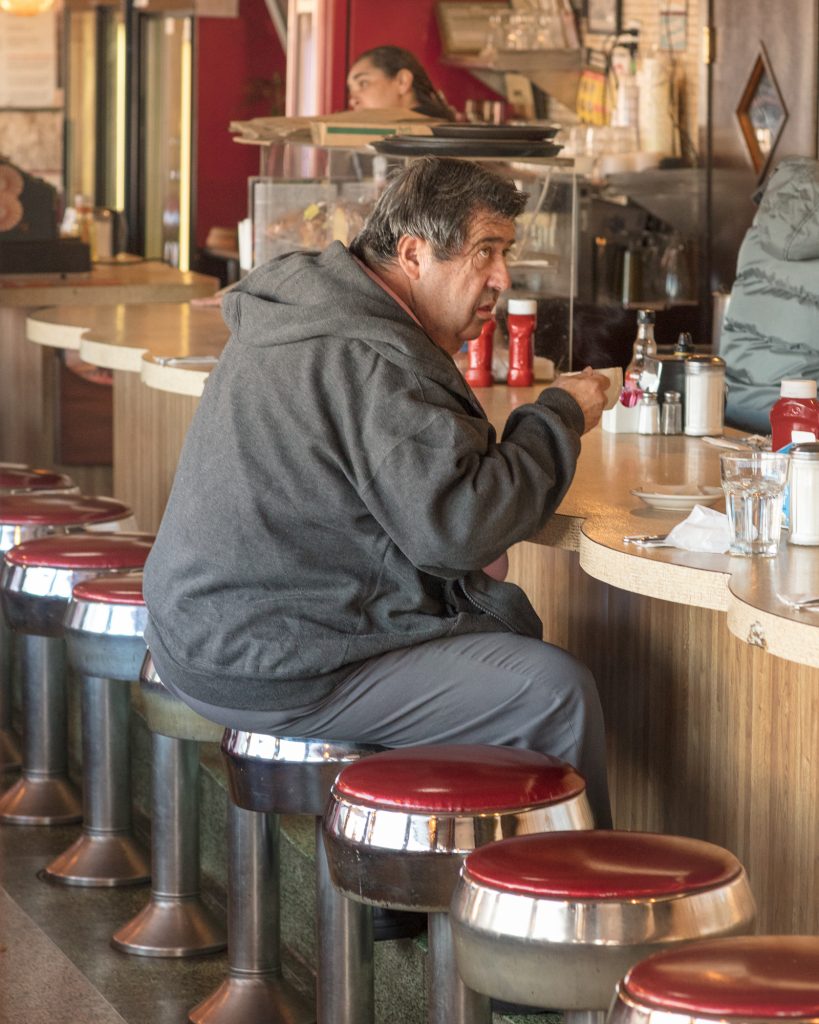 At the end of the shoot, the whole family got photos with Liotta and De Niro — including Nick's sister Pamela, then sporting a shock of curly red hair. Nick told me that Chris Noth worked three different shoots at the diner in the intervening decades and would, upon reentering, make the exact same joke after re- examining these pictures: "I didn't know Julia Roberts was in Goodfellas!"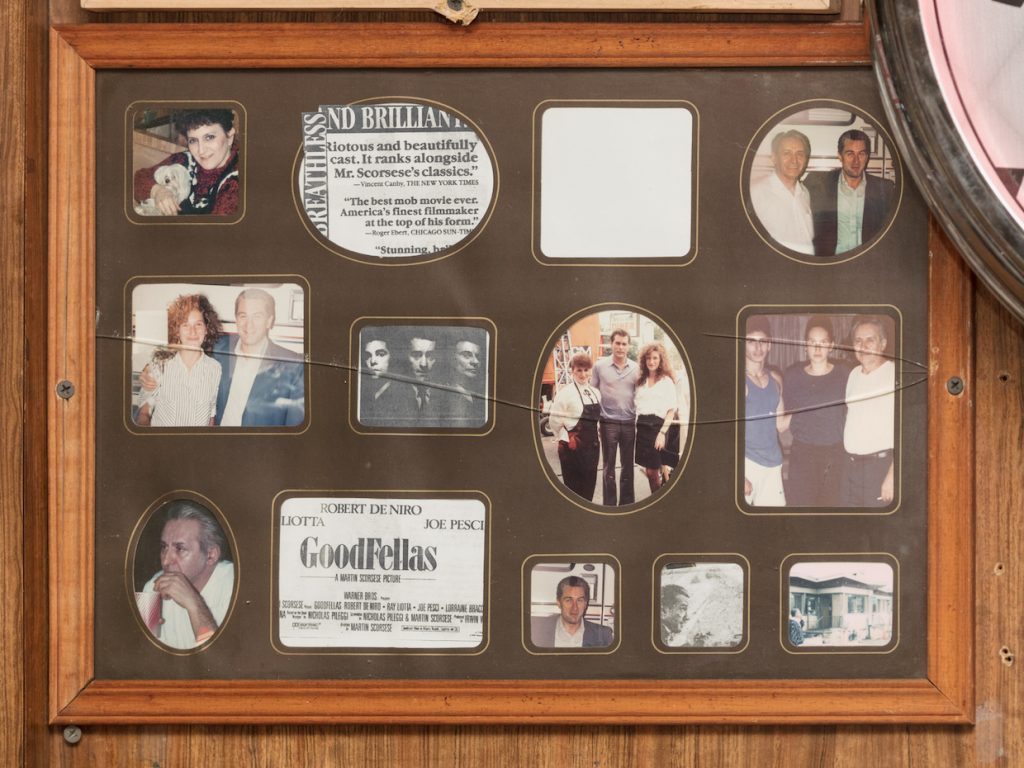 Since then, Goodfellas has been featured in more than 20 feature films and 30 television shows, alongside countless private rentals, photo shoots, commercials and music videos,
an at-least-weekly occurrence. (Michael and Dimitra can be seen kissing in the middle of an Uber spot in tribute to the eternal New York City.) Working a slow counter, Dimitra told me that European tourists sometimes show up looking for the infamous phone booth, luggage in tow. Yelp pages exist for both the Goodfellas and Clinton Diners, and one of two things seems to happen — customers either view the place as a cash-in opportunity being milked in perpetuity or they take its all-American cuisine (home fries, franks'n' beans, braised filet of sole, Rumanian steak) as part and parcel with the Googie décor. Nick used to make restrictions against taking photos in the infamous booth, but they seem loosened.
Queensbridge rapper AZ filmed the music video for his 2001 single "I'm Back" at the diner — there's a long tracking shot down the row of tables before alighting on AZ in the same booth, reading the Brooklyn Daily Eagle. (Nick told me the $5,000 rims on AZ's vintage black Oldsmobile were purchased expressly for the shoot.)
There are other Scorsese-in-miniature music videos. Ludacris's "Slap" is a remake of Taxi Driver, with a lengthy "You talkin' to me?" comedic cinematic interlude. Hype Williams's video for Nas's "Street Dreams" features a lengthy subplot starring Billy Batts himself, Frank Vincent — modeled directly after Casino. (When Vincent died last September, Nas posted that he had been an acting coach to himself, DMX and Method Man the same year, when they col- laborated on Williams's Belly.) And Ashanti's "Foolish" restages the heartbreak of Henry and Karen's courtship — this time played by Terrence Howard and Ashanti — right down to the notorious Copacabana exchange about his dubious means of making a living: "What do you do?" "Construction."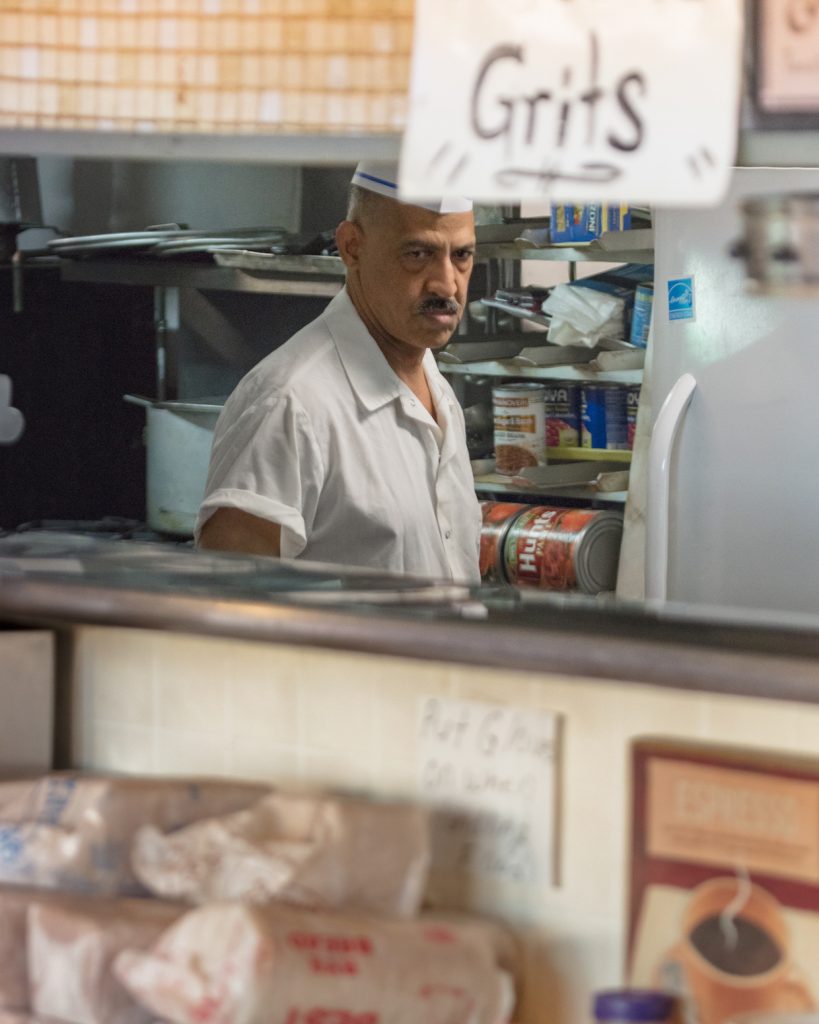 Nick would go on to appear in numerous movies and TV shows himself, including as background in A Bronx Tale (filmed near the Diamantis' family home in Astoria) and as a Russian mobster in Phillip Noyce's Salt. He told me his death sequence had to be reshot so Salt could pass a PG-13 rating for the studio.
Maspeth is, of course, where John Gotti — who the real Henry Hill would later claim killed Tommy DeSimone, the basis for Pesci's character, in retribution for Batts — was buried in 2002.
Last year, Michael and Dimitra were assaulted and robbed by a pair of customers who didn't like their bill; Dimitra's arm was broken. Nick told me that despite getting the license plate number, the NYPD has failed to come up with any leads.
He also told me about Ray Liotta's return to the diner earlier this year (shooting an episode of Shades of Blue with Jennifer Lopez) and pointed out an impossible coincidence: Liotta came through on the 11th of May, which is the same date Henry Hill gets busted in the movie, at the end of a long, coke-fueled day of drug transport gone horribly wrong.
Eventually, I realized the diner was my last chance to see Goodfellas — a permanent text if ever there was one, a movie that forms the backbone of a dizzying number of young, straight and male film school educations — from a fresh perspective. Frank Darabont allegedly watched the movie every Sunday, too, during the shooting of The Shawshank Redemption. I found myself wondering exactly how much was too much Goodfellas. I once went to an anniversary screening where a guy in the audience shouted out Henry's exasperated line delivery of "Oh, all right!" just before the blowjob scene — bellowed with the same casual chauvinism Scorsese would put (or at least, try putting) at an even more skewering angle in The Wolf of Wall Street.
Of course, Scorsese can't be blamed for his acolytes — and even just scrubbing around Nick's collection of Goodfellas DVDs and Blu-rays we were, all of us, swiftly sucked back in: the tracking shots, the performances, the voiceover, the callbacks, the strains of Rita Coolidge, Jim Gordon and Eric Clapton's outro for "Layla." We beat on, boats against the current, borne back ceaselessly into rewatching and quoting Goodfellas — and there was nothing we could do about it.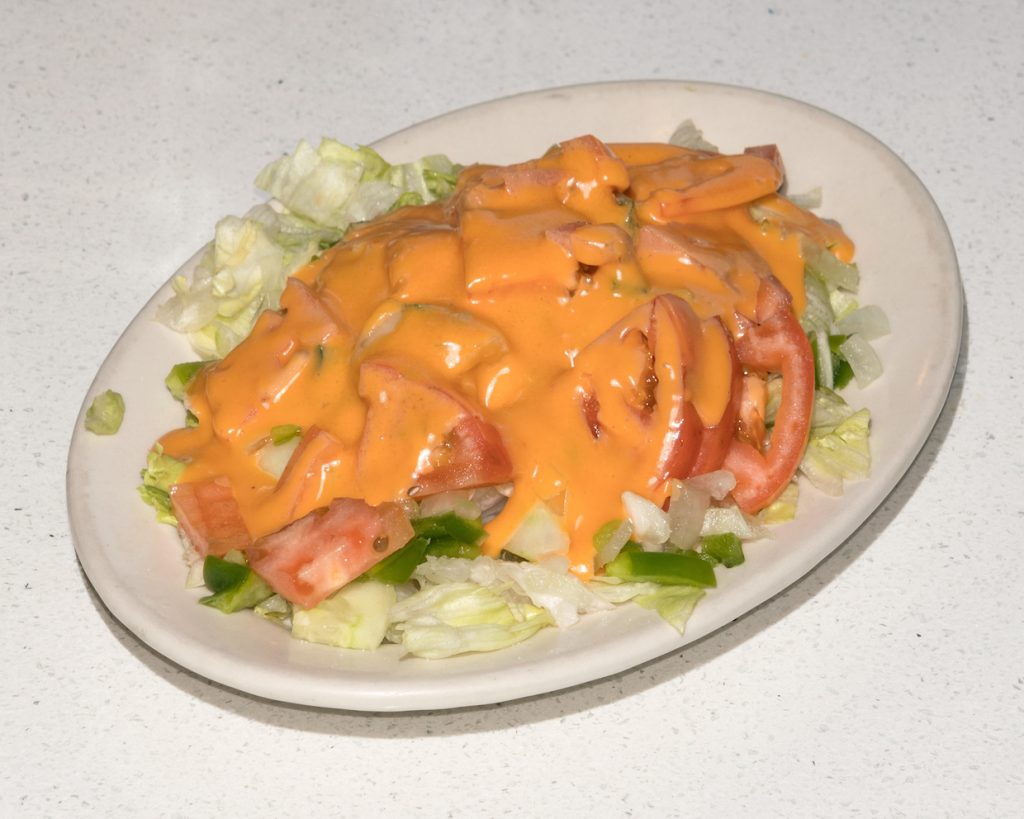 Photos by Chris Maggio. Click on all images to expand.