Back to selection
Sundance 2020 Dispatch 1: Bloody Nose, Empty Pockets; Epicentro; Olla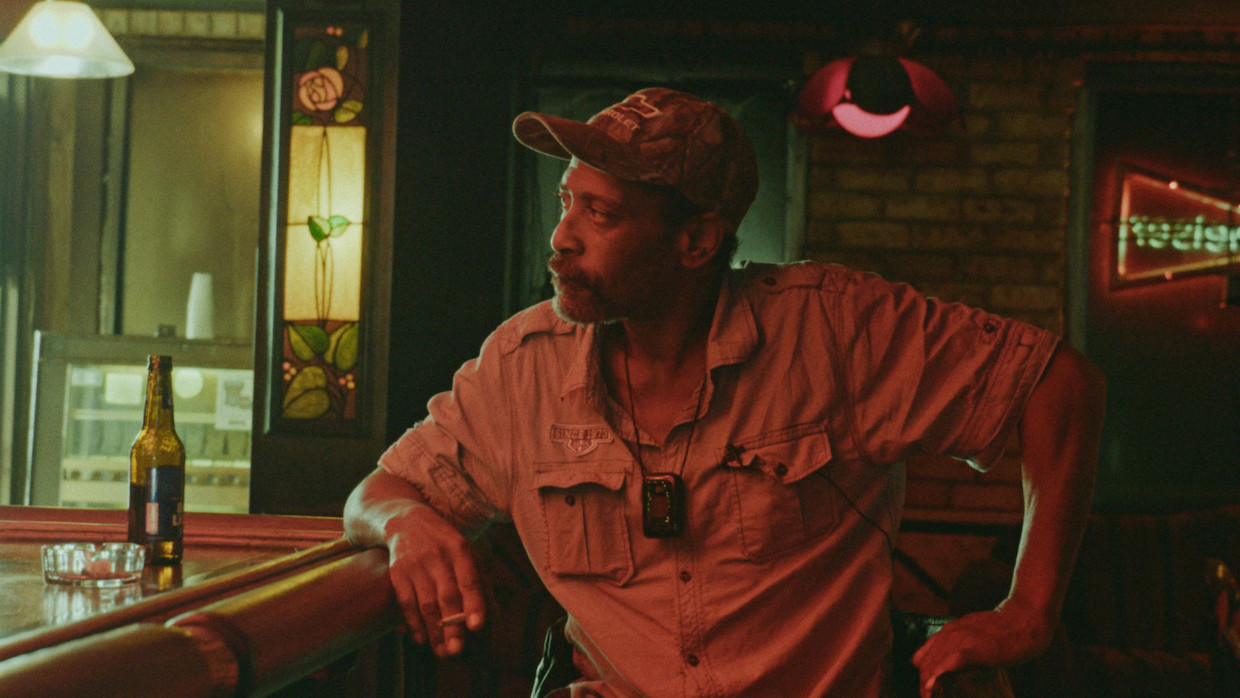 Bloody Nose, Empty Pockets (courtesy of Sundance Institute)
There will be time and occasion, I'm sure, during this year's Sundance Film Festival to go big picture: to attempt to take the temperature of independent film in 2020, once again fuss over what that designation could possibly mean at this point and so on. But let's skip that for now: for this year's first dispatch, I have the rare of pleasure of leading with enthusiasm, and I'd like to lean into that.
Barflies mistranslate William Blake's exhortation to see the world in a grain of sand as "study the human condition through endless hours sitting at the bar"—if in vino veritas, then more wine must equal more truth, right? Bill and Turner Ross's Bloody Nose, Empty Pockets is a day-night-day portrait of an unrepentant Las Vegas dive, the Roaring 20s, on its last day of business—tomorrow, as the closing time saw goes, the regulars don't have to go home, but they can't stay here. Minus some lo-fi interstitial Vegas footage from 2009 captured on the Ross's beloved lo-fi Panasonic DVX100b, most of what's seen here was shot over a real-time 18-hour shoot on newer, shinier cameras in 2016. Things start boozy and only get more sodden, but there's no slow Iceman Cometh descent into despair—a number of wince-inducing moments, certainly, but the tone is primarily comic, which is much appreciated, because the obvious need not be underlined. The anchoring character, first-in and last-out, is a local actor, Michael Martin, first seen being gently woken by the bartender in the AM with "The best part of waking up is bourbon in your cup"—whether you think that's funny, horrifying or somewhere in-between will indicate how you feel about follows. ("I'm not going to drink for a while," one colleague announced after my screening.)
At no point does Bloody Nose overtly indicate the degree to which it's constructed, nor does the Sundance blurb copy that "the reality is as unreal as the world they're escaping from" really clarify anything. The Roaring 20's isn't closing, nor is it in Las Vegas—it's in New Orleans, the Ross brothers' home base, and half of these "regulars" were assembled from a dozen casting sessions. No matter: if they didn't know each other before, they're definitely going to get to know something about each other before the night's done. As Turner explains in a press kit interview conducted by Eric Hynes, the structure was set up by a "a checklist of things we wanted—entrances, exits, images that should be happening at that time of day, what's the music and on television. There was a five-point checklist for every 15 minutes." But you can only plan so much for a space where people are getting very hammered, for real, and in this respect Bloody Nose is the much more realistic version of Cheers, whose resident drinkers tended to nurse their beers and avoid overt intoxication—such grim verisimilitude would have thrown network viewers for a loop. No such compromise here: "None of these people are amateurs," Turner unambiguously states. "These are people who drink alcohol. This is a space for alcoholism. These people are gonna drink and relate to each other within that framework." (Cars were posted outside to ferry the truly hammered to food, water and home.)
It's not the first time the Rosses have captured lightning in a constructed bottle: Tchoupitoulas took place over "one night" as its young protagonists roamed the city, stitching together the best moments of many evenings out and about. I suppose I might have caught on at a few points: Michael has a Library of America Eugene O'Neill volume with him, and invoking The Iceman Cometh that way does kind of tip the Rosses' hand—as do the regulars' Cheers-style cries of unison welcome as another one joins. But this produces real camaraderie and conflict (the latter primarily in the form of a needlessly belligerent dude who looks/dresses vaguely like '70s Elliott Gould), and the Vegas aspects don't stand out as distracting falsehood—insofar as the outside world's relevant to what's happening in here, complaints about gentrification and unaffordable real estate ("Fucking Celine Dion can have it, I'm moving") could apply to pretty much any major American city.
In any case, after a solid decade of discourse about "hybrid documentaries," I'm hopeful that we're past debating truth-value and simply appreciative of the results produced. This is strong work, easily my favorite thing the Rosses have done: not worried about catching themselves in the mirror, the two operators zero  in on terrifically entertaining interactions cut by Bill down to a one-punchline-after-another, wall to wall bangers closer to a much more inebriated Dazed and Confused than anything. At the core of this is, of course, an unavoidable sadness, the kind that comes when the release of A Night at the Bar has curdled into Another Night at the Bar, and Another, and Another. What happens when the community that sustains you is the one that'll also destroy you? Family, Michael announces, "is an overused word. I'm someone you hang out with at a bar, not your family." He's someone who thrives here and nowhere else: "I used to be an actor," he announces. "Now I sleep here." That's not good, and he begs a young musician to get out while there's still time: "There is nothing more boring than someone who used to do stuff and just sits in a bar." It's fun in there, but it's scary too—Bloody Nose maintains that exquisitely calibrated tonal balance until the sun comes up and I'll be quoting it for years.
In his obviously dangerous documentaries Darwin's Nightmare and We Come as Friends (traveling, respectively, to Tanzania and South Sudan), Hubert Sauper worked from a place of political righteousness, throwing himself into harm's way out of a sense of urgency rather than for macho kicks. Epicentro is more of a vacation movie, a Cuban idyll shot over a period of time long enough to encompass both Barack Obama's March 2016 trip to the island and plentiful talk from its residents vehemently cursing Donald Trump, whose dread name I will hopefully not have to invoke too many times over the course of this festival. Putting on his Chris Marker hat, Sauper's opening narration connects the birth of cinema to the propagation of warfare—specifically, the 1898 explosion and sinking of the American Navy vessel the USS Maine, stressed heavily in the run-up to the Spanish-American War in primitive early American propaganda shorts. Adopting the official Cuban position that the Maine was deliberately blown up by the American government to instigate a desired conflict, Sauper thus makes the magic of cinema inextricable from its ability to disseminate destructive falsehoods for imperialistic purposes—from Lumiere to Department of Defense shorts is barely a leap at all.
What's consistently striking about Epicentro isn't its political project, but how it looks: in its opening moments—heavily digital, noise-heavy night images of waves crashing in breathtaking white against the milky grey night sky—it looks like the visual language of Michael Mann's Miami Vice film transplanted 90 miles away for further testing and research. Assembling images, often very familiar, of warfare over the years— WWII bomb raids, napalm dropping on Vietnam, etc.—Sauper degrades and attendantly defamiliarizes them by filming off various monitors, further refracting them through his lo-fi camera and creating new textures. This is, of course, not a purely formalist exercise: there are plenty of cringe-inducing encounters with oblivious tourists, angry denunciations of American imperialism, etc. Inevitably, self-interrogation is required to reconcile cinephilia with activism, and an unavoidable question is posed: "How much does making cinema resemble tourism?" (Wisely, that thought is followed by "It's a question to ask oneself, not to answer.") But, if we're being honest, I enjoyed the hangout vibes and frequent moments of beauty more than I was roused to fresh political consciousness—this is not a bad thing, necessarily, but your ideological mileage may vary. (And I was both amused and slightly baffled to see, training aspirant thespian children, Charlie's granddaughter Oona Chaplin—she was substantially raised in Cuba and loves it, but there's still a little cognitive dissonance in seeing one of the stars of the forthcoming Avatar sequels in this position, though I suppose James Cameron might disagree. Na'vi rights now!)
Because short films (for obvious but still dispiriting reasons) get so little coverage, I'd like to close with a shout-out to Ariane Labed's Olla, which premiered at last year's Directors' Fortnight and closes out Shorts Program 4 at Sundance. Labed is married to Yorgos Lanthimos and is a regular in his films, so it's not surprising their work shares affinities, but Olla is a good deal sharper and more rewarding than anything Lanthimos has done in a while, a 27-minute short that bodes well for (hopefully) a first feature. Comedy of cruelty—meticulously timed, blocked and framed, with attention paid to offscreen space and its possibilities for surprise—structures this portrait of Olla (Romanna Lobach), a Russian mail order bride in the early days of a very awkward partnership with Pierre (Grégoire Tachnakian), whose painful reticence and general schlubbiness don't preclude him from indulging in physical abuse sooner rather than later. How Lola goes about reclaiming her autonomy—in a small town where she's new, unfamiliar with the language and constantly catcalled by an offensive group of men who unexpectedly morph into a kind of support Greek chorus—is a fun surprise. Shot on 16mm (the opening shot of Lola striding to her new home is a grainstorm that shakes up what could otherwise be an almost too sharp image, a la what Wes Anderson did in Moonrise Kingdom), Olla performs the bonus service of reclaiming Haddaway's "What Is Love" from A Night at the Roxbury.