Back to selection
"The Film Takes Place in Two Different Worlds": DP Klemens Hufnagl on Human Factors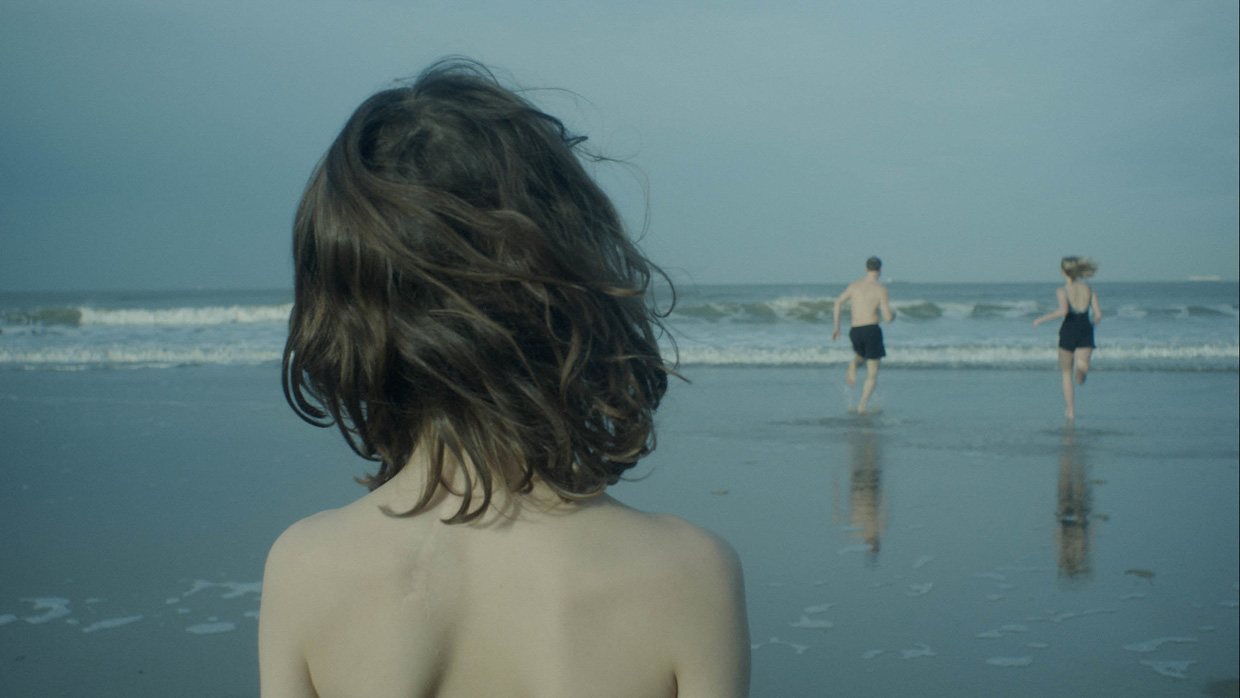 Human Factors
Ronny Trocker's Human Factors follows a family whisked away to their seaside vacation home in an attempt to escape work. During their stay, burglars break into the house, which drives a wedge between parents Nina and Jan. DP Klemens Hufnagl explores differentiating the worlds of Hamburg and the Belgian coast.
Filmmaker: How and why did you wind up being the cinematographer of your film? What were the factors and attributes that led to your being hired for this job?
Hufnagl: As Ronny Trocker's first feature The Eremites was a co-production with Austria, he was looking for an Austrian DP. It was a very good collaboration, so Ronny was able to bring me on board for his second film as well. This time there was no Austrian money involved, so I was not able to bring my whole team. Nevertheless it was crucial for me to bring my gaffer Thomas Münster along, which happily worked out.
Filmmaker: What were your artistic goals on this film, and how did you realize them? How did you want your cinematography to enhance the film's storytelling and treatment of its characters?
Hufnagl: Our goal was to contrast the modern advertising world with a classic, melancholic counterpoint through the use of the 1:1.66 aspect ratio and shooting with vintage lenses.
The film takes place in two different worlds. The professional, cool environment in Hamburg contrasts with the warmer holiday house on the Belgian coast. It is a constant fluctuation between cold and warm, not only between the worlds, but also in the images mixed light plays a big role.
For Hamburg, we shot on the slightly sharper, cooler Leica-R lenses and used lots of blues, soft light and less visual tension. Belgium has higher color contrasts with dominant warm tones. We wanted to emphasize that with the Cooke Speed Panchro lenses. The warm colors, distortions and softness at the edges give the sleepy Belgian coastal town a dreamy atmosphere. Perhaps it's no coincidence that the German Leica lenses put Hamburg in the best light as do the French Cooke lenses with Belgium.
The light was dirtier in Belgium than in Hamburg. We used economy lamps with a high green cast in the practicals and orange sodium vapor lamps outdoors. In Hamburg, we did away with the dirt in the lights and used cleaner lamps.
As for framing and camera movement, the four characters differ in subtle nuances. We used different focal lengths, apertures, camera heights and types of movement to visualize the personalities and moods. When doing this there is always a danger that the film will visually fall apart, so we had to be very subtle. To counteract this and to create additional cohesion between the worlds and to further support the melancholic character of the film, we shot with a 1/16 or 1/8 Pearlescent filter throughout.
Filmmaker: Were there any specific influences on your cinematography, whether they be other films, or visual art, of photography, or something else?
Hufnagl: I was influenced a lot by the early work of the two British cinematographers Rob Hardy and Robbie Ryan. I admire films like Broken, Boy A, Fish Tank or Ginger & Rosa for their simplicity, while at the same time being visually complex and daring. Other films I watched while preparing for this film were In the Mood for Love and Loveless.
We didn't want to copy any of these films, but I think all of them have something in common, which is a certain sadness and melancholy in its images.
I also was drawn to the photographs Robert Lebeck took of Romy Schneider and how he managed to capture joy and sadness at the same time.
Filmmaker: What were the biggest challenges posed by production to those goals?
Hufnagl: When you don't have a big budget, it's always hard to carry your ideas over to the screen once the realities of shooting with limited time hits you. The short winter days were a big challenge, as by 3pm, we were losing the natural fill light from outside. Also keeping the consistency with a lot of dusk scenes in changing weather conditions was tricky.
Filmmaker: What camera did you shoot on? Why did you choose the camera that you did? What lenses did you use?
Hufnagl: I shot on the Sony F55 with Cooke Speed Panchro and Leica-R lenses. I really like the 16-bit Sony RAW and the form factor of the F55.
Filmmaker: Describe your approach to lighting.
Hufnagl: We moved the camera a lot so all the lights were either outside through windows or practicals inside. For the practicals we tested all bulbs that we could get our hands on from tungsten to economy lamps to LEDs. We used different bulbs in Hamburg (LED) and in Belgium (economy). The orange light of sodium vapor plays a big role in the Belgian exteriors whereas this color is absent in Hamburg. I wanted to achieve a soft and moody mixed light with cyan windows and warmer practicals. This color contrast is much more pronounced in Belgium.
Filmmaker: What was the most difficult scene to realize and why? And how did you do it?
Hufnagl: The opening shot where the camera moves through the whole house was quite a challenge as a lot of parameters had to be in sync. There is also a shot where Nina walks towards the ocean at night. I wanted to still feel the sky slightly so we only had a window of 10 minutes to shoot it in the perfect light. As we were preparing to shoot, it was starting to rain, but we had no choice and needed to shoot. I'm glad it still worked out.
Filmmaker: Finally, describe the finishing of the film. How much of your look was "baked in" versus realized in the DI?
Hufnagl: Through the use of a distinct color temperature plan, there was quite a lot of the look already "baked in." Grading was done in Denmark. As I'm living in Vienna, we had to work remotely a lot because of travel restrictions. It was easier to travel in the summertime, so we had a few days together and enhanced the look.
TECH BOX
Film Title: Human Factors
Camera: Sony F55
Lenses: Cooke Speed Panchro, LEICA-R
Lighting: HMI, Astera Tubes, Practicals, Sodium Vapor
Color Grading: DaVinci Resolve