Back to selection
"I've Never Made Storyboards Before": Christian Petzold on Undine, CGI Catfish and Swimming Pools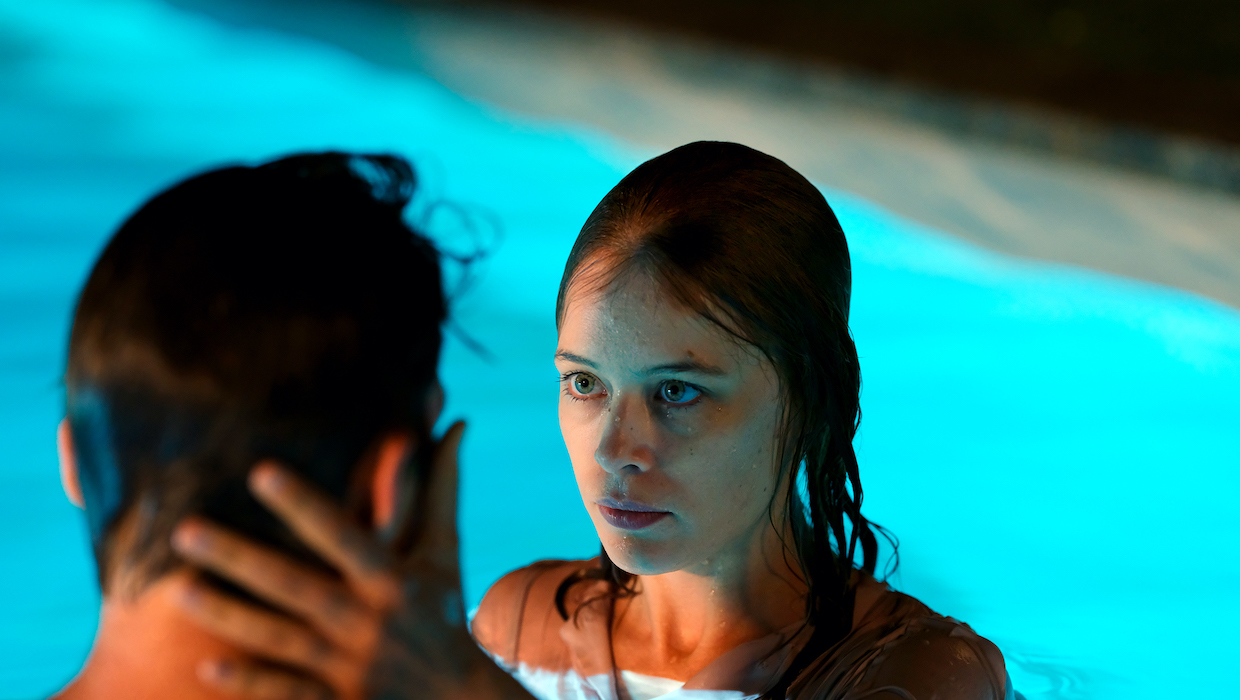 Paula Beer in Undine
When I got on Zoom with Christian Petzold, the writer-director had already been doing press off and on for Undine for 16 months. The film premiered at last year's Berlinale to mixed-muted response and only now, via IFC Films, is seeing US release (both in theaters and on PVOD). In the interim, Petzold got and recovered from COVID-19 while doing interviews as the film continued its (virtual) festival run. There may not seem to be much left to talk about at this point, but Petzold is a famously inexhaustible and self-analyzing interview. In the middle of our talk, his internet cut out. When he returned, he noted that "This is the problem. It's half past four, and all the students are coming home, opening their computers, and they want to stream movies and our server was killed," then launched right back into his typically multi-pronged answer.
Building obliquely on the myth of the Undine, Petzold's film is full of teasingly cryptic sequences and dreamy eruptions. At its center is a reunion of Paula Beer and Franz Rogowski, the stars of Petzold's previous Transit. Beer is Undine, who lectures at the Berlin City Museum on the city's complex architectural history; Rogowski is Christoph, a professional diver who meets her after one of her talks. Backing away from her, a befuddled-in-love Christoph stumbles into an aquarium, which cracks and floods the two, a baptismal meet-cute. On the job, Christoph spots both a gigantic catfish and, later, Undine's name written underwater on a concrete beam, an oblique allusion to her . The two are perfectly in love until Undine's callous ex, Johannes (Jacob Matschenz) re-enters the picture.
Even more so than many cinephilic directors, Petzold's work is in intense conversation with both a variety of external reference points (the spirit of Vertigo often prevails) and his own films. Undine builds meaningfully on, among other works, his 1992 short The Warm Money and 2001's Something to Remind Me as discussed below. The former is currently available to stream as part of MUBI's online retrospective of Petzold's work.
Filmmaker: I wanted to ask about working with the CGI company to create the catfish.
Petzold: I'm a part of the Berlin School, [where we always say] "We make poor movies, without any production value," but I've always been interested in CGI. This CGI company in Berlin, The Post Republic, it's a really big one. They're very famous and have never worked with poor productions like me. They had a little fear when they met me the first time, and I also had not a little fear. We talked about the project and the underwater scenes, and the catfish was the first thing we talked about—I think it was a little test? I said, "I want a catfish that is like an erect cock with muscles, because this must be a male catfish." In the myth of Undine, a landlord raped a young girl, and the curse sends him underwater [as] this catfish named Gunther. Therefore, he has to look like a cock. They liked this, and when we were at the studios at Babelsburg at this really big tank, the guy who makes CGI joined us for the six days, underwater, as a diver. Because we had to build everything in reality. The plants were a problem, because the water has to be at 37 degrees Celsius for the actors, but at 37 degrees Celsius all plants will be like mud. So, we had to do it with plastic plants and rehearse for two months to make it realistic. I saw a movie with a dead woman sitting in a car, and her hair looked like plants. This was the idea we had. I always thought these were just cynical Silicon Valley software ideas before, but after my experience with them I must say they're cineastic guys and I love them very much.
Filmmaker: You chose to shoot the underwater scenes first. While you're not a producer on your films, I wonder how involved you are with the scheduling.
Petzold: I've never made storyboards before. I write down how many camera positions I need to make a schedule. But for the underwater scenes, I made a storyboard that was like a graphic novel, because we can't rehearse underwater, it's impossible. The camera is always in flow, the actors are in flow. When we leave the water and are in our ordinary world, there is no storyboard. We rehearse every day two, three, sometimes four hours, then the DP and I create the shotlist. People who work for advertisements have to make storyboards, because they have a contract, but we have the possibility to rehearse and create in the moment.
Filmmaker: When you were shooting in the city museum, were those real tourists?
Petzold: In Berlin, extras come from agencies. They're working each day, they're bored and paid less, so I said, "I want to have people who are students and professors, who know something about German history, so that there's an atmosphere that they're interested in the words Paula says." Paula had a little stage fright, because she couldn't talk nonsense—she had to be very clear. We did the first one in two camera positions, as a planned sequence with a dolly, and it worked. The extras were fresh, and Paula was fresh. For me, I'm not on the monitor, just headphones, and I must say I like the way she's telling me the history of the town I've lived in for 14 years.
Filmmaker: Do you like to stay by the monitor?
Petzold: In previous times, I hated the monitor. It was forbidden to have a monitor onset, because everybody's looking at the monitor and no one's looking at the scene. But now I have a monitor, because with these one-setup things I do, I do the editing a little bit in my head, so I need this picture. But it's a very small one, just for me.
Filmmaker: I watched The Warm Money and Something to Remind Me last night. In Warm Money, they come to this fancy pool and get drinks. It seems like an unusual space for the time. Something to Remind Me opens at a private pool, and in Undine the pool at the climax is a private pool that's been cordoned off from public access. Can you talk about the changing iconography of swimming pools in your work?
Petzold: I have never seen The Warm Money for 29 years, because the main actress [Manuela Brandenstein] died in this tsunami and I was sad about that. Therefore, I can't see this movie again, because I liked her very much. But I think the pool in Warm Money is a symbol for the new money coming to Berlin, with Rolex watches and naked women and so on: they want an indoor pool, clubs, a little like "The House of the Rising Sun," like so many brothels. For me, the moment a woman is leaving a pool, it has something to do with this myth of the nymph. In Something to Remind Me, she's coming out of the pool like a nymph; a man sees her, follows her and falls in love with her as though she were a Siren. In Undine, the pool is a little bit like in Warm Money: the guy [Johannes] is also the new money in Berlin. They want a new house, they want a pool, they're swimming before the parents with money come over. It's a materialistic lifestyle pool, not the romantic lakes and forest Undine lives in.
Filmmaker: Many people have noted your recurring interest in bodies of water, not least because of Yella's association with Carnival of Souls.
Petzold: I grew up between two rivers, the Rhine and the Wupper. I think it's something to do with this. The Rhine is an infrastructure river, on which you can go on ships into the world. Everybody going onto the Rhine has a desire to go away, like a road movie. There is a [saying] in Germany: "To go over the Wupper is to go to death." It's a border. One river is a highway, the other is a border. And cinema is something about crossing borders. Therefore, I think water is important for me. In Jerichow, the Baltic Sea is a border. And sometimes, it [becomes] a possibility to come out of your ordinary circumstances.
Filmmaker: I also wanted to ask about the aquarium exploding. That's a lot of water and people are getting very wet.
Petzold: This was hard work for the special effects guys, because everything is real—a real explosion with dynamite. But I was a little disappointed with my team, because they don't think about if the actors are perhaps hurt. They're thinking about whether the fishes inside this aquarium survived. After the explosion, the whole staff was going into this room and looking for the fish to see if they survived, and nobody's talking to me or the actors. I was a little disappointed with that day. The three fish survived. I was a little disappointed about that too. I hoped that they would explode. We had just two tanks, so we could do it again the next day. We had a rehearsal two months before, because it's very hard: it's 2,000 liters of water inside, and we didn't know how much dynamite we had to use. The dynamite is inside the aquarium, under the stones. I like the scene, but I didn't like the day of shooting. Because when you make special effects with cars and explosions, you have people on the set who are not interested in cinema. They make themselves self-important, as if artists are [dilettantes] and now they are really doing things. I like that scene now, but the day, not so much.