Back to selection
Jim Hemphill's Home Video Recommendations: My Fair Lady, The President's Analyst, The Hand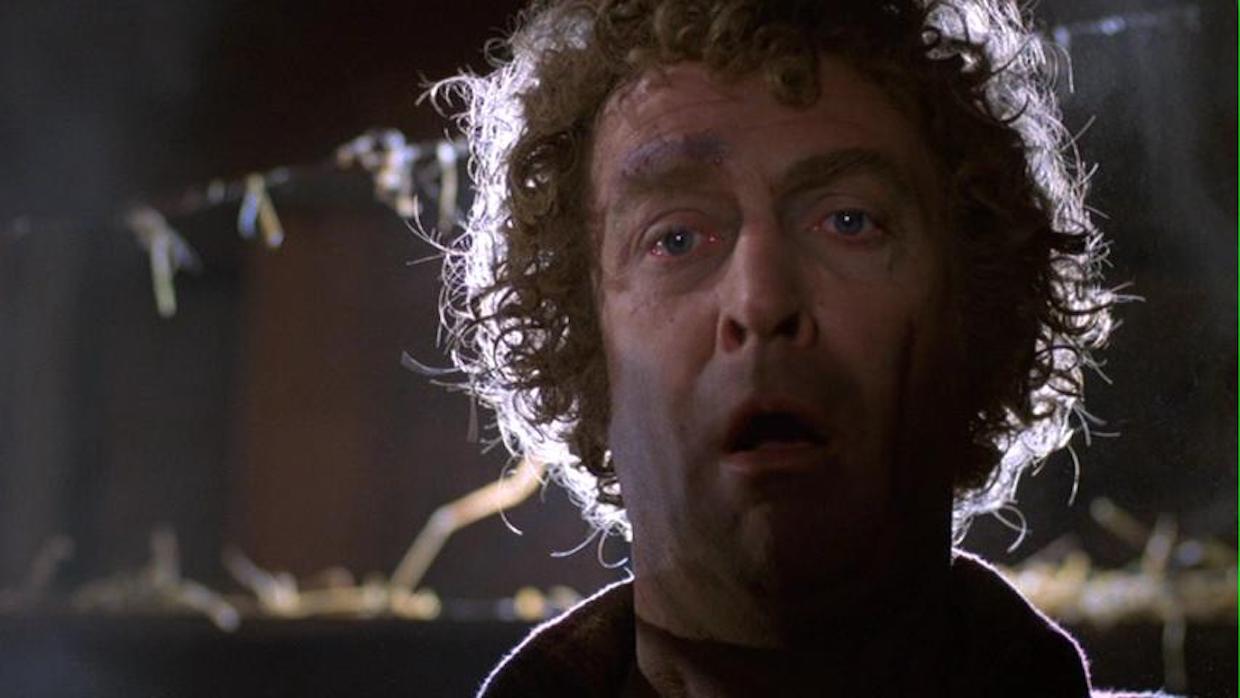 Michael Caine in The Hand
A glorious last gasp of the classical Hollywood studio system gets a reference quality upgrade with Paramount's 4K disc of My Fair Lady, the best of the gargantuan musicals that would hit their commercial apex with The Sound of Music in 1965 and nearly sink the industry with Doctor Dolittle and Star! just a few years later. Released in 1964, My Fair Lady is an early entry in the cycle and an expertly modulated one thanks to the firm hand of director George Cukor, whose work was always characterized by a harmonious interaction between performance, composition, camera movement and cutting—Cukor was known as an actor's director, but his strengths went far beyond merely guiding his performers to knowing exactly how to showcase them in the frame for maximum dramatic effect. My Fair Lady is a case in point, with the visual patterns reflecting heroine Eliza Doolittle's conversion; as she transforms from street urchin to duchess under Henry Higgins' tutelage, Cukor moves from meticulously designed grime and squalor to meticulously designed artifice and glamor. My Fair Lady has undergone numerous nips and tucks over the last several decades, but it's likely that the 2015 restoration overseen by Robert A. Harris represents the most vivid presentation of the picture since its initial 70mm theatrical release. Shot in Super Panavision-70 by the great Harry Stradling (who also photographed the 1938 version of the same story minus the music, Pygmalion), My Fair Lady is a motion picture of exquisite detail, and the 4K edition reveals minutiae in the image that I had never seen before despite having watched My Fair Lady in virtually every format imaginable (including in 70mm on its 1994 rerelease). The 7.1 Dolby TrueHD mix is as extraordinary as the image, immersing the viewer in a robust use of surround channels and offering power in the music tracks and clarity in the dialogue tracks. An essential renovation of an essential film, the My Fair Lady 4K edition is also a great demonstration disc—if you really want to show people what 4K can do, all you have to do is pop this baby in the player.     
Writer-director Theodore J. Flicker's The President's Analyst was released only three years after My Fair Lady, but the differences in style and attitude between the two films make it seem as though they're separated by three decades. Yet The President's Analyst feels as true to and reflective of its period as Lady, which gives some idea of how fast movies—and American society in general—were changing. Flicker's background was in improvisational comedy (he was a member of the Compass Players alongside Mike Nichols, Elaine May and Del Close), and The President's Analyst is an irresistible time capsule of a key epoch in pop culture, the moment of Rowan and Martin's Laugh-In, Mad Magazine and other bastions of broad but biting counterculture humor. James Coburn plays the title character, a psychiatrist whose role as analyst to the President of the United States makes him a target of spies and assassins. An ostensible satire, the weird thing about the movie is that it seems to be satirizing events and sensibilities yet to fully emerge—its portrait of paranoia and corruption feels more suited to the Nixon presidency and Watergate than it does to Lyndon Johnson's era, though the shadow of the Kennedy assassination looms over the whole film like a ghost. A conspiracy thriller in the guise of a sketch comedy film, The President's Analyst predicts many of the motifs that would become prevalent in New Hollywood dramas like Night Moves, The Parallax View and Three Days of the Condor—it's as though the parody was made before its sources. Add to all this the fact that The President's Analyst includes early work by legendary cinematographer William Fraker (a year before he would catapult to the A-list with Rosemary's Baby) and initiates Robert Evans' transformative run as head of Paramount Pictures, and you've got a historically significant and endlessly mesmerizing movie. It's now available on Blu-ray from Imprint with a pair of fantastic supplements: an incisive audio commentary by film historian Tim Lucas, and a contextualizing interview with critic Kim Newman. 
My final recommendation this week is the new Shout Factory Blu-ray of The Hand, Oliver Stone's extremely underrated—including by its maker—1981 horror film. Michael Caine creates one of the cinema's indelible portraits of male rage as a cartoonist who loses his hand in a car accident only to see it return as a manifestation of his resentments; the murder spree that ensues and Caine's steady mental breakdown result in a hallucinatory nightmare with both the eerie surrealism of Eyes Without a Face and the razor-sharp clarity of a Hitchcock film. The Blu-ray contains illuminating interviews with Stone, producer Ed Pressman and several actors from the picture, all of whom see it as a compromise in which the balance between psychological suspense and explicit terror was never properly achieved. Thus, we have another instance in which one must trust the tale, not the teller(s), since in fact The Hand is an impeccably calibrated thriller in which the more graphic horror moments flow organically from the internal tensions Caine and Stone establish for their protagonist. King Baggot's high-contrast cinematography is slightly more garish than the more sophisticated work Robert Richardson would contribute to subsequent Stone directorial efforts like Salvador, Platoon and Talk Radio, but it perfectly expresses Caine's splintering psyche and gives a nice pop art feel to the fable; although in many ways it's a stylistic exception in Stone's oeuvre, the film provides an early glimpse of the feverish intensity that would characterize later, more ambitious masterpieces like JFK and Any Given Sunday. For further background on the film and Stone's other early work, I highly recommend his memoir Chasing the Light, which is newly available in paperback; it's filled with fascinating histories of scripts both produced and unproduced, and is simultaneously an intimate remembrance and a sweeping history of the film industry in the 1970s and 80s. Stone has always been one of the most fearless and self-revelatory artists in American film, and Chasing the Light is as candid, funny, complicated, enlightening and thoughtful as anything he's ever done.          
Jim Hemphill is a filmmaker and film historian based in Los Angeles. His website is www.jimhemphillfilms.com.