Back to selection
Stepping In: Indie Directors Isabel Sandoval, Blackhorse Lowe and Sharmeen Obaid-Chinoy on Their First Television Experiences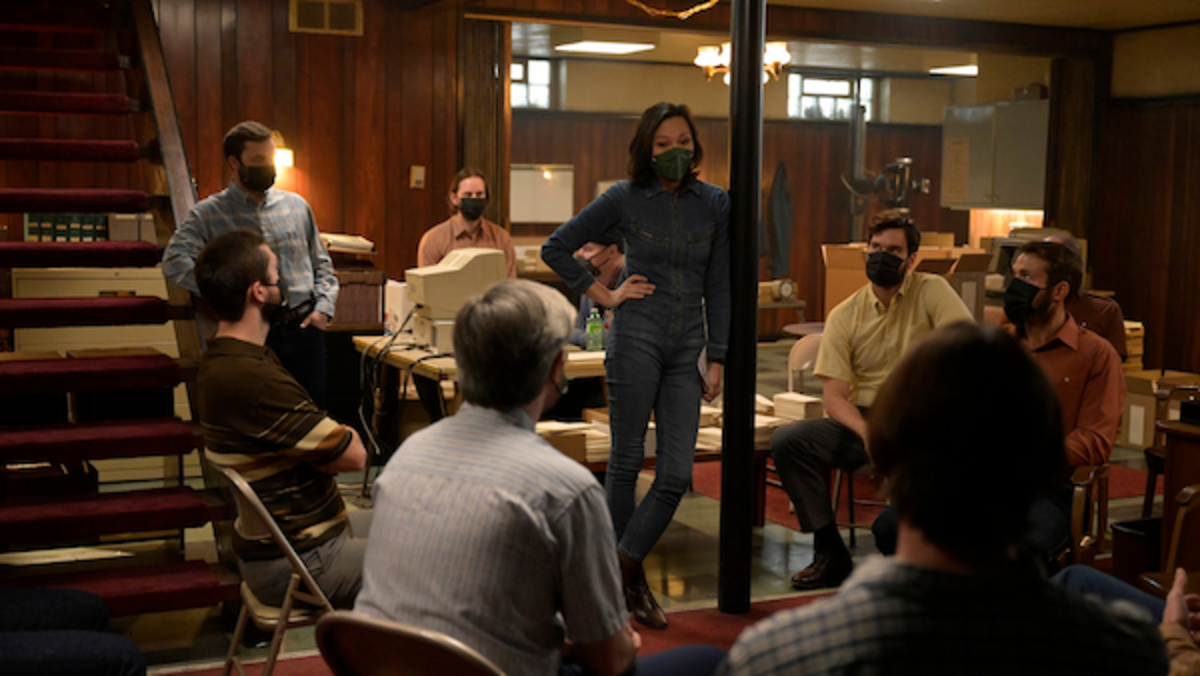 Isabel Sandoval on the set of Under the Banner of Heaven
In the past 18 months, Isabel Sandoval has expanded the narrative around queer and trans filmmakers' abilities to direct a wide range of material with her episode of the Hulu series Under the Banner of Heaven, Blackhorse Lowe has brought quirky humor and his own life experience to Hulu's Reservation Dogs and director Sharmeen Obaid-Chinoy has represented Pakistani and Muslim communities in Marvel and Disney+'s Ms. Marvel. They're all crossing over from the feature world to direct television for the first time, while also building careers outside the industry glare of Los Angeles. 
Award-winning trans director Isabel Sandoval moved from her native home in the Philippines to New York City during her college years. "I didn't [even] go to film school," she says. "I went to business school at NYU, and in between my classes I would go to the arthouse cinemas around the campus." 
For Blackhorse Lowe, who lives in Oklahoma, where Reservation Dogs takes place and is shot on location, it was a feeling of tribal community and belonging—even though the show he writes for and directs follows a group of Native American teens who dream of moving to California to have a shot at a better life. "I've been involved in the Oklahoma film scene for a while," he says. "But this is special. Most of the [filmmakers are] Native. I've never had that experience where it felt like I was making a movie with my family, especially because I've known [series creators] Sterlin [Harjo] and Taika [Waititi] for so long. There's a unique freedom on Res Dogs that I don't get with every show."
As for Sharmeen Obaid-Chinoy, an award-winning Pakistani-Canadian journalist, filmmaker and activist, the decision to stay in Pakistan was an easy one, as her documentaries and short films usually center on the various human rights violations South Asian women face. "I say I am a citizen of the world, [but] my home is in Pakistan," she says. "I do spend a lot of time in the United States, but it's important for women like myself to continue to have a foothold in that world so that we can give back to those communities and to our people. Also, racking up those frequent flyer miles is nice."
Isabel Sandoval
In 2019, Sandoval's third feature film, Lingua Franca, made history as it marked the first time a transgender woman of color both directed and starred in a film premiering at the Venice Film Festival. Lingua Franca follows the story of an undocumented Filipina trans woman who takes up a job as a caregiver to secure a green card to stay in America. But when she falls in love with her patient's grandson, her citizenship is jeopardized. Though not autobiographical, the film hit home for the Cebu native, who realized she was trans while shooting her first feature, Señorita (also about a trans woman), and transitioned after her second, Aparisyon.
"The decision to come out after Aparisyon had to do with my reputation in the Philippines as an emerging filmmaker," Sandoval says. "When the movie came out it was widely acclaimed, and I thought that was the perfect time to transition. I didn't announce it on social media, I took a two-year [hiatus] so I could do so privately. I didn't feel that it was something I was ready to share. I really [needed] to be comfortable in my own skin as a person. I felt if I were to continue making art, I needed to be and feel more authentic, and that way the authenticity will then translate into the art that I make." 
Recalling her youth, Sandoval says, "My maternal grandmother was an actress at a local theater in Cebu. We had a local film industry at that time, so she was quite a well-known actress locally. My mom didn't really get the acting bug, but my grandmother did talk her into starring in this one independent film, The Diary of Mercedes, that's now been lost." 
It was childhood visits with her mother to the local movie palace that "started my love affair with cinema," Sandoval says. She went from watching Filipino films that knocked off Hollywood blockbusters to watching international dramas. "I became more discerning and selective when it came to films as a teenager. That's when I got exposed to the cinema of Wong Kar-wai and Pedro Almodóvar," Sandoval says of her time browsing local street stalls for bootleg DVDs.
Sandoval's break into TV directing occurred when she received the script for Under the Banner of Heaven, a true-crime show created by Oscar-winner Dustin Lance Black (Milk, Big Love), from her agents at CAA and thought, "Oh my god, I have to do this." Her critically acclaimed sixth episode of the eight-episode series, "Revelation," follows devout Morman Detective Jeb Pyre (Andrew Garfield) on his descent into disillusionment with his faith as he investigates a gruesome murder committed by members of the church. 
About her approach as a new TV director, Sandoval says, "When you're working with your cast and crew, especially when your cast is working [episodically] with different [directors], they need to be reoriented into your style and your way of working. [Directing] is also about making them feel comfortable and creating an environment that's conducive for the actors to be present and in the moment as they inhabit their character. I remember telling Andrew, 'I'm here not just to direct you but really to support you and understand your process in preparing for your scenes, and to give you the space to bring out the best possible performance for the character that you're playing.'"
She also went on to explain how important it was to her as a trans woman of color to be given an opportunity to direct on a show so far removed from anything else she's done prior: "I wanted to prove to everyone that I can do it. I was the most excited about it being worlds away from the films and the characters that I've done. I've done two films about a trans woman who happened to be Filipino. This series is about a Mormon homicide in the '80s featuring a mostly white cast. I wanted to prove that someone of my background can take on any story. [There is] this idea that we can only tell stories about our own backgrounds and our identities and communities. We can, but it can also be a double-edged sword because then Hollywood might tell us those are the only stories we are capable of telling. Banner allowed me to stretch myself artistically and prove how well I could tackle characters and stories outside of my own community. I'm so thrilled with the response to the episode so far." 
Blackhorse Lowe
Blackhorse Lowe has allergies to partially thank for his immersion into filmmaking. 
"You just spend a lot of time on the res. There's really nothing much to do if you're not farming or working on something," Lowe says. "And I have horrible allergies, so I was always sent inside once my allergies got the best of me." 
Growing up in a small, semi-isolated town outside Farmington, New Mexico, Lowe and his siblings were often left to their own devices, but they were hardly lacking in entertainment. He and his siblings would pass the time recreating short films and scenes from Raiders of the Lost Ark and Star Wars, while also receiving an impromptu film education from their close-knit cinephile family. 
"Both my mom and dad invigorated my creative spirits. They were huge cinephiles. It's probably considered child abuse now," Lowe laughs. "But my parents didn't keep us from the more [mature] movies as kids. We were watching spaghetti westerns, The Thing, Apocalypse Now and Blue Velvet. Every one of my family members had different tastes in terms of what genre they gravitated towards." 
Lowe was a self-starter early on. When he wasn't working outside on the ranch, he would comb through books about fine art, photography and creative writing his parents had laying around the house to teach himself about the visual medium. Lowe's dad was an aspiring painter, and his mother a Navajo language teacher. They even had a VHS camcorder and a 35-millimeter camera that Lowe's mom would use as a learning instrument for her language lessons. 
You can see remnants of Lowe's upbringing on the ranch and his obsession with pop culture in everything that he does. His first feature film, 5th World (2005), centers on two Najavo teens who fall in love while hitchhiking through Monument Valley. The way they fall in love? By bonding over films like Apocalypse Now and John Ford westerns. 
After six shorts and three feature films, Lowe made his two-episode TV directorial debut on Reservation Dogs. "I've been working for the past 20 years doing independent films," Lowe says, "and it really started to pay off finally. Because of meeting Sterlin and Taika way back when [at the Sundance Native Labs], I'm now open to the TV game, and it's been very nice. It felt like making a movie with family. It was completely collaborative because I understand [Harjo's] style, and I know the kind of filmmaking that he does, so it was easy to lock into what he wanted. But he's also my friend and understands my style and what I do, so I got more freedom to do what I want." 
The overarching plot of Reservation Dogs follows four Native American teens—Elora (Devery Jacobs), Bear (D'Pharaoh Woon-A-Tai), Cheese (Lane Factor) and Willie Jack (Paulina Alexis)—who launch a flimsy get-rich-quick scheme to do various crimes around town to fund their escape to California. The show's mood oscillates between heartwarming drama and wacky comedy, primarily by prioritizing character development over cliffhangers and overly dramatized story beats. The series shines in the episodes where each young member of the group creates a bond with a native elder in their community. 
Lowe's two episodes, "Uncle Brownie" and "Come and Get Your Love" (both written by Harjo), are great examples of how Lowe's love of pop culture and respect for family come
together. In episode three, "Uncle Brownie," the Res Dogs, who laughably consider themselves a small-town gang though they are generally nonviolent, ask Uncle Brownie (Gary Farmer), a stoner recluse who lives in an isolated house in the woods littered with VHS tapes of movies like The Blues Brothers and Jurassic Park, how to fight. But along with the pugilistic training—the episode contains a funny Mr. Miyagi–style lesson—Uncle Brownie also teaches them a lesson in humility when he offers a sincere apology to bar patrons he beat up 30 years ago.
"I find something in common with all the characters," Lowe says. "With Uncle Brownie, a stoner weirdo who lives as a hermit out in the middle of nowhere, I know that person. I was that person from time to time when I was writing, but he also reminds me of my uncle, too—that's who I designed him after. There are these little flaws and characteristics that I gavehim from my own family members to make him a bit more real to me." 
"Come and Get Your Love" (episode five), Lowe's second episode, is a supernatural entry in the otherwise realistic series. It follows Res Dog's Cheese and Officer Big (Zahn McClarnon), the town's Lighthorseman, as they spend the day chasing a trespasser who is placing weird miniature copper sculptures on people's porches. A parallel supernatural storyline focuses on a Deer woman who punishes bad men and illustrates how Officer Big sees the world through Native American folklore. "Something that attracted me to this episode is [my] connection to the supernatural aspect—the indigenous way of seeing things and living life," Lowe says. "We're still in our homeland, so we still have our living spirits and spiritual grounds that are still there. Those different beings are still very much real to us." 
For Lowe, work on Reservation Dogs has changed the direction of his career. "After I directed the two episodes, I joined the DGA," he says. "Prior to last year, I'd just been doing independent films where I self-financed, found private financiers or was begging my friends to work on a film for a couple of days, and I'd pay them in weed or pizza. Now, I'm doing what I love with financing and help from department heads. People ask me now if TV's [difficult], and I'm like, 'No, it's the easiest thing ever. I don't have to bribe my friends, drive around and pick up actors, I don't have to worry about time within a certain location. I have all of these people to help me make something that much better.'" 
"This is the first couple of years where the gate has been open for [Native American filmmakers]," Lowe continues. "And people like Sterlin and Taika opened the door for us. So, like what Sterlin did with me, I'm trying to bring up the next group of [Indigenous] filmmakers into this industry and get them into the DGA. That way, we have more opportunities to tell our stories, and what I think Hollywood and the rest of the world need to realize is we do have our own stories."
Sharmeen Obaid-Chinoy
Sharmeen Obaid-Chinoy has been asking difficult questions since she was 14. Encouraged by her parents with the belief that she and her sisters "could do anything," Obaid-Chinoy honed her focus on the very serious plights of women in her home country of Pakistan.
"I would write articles for newspapers when I was 14 years old," Obaid-Chinoy says. "So, I was always a storyteller. [Over the years] I've just changed the medium from print to television, to animation, to films, to reality." Early documentary work examined the limited freedoms of women in Saudi Arabia, xenophobia in South Africa, illegal abortions in the Philippines, honor killings and the Taliban's growing influence in Pakistan. In 2003, at the age of 24, Obaid-Chinoy debuted her first feature documentary. Terror's Children follows the filmmaker during a 10-week visit in her hometown of Karachi, where she meets eight child refugees who were forced to flee their war-ravaged homes in Afghanistan. 
"I've always believed that when you show someone something, you can evoke empathy in them," Obaid-Chinoy says. "In 2005, I was filming in the Philippines, doing a story about backstreet abortions. [Because of religious suppression,] contraceptives were not being given to women in poor localities; their reproductive rights were being taken away. So, the organization that was part of my film asked if we could give them the footage because they were going to use it to lobby the government to show them the horrors of backstreet abortions. That's when the penny dropped in my head that my stories can be used for activism. They can be for legislation;
they can be used to change the way people see issues."
Now 43, Obaid-Chinoy has scored seven Emmys, two Academy Awards (her first win in 2012, for the critically acclaimed Saving Face, made her the first Pakistani Oscar winner), a write-up in Time Magazine's 100 Most Influential People and a Hilal-i-Imtiaz (Crescent of Excellence) award, a Pakistani designation that is the second-highest citizen honor, for her work as a filmmaker. Of her episodic debut directing episodes of Marvel's latest Disney+ venture, Ms. Marvel, created by Bisha K. Ali, Obaid-Chinoy says, "For the better part of two decades, I've been telling stories about ordinary women who are extraordinary because of the work they do in their communities. They are all superheroes but without capes. So, when my agent said to me that Ms. Marvel was looking for a director, I was like, this is just a tiny step away from the work that I've done because here's a superhero that represents so much [of the Muslim culture], and her story is going to matter. I really wanted to put my hat in the ring, so I did. I remember thinking to myself, 'I've been a storyteller for two decades, I can just go straight into the Marvel Cinematic Universe, right?'"
Ms. Marvel tells the story of teenage superhero Kamala Khan (Iman Vellani), a Pakistani-American, who tries to grapple with both having to save the world from cosmic threats and trying to pass her driver's test exam. Like the comic, the TV series is set within the Muslim community. Kamala and her family go to the mosque and speak Urdu, and the storylines often have to do with Kamala occasionally challenging older traditions. It was important for Disney that the majority of people involved in the production of the show be an accurate representation of the South Asian community, and Obaid-Chinoy holds the distinction of being the first Pakistani director involved with the MCU as a whole. Of her approach, Obaid-Chinoy says, "I love a good joke, and I love a good [relatable] human story. I wanted Kamala to be universal. I wanted any young person watching her to see a reflection of themselves and their lives in her. I wanted her to transcend the boundaries of just being a South Asian superhero. Ms. Marvel at the end of the day is a story about a family and their trials and tribulations as they try to find their footing in New Jersey. Kamala's parents just want to provide their children with the best opportunities while trying to have them retain a part of their culture. 
"I saw what Black Panther did for people in the [Black] community," Obaid-Chinoy continues. "And [with Ms. Marvel] this is our moment. This is our story. I know there are moments that will be just as relatable to South Asian immigrants and any immigrant around the world because [the series] is such a celebration of our culture—our music, our food, who we are and where we come from. And that we matter. Ms. Marvel is going to be an anthem to our generation, to our culture, to our people. And within that anthem you will hear your grandmother's voice, your mother's voice, the [traditional] music and you will see them eating the food that you eat. You will hear them using the [culturally specific] jokes that you use. You will see that your life is now a part of pop culture now, and that's powerful."