Back to selection
Hit & Misses: The 2022 Releases of Six Recent Sundance Features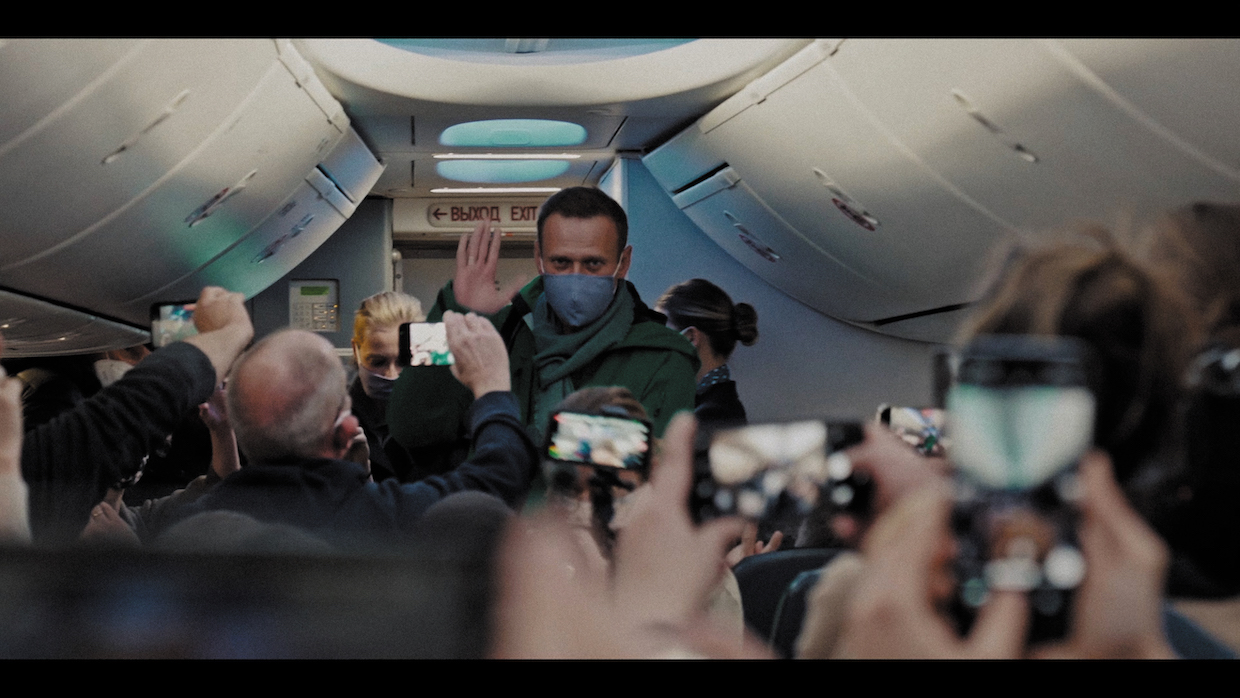 Navalny, courtesy of CNN Films
In just three (admittedly, very momentous) years, the marketplace for independent films has completely changed. During previous turning points over the decades, executives would use words like "waves" or "cycles" to describe instances of upheaval, but what's happening now is more like a comprehensive reset. In a recent online article titled "The Sky is Falling, Take Shelter," producer Rebecca Green wrote, "This year is unlike anything I've seen in the 20 years I've been working in this business." 
If Sundance and its films are a barometer for the independent film industry, consider this comparison: The pre-pandemic class of Sundance 2019 included such moderate (at the time) theatrical hits as The Farewell ($17.7 million in U.S. ticket sales), Apollo 11 ($9 million) and The Last Black Man in San Francisco ($4.5 million). The biggest deals out of Sundance 2022, such as Cha Cha Real Smooth and Good Luck to You, Leo Grande, went straight to Apple TV+ and Hulu, respectively, and the only significant box-office earners from that lineup (Breaking, Honk for Jesus. Save Your Soul., Watcher and Emily the Criminal) grossed around $2 to $3 million each. 
Sundance 2022 infamously will go down as the one that went virtual at the last minute, but the independent business has been shifting toward streaming anyway. Specialty film performance in theaters is trailing far behind the new normal—according to industry estimates, 2022 Hollywood box office grosses were 35 percent below pre-pandemic levels, while the indie market share dropped by as much as 60 percent from 2019 (while documentaries tanked even further in cinemas). 
"I think we all have to adjust our expectations about what these films can sell for and what they can do in the market," says IFC Films president Arianna Bocco. "It's a tricky situation because, while costs may have gone up to make movies, buyers aren't going to spend more just because the filmmakers spent more money to make them."
Tyler Davidson, producer of Emily the Criminal, The Signal and Compliance, is also concerned. "I do think the acquisitions model of producing, financing and selling films is harder than ever," he says. "It's a feast or famine situation, and I question the sustainability of that when only one to five films win the lottery. I just don't know how that helps the overall health of the market."
Perhaps there's a chance that older audiences will leave their couches again, certain shuttered arthouses will reopen and visionary indie dramas will recapture the zeitgeist. But don't bet on it. (As much as Todd Field's TÁR was the talk of the town in fall 2022, it still struggled to cross over.) Let's face facts: The models have irrevocably changed. Indie film platform releasing, in which slowly expanding releases spur word-of-mouth and box office sales, appears to be the relic of a bygone era. "That model was built in Los Angeles on the [now defunct] Arclights and Landmarks cranking out big numbers," says Roadside Attractions' co-founder and co-president Eric d'Arbeloff. "Now, it just feels out of touch."
And yet, as one producer says, "I still don't know if anyone has solved the issue of distinguishing a film for audiences without a theatrical component." Such conundrums have left the industry befuddled. If independents still require a forceful theatrical launch to get noticed, which films deserve the expense associated with such a plan? And how exactly should they be released? In a telling sign of the decline of "platforming," NEON president of distribution Elissa Federoff says the company is working more actively now with bigger theater circuits, such as AMC and Cinemark, to leverage their corporate marketing engines. "One thing that's come out of the pandemic," she says, "is that the ecosystem of exhibitors and distributors need to create more opportunities to find audiences together." 
 "We're all still experimenting," explains Bocco. "What's clear is shortened windows are here to stay, and everyone is trying everything under the sun." Two- to three-week 100+-screen theatrical runs, along with premium/transactional VOD launches, are a favorite model these days, but the year has also been littered with clunkers that took such a route. Sundance-acquired films such as Call Jane, Alice and Resurrection all failed to justify robust theatrical releases, perhaps making Amazon's direct-to-VOD distribution of its Sundance films (Carey Williams's Emergency and Mariama Diallo's Master) look like the safer strategy. Or, if you don't need to make a lot of money and recoup anytime soon, maybe humbler arthouse releases with extremely modest aspirations, such as We're All Going to the World's Fair, can still work.
"Things have been rocky for the last couple years," admits Tyler DiNapoli, president of marketing, media and research at theatrical-focused distributor Bleecker Street. "It's a bit of a chicken-and-egg thing," he explains, suggesting that for the system to work, distributors have to "keep offering great movies for the audience" and, conversely, audiences need to be there to show up for them. 
For that reason, Sundance 2023 will undoubtedly see the usual distribution suspects (Amazon, Apple, Focus, Fox Searchlight, IFC Films, Nat Geo, NEON, Netflix, Sony Pictures Classics, Bleecker Street) pecking at the doors once again, feeling the buzz of the flocking crowds and looking to leverage their streaming operations, output deals and digital partners to acquire films. But downward pressures on the economy, entertainment and tech sector belt-tightening and a shrinking indie market could all take a big toll on sales.
What else can 2022 releases of Sundance titles tell us about independent film releasing now and moving forward? Here are six case studies of several highlights from the festival (in the order of their calendar release) and how they persevered within our new paradigms in myriad ways.
Navalny
Release dates: April 11 (theaters); April 24 (CNN); May 26 (SVOD)
Domestic Box Office: N/A
Widest release: 800+ theaters 
Highest Apple Movies/iTunes Ranking: n/a
Origins: In early 2020, producers Diane Becker, Shane Boris, Melanie Miller and Odessa Rae are working with director Daniel Roher on a film they are researching in Europe when Rae and Roher meet Bellingcat journalist Christo Grozev and suddenly find themselves investigating another nonfiction feature project based in Ukraine. When they learn that Grozev has been in touch with Russian opposition leader Alexei Navalny, who has been hiding out in Germany's Black Forest after being poisoned, they pivot quickly to the unfolding story. "I was literally putting everything on my credit card at this point," says Rae. After two days of shooting turn to two months, they realize they have a film. 
Sales & Distribution: While finishing principal photography, the producers begin talking confidentially to sales agents and distributors about the project. "Some of them had concerns about taking on the Russian government," says Becker. "It was definitely a hot potato." One sales agent tells her, "Nobody is going to touch this." So, rather than risk independently financing the film and having challenges with distribution, they reverse engineer the approach and reach out to partner with CNN, as Becker explains, because of the company's synergistic journalistic fit and the legal protections that a major corporation affords them. They eventually close a deal for global rights with CNN Films, which includes a release on HBOMax across the globe wherever the platform is available. CNN brings in Dogwoof to handle the additional international territories. 
After the film's surprise Sundance premiere, where it wins two Audience Awards, Russia invades Ukraine, and in March, Navalny is sentenced to a penal colony for nine years, putting pressure on the production team to distribute the film quickly. "Because of the war, we felt the need to get the film out as fast as possible with the hope of ensuring Alexei's safety," says producer Melanie Miller. "It wasn't a hard decision to make." says Boris. "That was more important than having a longer release runway."
Though CNN was in discussions with a range of theatrical distributors, corporate sibling Warner Bros steps in quickly to take the reins because of the urgency of the situation. In only around three weeks, Warner Bros. Pictures, CNN Films and HBO Max partner with Fathom Events for a special two-day event screening across the country in mid-April. (Ticket sales are not disclosed.) "The shift in the theatrical release likely had an impact on the film's overall box office," explains Miller, "but there was definitely awareness about the film regardless of the truncated timeline."
Following CNN's world premiere TV broadcast on April 24, international TV broadcasts are set at major international networks, such as BBC in the UK, RTL in Germany, VPRO in the Netherlands and Channel 8 in Israel, among others, while theatrical releases take place in Germany, Italy, Australia and Japan.
Recoupment: Producers' investments have been recouped, but moreover, the filmmakers point to the wide-ranging impact of the film on the international stage as evidence of its success. Funds have been raised for journalist outfit Bellingcat and Navalny's Anti-Corruption Foundation, which recently launched a new news channel based outside Russia. At a November impact screening in Brussels, Hillary Clinton offered her support with videotaped remarks, and a new sanctions package against Russia was announced by the vice president of the European Commission. And while the filmmakers can't exactly take credit for Navalny's enduring position, even in solitary confinement, as the most prominent Russian voice against Putin, they tout the film as an important tool for raising Navalny's profile.
Meanwhile, the film continues to be in the awards conversation, will air on CNN in December and January and is creating momentum for the filmmakers. "It's extremely important for all of us," says Boris, "and it opened doors for us and will help us make the films that we all care about." But the film's success isn't enough to withstand the impact of a corporate shakeup in the wake of the Warner Bros/Discovery merger: In fall 2022, CNN announces it's no longer commissioning or partnering on independent feature documentaries and CNN Films VP and Navalny executive producer Courtney Sexton leaves the company shortly thereafter.
We're All Going to

 

the World's Fair
Release dates: April 15 (theaters); April 21 (PVOD, TVOD)
Domestic Box Office: $101,178
Widest release: 9 theaters 
Highest Apple Movies/iTunes Ranking: N/A
Origins: Shot on a $130,000 budget and financed through personal investments from first-time narrative feature filmmaker Jane Schoenbrun (also a former Filmmaker columnist), and Hannah Dweck's Dweck Productions, the film is a lo-fi psychological drama about a teenager who becomes immersed in an online role-playing horror game. 
Sales & Distribution: After the film's Sundance Next section premiere in 2021, the filmmakers field offers from a veteran arthouse company and fledgling distributor Utopia. Aided by their SVOD licensing deal with HBO, Utopia puts more money on the table, and the producers take a risk and go with them. "We decided that that we owed it to our team," says producer Sarah Winshall.
Utopia's marketing campaign focuses on trans filmmaker Schoenbrun and rising star Anna Cobb and positions the film as a "transgressive discovery and genre-bender that toes the line between horror/creepypasta/arthouse/thriller," says Utopia VP of marketing and distribution Kyle Greenberg, who also credits wide-ranging festival play for helping spread word of mouth. "We made a concerted effort not to play just queer festivals or genre festivals or arthouse festivals, getting in front of lots of different audiences from Fantasia to New Directors to OutFest," he says. They drove ads to each demographic across Instagram, Twitter, TikTok and Letterboxd, and coordinated a tie-in series at BAMcinématek, "Photographing the Ether: The Internet on Film."
According to producer Carlos Zozaya, the film's marketing also benefits from Schoenbrun's choice to use a singular and surreal key image, reflected across their materials, and an intentional strategy to avoid using the word "horror" to describe the picture "because it's not a horror film," he says. (But tell that to the headline writers at the New York Times, who titled a profile of Schoenbrun and the film, "A New Horror Film Finds Solace, and Identity, in Terror.")
The film opens April 15th on three screens in Manhattan, Brooklyn and Chicago to roughly $20,000 box office and a $6.66K per-screen-average, followed by a theatrical expansion the next weekend along with a day-and-date pay-VOD window. According to Greenberg, the film "surpassed expectations," staying in theaters for more than a dozen weeks. Though total box office grosses are slight, Greenberg maintains you can't compare their small-scale campaign with wide-releasing indies, touting the fact that they earned $100,000 on fewer than 100 screens. 
Recoupment: According to Utopia and the producers, the film has been successful. It's already surpassed six figures on TVOD, and a collector's edition physical media release in cooperation with cult home video label Vinegar Syndrome is also selling. Audiences are still discovering the film, aided by online buzz and Gotham Award nominations for best breakthrough director and breakthrough performer. Winshall says they "will be in the black, but it will take a while." Meanwhile, Schoenbrun has already wrapped their follow-up, a higher-budgeted feature called I Saw the TV Glow, for A24. 
But Winshall feels their triumph was more like capturing lightning in a bottle. "I'd be wary of being heartened by our success," she says. "I don't think it's something that can be emulated. Jane is brilliant, and the way the movie tapped into communal and individual feelings at the moment was very unique, so it's not like it's a harbinger of a wave of opportunity."
Watcher 
Release dates: June 3 (theaters); June 21 (TVOD); August 26 (SVOD, Shudder); October 4 (DVD)  
Domestic Box Office: $1,961,207
Widest release: 764 theaters 
Highest Apple Movies/iTunes Ranking: No. 3
Origins: Financed entirely by Abu Dhabi–based media company Image Nation, the film is co-produced by Spooky Pictures—the first production from the low-budget genre label formed by veteran horror producers Steven Schneider (Pet Sematary) and Roy Lee (It). Shot in Bucharest with the physical production support of local partners, the film follows a young American woman who moves with her husband to Bucharest and suspects that a stranger who watches her from the apartment building across the street may be a serial killer. 
Sales & Distribution: After the film's late night Sundance online premiere, early reviews are mostly positive ("Watcher is actually pretty damn good"—Variety), but not everyone's a champion (Indiewire scores it a "C+"). IFC Films president Arianna Bocco recalls at the time that films like Watcher were high on their target list because of genre films withstanding the challenges of the pandemic-era marketplace and the company's track record and corporate connection to horror label Shudder. Says Bocco, "We jumped in right away and were very competitive" with a deal for North American rights. Shortly thereafter, Focus Features acquires all international rights.
While IFC is known for its day-and-date digital releasing, the company takes a bet based on positive reactions from press and their test marketing to release the film theatrically semi-wide in the early days of summer. With independent genre film springtime breakouts, such as Ti West's X in March, Bocco says that "it quickly became clear that horror was working theatrically, and there was evidence of younger audiences coming back to the theaters."
On its opening weekend, the film scores the biggest debut ever for IFC, earning $815,000 with a per-screen-average of $1,067. (Put into perspective, the company's pre-pandemic films such as 45 Years and The Death of Stalin had far higher PSAs and total box office earnings.) "We were very pleased with how the film performed theatrically," says producer Steven Schneider.
In its first week on TVOD, 18 days later, it charts in the fifth spot overall on Apple iTunes Movies. The following week, it inches up to third (just below The Lost City), then remains high on the "Independents" chart throughout the summer. 
"The film resonated," says Bocco, crediting rising actress Maika Monroe (known to genre fans from It Follows), a breakthrough new female director in Chloe Okuno and, as Bocco says, "the feeling that every woman knows what it's like to be gaslit."
Recoupment: According to producer Schneider, the film is on its way to recouping for its financiers, while Okuno is bound for bigger-budgeted projects. The film once again proves the commercial value of genre projects in our youth-centered marketplace. But as Schneider says, "In the horror space, concept and quality is king—more than attaching big-name actors or spending an irresponsible amount on fancy special effects."
Fire of Love
Release dates: July 6 (theaters), (TVOD)
Domestic Box Office: $1,042,313
Widest release: 191 theaters
Highest Apple Movies/iTunes Ranking: N/A
Origins: Filmmaker Sara Dosa and producer Shane Boris receive a grant from science-oriented company Sandbox Films for a project based in Siberia. The pandemic quashes the idea, so they pivot to the more archival-based Fire of Love, a rumination on love and death through the story of French volcano hunters Katia and Maurice Krafft. Along with Sandbox, which comes onboard as a majority financier, they garner a Sundance grant and Canadian tax credits, leveraged by producer Ina Fichman's Intuitive Pictures.
Sales & Distribution: After its Opening Night premiere at Sundance, several companies compete for the film; National Geographic Documentary Films wins the bidding with a worldwide rights deal for mid-seven-figures, according to trade reports. Dosa says Nat Geo made the most sense, "creatively and philosophically," because, like the film itself, "they are all about the wonderment of images from the natural world." They also made a theatrical commitment, which was important to the filmmakers for their cinematic doc.
For the theatrical release, Nat Geo partners with NEON, which puts out the film in early July, first in three theaters (with an impressive $7,472 per-screen-average), then slowly expands over the next few weeks, eventually to 191 theaters. According to NEON president of distribution Elissa Federoff, the film benefited from a number of festivals and word-of-mouth screenings, a showcase of footage at CinemaCon to get exhibitors excited and filmmaker Q&As, "which are always a driving force for audiences." 
NEON also gives additional bumps to the film. On Wednesday, August 24, they hold a one-night-only special event at about 300 theaters, many of them more commercial venues, and gross around $100,000. Then, on October 16 and 17, the film plays single shows at IMAX venues in six key cities (four of which are sold out). Though the overall U.S. box office just cracks $1 million, Federoff says "I'm very pleased about the number." On November 11, the film launches globally on Nat Geo sister company Disney+. Meanwhile, Nat Geo hires French sales company MK2 to secure international sales deals—as of late 2022, the film has been released theatrically across 29 countries, with notable runs in The Netherlands and Australia, among others.
Recoupment: "I know how hard it is to get your independent documentary into just a couple cinemas, so I've felt very lucky," says Dosa, who also signed with Anonymous Content in the early spring. "Working on docs has been especially difficult," she adds. "Now, it'll make it a lot less difficult," with exciting projects coming her way. As for the film itself, Dosa believes that the producers will recoup their investment, and awareness continues to build during awards season, with Fire of Love selected by several organizations as one of the best docs of the year.
Emily the Criminal
Release dates: August 12 (theaters); August 30 (DIRECTV); Sept. 27 (TVOD); December 7 (SVOD, Netflix)
Domestic Box Office: $2,156,296
Widest release: 483 theaters
Highest Apple Movies/iTunes Ranking: No. 3 (behind Top Gun: Maverick)
Origins: When Low Spark Films's Tyler Davidson, producer of Cryptozoo and Compliance, receives first-time feature director John Patton Ford's script at the end of 2019, he is drawn to the story as a "compelling entertainment" with "social relevance"—and because Aubrey Plaza is already attached. Financed by Low Spark's core group of equity partners and bolstered by a Universal presale for international rights, the film is shot on a low seven-figure budget in 21 days during the COVID summer of 2021, which, of course, presented its own unique creative challenges. "Because we didn't have a lot of money and time," says Davidson, "we couldn't set up wide shots, but as a result, the claustrophobic feel ultimately served the anxiety of the character."
Sales & Distribution: Though the producers are disappointed that the film's Sundance premiere is online, the upside is that a lot of decision-makers watched it, and they receive a high number of offers, according to Davidson. Because of he and his company's belief that "the only way to have staying power is to have theatrical curation and the critical publicity and marketing that goes with a theatrical release," they take a North American rights deal from Roadside Attractions, along with online partner Vertical Entertainment, which remained committed to theatrical distribution. "We felt we really had a theatrical upside," says Roadside's d'Arbeloff, who set the release date around Plaza's availability for media coverage.
Following a pattern akin to Plaza's 2017 movie Ingrid Goes West, Roadside opens the film on 470 screens—a "middle ground," according to d'Arbeloff, small enough where they can still handpick the screens, but big enough that they can capitalize on Plaza's publicity blitz on late-night talk shows and ubiquitous press interviews. "Why not be out there with a nationwide footprint if you have a star?" he says, along with a 94 on Rotten Tomatoes. D'Arbeloff also credits Plaza and the production team for being active in the marketing. A first draft of the trailer positions the film as more of a straightforward genre film, but they pivot in subsequent versions to emphasize a "neo-Sidney Lumet" story about a desperate woman buried under student debt.
The first weekend per-theater-average is decent ($1,423), and the target demographic is younger than Roadside's standard release because, as d'Arbeloff notes, "It's a younger group that's going to the movies." While the film's box office gross maxes out at just over $2 million, d'Arbeloff says, "You could argue about the number, but it put the movie on the map." Indeed, in its TVOD debut, it nabs the fourth spot overall on Apple iTunes Movie Chart, behind only Top Gun, Bullet Train and Where the Crawdads Sing, and it remains in the top 10 for three weeks. 
Recoupment: According to Davidson, the team is satisfied both "with the visibility of the film and financially as well, and I do think we're going to see additional overages for years to come." Roadside is also pleased with the ongoing performance of the film and the attention that Plaza is drawing over awards season, with Gotham and Spirit Award noms for best lead performance. "It's proliferating in a nice organic way, and it's all predicated on the fact that there's love for Aubrey," says d'Arbeloff. 
Breaking
Release dates: August 26 (theaters); September 13 (PVOD); October 18 (TVOD); January (SVOD/Showtime)
Domestic Box Office: $2,806,359
Widest release: 909 theaters
Highest Apple Movies/iTunes Ranking: N/A
Origins: Developed by Vox Media Studios's Epic magazine and Salmira Productions, the film is based on the true story of a U.S. marine who took several people hostage at a Wells Fargo bank in 2017. Originally titled 892 and directed by first-time feature director Abi Damaris Corbin, the film nearly falls apart when the filmmakers' top choice actor Jonathan Majors drops out just a week before shooting, reportedly because of conflicts with his production schedule on Marvel's Ant-Man and the Wasp: Quantumania. According to producer Sam Frohman of Salmira, the majority financier, other equity partners quickly pulled out, leaving the production in the lurch. At the very last minute, John Boyega becomes available, other equity financiers step in, the shoot commences and—with the exception of a costly COVID shutdown in the middle of production—the film goes off without a hitch in July and August 2021.
Sales & Distribution: After the film premieres in Sundance's Dramatic Competition, and wins an award for best ensemble cast the producers receive a few offers. Like many of the other filmmakers on this list, the team wanted a theatrical deal. "What was particularly appealing about Bleecker [Street] was a theatrical commitment to 800+ screens," explains Frohman. "There were other companies that had similar offers, but it was more exciting to be Bleecker's top priority than being lumped in with a streamer's releases." Bleecker also brings in Universal for international rights.
Bleecker changes the title from 892 to Breaking—evoking both the protagonist's emotional state and the "breaking news" aspect of the story—and leans heavily marketingwise into the pull quote "A modern day Dog Day Afternoon." Bleecker opens the film wide at the end of August across a promised 902 venues and yields a passable $1,093 per-theater-average. The film also benefits in its second weekend from National Cinema Day on Sept. 3, a nationwide multiplex promotion where movies cost only $3. (It was the highest-attended day of the year for theaters, according to the National Association of Theater Owners.) Shows sell out in Miami, Chicago and Los Angeles—"it was fortuitous timing," says Frohman. "A lot of people saw it that wouldn't have seen it otherwise." According to Bleecker Street president of distribution Kyle Davies, the film played well in major upscale markets with adult audiences, as well as with African Americans. Bleecker's Tyler DiNapoli adds, "The cast had a lot of traction, and John Boyega worked hard to promote it."
Recoupment: "On the surface, $3 million doesn't sound like a lot for 800 screens," says producer Frohman, "but we were pretty happy with it." Acknowledging the challenges of dramas in the marketplace, Frohman says the film had a good outcome, though he adds Universal's international participation was crucial to their bottom line. Bleecker confirms that the film will be profitable for the company, hitting targets across all the points of its release.