Back to selection
2022 in Cameras
ARRI's new modular 4K Alexa 35
2022 was a quiet year for camera technology, thank goodness. The decade plus I've been covering camera breakthroughs on this website has been a rocket ride. So much velocity, so little time to stop, catch one's breath, smell some roses. Ask yourself, who can any longer tell the difference between film and digital origination on the big screen? Be honest. No less than Roger Deakins declared film a dead issue half a dozen years ago. His latest, Sam Mendes' Empire of Light, shot using Arri Alexa Mini LF (large format) and spherical Arri Signature Primes, is a loving paean to the magic of yesteryear's movie palaces if not an homage to the very medium of film itself. Of course he would shoot it digitally.
In other words, the roses smell divine.
This year's lull arrived in the wake of three years of pandemic chaos: supply chain disruptions, resurgent protectionism, economic uncertainty and inflation. All of these directly impacted the development, manufacture, and supply of tech devices including cameras and their components. A shake-out was bound to follow.
Panasonic didn't show up to their own press conference at NAB in April. What were they going to announce, that they had left the cinema camera space? This fact was sadly on display at their booth at NAB. Gone were the 4K VariCam 35mm cameras and compact EVA-1s of past years. In their place stood six or seven mirrorless Lumix cameras from the consumer division. Panasonic's next chapter in cinema production?
However Panasonic did announce in October a new broadcast camera, the AK-PLV100 4K CINELIVE Studio Camera with PL Mount. Per Panasonic, this camera offers "a cinematic look, V-LOG and Dual Native ISO" from its 5.7K Super 35mm sensor. Sound familiar?
Missing, too, at NAB last April was the large annual contingent of Chinese booths, much in evidence during the last decade, at least until the Trump years. These were small, innovative companies that produced cameras, gimbals, drones, lighting, and much more. This year the capacious zone they had occupied in the Las Vegas Convention Center's Central Hall was a ghost town. How are we not all the poorer for this?
Disruptions in supply and manufacturing were felt up and down the various marketplaces for cameras and accessories this year. China's Covid lockdown was particularly impactful. I know this from personal experience, having waited months for various items from Sony that always seemed out-of-stock or on backorder. This had never occurred in the past.
Let's hope these are momentary speed bumps. China remains the world's electronics factory (Taiwan's a runner-up), and it continues to dominate fabrication if not, increasingly, innovation too. DJI practically invented the category of camera drones. Shenzhen-based firms such as Astrhori (formerly Rockstar), Viltrox, Yongnuo, TTArtisan, 7Artisans, SLRmagic, DZOFILM, Venus Optics (Laowa brand), and CHIOPT (Hunan province) have lately produced a bumper crop of affordable cine lenses and novel lens designs. These upstart optics manufacturers already run circles around established lens manufacturers in price, and there's no reason, given time, they can't narrow any gaps in quality. (Don't lose sight of the fact that China is a country with a space station in orbit. Though duck if you see one of their disintegrating rockets falling in your direction!)
It's always unfortunate when politics slams the brakes on markets and innovation, and worse yet when questionable patents are the culprit. In 2007, at the outset of the digital cinema camera era, RED, through a weak adjudication process that overlooked multiple instances of prior art — Kinetta camera, anyone? — filed for a broad patent on recording compressed RAW files inside a motion picture camera. RED obtained this patent and then successfully sued Sony in 2013. Rumor has it that Sony pays royalties to RED and must call its compressed RAW format "X-OCN," which stands for "eXtended tonal range Original Camera Negative," quite a mouthful. Somehow, Sony cameras including the Venice were never able to record RAW internally, at least until the arrival this year of the Venice 2, which I'll discuss further below.
In 2021, RED sued Chinese manufacturer Kinefinity, objecting to Kinefinity's incorporation of CinemaDNG and KineRAW files into its cameras. As a result, Kinefinity delivered their new MAVO Edge 8K camera without internal recording of Apple ProRes RAW, a feature touted at the camera's 2020 product launch. This year RED sued Nikon over its incorporation of N-RAW, Nikon's 8K iteration of intoPix's advanced TicoRAW, into their Z9 camera — but this time Nikon wasn't having any of it. Nikon countersued RED, asking the court to dismiss RED's lawsuit on the basis that RED's patent was invalid from the outset, arguing that the original RED ONE had been used publicly and offered for sale well before the patent was applied for, which violates the conditions for obtaining such a patent. Stay tuned.
As mentioned, DJI pioneered the market for camera drones. This year DJI made waves in two other realms, one political. In July, the Department of Defense called out DJI's products as "potential threats to national security." In October, the DoD blacklisted DJI as a "Chinese Military Company," adding its products and those of twelve other Chinese companies to the DoD's banned procurement list. DJI promptly put out a statement protesting DoD's classification: "DJI is not a military company in China, the United States, or anywhere else. DJI has never designed or manufactured military-grade equipment… we have always developed products to benefit society and save lives… DJI stands alone as the only drone company to clearly denounce and actively discourage military use of our products, including suspending all business operations in Russia and Ukraine to try to keep our drones out of the conflict there."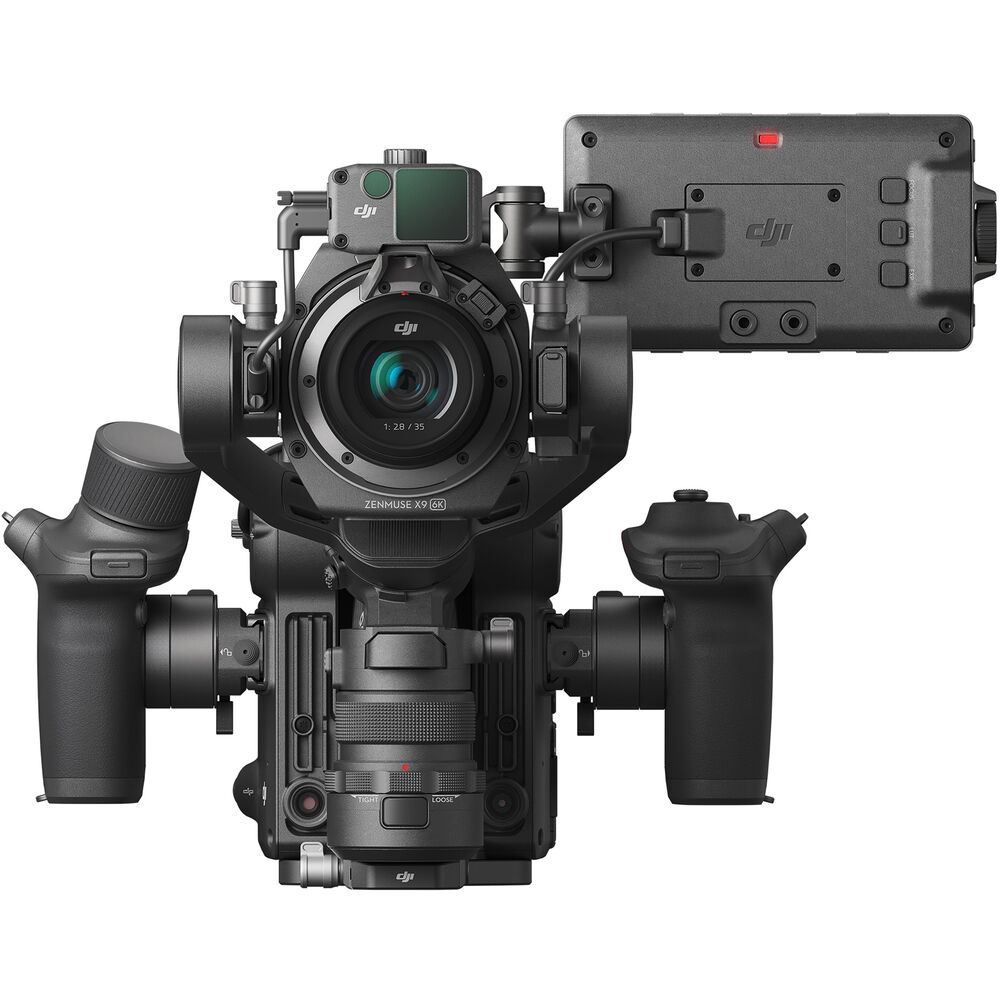 DJI's other wave-making was the introduction of a camera system seemingly borrowed from the future. Imagine a 4-axis camera stabilizer that can counteract roll, pitch, and yaw like a gimbal and also maintain a fixed height from the ground like a Steadicam. Imagine that built into this super-stabilizing contraption is a 6K or 8K full-frame camera with both advanced LIDAR-based autofocus and wireless focus-pulling. Next imagine a bright 5.5" HDR viewing screen (1,000 nits). Let's fantasize that the resulting package is small and light enough to be handheld, no harness or rig required. Affordable, too. Say, a 6K version with a base price $4,200 below that of a 6K Sony FX9. 
Got your attention? Well, this is the DJI Ronin 4D 4-Axis Cinema Camera 6K that arrived in 2022. (The 8K version has yet to appear.) Its list of attributes includes a mirrorless-type lens mount that adapts to Leica M, Sony E, and PL; internal ND filters; an 800/5000 dual native ISO; adjustable handles on both sides with controls that include focus; a USB-C port for recording directly to external SSDs; a friendly touchscreen user interface reminiscent of Blackmagic Design's cameras; and internal recording of Apple ProRes 422 HQ and ProRes RAW. The Ronin 4D system is also modular. Modules including a focus motor, LIDAR range finder, and lag-free video transmitter for a 1500-nit, 7" handheld display that enables remote monitoring and full camera control. 
Oops. Did DJI actually promise internal recording to ProRes RAW? By mid-February, DJI had to backtrack and announce they'd eliminated ProRes RAW recording, to be replaced later in the year by ProRes 4444 XQ, which is fine, but distinctly not RAW.
Hmmmm… you don't suppose RED had a hand in this?
The Ronin 4D, alas, is no magic bullet. No camera is. It's remarkably light, compact, and nimble. It does some things exceptionally well, enabling camera moves not easily possible before. But it's unhappy on a tripod, which doesn't play to its strengths. It doesn't like lengthy lenses like telephotos. Nor can it accommodate lenses that weigh more than 1.75 lbs., a serious limitation. A thorough yet scrupulously fair vetting of this strikingly innovative camera system can be found here.
Before we ankle the Middle Kingdom… China assembles, famously, Apple iPhones. Their tiny back-illuminated CMOS sensors are Sony's state-of-the-art, a key reason 4K video shot on the latest iPhones is so impressive. Most of us who regularly shoot documentaries have sneaked in HD shots made on our iPhones for years now, but the latest iPhone Pros (iPads Pros too) are in a different league and poised to get even better. The iPhone 14 Pro's 48-megapixel main camera delivers reliably sharp 4K, while its industry-leading 5nm A16 chipset provides smooth, gimbal-like stabilization in Action Mode (resolution drops to 2.8K) and wide-color Dolby Vision HDR in 24 fps Cinematic Mode. There's a reason iPhone 14 Pros are now seen in the hands of video journalists at press scrums.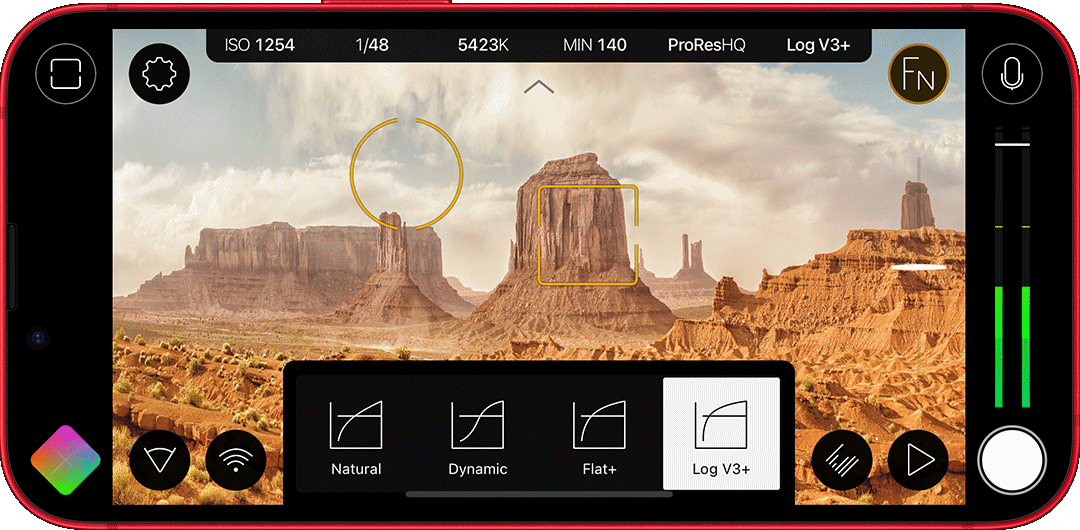 The iPhone 13 Pro and 14 Pro series can even record in 4K ProRes. Apple requires you to have at least 256GB of storage to do this. A minute of 10-bit 4K ProRes takes up about 6GB, so 256GB translates into 42 minutes of ProRes recording, minus the amount of memory occupied by apps, photos, etc. Just about, not quite, enough for documentary shooting, as long as you keep in mind that there's no SD card to swap. When filled, you have to download the phone's contents wirelessly via AirDrop before you can continue shooting.
Cinematic Mode further introduces a technique that synthesizes background blur to simulate narrow depth of field, which enables a sort of rack focus capability. Astonishingly enough, depth of field and rack focus decisions can be changed in post using Final Cut Pro. Cinematic Mode uses the ultra-efficient 10-bit HEVC codec (H.265). A minute of recording takes up a mere 135MB.
As if this weren't enough, the upcoming iPhone 15 Pro will feature a new Sony "stacked" sensor architecture, in which photodiodes and transistors are segregated into dual layers, which is said to double sensitivity.
Such is the ubiquity of shooting with "mobile devices" (not just Apple's products) that a new term has taken hold: "mobile storytelling." An impressively cogent and comprehensive discussion of the ins and outs of mobile storytelling shot on mobile devices recently took place on the website of the D-Word, "the leading community for documentary professionals worldwide." D-Word founder Doug Block (The Heck with Hollywood!, Homepage, 51 Birch Street) and University of Texas professor Bart Weiss, founder of Dallas VideoFest and former AIVF president, talk through practical issues of gear and technique, touching on audio, editing, backups, specialized video apps, one-person-band considerations, vertical framing, distribution, even the already impactful history of mobile devices on social justice. (George Floyd…) Indeed, Weiss is writing a book on mobile storytelling.
In describing DJI's Ronin 4D, I mentioned its wireless remote control capabilities. This feature, typically Bluetooth, is increasingly found in all cameras these days (as well as in LED lights). Another category of remote-controlled camera is PTZ, which stands for pan, tilt, zoom, the motors for which are integrated into the camera head itself. PTZ cameras are typically found in security cameras, those dark half-globe thingies mounted upside-down in corners of public spaces, designed for spying. But an upright PTZ camera is basically just a remote-control head with an integrated camera/lens, which is why PTZ cameras are increasingly seen on live sets at broadcast stations, eliminating the need for a camera operator. At NAB in April, Panasonic introduced a compact 4K PTZ camera, the AW-UE160, featuring a 1" CMOS sensor, phase-detection autofocus (PDAF), 20x optical zoom, and Lumix color processing—basically a studio camera in a can.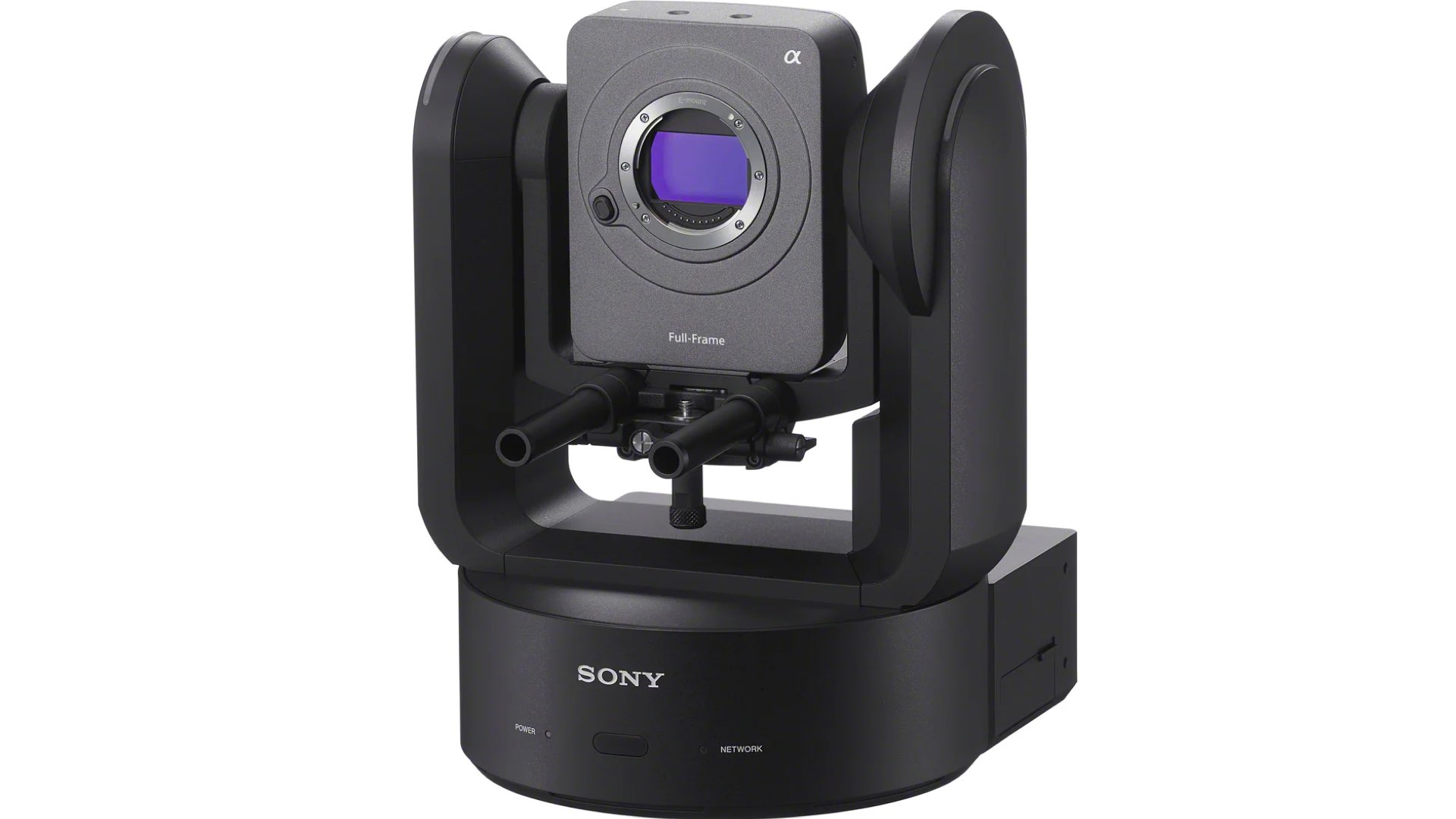 Sony went one step further, announcing at IBC in September an addition to their Cinema Line, the world's first 4K full-frame, interchangeable lens PTZ system, the ILME-FR7. Essentially a robotic Sony FX6, the E-mount FR7 matches all the FX6's features, including dual ISO, internal ND filters, eye-tracking autofocus, S-Log3 and S-Cinetone. Unique among PTZ remote cameras, it includes slots for CFexpress and SD cards for internal recording of XAVC, as well as SDI and HDMI outputs for external recording. The FR7 camera head is remote-controlled via Wi-Fi, meaning that all camera settings are controllable using a web browser on an iPad or laptop. It can also be fully controlled using a Sony RM-IP500 PTZ controller box with a joystick. The compact, affordable, remote-controlled FR7 really shines when attached to the end of a long boom or extensible crane, where it can perform camera gymnastics previously associated with Technocranes and the like.
We've touched on the stabilized, the mobile, and the remote-controlled, but what's happening in high-end, flagship cine cameras?
The broad strokes here are compactness and modularity. Everyone's got a camera system that complies with this description. Ditto for full-frame. Everyone's introduced a large-format camera; all major cine lens manufacturers now offer full-frame lens sets. Ditto, too, 8K (with the notable exception of ARRI). Who wants to get left behind in the resolution derby?
When the Alexa Mini arrived in 2015, suddenly the full-fledged Alexa looked and felt big, heavy, and ungainly. ARRI had created the stripped-down Mini to fill a niche need for a smaller, lighter camera for hard-to-reach places and to mount on cranes, Steadicams, and such. It was never conceived as a replacement or rival to the original Alexa. To make the Mini viable for standard production, you had to attach a viewfinder and a host of other practical accessories. Regardless, ARRI had a runaway hit on their hands. Everyone wanted to shoot with a Mini.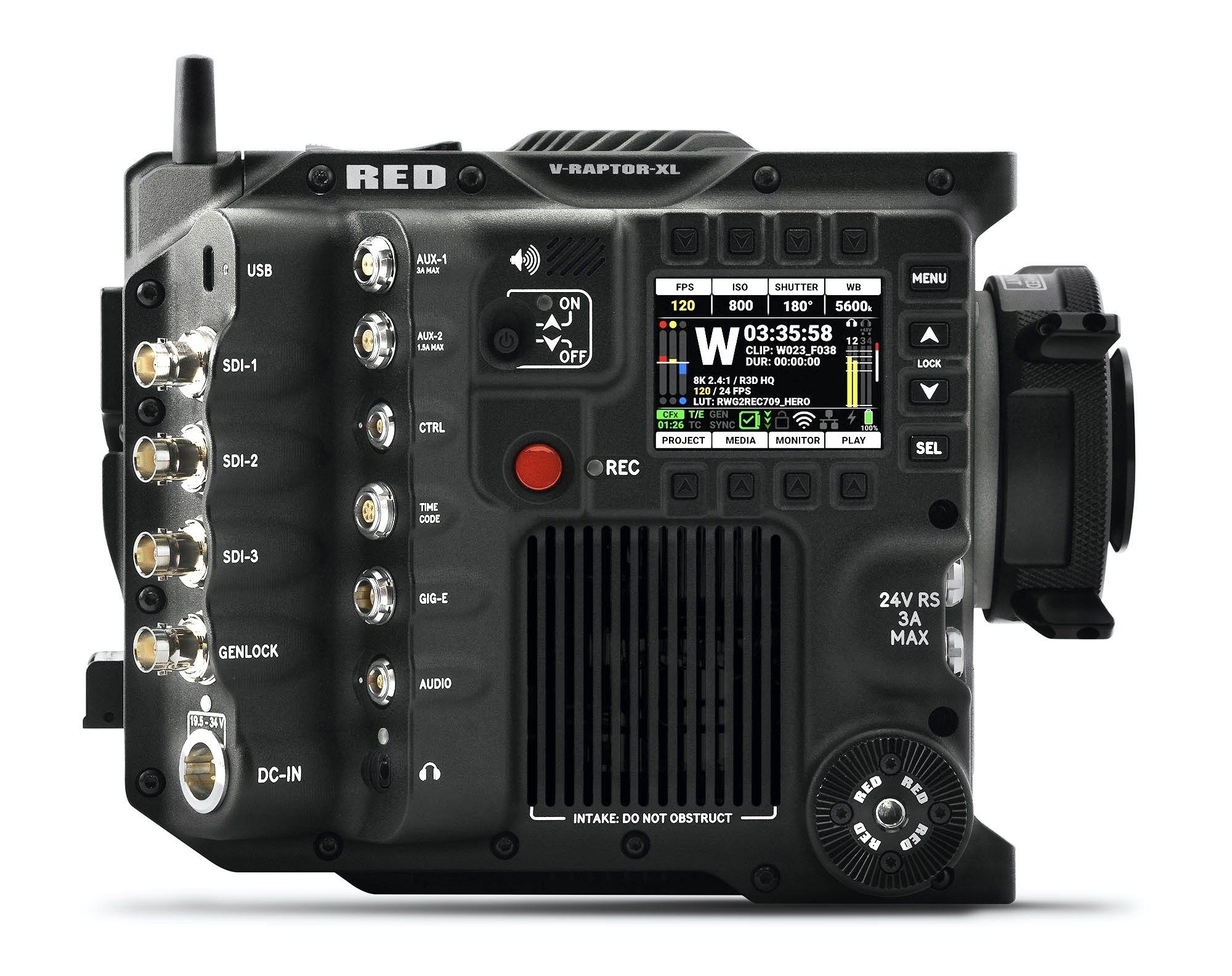 Today all of the flagship cine cameras are small and boxy like the Alexa Mini, ever so slightly longer than they are tall. They've reached what seems like a mature shape and size, a set of common design solutions towards which they've all co-evolved over time. This is even true of RED's latest offerings. After the original RED ONE, relatively hefty and elongated in shape, RED cameras shrank to something smaller than the Alexa Mini, with an upright boxy shape resembling a classic Rolleiflex. But the silhouette of the new 8K full-frame V-Raptor XL announced by RED in August could be mistaken for that of its Sony or ARRI counterparts. (No more talk of brains, we can hope.) A "purpose-built studio camera," the V-Raptor XL bristles with mount points and power outlets for accessories. Behind its PL mount is a variable electronic neutral density filter, the settings of which you can change using the RED app on your phone. (Sony pioneered internal electronic NDs in 2015's FS5.) The V-Raptor XL checks all the boxes for wireless genlock, timecode, and all the video ports you could possibly want. All built-in, this time.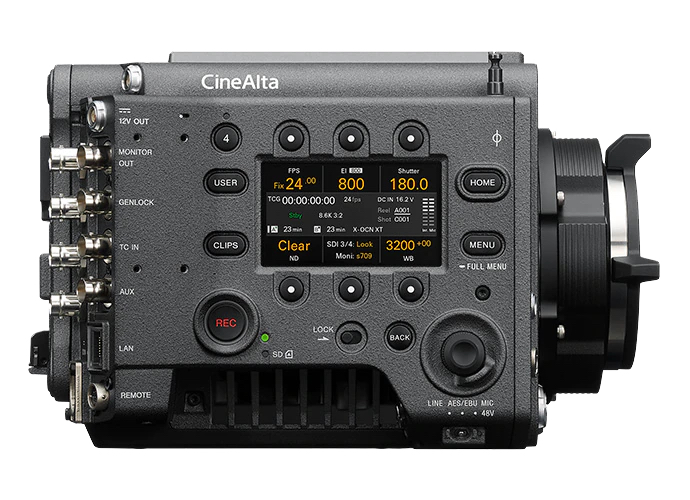 Over in Sony land, the original 6K Venice (used mostly for 4K) has been eclipsed by the 8K Venice 2, the introduction of which Sony announced in late 2021. In order to record RAW, er… X-OCN, the highly regarded original Venice required Sony's pricey AXS-R7 External Recorder, a carbuncle attached to the back of the camera. Happily, Venice 2 now records X-OCN internally. It no longer needs the carbuncle. In fact, the Venice 2 body is 10% lighter and almost two inches shorter than its predecessor. Looks like RED gave Sony a pass this time. Hmmmm…. further royalties or perhaps a swap?
Perhaps the most consequential new camera introduced in 2022 is the 4K ARRI Alexa 35. Spurred by Netflix's commitment to 4K-only origination, ARRI created a new 4K CMOS sensor, the ALEV 4,  their first new sensor design since the introduction of the original Alexa twelve years ago. That first Alexa had been designed to capture 3.5K for downsampling to 2K, which was the coin of the realm in theatrical distribution twelve years ago. (Still is.) Needless to say, with a 4K mobile phone in everyone's pocket, times have changed.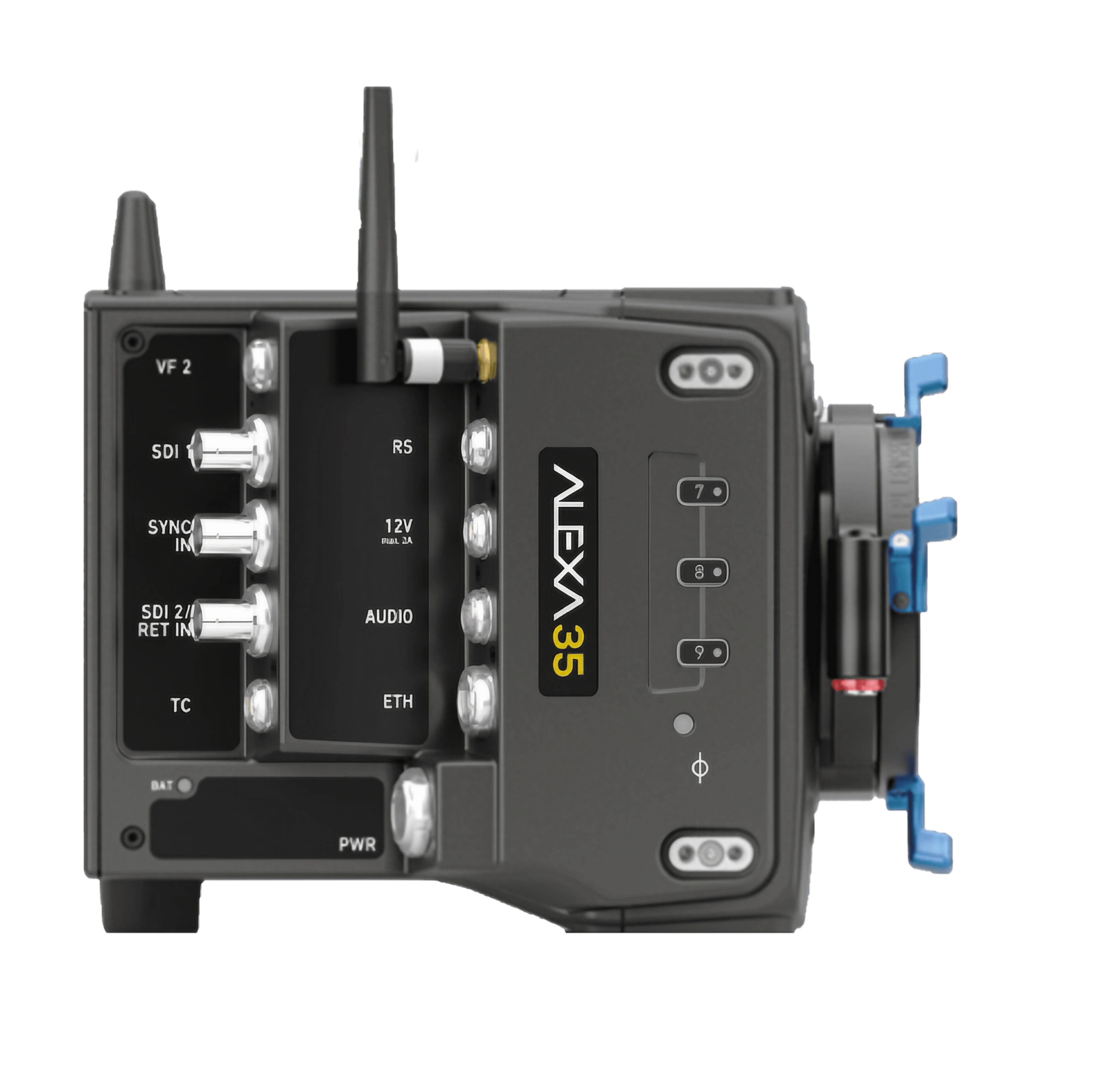 Like the original Alexa, the new Alexa 35 remains, as the name suggests, Super 35, not large format. This came as welcome news to those who don't wish to ride the full-frame bandwagon, a cohort comprising many award-winning DPs currently working, who cut their teeth shooting 35mm film and who understand S35 lens angles like the back of their hand. ARRI says the Alexa 35 has been back-ordered since it was announced.
The Alexa 35 is also considerably lighter. From a brief stint spent with the camera, I can say that the camera body is ergonomically superb for handholding. ARRI's master grips, which attach via rods to both sides of the ARRI 35, have no equal in terms of both hand comfort and full control of camera and lens functions including focus. 
With the new sensor design, ARRI introduces what they claim is new color science, as well as a novel image-quality intervention called Arri Textures. ARRI says Arri Textures, use of which are optional, represent a digital equivalent of selecting a film stock. Each ARRI Texture controls a degree and type of noise and grain in the image, with subtle adjustments of contrast at various levels of image detail. A menu in the camera permits the user to readily choose among a selection of Arri Textures, handy for running comparison tests.
So, what have we got to look forward to in 2023? No doubt more of each trend that I sketched above. Let's do hope war ends, international free trade resumes, internal recording of compressed RAW comes to all cameras, and, if Sony's new sensor is any indication, an even more amazing era of camera performance is in store for us all. Can't wait!